Health and safety measures for a car hire with Alamo during COVID-19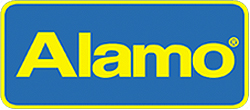 Alamo car rental was founded in Florida, USA, with only four locations back in 1974. Since 2007 it has become part of Enterprise Holdings, a company belonging to the Taylor-Family, based in St. Louis, Missouri. The holding owns three car rental companies in total, compromising of Enterprise, National and Alamo. Alamo's focus is mainly on leisure car hire and its goal is to ensure holiday-makers the best travel experience. Enterprise boasts pick-up points in many locations and offers clients numerous advantages. National is the premium brand among the three.
Alamo has many pick-up points scattered all around the US and in many locations in North America, South America, Africa, Europe, Asia, Australia and Oceania. Additionally Alamo also has a wide choice of rental vehicles to choose from. Alamo's mission is to provide families and travellers with an affordable and comfortable car hire experience.
Auto Europe was founded in 1954 and works with various local and international suppliers around the world, enabling us to offer clients the best rates, the best service and also a very wide fleet of vehicles across the globe. We have been cooperating with Alamo many years now and for this reason a car hire with Alamo during the Coronavirus outbreak, represents a safe way to travel around during the pandemic.
If you have questions regarding a booking or need advice, do not hesitate to contact our car rental specialists on +44 123 3225 114 or quickly and easily book your rental car on our website.
Car Hire Alamo - Safety measures to protect clients from Coronavirus
Alamo's top priority is the safety and well-being of its staff and clients. For this reason Alamo monitors the Corona virus situation around the clock and follows the regulations of the World Health Organisation (WHO) and the health authorities. Alamo car rental complies with the instructions given by the local health authorities and follows the rules, such as frequent hand hygiene and encourages its workers to stay home if they feel sick. Alamo has also implemented extra health and safety measures to ensure that groups of its employees can keep the required distance during shifts. They have also reduced the number of staff present at the pick-up locations or in the vehicles, to avoid gatherings. In this way a car hire with Alamo during COVID-19 meets all the expected hygiene and safety controls.
Alamo now offers different collection options at some locations. Customers can now either request to have the vehicle delivered to them, or to be picked up at a convenient roadside location.
Complete Clean Pledge – Cleanliness guarantee for maximum safety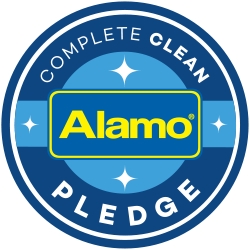 Alamo takes the hygienic standard of each of its offices as well as its vehicles very seriously and is well aware that in this moment it is more crucial than ever. The company has taken extra cleaning and disinfecting measures to better comply with the instructions advised by the health authorities. The measures include in particular the routine cleaning of all frequently touched surfaces at the respective locations such as work tables, door handles and toilets with one of the recommended disinfectants. In addition, Alamo has introduced an official training programme in which all employees have been instructed on how to properly clean. Alamo repeatedly emphasises the importance of this process among its employees.
To emphasise the commitment to the highest standards in cleanliness and safety, Alamo has adopted what it calls a "Complete Clean Pledge". In essence, this means that after having washed, vacuumed and cleaned the hired vehicle inside and out, Alamo now goes further by paying particular attention of frequently touched vehicle surfaces. It is particularly noteworthy that the interior of vehicles are thoroughly cleaned with disinfectant and car parts such as the dashboard, display panel, steering wheel, accessory paneling, center console, cup holders, compartments, seats, door and door pockets to be wiped. A full overview of focused areas can be seen below.