Car Hire with InterRent Key'n Go and Auto Europe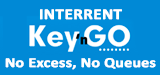 InterRent Key'n Go is the exciting new car hire service available at a growing number of key European destinations, meaning that travellers no longer have to wait in long queues to collect their vehicle. With Key'n Go, the pick-up procedure is a simple matter of downloading the app and entering your details on your mobile device then collecting the car keys from a designated machine before getting on your way. The idea of InterRent's innovative, no-nonsense Key'n Go system is to make your travel experience as quick and stress-free as possible. Booking your car hire with InterRent Key'n Go ensures that there's no waiting around after a long, tiring flight and, furthermore, there's no confusing contracts and terms and conditions to read through and sign at the reception desk.
Whilst making a reservation, customers can be reassured and totally relaxed in the knowledge that InterRent's Key'n Go product is part of the global Europcar group, one of the largest and most reliable car hire enterprises in the world. Currently employing over 12,000 people, Europcar is a company that offers more than 350,000 vehicles for hire in almost 140 different countries, ranging from small, economical cars to the most luxurious, high-powered vehicles such as a BMW SUV, convertible Mercedes or Jaguar Coupe. Provided by the world's best-known car manufacturers, Europcar's (and InterRent Key'n Go's) vehicles are modern and well-maintained, with the majority only having been on the road for less than six months. Including the latest hybrid vehicles, the company's entire fleet produces the lowest possible emissions and offers customers the highest level of fuel efficiency, thus minimising each and every traveller's carbon footprint and reducing their travel costs at the same time.
You can easily book your car rental with InterRent Key'n Go through the Auto Europe booking engine at a broad selection of popular locations, including London (Heathrow and Gatwick), Paris (Charles de Gaulle), Rome (Fiumicino), Milan (Bergamo), Lisbon, Madrid and Barcelona. Founded almost seventy years ago, Auto Europe is a top car rental price comparison site with one of the world's most trusted online booking systems. In addition to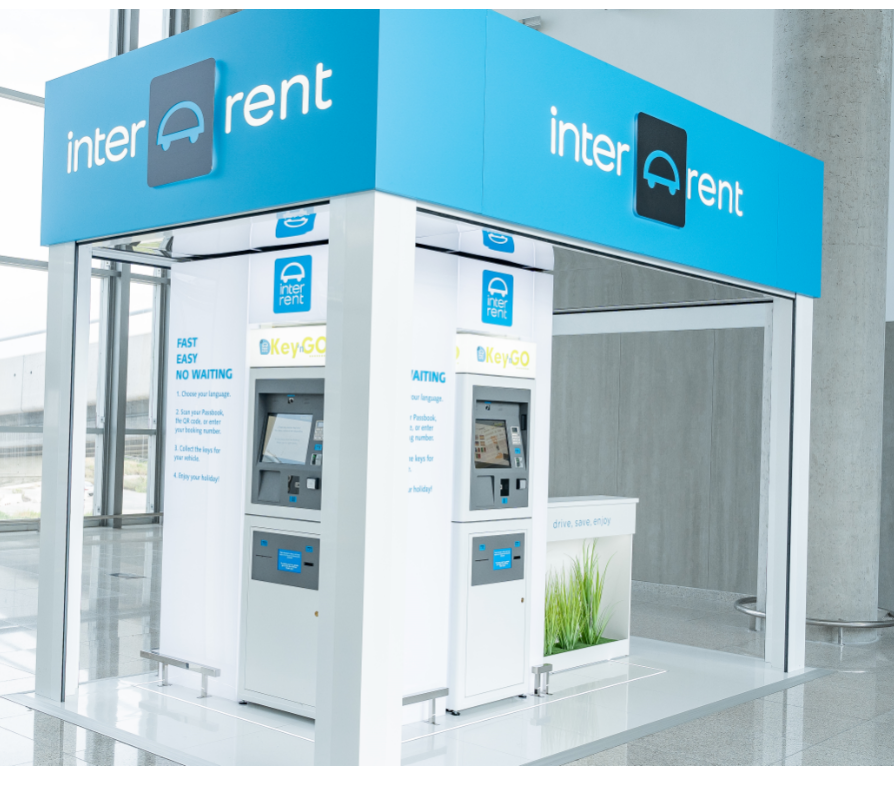 InterRent Key'n Go, we work very closely with all the leading car hire suppliers, including Alamo, Avis, Budget, Dollar, Europcar, Hertz, National and Sixt, guaranteeing the cheapest deals and the widest choice of vehicles all over the world.
Even in times of COVID-19 you can safely book a car hire from Interrent due to its strict health and safety measures.
InterRent Key'n Go Car Rental: How does it work?
The aptly-named Key'n Go car rental service couldn't possibly be easier or more convenient to use, simply because there's no waiting, no paperwork and absolutely no unexpected last-minute surprises! Key'n Go satisfies every traveller's dream to be able to pick up their car hire quickly and seamlessly with the minimum of fuss once they get to their destination, which they can now do thanks to InterRent's innovative fast-tracking vehicle rental system.
To complete your reservation, simply select your destination and preferred dates in the Auto Europe booking engine at the top of this page before clicking on your chosen InterRent Keys'n Go car hire category, ie Mini, Economy, Mid-size, Large-size, etc. This will produce a list of car models and their related specifications, from which you can choose according to the type of car you are looking for. Finally, just click on the amber-coloured BOOK NOW button and Auto Europe will send you written confirmation of your booking by e-mail, including all the necessary information regarding your InterRent Key'n Go car rental reservation.
The final part of the process is to pick up your car when your reach your destination, which is equally seamless and done in a few quick and easy steps using the dedicated app on your mobile device. After selecting your preferred language, just scan the code we sent you into the sensor on the Key'n Go machine, or alternatively can enter your booking confirmation number by hand. Then you only need to choose your car from those available in the category you have booked and the keys will promptly appear, it's as simple as that!
Hire your car without the need to queue up
The InterRent Key'n Go system is a dynamic self-service vehicle rental initiative targeted at people looking to avoid waiting in queues to pick up their car hire at major airports, railway stations and convenient downtown city locations. Travelling can be very tiring - particularly when your flight is delayed - and people are constantly looking to speed up the car hire pick-up process. This is now possible with Key'n Go because there's no waiting, no paperwork and no small-print to slow you down, which guarantees a fast and efficient car hire experience to allow customers to get started immediately and enjoy the rest of their trip.
To pick up your car, you just need to register your details (rental start date, e-mail address and booking number) on your mobile device prior to arriving at your destination by accessing the following link: https://wsgw.goldcar.es/idvalidation/scandocs/02343. Make sure you have your driving licence, credit card and valid passport or identity card details with you in order to complete the process.

To finalise the procedure, just follow the following steps;
1. Select your preferred language
2. Enter your booking number or code sent to your mobile device
3. Choose your car from the vehicle category booked
4. Collect your car keys
5. Enjoy your trip!
Key'n Go Benefits
✔ Avoid the queues
InterRent's popular Key'n Go service is the best way to book your car hire and get on your way without any delay. Long queues and busy reception desks are now a thing of the past thanks to this innovative, forward-thinking method of trouble-free travel designed for the modern independent traveller. There's no paperwork to sign because everything is done in advance, so all you need to do is enter your booking info into the app on your mobile device and pick up your keys!
✔ Skip the small print
Whenever you book a car hire with InterRent Key'n Go and Auto Europe, you'll always be able to relax in the knowledge that everything is taken care of efficiently and professionally. This all-inclusive service offers full cover for the entire duration of your rental period, which means that no deposit is necessary and you won't be asked to read through and signed any paperwork prior to picking up the vehicle.
✔ Staff assistance
In the rare event that something goes wrong, there's no need to fret because the InterRent team will be on hand to resolve any issues that arise, meaning that with Key'n Go you'll always have the best of both worlds: state-of-the-art technology and the highest level of personal service! Furthermore, if you need to add something to your booking like a GPS navigational device or an additional driver, don't worry because InterRent's well-trained staff will always be on hand to help you with anything you require.
✔ Safety first
Auto Europe is fully committed to ensuring that each and every customer gets to their destination safely and speedily with zero red tape and the minimum of fuss. To this end, the highest levels of online security have been implemented to validate your personal details in order to spare you the inconvenience of waiting in long queues with heavy luggage and reading all the terms and conditions once you finally reach the car hire supplier's reception desk. InterRent's fresh and futuristic method of hiring a car means that once you have provided a photograph of your driving licence and other relevant documents, your data will be permanently stored in the system to further speed up the pick-up process the next time you book a car with InterRent Key'n Go.
Questions & Answers
What if I am unable to digitise my documentation?
It is important that you complete the pre-registration process by opening this link - https://wsgw.goldcar.es/idvalidation/scandocs/02343 - with your mobile device prior to arriving at your pick-up location. If for any reason you are unable to successfully digitise your documents in this manner, then please head to the InterRent office to have your identity and documents verified manually.
I encountered an error during the digitisation process. Is my booking still valid?
Yes, your booking will remain valid. Nevertheless, if an error occurs when you are trying to digitise your documents, then please head straight to the InterRent office to have the problem resolved manually.
Will a member of staff be available during the Key'n Go pick-up process?
Yes. The Key'n Go car hire system is designed to get you on the road as quickly as possible and with the minimum of effort. One of the main advantages of this revolutionary system is not having to queue up and wait for your keys because everything will already have been dealt with in advance. However, if something happens and you need to speak to someone, a member of the InterRent staff will always be available to help you out and provide the necessary assistance.
What is included in the Key'n Go package?
Being our most complete car hire product, the Key'n Go service incorporates all of the following benefits;
No excess
Fully-comprehensive Super Relax coverage
Road-side assistance
Full-to-full petrol arrangement
No small-print or any unexpected surprises
Which branches offer the Key'n Go service?
The following offices provide the Key'N Go service:
France - Paris CDG, Bordeaux, Lyon, Toulouse and Nice
Italy - Milan Bergamo and Rome Fiumicino
Spain - Alicante, Malaga, Barcelona, Barcelona Sants Train Station, Madrid, Mallorca, North Tenerife, South Tenerife, Lanzarote and Las Palmas
Portugal - Faro, Porto and Lisbon.
The good news is that InterRent's amazing Key'n Go service is being extended to many other popular locations in key destinations in Europe and the rest of the world, details of which can be provided by Auto Europe's award-winning rental specialists. Feel free to call them on +44 123 3225 114 seven days a week for information about Key'n Go or any other global car rental product.
Where are the Key'n Go pick-up machines located?
Your booking confirmation will specify the exact location of the Key'n Go machine. They are well positioned and easy to find, but if you have any problems finding them or require help of any kind, please go straight to the InterRent office where the local staff will be happy to assist you.
Where will I find my car once I have the keys?
The screen on the InterRent Key'n Go key collection machine will show exactly where your car is located. The print-out of the contract summary emitted by the machine will also indicate the precise location of your vehicle.
What should I do with the keys when dropping off the car?
Please leave the car keys in one of the key collection drop-off boxes located outside the car rental parking offices.