Health and safety measures for a car hire with Sixt during COVID-19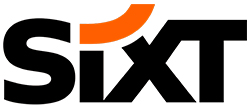 Sixt is a family business dating back to its start in Munich in 1912 when the company only had three rental vehicles. Over the years, and with many ups and downs, the Sixt family has managed to transform the small start-up into an international sensation. Today Sixt AG is Germany´s number one car rental company and undergoes continuous expansion. With Sixt, you benefit from a huge selection of over 200,000 cars worldwide and 2,200 stations in over 100 countries with the largest premium fleet in the world.
As a long-standing and trustworthy partner of Auto Europe, who have been active in the car rental industry since 1954, we can only recommend a car hire from Sixt during the corona virus. Simply book your next rental car using our booking engine or simply call our rental car specialists on ++44 123 3225 114 and they will help you with your request.
Car Hire Sixt - Safety measures to protect clients from Coronavirus
Of course Sixt is well-aware that the outbreak of COVID-19 is currently having a significant impact on the global community. Every day they feel the effects of this situation in their private and professional lives, and national authorities are taking extraordinary measures to curb the spreading of the virus. Sixt knows that this situation also creates uncertainty for its clients.
For this reason, Sixt monitors the situation very carefully and makes decisions together with the responsible authorities with a specially set up coordination center. The measures taken serve to prevent the potential spread of the COVID-19, to protect customers and employees alike in the best possible way.
Measures and procedures for cleaning
Intensive cleaning of all Sixt locations to minimise the virus transmission.
Ensuring that employees follow WHO recommendations such as regular intensive hand washing.
All vehicles in the Sixt fleet are professionally cleaned in a multi-stage process to minimise the potential transmission risk.
How does Sixt protect staff members and clients at its locations?
Sixt is very committed to creating a safe environment for its customers and employees in this challenging time. In addition to the security measures already taken, Sixt has introduced other methods to better control social distancing and to ensure the highest standards, such as:
Limited number of staff members and clients at one location.
Introduction of plexiglass safety barriers at the counters.
Provision of face masks for employees at all Sixt locations.
Does Sixt have a special cleaning treatment for the rental vehicles if there is a suspected Coronavirus infection?
If a driver of a returned car hire with Sixt during COVID-19 is confirmed or suspected to be infected with the Coronavirus, the vehicle will immediately be withdrawn from service. Before being put back on the rental fleet, the vehicle will undergo a professional multi-level cleaning with disinfectants.