Health and safety measures for a car hire with Thrifty during COVID-19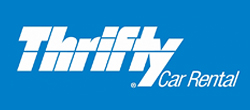 Thrifty car rental is one of the biggest car hire suppliers in the world and a subsidiary of Hertz Corporation, which is headquartered in Estero, Florida. Thrifty Rent a Car System Inc. was founded in 1958 has grown steadily over the decades. Today Thrifty through corporate and franchise operations at over 4,000 locations in collaboration with parent company Hertz and sister company Dollar Rent a Car. Thrifty is one of the best known companies in the tourism industry that addresses cost-conscious business and leisure travellers in North, Central and South America, Africa, Europe, Middle East, the Caribbean, Asia and the Pacific.
As one of Auto Europe's trusted partner, a car hire with Thrifty during the COVID-19 crisis offers the best possible service even in these difficult times. In addition, Thrifty´s rental vehicles get professionally cleaned before every rental to guarantee the safety of clients and staff members. Easily book your Thrifty car rental on the Auto Europe portal or if you need extra support or have further questions contact our call centre under +44 123 3225 114.
Car Hire Thrifty - Safety measures to protect clients from Coronavirus
Clients and staff safety is of utmost importance and Thrifty has introduced numerous new measures to further improve the safety. These measures have been implemented everywhere and it doesn't matter whether you want to rent a car at the airport or at downtown location. At Thrifty, the focus is on offering customers the absolute best car for their money, without neglecting customer safety and trust.
Thrifty closely monitors the Coronavirus and follows the strict requirements of the government and health authorities. This can ensure that customers, employees and the branches in which they operate are protected.
Please note that Thrifty continues to maintain its high safety and cleanliness standards. Every car hire with Thrifty during COVID-19 follows the preventive actions to curb the spreading of pathogens at the Thrifty locations and in the vehicles themselves. Each vehicle also undergoes a rigorous, multi-stage cleaning process before each rental.
Measures and procedures for cleaning
Thrifty has improved the cleaning methods at all stations and on shuttle buses worldwide. This includes the use of approved disinfectants to clean high-contact surfaces such as door handles, counters, kiosks and other hard surfaces.
Thrifty has increased the quantity of alcohol based hand disinfectants available and regularly reminds staff members to follow hygiene measures like frequent hand washing and staying home if they feel sick.
The vehicles must go through an enhanced cleaning process that includes priority areas such as door handles, steering wheel, dashboard, console, seats, etc.