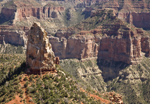 The Grand Canyon in Arizona is a truly magnificent sight. 277 miles long and up to 18 miles wide forged over millions of years by the Colorado River. It was one of the first National Parks in America.
Fly to Las Vegas and hire a car so you can experience the Grand Canyon at your leisure. Drive through the Kaibab National Forest to the South Rim. Along this 19th Century stagecoach trail you will encounter various species of birds and other wildlife such as elks. Once there, there are plenty of trails that you can walk along and see just how truly breathtaking the Canyon is. The trails are graded in difficulty from the casual walker to the experienced hiker.
Next, drive to the Grand Canyon Village which is an Historic Landmark District where you can stay overnight in one of the many lodges or campsites. Here you can relax and maybe take the shuttle bus up to Hopi Point to watch the sunset. There is also an information centre, shops and restaurants. If you want to find out more about the history of the Canyon there are Ranger Talks which will tell you everything you want to know.
Next stop is the West Rim and the Skywalk, where you can walk out into the Canyon on sheets of glass, a truly amazing experience. At 3,600ft above the floor of the Canyon, although the actual drop directly under it is a mere 500ft, it is not for the faint hearted! It is owned by the Hualapai Nation and you can visit the reservation and get a taste of Native America.
Finally on to the North Rim, where you can visit Point Imperial. It is the highest point of the North Rim at 8,800ft, and overlooks the Painted Desert and the Navajo Reservation. Cape Royal is a bit more tricky to get to as the roads are narrow and twisting but it is worth the effort as the point the ground drops away steeply in most directions and offers stunning views.
A truly unforgettable experience!
Have you been to the Grand Canyon? What are your memories of your visit?