Campervan hire with Cruise America – Find the best deals!

Did you know that Auto Europe, a renowned car rental broker, now offers campervan hire as well? Browse through the best campervan hire deals with Auto Europe! We enable our customers to choose from a vast fleet of modern and very comfortable campervans brought to you by the world's leading suppliers. Cruise America is North America's largest RV rental company and a campervan hire with Cruise America, thanks to the supplier's long-lasting experience, will most certainly bring added value to your holiday.
Cruise America started business in 1972 and having been successfully owned and managed by the Smalley family for over 40 years, in 2014 the company gave the wheel to the extended family – it´s employees: Cruise America is thus 100% employee owned and customer driven! On this next leg of the journey, their legacy of RV rental and sales excellence isn't in the rear view mirror, but in the driver's seat!
Over 45 years of experience means that Cruise America know motorhomes and know the motorhome rental business; they know what clients want in a rental vehicle and what to provide to you: the perfect vehicle for you to enjoy your camper holiday in the true North American style. At the moment this supplier offers a fleet of 4500 vehicles ready to be rented out from over 30 international rental locations in the US and Canada – no other company offers you so much flexibility. Cruise America, and sister company Cruise Canada, want you to have the family holiday you wish for, tailored to your needs!
Insurance
The excess clients will be responsible for in case of damage, theft and vandalism to the vehicle will be limited to only $1500 USD/CDN per occurrence. The supplier is also offering an extra insurance called "Zero Deductible Plan" to reduce the amount of the excess. The price is $ 9.95 per day with a maximum charge of $ 298.00 regardless of the length of the rental and must be paid locally at the counter.
What are the additional items offered
As additional items for pre-purchase or purchase at the rental counter we offer vehicle kits which contain all kitchen equipment and personal kits including blankets, pillows, towels – in short, everything needed per person. Also, you can rent camping chairs at the counter (subject to availability) and unlimited generator use. Should you need anything else for your camping holiday, our staff at the rental location will be happy to advise you of nearby shopping facilities.
Important things to keep in mind when hiring a campervan with Cruise America
Cruise America is the largest RV rental company in North America with over 45 years of experience in the rental market. No other company offers you so many locations to choose from and thus so much flexibility for your holiday. The fleet consists of 4 vehicle types to make choosing the right vehicle for your holiday as easy as possible! All the vehicles are custom built with the rental market in mind. Minimum driver age is 21 with no additional cost for drivers under 25 years and no extra cost for additional drivers. The rates available are flexible, based on supply and demand, and are very economical when you book your motorhome hire with Cruise America early. In addition, very attractive monthly specials and early booking discounts with up to 15% savings on the standard rate ensure you get a really good deal for your well deserved holiday! If clients do require assistance whilst on the road, there is a 24/7 free call (from a landline) Travellers Assistance hotline. This is located in the company´s HQ in Mesa in Arizona.
Cruise America´s Fleet
The fleet is made up of 4 vehicle types: a small, medium and large C-Class RV and a Truck. All the vehicles have:
A fully equipped kitchen with sink, gas stove and microwave
A a fully equipped bathroom with shower, sink and toilet
Air conditioning and heating
In the USA all vehicles except the T17 have an in-built generator - in Canada only the C30 has a generator
Driving is easy since all vehicles have power steering, automatic transmission and either a V8 or V10 engine.
Truck Camper T17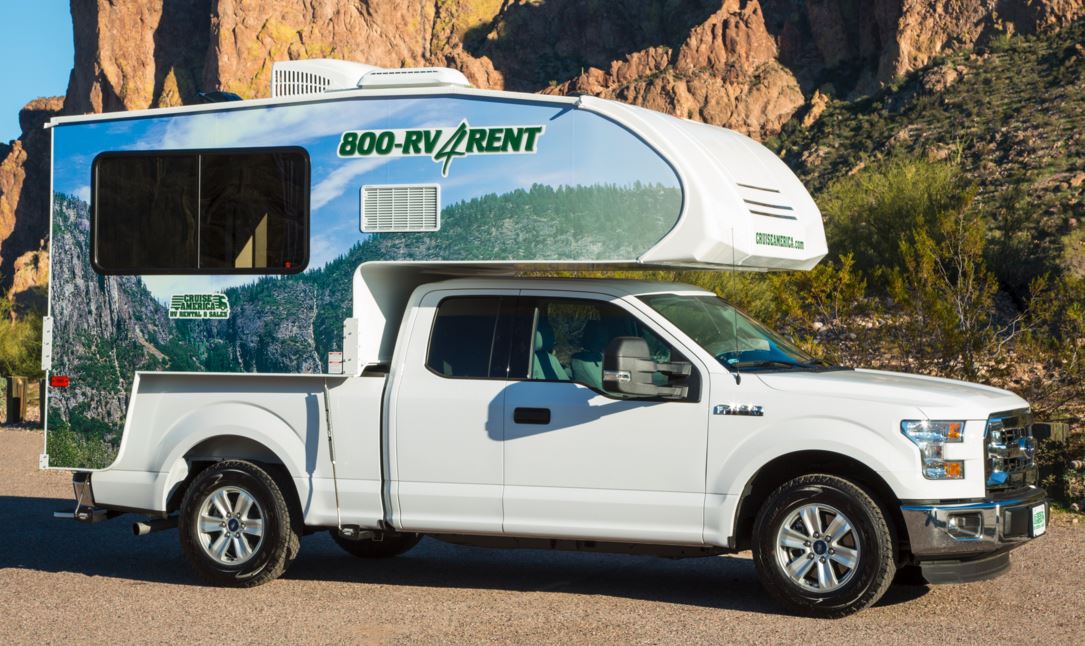 Sleeps:
up to 3 people
Category:
Truck Camper
Length:
6.15 meters
Transmission:
Automatic
Power Source:
Petrol
Easy to drive and maneuverer, this is the perfect vehicle for first time renters.
Click here to start a virtual tour
.
C19 Compact Motorhome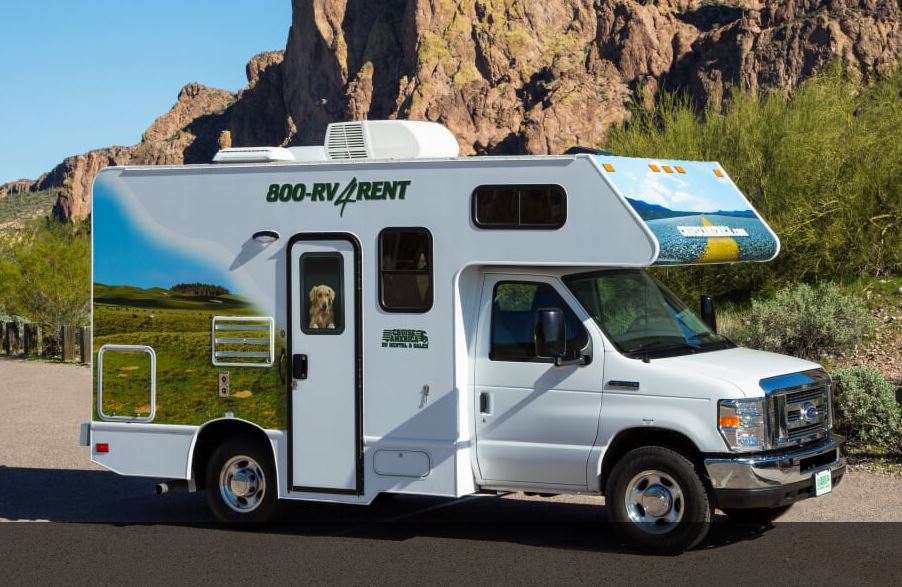 Sleeps:
up to 3 people
Category:
C-Class Motorhome
Length:
6.15 meters
Transmission:
Automatic
Power Source:
Petrol
Small C-Class motorhome, this vehicle is fuel efficient and will fit into a regular parking lot.
Click here to start a virtual tour
.
C25 Standard Motorhome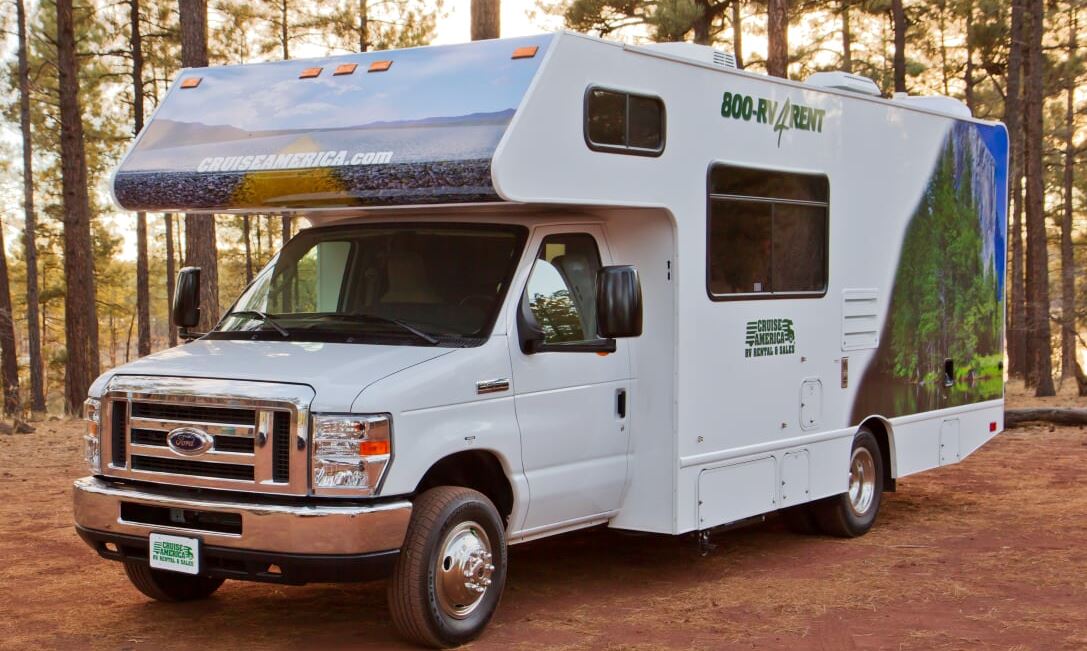 Sleeps:
up to 5 people
Category:
C-Class Motorhome
Length:
7.3 - 7.6 meters
Transmission:
Automatic
Power Source:
Petrol
This medium size motorhome is ideal for two couples or a family up to five.
Click here to start a virtual tour.
C30 Large Motorhome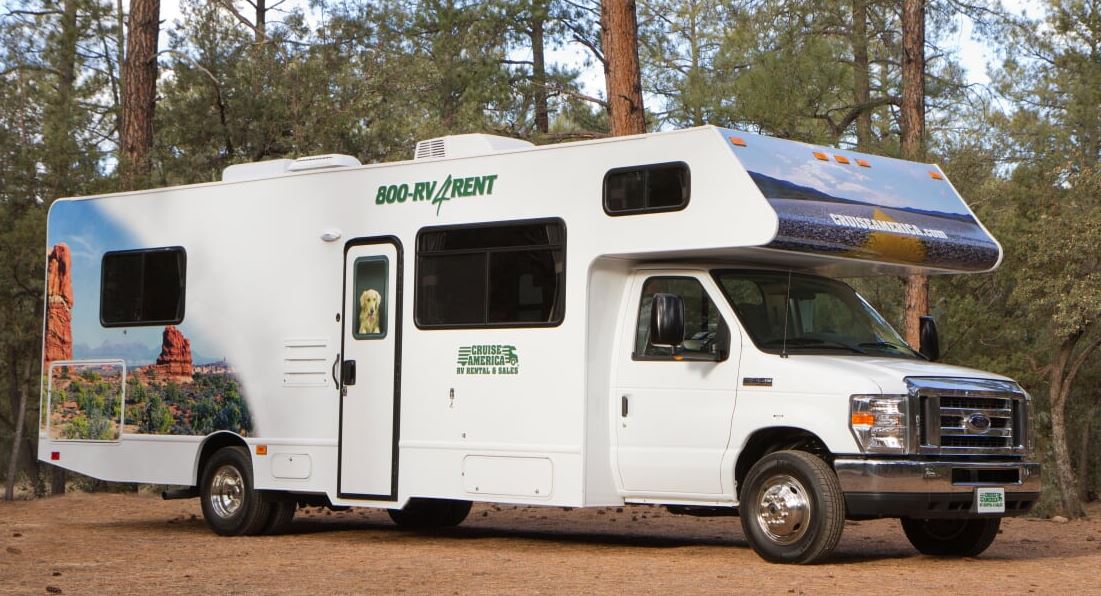 Sleeps:
up to 7 people
Category:
C-Class Motorhome
Length:
8.8 - 9.1 meters
Transmission:
Automatic
Power Source:
Petrol
The largest motorhome on the fleet, the C30 features a separate bedroom at the rear with a 5ft wide bed.
Click here to start a virtual tour
.
Where to pickup my motorhome hire with Cruise America
Whilst Cruise America offers over 30 international rental locations, the largest ones with the largest number of fleet are in the Western USA and Western Canada. The company continuously strive to offer clients even more options – therefore in 2018 they have opened up three new locations already: Dallas, Charlotte and Bozeman… and there will be more coming! Click on the images below to see the desk location.
Top pickup locations in the USA
Las Vegas
551 Gibson Rd
Henderson (Las Vegas)
NV 89011
Los Angeles
2233 East 223rd Street
Carson (Los Angeles)
CA 90810
Miami
23501 S. Dixie Highway Princeton
Miami
FL 33032
Phoenix
11 West Hampton Avenue
Mesa (Phoenix)
AZ 85210
Salt Lake City
4125 South State Street
Salt Lake City
UT 84107
San Francisco
5623 John Muir Dr
Newark (San Francisco)
CA 94560
Top pickup locations in Canada
Calgary
2980 26th Street
NE Calgary (Calgary)
AB T1Y 6R7
Toronto
12275 Highway 50
Bolton (Toronto)
ON L7E 1M1
Montreal
198 Boul. Curé LaBelle
Sainte Rose (Montreal)
QC H7L 3A1
Vancouver
7731 Vantage Way
Delta (Vancouver)
BC V4G 1A6
Choose the ideal pickup location for your campervan hire with Cruise America for a great start to your holiday! You can book your motorhome directly on our website or contact our reservation specialists by email or just call +49 89 4120 7298. Our team will advise you on rental conditions and answer any question you might have.