Car hire in Geneva - Swiss Perfection and French Flair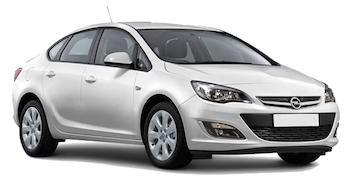 Geneva's superb setting - the city lies on the shore of Lake Geneva, between the Alps and the Jura mountains - wins the city many visitors of all ages from all over the globe. Geneva is the second biggest city in Switzerland, just after Zurich, and is home to numerous international organizations, such as the United Nations, the World Health Organization, or the World Trade Organization. This makes Geneva practically the centre of world diplomacy and international finance. It is located in Romandy, the French-speaking part of Switzerland. Due to temperate climate, summer days make it perfect for a swim in the lake or for hiking, whereas in winter skiing lovers will find it a paradise.
Your car hire in Geneva will be the best travel companion during your stay. Once you get used to the Swiss beauty and perfection in Geneva you can have a look at the other two major Swiss cities Zurich and Basel. They are both located three hours by car north-east. Considering that Geneva is nestled between three countries, it enjoys an excellent starting position for visiting France, Germany or Italy. Aosta is just two hours by car from Geneva, and if you keep driving an extra hour you can reach the big city of Turin. France is on the other hand much closer, with the charming Annecy and Lyon just respectively 1 and 2 hours by car. Crossing the borders to the neighbouring countries is usually not a problem, but to go sure check under the "Rate details" if the chosen car rental company allows it. You will in any case need to specify on the booking form the further countries you are planning to drive to with your Geneva car rental, so that this information can be reported on the voucher. In this way the insurance coverage can be extended abroad.
If you want to plan a longer itinerary within Switzerland or even over the borders you can consider to book a "one-way car hire" with drop-off in a different location. Both one-ways within the same country and the international ones are on request and come with a fee to be paid locally. Especially in case of an international one way you can call our car rental specialists and check with them the availability and the cost.
Auto Europe, with its longstanding experience in the car rental industry, is able to provide you with car rental services in over 24,000 locations worldwide. In Geneva alone, we work with the largest international companies, including low-cost suppliers, allowing you to pick up your car at the airport or in many downtown locations and offering a large scale of models. We also strive to guarantee the best service to our clients and this is why we have multilingual telephone support all days of the week under+44 123 3225 114
Check our Geneva car hire reviews page to see what our customers think about our services.
For more information about renting a vehicle in Geneva, click on the car hire related topics listed below:
---
Where to Pick up a Car Hire in Geneva
When arriving in Geneva Auto Europe offers you a long list of pick-up solutions both at the airport and downtown, including at the central train station. We work with many different suppliers and cover all the vehicle categories, including luxury cars and motorhomes. If you land at the Geneva airport you also have the extra option of booking the car on the French side, since the airport area borders directly with France. This discloses a lot of opportunities if your travel itinerary is more centred on France. Before booking your car rental in Geneva we advise you to check all the pick-up stations we offer, both on the Swiss and French side, and then choose the better solution according to your travel plans.
Geneva Airport
The Geneva Cointrin International Airport lies 3 miles to the north of the city and is the second largest Swiss airport after Zurich. Due to direct train, bus, and motorway connections, the airport is easily accessible from the city centre. If you book your car hire at the Geneva airport, you can choose between picking up the car in the French or in the Swiss section. Both sides have their advantages. Visit our special Geneva Airport page to find out which side is the best option for your travel itinerary. The conditions vary between the two countries: in winter for example, if you fly to Geneva to perform winter sports a rental on the Swiss side could be the best option, since the winter tyres are usually available and sometimes even included in the rate. Moreover Swiss rentals also tend to include the Swiss motorway vignette.
As for the pick-up desks of course there will be separate ones for the Swiss and the French sector. In the Swiss sector the pick-up desks are located at the arrivals level direction La Poste and cars are returned at car park P51 on the lower level. If you want to return the car on the French sector, this is usually allowed against an extra fee. In case of rentals with pick-up on the French side with an international flight you will at first need to collect your bags, reach the check-in level following the signs for "Destination France" and go through customs to reach the French car rental desks. When flying back, you can return the car in the French sector and check in again on the Swiss side for any international flight.
Geneva International Airport/Genève Aéroport
IATA: GVA
Website: www.gva.ch
Address: P.O. Box 100, 1215 Geneva 15, Switzerland
Telephone: +41 (0) 848 192020
Geneva Central Train Station
If you book your car hire at the Geneva train station with Auto Europe you will start off right from the heart of the Swiss city. Genève-Cornavin is the main railway station in Geneva and has also TGV train connections to Paris, Lyon, Nice, Ville, Montpellier, and St. Roch. There is also the Jura foot line that runs from Olten and connects Geneva with other Swiss cities. The car rental desks are in walking distance from the station, so check the address on your voucher and bring the required papers with you to collect the car.
Genève-Cornavin Train Station
Address: Place de Cornavin, 1201 Geneva, Switzerland
---
Book with the Best Car Hire Suppliers in Geneva
Auto Europe is an international affirmed car rental broker and stands for convenient rates, large choice and excellent service. On our comparison portal you will find all most important international car hire brands, as well as reliable low cost labels, including national and local companies. In Geneva on the Swiss Side we work especially with Europcar and Unirent and on the the French side with Europcar, Keddy, Sixt, Alamo, Enterprise, National. The best car hire deals in Geneva are therefore waiting for you. Below you can click on the logos to get information on each supplier. We chose the main four we are cooperating with in Geneva. If you are interested in other brands or have further questions please call our friendly reservation agents.
---
Frequently Asked Questions about Renting a Car in Geneva
To sort out the numerous car hire offers in Geneva and choose the one that better satisfies your needs will be easier if you consider an array of crucial aspects. First of all there are insurance options, age restrictions, driving rules, road tolls, parking and any relevant destination related information. A summary of the main sights in Geneva and of the road trips that should not be missed plus the weather conditions that can be challenging in winter will probably require a specific car category or extra equipment such as winter tyres or snow chains. Have a quick read through our FAQs and jot down what you need for your trip and with a clear picture you will immediately spot the best car rental package.
Yes. Nowadays a credit card is always needed to pick up a rental car. Auto Europe allows also debit cards for the car rental payment, but once on site the main driver reported on the voucher will have to show a credit card in his name able to sustain the safety block. The amount of this block depends on the type of insurance option you choose. In case of zero excess the block will be minimal, just to cover little expenses that could arise like administration fees; if there is an excess the block could correspond to its amount reaching quite high sums of even GBP 900 or more. Please be sure the credit card has enough coverage. Take also in consideration that the block will be released upon car drop-off and that, depending on your bank, the money can take up to two weeks to be available again. Do not hesitate to read our dedicated page on credit cards and deposit FAQs or to call our reservation agents in case of questions.
When you rent a car you always have different insurance options, depending on how much you want to spend. In any case, the minimum car hire coverage required by the law is compulsory. All the rates for the car rentals in Geneva that you will see on the Auto Europe website include the minimum insurance with Collision Damage Weaver (CDW), third-party liability and theft protection (TP). Please note that the CDW does not encompass all car parts such as interior, bottom, glass, key loss and administration fees. Drivers are responsible for a maximum amount of money defined excess in case of damage and theft, which has to be paid to the local supplier. This is why the supplier performs a security block corresponding to the full excess on the credit card of the main driver upon car pick-up.
If you don't want to be liable for the excess you should look for a zero excess package and if on our portal there are none you can purchase a basic rate and then buy the full insurance on site. The security block on the credit card will be very low just to cover small expenses regarding the abovementioned items left out by the CDW. In this scenario Auto Europe has come up with an alternative option that not only is less expensive than a zero excess one, but also covers the items neglected by the CDW. We call it "full protection package" and the principle is very easy: clients are still liable for the excess but they are eligible to a refund of the expenses they may be paying on site. It goes without saying that this attractive option is the most complete and value for money, so please consider it.
If the main driver or any of the additional drivers you intend to enrol are under 26 years of age you should read the age limitations reported under "Rate conditions" very carefully. First of all you should check the minimum age, that can vary from the supplier and be sure that the driving license has been held for over a year. If these two points are fine you should still count with a possible young driver fee to be paid locally. Remember to fill out the booking form with the correct age, so that our reservation agents can contact you in case it does not meet the supplier's conditions. In case of questions please contact our car hire specialists' team available all days of the week.
The additional drivers need to be listed on the car hire contract and this is why their presence is needed upon pick-up. They have to show a valid ID and driving licence and will need to pay an additional driver fee. Some suppliers in some specific destinations may allow one more additional drivers for free, or Auto Europe sometimes offers promotions with free additional driver. Hopefully that will be the case when booking your car rental in Geneva. Check under the rate conditions or at our link.
Switzerland and its sense for punctuality are sometimes thought to outshine those of many neighbouring countries. Swiss roads are considered safe and modern, and a real pleasure to drive on. Driving in Geneva is not an exception. However, as in many other big cities, it can come to bottle necks and traffic congestion in rush hours when people go to or leave work.
If you would like to drive on a motorway, you will need to obtain a "vignette" - a sticker that can be purchased at gas stations, post offices, etc. The vignette is valid for one year; therefore, most of the rented vehicles are already equipped with these stickers. Be sure to check if the car has a vignette during the pick-up. The next thing to remember is that the driver and any passengers must always fasten their seat belts during a drive. You can also have a look at our driving guide in Switzerland for additional information.
A free parking spot can be really tricky to find in Geneva downtown. If you are lucky to find one, please note that parking is paid in the city centre from Monday to Friday between 9 am and 2 pm, and between 5 pm and 8 pm. You can park for an unlimited amount of time after 8 pm. There are three parking zones in Geneva:
White: paid parking; tickets can be purchased from parking meters.
Blue: free parking up to 1 hour on working days between 8 am and 11.30 am, and between 1.30pm and 7pm. You need to place a blue parking disc behind the windshield.
Yellow: parking not allowed.
There are also public paid car parks and underground parking garages for your Geneva rent a car. Such garages or Park and Ride are probably the best alternatives to on-street parking in the city.
Yes. Swiss motorways are to be paid through a yearly vignette placed well visibly on the windscreen of the vehicle. Shorter periods are not encompassed. The good news is that rental cars are usually already equipped with the vignette. To go sure, when you pick-up the car, just throw a look at the windscreen to see if the sticker is there. As general information the toll vignettes are sold at petrol stations or at border crossings and of course online. Please note that if you are heading to Italy through the Great St. Bernard Tunnel, this is not included in the vignette and has to be paid on site in cash or by credit card.
With the exception of some remote mountainous areas winter tyres are not compulsory in Switzerland during winter months. If you pick up your car in the Geneva Swiss section, Auto Europe offers though free winter tyre deals, so that you can drive on Alpine roads care-free in case of snow or frost. These special winter tyre inclusive rates are not available with all suppliers, so please check under the rate conditions for details. If you plan to drive on roads where snow chains will be mandatory ("Ketten Obligatorisch") please add them to the special requests on the booking form so that Auto Europe car arrange them for you upon car pick-up. The same principle applies for ski-racks that are also on request. If you rent your car in the French sector winter tyres are not mandatory and therefore not included in the winter rates. If you plan to drive to the mountains you should request snow chains. A pick-up in the Swiss area is warmly recommended if you plan to drive very often during winter on Alpine roads across the Swiss, French and Italian borders. If you need assistance to book the best car rental option please let our car hire agents help you over the phone.
Before starting long car journeys in Switzerland, especially in winter and in mountainous areas, check the weather forecast and in case of heavy snow check if any pass or tunnel you plan to cross has been temporarily closed for security reasons. This will avoid time consuming inconveniences.
Exploring Switzerland and the neighbouring countries with a campervan hire from Geneva is guaranteed to take your journey to a completely different level. On our dedicated motorhome section you will get a better idea of the possibilities and modern models we offer.
---
Geneva Travel Guide
If you rent a car from Geneva you will be right in the heart of Europe and surrounded by breath-taking Alpine landscapes. When planning your travel itinerary you should plan enough time to savour the city and its landmarks but you should also leave plenty of time to enjoy the idyllic nature: in summer you can have a swim in one of the numerous lakes or go hiking, while in winter skiing and wintersports in general are a must. Enjoying Swiss cuisine with its tasty cheese or sweet chocolate is a all-year-round activity your stomach will surely appreciate. No wonder that thousands of tourists flock to Geneva every year. We prepared for you a compact travel guide with the city and car trips tip, now it's your turn!
Best day trips with my car rental in Geneva
There are multiple opportunities for lovely day trips around Geneva and in the neighbouring countries, being Geneva next to France and Italy and quite close to Germany. Some trips may be more luxurious and expensive than others, but there are certainly places you can visit without breaking the bank. Below you have quite a long list of suggestions that will round up your Geneva city visit.
Gruyeres Cheese Tour
What would be a trip to Switzerland without cheese? An absolute fail! If you are a big cheese lover, do not hesitate a moment and head to Gruyeres where you can visit the famous cheese factory, indulge in the finest Swiss cheese, and sip wine at one of the terraced restaurants.
Swiss and German Alps
Switzerland is an alpine fairy tale so why wouldn't you take a day or two and head up in the mountains? Simply relax and enjoy the peace and quiet spoilt only by the steady sound of cow bells. You can expect breath-taking scenery, magnificent views and unbeatable fresh mountain air. The Jura mountain range along with the beautiful national park with unspoiled nature is only one hour's drive from the city. Numerous slopes invite you for a downhill ski adventure in winter and a large number of hiking trails is a guarantee of re-connecting with nature in summer.
If you can't get enough of the Swiss beautiful scenery, we have a guide for a road trip in Germany ready. Hit the Alpine Road with a car hire from Geneva and visit Lindau on Lake Constance and the fantastic national park Berchtesgaden in the south of Germany. Lindau is a longer drive of almost for hours therefore we advise to spend some nights in the area to experience it at best.
Annecy and Lyon
If you feel also like some French flair head south and in less than an hour you will reach Annecy, one of the most romantic spots around Geneva and also, some say, the most picturesque town in France. Ornate buildings decorated with colourful flowers make the perfect postcard. The lake in Annecy lends itself for outdoor sports while the old historic castle Château d'Annecy invites visitors to explore the rich history of the region. For more history, good music and wine, you can also drive west to Lyon, which is less than two hours by car. Many compare it to Paris but with less hustle and bustle, so it seems perfect for a peaceful weekend getaway.
What to do in Geneva
When travelling to Geneva, be ready to be dazzled by the charm of the old town and the spectacular sceneries around the city. With the mountains as the perfect backdrop and the famous lake as the city's hallmark, you will have plenty of sights to admire and activities to enjoy. Geneva is also a unique city brimming with pleasant contrasts. On the one hand, it is an affluent and modern business centre. On the other hand, the city is a lovely historic place emblematic of world-famous Swiss traditions influenced also by those of neighbouring France.
Geneva Jet d'Eau on Geneva Lake: This large fountain is one of the first things you will see while landing at Geneva Airport. Jet d'Eau is the most famous landmark of the city and is a must for a selfie. The strong fountain expels a mixture of water and air as high as 460 feet (140 metres) into the air. Take a stroll along the left lake bank or get even closer by boat. There are regular boat taxi and ferry departures to numerous places of interest around the lake during the day. This iconic sight is featured on almost every postcard of Geneva but not everyone knows that it originally started out for a very practical reason. It was constructed to help release and manage the excessive pressure from a nearby hydraulic plant. In recent years, a new wooden walkway to the fountain has been opened which makes access easier than before. However, be careful as you can get wet if you get really close.


Reformation Wall: Reformation Wall is a monument to all victims of the Protestant Reformation, which followed the German movement but still held a certain amount of independence. The old city walls served as a "canvas" where artists depicted historic scenes and main protagonists of the movement. The figures of some of the most famous Protestants of the time such as John Calvin and John Knox have been built into the wall. Interestingly, the figure of Martin Luther, who is considered the leader of Reformation, has been given a small, modest place on the wall. According to the popular belief, this is due to the fact that John Calvin, the most prominent person of the Swiss Reformation, disagreed with Luther on several important points. Visit the monument and brush up on the religious history of Europe.


Plainpalais:Get acquainted with Geneva's shopping scene in the Old Town full of luxurious boutiques and deli shops. For a different shopping experience, be sure to visit the Plainpalais fleamarket, where you can browse through vintage toys, clothes and furniture. Plainpalais, shaped as a big rhombus, is situated in the southern part of the city. The popular fleamarket takes place on Wednesday and Saturday while a well-stocked Farmers Market is open on Tuesday, Friday, and Sunday. Most of the products offered originally come from France. Compared to the local supermarket, the choice is more varied, of higher quality and lower prices.


Broken Chair:Standing at 39 feet tall, with a torn leg and over five tons of wood - this big wooden statue is an ever imposing and dominant feature overlooking the Place des Nations. It is a monument originally erected with the aim of raising consciousness about land mines and cluster bombs as well as in honour of all victims who have lost their limbs to land mines. Requested by Handicap International, it was erected in 1997 as an outcry and appeal to all nations to sign the Ottawa Treaty that would permanently ban land mines. Over time, it has become one of Geneva's landmarks and a poignant memento to all nations.


International Red Cross and Red Crescent Museum: Following the Red Cross and Red Crescent's 100th anniversary, plans were made to open a museum that would reflect its valuable longstanding work. The museum hosts a threefold exhibition which focuses on modern issues and challenges such as defending human dignity, dealing with natural risks, and restoring connection within families. Besides this one, there are a number of temporary exhibitions focussing around contemporary burning topics in the society.
---
Useful links