Car hire in France - exploring the country in style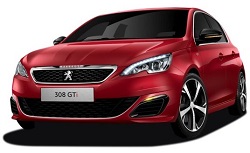 France is a wealthy country in every sense of the word, with more annual visitors than it has permanent residents. It's a place of iconic landmarks (the Eiffel Tower immediately springs to mind) and several treasured art collections, including Da Vinci's world-famous Mona Lisa. Many British tourists head for the French Riviera or Côte d'Azur, one of Europe's most cherished holiday hotspots. Besides the top destinations of Nice, Bordeaux and Marseille, there are many other areas worth exploring with your car hire in France, such as the Dordogne (for its canvas of hilltop castles), the Loire Valley (famous for its charming châteaux) and the lovely Luberon region, arguably the most quintessential part of the country. Road-trippers can marvel at the amazing alpine vistas of south-west France whilst meandering through the enchanting Rhône Valley.
Paris needs no introduction - it has been welcoming visitors since time immemorial. Blessed with more than its fair share of standalone tourist sights, the city offers a thrilling cultural experience for the most discerning of travellers due to an abundance of magnificent monuments, well-organised museums and some of the finest Michelin-starred restaurants in the world. Thanks to Auto Europe, you can pick up a low cost car rental in France and explore the French capital's many attractions, including the neighbourhoods of Montmartre, Marais, Belleville and Trocadéro, not to mention the famous Latin Quarter. France is the beating gastronomic heart of Western Europe and fine-dining is as prevalent in the country's rural areas as big cities like Paris where many of the world's most celebrated chefs operate. The country is also famous for its wine and a large part of the fun of driving around is having the chance to drop in on the local estates to taste the wine and stay a night or two perhaps. It is also possible to combine the joys of visiting a winery with the thrills of big city sightseeing in Lyon (for Beaujolais), Reims (Champagne), Dijon (Burgundy), Montpellier (Languedoc) and Bordeaux (Claret), to name a few.
As a leading car rental broker, Auto Europe has developed very strong working relationships with all the world's most important car hire suppliers, notably Sixt, Hertz, Dollar, Avis, National, Europcar, Budget and Alamo. Our unique price guarantee ensures that we offer the cheapest deals on the Internet with the best rates inclusive of fire, theft, liability and CDW (Collision Damage Waiver) protection. Furthermore, when you book your car hire with Auto Europe you can modify or even cancel your reservation free of charge up to 48 hours prior to picking up the vehicle. For more info or personal assistance with your booking, please do not hesitate to call our rental specialists on +44 123 3225 114 seven days a week. To be sure that you're making the right choice, visit our France car hire reviews page to see what our many other customers have written about their recent car hire experience in towns and cities all over the country.
For more information on renting a vehicle in France, click on the car hire related topics listed below:
Where to Pick up a Car Hire in France
Auto Europe's extensive selection of convenient pick-up and drop-off locations is as varied as the country itself. There are plenty of good options for low cost car hire in France at countless of the country's main airports, railways stations and many central city destinations.
Travellers looking to pick up their vehicle and head off into the beautiful French countryside for a week or two can choose from a wealth of wonderful places, including Geneva, Montpellier, Nantes, Lille, La Rochelle, Avignon and Limoges, among many others.
Check out our special pick-up blog post for tips on collecting your vehicle quickly and easily once you have arrived at your destination. This post includes information about what documents you will need, where the supplier desks are located and advice on out of office drop-off.
Compare Car Hire Rates at the Most Popular Airport and Rail Stations in France
Book with the Best Car Hire Suppliers in France
Auto Europe currently operates at over 24,000 pick-up locations in more than 180 different countries, including all the top pick-up and drop-off points in France and the magnificent Mediterranean island of Corsica.
As mentioned, Auto Europe works with all the leading car hire brands which allows us to offer our customers the best car rental deals possible. You won't find a cheaper deal anywhere on the Internet and you can cancel or change your booking up to 48 hours before pick-up at no extra cost and you'll find all the terms and conditions relating to your vehicle and supplier clearly explained at every stage of the booking process.
Please do not hesitate to contact our rental specialists on +44 123 3225 114 (or by e-mail to reservations@autoeurope.co.uk) should you have any questions about renting a car in France, such as the cost of any additional drivers, the local office opening hours, where to drop the key if the office is closed or to see if any special offers are available.
---
Frequently Asked Questions about Renting a Car in France
As one of the industry's leading car hire brokers, Auto Europe is well versed in answering questions relating to all aspects of renting vehicles all over the world, including France. Many of the most frequent questions asked are listed below, but if you cannot find the answer you are looking for, please do not hesitate to call our rental specialists on +44 123 3225 114. They are on duty seven days a week and will be happy to answer your questions and help you with your booking.
---
Although the minimum age for renting a car in France is typically 18, the permitted age for renting can vary considerably according to the car hire supplier, with some companies having different rules for drivers under the age of 21 and for those under the age of 26. Please note that an additional fee known as a Young Driver Surcharge is often applied to people in this age group. Besides young drivers, maximum age limits also apply in some locations and senior citizens are sometimes required to pay a Senior Driver Surcharge in addition to the daily car rental rate, depending on the supplier. In France, Young and Senior Driver Surcharges can be quite substantial, so make sure you have a good idea of how much it is going to cost you well in advance.
To find out if a local Young or Senior Driver Surcharge might be applicable, please click on the blue and white info icon (i) during the booking process. Additionally, you will find this information in the terms and conditions sent to you by Auto Europe along with the booking voucher. If in doubt, please consult our special section for more information about age restrictions.
When making your reservation online through the Auto Europe booking engine, it is important to enter the exact age of the main driver and to inform us of any restrictions that might be relevant to your rental. For novices renting for the first time, please have a look at our dedicated section for people hiring their first car hire.
Yes, it is easily possible to pick up your car hire in France in one place and drop it off in another, subject to an additional charge (a one-way fee). This extra charge is either included in the daily rate or paid directly to the supplier (in euros) at the time of pick-up. The one-way fee also applies to international rentals and you must inform us about your travel plans before making the booking so that we can confirm whether or not your proposed trip is possible. This is because not all vehicles are allowed to leave France due to restrictions on certain vehicle categories, duration and travel restrictions between specific cities and locations. For instance, it may not be possible to drive a high-value luxury car from France into a neighbouring country. Please check our one-way car hire page for more information.
To check whether or not a one-way fee is payable, just select your preferred supplier in the Auto Europe booking engine's search results and look under the car rental rate. Please note that you can cancel the booking free of charge if you are not happy with the one-way fee being quoted. Although Auto Europe does not profit or benefit in any way from one-way fees, we feel that it is important to inform our clients of all the costs involved in order to help people make the best choice when planning their trip. Each supplier determines its own fees independently and might charge more or less than another car hire supplier for the same pick-up and drop-off locations, while others might not charge anything at all.
Some car rental companies operating in France also allow their clients to travel to neighbouring European countries such as Italy, Germany and Spain without any restrictions, although travelling in Eastern Europe might be subject to some restrictions, depending on the supplier.
Customers must indicate their intention to enter other countries when making their reservation and the country or countries in question must be noted on the voucher. In most cases, the car rental supplier will need to authorise any cross-border travel, for which a daily fee will be charged locally, the amount of which will be clearly stated in the voucher's terms and conditions.
Yes, a credit card is always required when renting a car in France. The reason for this is that the car hire suppliers (i.e. Avis, Hertz, Sixt, Alamo, Budget, Europcar etc.) will normally block a specific amount on your card, which is then held as a security bond in case the vehicle is returned with any damage caused during the rental period. If no damage is reported, then the amount is released and the money promptly returned.
It is also worth knowing that debit cards are not accepted in France. You also need to be aware that due to the high value of luxury and premium cars, the local supplier might ask you to provide two credit cards in the name of the main driver instead of just one.
To check which type of credit card you can use to pick up your vehicle, just click on the blue and white info icon (i) once you have selected your preferred car hire supplier where you will find all the necessary payment information. For more tips on paying for your car hire in France, please consult our credit cards and deposit blog post on the subject.
Besides remembering to drive on the right-hand side of the road, it's essential to know the speed limits in France - which are 130kph (80mph) on tolled motorways, 110kph (68mph) on dual-carriageways and toll-less motorways, 80kph (50mph) on country roads and 50kph (31mph) around towns and cities. Please note that all of these speed limits are reduced in the event of wet or foggy weather conditions. In case of emergency, the numbers to call are 15 (medical assistance), 17 (police) and 18 (fire services). The European all-emergency number for mobile phones is 112.
It's also important to know that seat-belts are mandatory and it is illegal to use a mobile phone behind the wheel regardless of whether it is being operated with a hands-free kit. Furthermore, children aged 9 and under must travel in a child seat placed in the back of the vehicle if they weigh between 9 and 15kg. Children above this weight must use a seat belt with a booster seat. You also need to be aware that headlights must be used when visibility is reduced, even during daylight hours, and car horns must not be used in built-up areas unless the driver is in immediate danger.
Before starting your journey, you must make sure that your vehicle is properly equipped with a reflective jacket and warning triangle in the case of an accident or breakdown during your rental period. You should also be aware that France has more than 2,000 speed cameras dotted all over the country, some of which are unmarked, so be very prudent when driving your car hire in France!
Furthermore, France has one of the strictest drink-driving laws in Europe and anyone caught driving with more than 0.05% of alcohol in their blood will be prosecuted. It's also worth knowing that all motorists in France are obliged by law to carry a breathalyser and use it if asked by the police at any stage of their journey. For more information on driving and traffic rules in France we advice you to consult our dedicated page with information on the most important rules of the road.
Yes. When you see the autoroute peage sign, it means that you are on or about to join a tolled motorway, and a blue sign with the letter 'A' before a number indicates which motorway you are on. Drivers must take a ticket at the toll booth before joining the motorway and pay the required amount when exiting based on the distance travelled. A rough estimate (subject to occasional increases) is about €1 per 10 miles, so a trip from Paris to Bordeaux would normally cost between 55 and 60 euros, for example. Click here for more information on how to calculate the cost.
Methods of payment include cash (always best to carry some with you and head for the toll booths marked with green arrows), Mastercard or Visa. Please note that no cash is accepted at toll gates marked with the logos of these credit cards.
Alternatively, a growing number of visitors to France are opting to use the Télépéage Liber-t system which uses a transponder that allows drivers to travel on the entire French motorway network and pass through the toll gates marked T without ever needing to stop. Ask your car hire supplier for details.
When deciding to rent a car in France with Auto Europe, you can rest assured that all our prices include fire insurance, liability, collision damage waiver (CDW) and theft protection. We also offer the most comprehensive car hire coverage for drivers looking for total peace of mind whilst travelling around France.
Available at a very reasonable cost, our full protection package covers damage to glass, wheels, roof, undercarriage, towing costs, loss of keys, miss-fuelling, administration fees and much more. Please note that the price of this package may vary according to the location, rental duration, car category and supplier.
It's very easy to find out what coverage is included when making your reservation. After selecting your desired travel dates and destination followed by your chosen supplier, just click on the blue and white info icon (i) and you'll find all the specific coverage specifications such as the mileage allowance, CDW, theft and liability insurance.
Alternatively, you might prefer to purchase coverage from the car rental company at the time of picking up the vehicle, although you should bear in mind that Auto Europe cannot refund any locally-bought insurance charges or fees, even if the policy proves to be surplus to your requirements.
Because car hire coverage can be a complex issue for less experienced travellers, we suggest that you take a look at our car hire coverage blog post, along with our car hire insurance article published as part of our popular Complete Guide to Car Hire series.
Yes. Along with any additional drivers, the person renting the vehicle is free to drive in France on presentation of a valid UK driving licence, which they will need to have held for at least two years. Please note that an International Driving Permit (IDP) will always be required if the driving licence is not in the Roman alphabet and must be presented in addition to the original driving licence.
However, it is important to bear in mind that an increasing number of local car rental suppliers in France are asking for an IDP at the time of pick-up even if the original driving licence is in the Roman alphabet. Please read the terms and conditions on the booking voucher to check if this applies to your reservation.
It should also be noted that all car hire companies operate with minimum age requirements which can affect young drivers even if they hold a valid licence, while some suppliers also impose a maximum age limit. In both cases, such restrictions apply to the main driver and any additional drivers planning to share the driving during a trip.
In order to verify whether or not you will require an International Driving Permit, it is very important that you fully read the terms and conditions Auto Europe sends with the booking voucher. Failure to comply with all the local car supplier's terms and conditions might result in you being refused a vehicle once you have arrived at your destination.
Acquiring an IDP is quick and easy - you can do it through the AA, RAC or by visiting your local post office within three months of the departure date. It costs around £5 and drivers must be at least 18 years of age and be a resident of Great Britain or Northern Ireland. To apply for an IDP by post, you will need to send the completed application with a self-addressed envelope and copies of your driving licence and passport, as well as a passport-sized photo and payment. Additionally, since the 8th of June 2015, many drivers holding a UK licence have been asked by their car hire suppliers to provide a DVLA code in order to check the driver's licence record, which can be downloaded from the DVLA website 21 days prior to pick-up.
For more details, please consult the information sections on the Auto Europe website about international driving permits and the DVLA changes introduced in 2015.
Yes. Adding drivers to the car hire contract is perfectly possible and a major advantage for groups of travellers embarking on long road-trips and extended journeys in France and other popular European destinations. With some car rental companies, the Additional Driver Fee is already included in the price, while others will charge the customer at the time of picking-up the vehicle, with the amount being set by the local supplier. In any case, any additional drivers must be confirmed and registered during the booking process and they must present the same documents as the main driver at the time of pick-up, namely their passport, driving licence and International Driving Permit (IDP) where required.
It's easy to check if there's a charge for adding drivers to your car hire booking because you will find the fee clearly stated on the Auto Europe website. After selecting your dates, destination and car hire supplier, just click on the blue and white info icon (i) where you will find full details about any Additional Driver Fee that might be payable. The same information will be clearly stated on the car rental voucher sent by Auto Europe after the booking has been confirmed.
You can save money by taking advantage of Auto Europe's regular Free Additional Driver Deals advertised on our website. So keep an eye on the free additional driver promotion page on our website because sometimes one driver isn't enough. With our special offers you'll no longer have to worry about paying more to add a driver, nor will you have to toss a coin to see who is going to drive!
One important thing to note is that if a friend or family member who is not officially included in the contract does decide to drive the car during the trip, they will automatically be excluded from any insurance coverage agreed before departure. This will make them liable for the total amount of any damages caused in the event of a collision or the vehicle being stolen. Therefore, it is essential that all additional drivers are properly authorised before leaving the car hire company's premises.
It depends on where you are going. Introduced on the 29th of June 2016, the Crit'Air air quality certificate (known locally as le certificat Crit'Air) was introduced for drivers entering restricted traffic zones in a number of French cities, including Grenoble, Lille, Lyon, Marseille, Rennes, Strasbourg, Paris and Toulouse. All vehicles (including those rented) that are driven and/or parked in these restricted traffic zones (called zones à circulation restreinte) must now display a clean air windscreen sticker as a legal requirement in order to identify the vehicle's emissions levels. Failure to do so can incur an on-the-spot fine of over one hundred euros. Note that there are two types of restricted zone, a permanent low-emissions zone (ZCR – Zone à Circulation Restreinte) and a temporary emergency low-emissions zone (ZPA – Zone de la Protection de l'Air).
The system was introduced by the French government to reduce harmful vehicle emissions in areas where the quality of the air is poor, particularly in the larger cities. It means that certain vehicles can be refused entry based on the Crit'Air sticker displayed on the windscreen, either throughout the day or at certain times when pollution levels are high. The stickers come in six different colours – green, purple, yellow, orange, burgundy and dark grey – which are attributed according to the vehicle's type, engine capacity, age, etc.
The sticker costs between €3 and €4 and can be bought online at www.certificat-air.gouv.fr. For rented vehicles, the obtaining of an emission sticker is handled by the chosen supplier, meaning that you will not need to obtain one for your car rental in France; this will be taken care for you. For more information speak to the local supplier upon pick-up.
When renting a car in France, you are not permitted to travel on ferries to any island locations without Auto Europe's prior consent. Travellers looking to visit the country's largest islands such as Corsica should leave their car on the French mainland and book a separate car rental if they wish to discover the island by car.
---
Additional Vehicle Rental Options in France
Finding the best car hire deals in France on the Auto Europe website couldn't be quicker or easier. We cater for all budgets and driving requirements by offering an extensive range of vehicle types, from smaller money-saving cars in the Mini and Economy categories to the more comfortable options in the Large and Intermediate categories, with plenty of other options available. For those wishing to explore the beautiful French Riviera our personal recommendation is a vehicle from the sporty and luxurious Convertible category.
Auto Europe also has a good range of 7- to 12-seater vans for hire, as well as the latest campervans and motorhomes designed for groups of friends and families looking to travel around France in complete comfort.
To help you select the right vehicle for your visit, please consult our France fleet guide for full details of all our different car categories.
Luxury Car Hire France - Auto Europe is very proud of the range and quality of its luxury car collection, offering drivers the chance to travel around France in vehicles like the BMW X5, Mercedes AMG GT, Porsche 718 Spyder, Maserati Ghibli, Lamborghini Huracan and Audi TT Roadster available in some locations through the Auto Europe Luxury brand.
Van Hire France - France is one of the best countries in the world to explore, especially with those closest to us such as family and friends. Hiring a larger vehicle such as a mini-van or people-carrier gives groups of travellers more freedom, flexibility and enough space for up to 12 people, including an additional amount of luggage.
Campervan Hire France - By booking a campervan in France you can maximise your time in this beautiful country, making your way from Paris to the Pyrenees, or Lyon to the beautiful French Riviera. Auto Europe offers the best selection of campervans and motorhomes with plenty of convenient pick-up locations.
---
Useful links
Travel Inspiration and Information for Your Trip to France
Driving and Traffic Information for France