Hire an Economy car from Auto Europe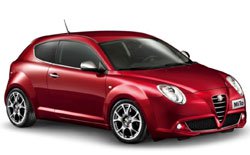 The Economy car category distinguishes itself through low fuel consumption, which makes these vehicles ideal for students, couples and small families travelling without too much luggage. They are also great for shorter trips. One of the most frequently booked Economy cars in Europe is the Volkswagen Polo. Depending on availability, this model can be booked with varying technical properties - with manual or automatic transmission and with a diesel or petrol engine.
These cars can provide enough room for up to four people, two medium-sized suitcases and one carry-on bag. Hire an Economy car for more comfort and less money with Auto Europe!
About hiring an Economy Car
Auto Europe will accommodate you regardless of your holiday type. We offer you a vast selection of Economy vehicles in a large number of destinations around the globe, with Faro being one of the most popular ones. Somewhat longer journeys for two adults are easier with an Economy car. Even families are welcome to hire an Economy car for shorter trips as a more frugal alternative.
What is an Economy Car?
Economy cars make for one of the favourite car classes for travellers - affordable, comfortable and compact. Furthermore, their engines are well built and despite their low fuel consumption, they are still strong enough to navigate hilly areas, such as the ones you may encounter in Sicily.
A brief History of the Economy Car
Earlier Economy cars were considered a luxury available only to the privileged. With the arrival of Ford Model T in 1908 things changed significantly. Henry Ford described this model as precisely the type of car which is not only affordable, but also meets all the requirements of drivers. Over the course of time, the market for Economy cars has seen huge growth. Due to the high demand, car manufacturers are currently offering a wide variety of models in this category.
Economy Car hire benefits
The advantages of Economy cars primarily consist of their low fuel consumption which makes them quite affordable. Save on petrol and spend that money on other holiday delights instead. Another important feature is their compact size which will save you time and nerves when looking for a parking space.
As a disadvantage of an economy car, we could only list the size of their trunks. If you are carrying several suitcases, this type of car would not be the best choice for you. However, you would often need just a slightly higher sum of money to upgrade to the next car category.
Economy Car features
When it comes to finding the right small car for your holidays, low fuel consumption is probably one of the most important factors to consider. Bearing this in mind, Auto Europe has prepared a large number of fuel efficient cars for its customers. For example, a Volkswagen Polo or a sleek Fiat 500, which may be nimble but still low on fuel consumption.
For all those who need some extra space, we recommend booking a small station wagon such as the Seat Ibiza Estate. This small four-door car has a trunk larger than other Economy cars and is perfect for a family holiday in continental Europe, for example a city trip in Paris.
Hire the best Economy car with Auto Europe
Auto Europe has partnered with renowned car rental suppliers worldwide to be able to offer you a vast fleet of vehicles for every budget and taste. Book with us and stay flexible with our up to 48-hour free cancellation policy and over 24,000 pick-up locations worldwide.
Popular Economy Car Hire Models
Below you'll find a selection of some of the most popular economy car hire models in our fleet.
| | | |
| --- | --- | --- |
| | | |
| Audi A1 | Chevrolet Aveo | Citroen C3 |
| | | |
| Fiat Punto | Ford Fiesta | Hyundai i20 |
| | | |
| Mitsubishi Mirage | Nissan Micra | Opel Corsa |
| | | |
| Renault Clio | Seat Ibiza | Volkswagen Polo |
Learn about our other car hire categories