Hire a compact car from Auto Europe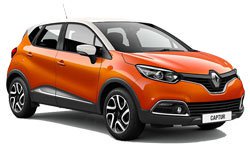 The compact category is the best choice for small families looking to hire a comfortable and good value vehicle with a spacious boot. The compact class includes such models as the famous VW Golf, Opel Astra and Ford Focus, among others. These types of cars offer enough room for four passengers and their baggage. Three small or medium-sized pieces of luggage fit into the boot of a compact car. Therefore, compact vehicles are perfect for city trips.
About hiring a compact car
Hire a compact car for your next trip in Europe. Compact cars are not only easy to maneuver on winding European streets, but also guarantee a comfortable drive. A compact vehicle is optimal for four passengers, as you will have plenty of space for your luggage.
Nowadays, compact cars are very popular in European cities, especially among young drivers and small families. Try out this category if you are travelling in a group of four or with your children.
What is a compact car?
Smaller than the standard class, the compact car hire category vehicles are constructed in a way that their space is used very effectively. This is why compact cars are more practical in big cities. Therefore, for a car hire in Barcelona, for example, we would recommend the compact category. It is also one of the most booked classes due to its low rental costs.
Compact Car Hire benefits
The compact category encompasses all the best features of a mini category vehicle while still allowing for enough storage space in the boot. They are easy to park, but when you try these vehicles on a motorway, you will notice where their more powerful engines step in. Despite strong engines, compact cars remain economical in fuel consumption. The compact category is the perfect compromise between small and large cars as you get the best form both worlds. It gives you the comfort of driving and doesn't damage your holiday budget.
Compact Car features
Auto Europe offers various compact cars. You can choose between two or four-door vehicles. Should you need more space for your luggage, a good option is to book an estate vehicle. We also offer SUV's in the compact class as well as luxury cars. Thanks to various models and car body types in the compact category we have on offer, everyone is sure to find the best option for their travel needs.
Choose the best and safest Compact cars
We offer numerous car brands in the compact class, including the best European labels. As an example, on our booking engine you can now hire one of the safest compact cars on the market - the luxurious hatchback Mercedes A-Class. Its powerful R4 engine always stays under control thanks to numerous safety systems. One of our clients' favourites, Ford Focus, is available for pick-up in many European destinations. Its modern design and economical fuel consumption make it one of the most famous compact cars. Another compact class hit, the Citroen DS3 is also offered as a convertible. The selection is vast and it is up to you to choose your next car hire. Compact vehicles are often the choice for a car hire in large cities, such as Rome or Paris.
Hire the best compact cars from Auto Europe
Make a search on our booking engine and see what cars are offered at your travel destination. By filtering your search results by midsize vehicles, you will get an overview of vehicles offered in a given pick-up location. Here you can then look for all availble compact class vehicles marked with "Compact Class". If you require some additional assistance or have car hire queries, please do not hesitate to contact our agents on +441233225114.
Popular Compact Car Hire Models
Below you'll find a selection of some of the most popular compact car hire models in our fleet.
| | | |
| --- | --- | --- |
| | | |
| Ford Focus | Opel Astra | Volkswagen Golf |
| | | |
| Fiat 500 L | Audi A3 | BMW 1 Series |
| | | |
| Peugeot 308 | Peugeot 2008 | Renault Captur |
| | | |
| Seat Leon | Fiat Tipo | Volvo V40 |
Learn about our other car hire categories