Car hire in Rome – The Eternal City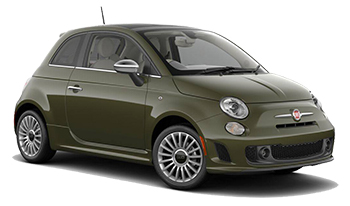 By virtue of its historic attractions, enviable climate and indisputable charm, Rome ranks high on the list of any traveller keen on combining the pleasures of a sunny holiday by the sea with all the joys and excitement of a true cultural mecca.
Many of Rome's most recognisable landmarks were built in antiquity – the Colosseum, the Roman Forum, the Pantheon, the Palatine Hill – but Rome's history did not stop with the collapse of the Roman Empire. The city absolutely thrived during the Renaissance, with artists like Michelangelo, Raphael and Botticelli leaving their mark on artwork, on buildings, sometimes on the cityscape itself.
Rome birthed an empire. It was, along with Florence, the centre of the Italian Renaissance. It was the starting point of Neoclassicism and the Baroque. It saw the rise and fall of Fascism. Centuries upon centuries of political upheaval and of changing artistic and cultural preferences shaped the city, turning it into a sort of highlight reel of human achievement and artistry.
And perhaps that's the key to Rome's enduring appeal. It's a place where history is not locked away behind a museum's display, but that is all around, in the façade of buildings, in the beautiful piazzas, in the colossal monuments built by bygone civilizations. They call it the Eternal City, and it's difficult to think of another metropolis that so perfectly lives up to its moniker.
By booking a car hire in Rome, you're free to tailor your Italian holidays to your exact specifications, filling your itinerary with all the things you want to see. Once you're done exploring the city, maybe you'd like to head south for a sightseeing trip along the Amalfi Coast or to spend a day exploring the ruins of Pompeii. Or maybe you'd prefer to plan a road trip and set off from Rome to hit all the Italian highlights, from Milan and Bergamo in the north, to Bari and Brindisi in the south.
With a car at your disposal, your time is your own and you're free to explore as much of the Italian Peninsula as you like. And to provide you with even more flexibility when planning your holiday, Auto Europe gives you the option to drop off your vehicle at a different location from where you picked it up. That means that you could easily pick up your car in Rome and drop it off in Venice, for instance.
Auto Europe's strong commitment to providing our clients not just with affordable car hire services, but also with stellar customer service throughout the entire booking period, makes us the perfect choice for your holidays. Our car rental specialists are just a phone call away, ready and eager to help you with questions or issues you may have. Simply give us a call at +44 123 3225 114. To find out what out customers think about our service in Rome, have a read of our car hire reviews in Rome section.
For more information about renting a vehicle in Rome, click on the car hire related topics listed below:
---
Where to Pick up a Car Hire in Rome
Location, location, location. Because we understand how important it is to choose just the right place to pick up your car hire in Rome, we strive to ensure our clients have plenty of options. Auto Europe provides car hire services at both Rome airports, at the two main train stations and at countless other downtown locations, in order to make sure our clients can choose the one most suited to their needs. While most people flying in tend to pick up their car at the airport, you may find it more convenient to pick up your vehicle in the city, in which case, fear not. We've got you covered!
When looking for the best car rental deals in Rome in our booking engine, you have the option to toggle a map display that pinpoints the exact location of the different pick-up counters in the city. If you have a strong preference for a given car hire supplier, you can also use the available filters to narrow your search.
Most of the downtown locations where you can pick up your Rome rent a car are fairly central, but we offer options across the city, so you may be sure to find the one that suits you best.
Should you prefer to pick up your vehicle at the airport or at one of the train stations, keep reading!
Rome Fiumicino Airport
The city of Rome is served by two airports: Fiumicino and Ciampino. Fiumicino Airport is the principal gateway to the city and can be found south-west of Rome. The drive from the airport to the centre takes about half an hour, depending on traffic. The car rental desks are located in Office Tower 2, part of the multilevel Car Park, and can easily be reached via a pedestrian tunnel from the terminl building. Simply follow the signs from the Arrivals area.
Rental vehicles are returned in buildings A,B or C of the mulitlevel car park, depeding on where it was picked up. To return your rental at Fiumicini Airport please follow the road signs on the motorway when approaching the airport.
Fiumicino - Leonardo da Vinci International Airport (FCO)
Website: adr.it/fiumicino
Address: Via dell' Aeroporto di Fiumicino, 320, 00054 Fiumicino Roma, Italy
Telephone: +39 06 65951
Rome Ciampino Airport
The smaller and older Ciampino Airport is located south-east of the city. While it's closer to the city centre than Fiumicino, the drive to and from the airport may take longer due to traffic. Ciampino mostly handles flights from budget airlines, namely Ryanair and Wizz Air.
You will find the rental desks located in the parking area P6, P8 and P12, at the entrance of the airport terminal. A complimentary shuttle service to/from the terminal to the car rental suppliers can be used for passngers not wishing to reach the area on foot. Rental vehicles are returned to the same area.
Ciampino - G. B. Pastine International Airport (CIA)
Website: adr.it/ciampino
Address: Via Appia Nuova, 1651, 00040 Ciampino Roma, Italy
Telephone: +39 06 65951
Rome Train stations
Conveniently located right in the city centre, Rome Termini Station is one of the largest railway stations in Europe, second only to Gare du Nord in Paris. The station offers regular connections to major Italian cities, such as Milan and Pisa, as well as daily connections to cities across Europe. The car rental desks can be found in Via Giolitti, on the platform floor.
While its central location makes Termini a popular choice among travellers, if you're headed for the north-eastern part of the city, you might prefer to pick up your Rome car hire at Rome Tiburtina Train Station. Closer to the Grane Raccordo Anulare (the ring road that encircles Rome) than Termini, Tiburtina is also a better choice if you want to avoid the heavier traffic of the city centre. The car rental suppliers can be found inside the station building and close to the station on Piazza Delle Croaciate
Roma Termini Station
Website: www.instazione.shop/roma-termini
Address: Piazza dei Cinquecento 1, 00185 Rome, Italy
Tiburtina Station
Website: www.instazione.shop/roma-tiburtina
Address:00162 Rome, Metropolitan City of Rome, Italy
---
Book with the Best Car Hire Suppliers in Rome
For over half a century, Auto Europe has worked hard to establish strong partnerships with car rental suppliers worldwide, ranging from major international brands to specialised local suppliers. This puts us in a strong position to offer our clients a wide range of vehicles at the most competitive prices, topped with outstanding customer service.
When hiring a car in Rome, you are spoiled for choice when it comes to the breadth and quality of the available offers. Our partners in the city include both Italian household names, such as Sicily by Car, Maggiore and Noleggiare, as well as industry heavyweights like Hertz, Avis or Europcar. Together, we aim to offer you true choice, flexibility and the best possible prices.
Should you have any questions about any of our partners or their individual policies, do not hesitate to contact us. Our helpful phone agents will be happy to help answer any questions you may have.
---
Frequently Asked Questions about Renting a Car in Rome
Are you looking for information about car hire insurance? Do you want to know if you need a credit card to hire a car? Are you wondering about traffic in Rome or want to know what a ZTL is? Look no further! You have questions and we have the answers! And if you feel you need more information or your question isn't addressed below, our phone specialists are only a call away and are always happy to help.
---
Yes. You need a credit card both to pay for your booking online and to pick up your car rental in Rome.
It's important to know that regardless of the credit card you used to pay for your booking on our website, the credit card you use to pick up your car must be in the name of the main driver listed in the voucher. This is where confusion usually arises. There may be more than one driver listed in the rental agreement (on which subject, if you need to add extra drivers to your booking, it's always a good idea to keep an eye out for offers that already include a free additional driver), but when picking up the car, the credit card must be in the name of the primary driver.
This credit card is used by the car hire company to block the security deposit for the duration of the rental period, so it must also have a credit limit that covers the amount in question. You can find out the exact amount of the security deposit for any given car in our booking engine by clicking on the vehicle's "Rate Details".
Under "Rate Details", you can further find the exact credit card requirements for individual suppliers.
As a general rule, if there's no credit card in which to block the security deposit, the supplier may refuse service or require that the client pay for additional insurance at the counter. If the latter, the supplier may also charge a deposit amount to the driver's debit card. (This is different from what happens with a credit card, in which the deposit amount is blocked but not charged).
When you hire a car in Rome with Auto Europe, the price of your rental already includes all the mandatory insurance necessary for that vehicle to circulate in Italy. That means that your rental is covered by Collision Damage Waiver (CDW), third-party liability and theft protection.
It's important to be aware, however, that both CDW and theft protection have an excess. The excess is the maximum amount for which the driver is responsible in case of accident or theft before the insurance steps in. This amount varies depending on supplier and vehicle, and can be found for individual offers in our booking engine, under "Rate Details."
There are also elements of the vehicle that are not covered by CDW. These may vary by supplier and vehicle, but typically include tyres, glass, interior, underside, engine and damage to locks or loss of keys.
Should you wish to increase your level of protection, Auto Europe offers a "Full Protection" package that reimburses the excess amount paid in case of accident or theft, including the amount paid for the elements of the car not normally covered by the vehicle's insurance (as stated above, tyres, glass, interior, underside, engine, etc.).
With some suppliers in Rome, clients also have the option to choose cars with "Zero Excess." That's the case, for instance, with Centauro, Enterprise, Leasys, Locauto, Noleggiare, Interrent Key'n Go and Sicily by Car. As the name indicates, the "Zero Excess" package reduces a vehicle's CDW and theft excess to zero.
Regardless of the insurance package you choose when booking online, you may be offered further insurance options when picking up the car. It's important to know what your car rental already includes so that you don't double your coverage unnecessarily. It's also important to be aware that you are under no obligation to take up further insurance locally if you'd prefer not to.
Having said that, please be aware that drivers under 26 years of age are subject to an extra fee to be paid locally. This is not an insurance per se, but a Young Driver Surcharge. As above, you can find the information regarding age requirements and the amount payable for any applicable fee in the "Rate Details" of individual offers in our booking engine.
Driving in Rome presents all the same challenges as driving in any other large European city, namely heavy traffic and a somewhat aggressive driving style. However, don't let that discourage you. The trick to driving in Rome is to make sure you plan your route in advance and keep in mind that a less direct route that follows main roads will often serve you better than a more direct one that takes you through smaller local roads and narrow one-way streets.
The city of Rome is surrounded by a large ring road, the Grande Raccordo Anulare, or GRA. Making as much use of this road as possible will allow you to avoid having to drive through the often congested city centre. Simply get to your destination via the exit closest to it. Traffic in the GRA tends to move quickly, so make sure you set your GPS in advance or use a map to plan which exit you need to take.
And if you'd like to use your Rome car rental to explore a little more of the Italian peninsula, you're in luck. All roads lead to Rome, after all. It was true in Antiquity and it's still true today. The city is extremely well connected to the network of motorways that span the width and breadth of Italy, linking its main cities. If you hop on the A1/E35 motorway heading north, you'll be in Florence in just three hours. And if you'd like to visit to Naples, driving south along the A1/E45 will get you there in just a little under two hours and a half.
When you rent a car in Rome, one of your first concerns might be where to park. You will be happy to know that not only are there several options to park your car, but that some of them are even free!
Street parking in Rome is colour-coded. Lines on the asphalt indicate the type of parking permitted. White lines indicate free parking, and these spots are – understandably – always in high demand. Many of these white parking areas can be found near Rome's hospitals (Bambino Gesù, Nuovo Regina Margherita, Oftalmico, Policlinico, Santo Spirito and S.Giovanni-Addolorata) and in residential areas of the city. White parking zones can also be found inside the ZTL, but please be aware that, generally speaking, only locals can drive (and park) there. More on the ZTL below.
Parking in white areas is usually capped at 3 hours, with exceptions made for residents.
Yellow areas are reserved for handicapped drivers with the proper permit, whereas pink areas are reserved for people who are pregnant and parents with newborns.
Blue lines on the asphalt indicate paid parking. Payment can be made in cash (euros) or by credit card on the meters found along the sidewalk. Most blue areas are free on Sundays and bank holidays.
When parking on the street, we strongly advise that you don't leave any valuables in the car, particularly where they can be seen from the outside.
Parking lots and garages can also be found throughout the city, including close to popular landmarks and tourist spots, such as the Colosseum and the Vatican.
The short answer is "No." The longer, slightly more complicated answer is, "Not in periods during which the ZTL is active."
As a way to limit pollution, all major Italian cities have Limited Traffic Zones (Zona a Traffico Limitato, in Italian), or ZTLs. On the map below, you can see which areas of Rome are covered by a ZTL, as well as the times during which each ZTL is active. Please note that these may be subject to change. In order to get the most up-to-date information regarding which Rome ZTLs are active at any given time, on any given day, we advise you to check romamobilita.it or refer to the electronic displays found at ZTL entry points.
Please be aware that sometimes there's no electronic display, just a regular ZTL traffic sign, which shows a red circle on a white background below the words "zona traffico limitato", followed by the times during which the ZTL is active.
Most of Rome's historic centre is covered by a ZTL. Only residents with a pass or people with cars registered for that purpose are allowed to drive inside these areas while the ZTL is active, and there are cameras strategically positioned to catch offenders. It's sometimes easy to drive into the ZTL without realising, which may result in a hefty fine. In fact, if during the same trip you enter and exit the ZTL more than once, that will result in multiple fines. Therefore, we highly recommend that you familiarise yourself with the limited traffic areas ahead of time. Be aware as well that GPS systems don't always recognise the ZTL's boundaries, so it pays to be extra cautious.
As a final note, it's important to keep in mind that while you can drive your car through Rome's historic centre in periods during which the ZTL is not active, you can never park there. Parking in that area is reserved for locals.
Absolutely! Besides offering a wide range of car hire services with trusted local and international car hire companies in Rome, Auto Europe has partnered with several campervan suppliers to bring our clients a large selection of motorhomes at the most competitive prices.
---
Rome Travel Guide
Travellers headed for Rome are truly spoiled for choice when it comes to choosing what to do and see in a city that was once the centre of the civilised world. A popular destination since antiquity, Rome continues to amaze and delight visitors with extraordinary landmarks and remarkable architecture that showcase a rich, diverse history spanning millennia. Whether you're looking to explore the city or use it as a starting point from which to set out across the peninsula, here are some of our suggestions for your trip!
Best day trips with my car rental in Rome
Rome is conveniently located roughly halfway across the Italian Peninsula and makes for a great starting point to explore the region. Why not plan a Lazio road trip, spend a leisurely day on the beach, or get a real taste of the Mediterranean by setting off on a scenic drive along the coast? Your only difficulty will be to decide what to do first!
Capri
Located near Naples, Capri is one of Italy's most charming islands. A haven of sandy beaches and crystal-clear waters, it's the perfect place for a day or a weekend spent by the seaside. The drive from Rome to Naples takes approximately 2.5 hours, depending on traffic, and from Naples you can take the ferry to Capri. It's important to keep in mind that most suppliers don't allow you to take your car on ferries and, in any event, motor vehicles are not allowed on the island most of the year, so you will want to leave your car in Naples.
Depending on where you catch the ferry, you can find parking at Parcheggio Brin on Via Marina or at Parcheggio Buono at the Molo Beverello pier. If you catch the ferry from the Calata di Massa pier, you should park your car at Parcheggio Buono, as there's a shuttle bus connecting the Molo Beverello and Calata di Massa piers.
Florence
The birthplace of the Italian Renaissance, Florence is nowadays one big open-air museum that features works from the great masters and some of the most stunning architecture in all of Italy. The trip up from Rome is around 3 hours by car and worth every minute. Take a stroll through the popular Piazza del Duomo, pop into the Basilica of Saint Lawrence to admire the works of Donatello and Michelangelo, soak up centuries of history and art on your way to the impressive Palazzo Vecchio or the unmissable Uffizi Gallery.
Like Rome, Florence also has a ZTL (Limited Traffic Zone) that covers much of the historic centre, so we advise you to plan your route in advance and to find parking outside of that area.
Tuscany
While Florence is, without a doubt, Tuscany's crowning glory, it's by no means the only thing worth seeing in this picturesque part of Italy. In fact, a sightseeing trip of the Tuscan countryside should be on everyone's to-do list. Rolling hills, sun-soaked plains and charming villages make this a postcard-perfect landscape and an absolute must-see. For the real Tuscan flair, we recommend a scenic drive to the beautiful Val d'Orcia and to the vineyards in Montalcino.
Amalfi Coast
After heading north for a tour of Tuscany, it's time to turn south for a drive through the gorgeous Amalfi Coast. A place where mountains meet the sea, the Amalfi Coast is a UNESCO World Heritage Site, and deservedly so. Home to quaint fishing villages perched on steep cliffs, to pebbled beaches and dramatic sea views, to a wealth of little bays and inlets and fjords, it is often regarded as one of the most picturesque and romantic regions in Italy and makes for a wonderful road trip.
Ruins of Pompeii
Once a bustling port city, Pompeii was met with tragedy in 79 AD when the nearby Mount Vesuvius erupted, burying the city under a mountain of lava and ashes. The mostly intact city was re-discovered three hundred years ago, frozen in time by the same pyroclastic surge that brought its existence to such an abrupt end. Around forty-four hectares of this once busy metropolis have been excavated, and the ruins of Pompeii are nowadays one of Italy's most popular attractions.
There's a car park operated by Camping Zeus near the "Porta Marina Superiore" entrance to the archaeological site where travellers can leave their car. Alternatively, some restaurants in the area also offer paid parking (with some of them waving the fee for people stopping for a meal).
What to do in Rome
There's an almost endless list of things to see in Rome, and travellers pressed for time often struggle to narrow this list down to something a little more manageable. Everyone knows the city's highlights – the Colosseum, the Di Trevi Fountain, the Sistine Chapel, the Piazza di Spagna and the Pantheon – but there are many other landmarks that absolutely deserve a visit. Here are Auto Europe's picks to round out your next Roman holiday!
Galleria Borghese & Villa Borghese Gardens: This famous art gallery houses the Renaissance masterpieces of the Borghese collection. Visitors exploring the two floors of the beautiful villa will encounter works by Raphael, Tizian, Rubens and Caravaggio. The gardens constitute one of the largest public parks in the city and, besides the Galleria Borghese, boast several other charming villas, like Villa Doria Pamphili and Villa Ada. Perhaps a little more surprisingly, they also house a replica of the Globe Theatre.


Capuchin Crypt: One of the world's most curious churches, Santa Santa Maria della Concezione dei Cappuccini is located in Barberini Square. Its claim to fame lies mainly with its burial crypt, whose walls are decorated with the bones of the deceased friars that once worshipped there. Skeletons hanging from the ceiling and bones artistically laid out adorn the space, accompanied by the memento mori, "What you are now, we once were; what we are now, you shall be."


Villa d'Este: One of the many UNESCO World Heritage sites in or near Rome, Villa d'Este is situated in Tivoli, which was once a favourite summer place for affluent Romans. The spirit and culture of the Italian Renaissance are best reflected in the splendid terraced gardens and fountains, which influenced many famous European gardens, architecture and ornaments. The villa is only 33 miles from the centre of Rome and can be reached in less than an hour by car.


Campo de' Fiori: The Campo de' Fiori is the perfect place to experience the real hustle and bustle of Rome. Its long history goes back to mediaeval times, when this small square just off the Piazza Navona was used for public executions! One of the most famous people to meet his end there was the renowned astronomer Giordano Bruno, executed in 1600. More than just executions had people flocking there, however. It was home to many trade shops and a vibrant market. To this day, several of the side streets bear the names of the trades once popular on Campo de' Fiori. Nowadays it's the go-to place for fresh local produce and lively encounters with both tourists and locals.


Quartiere Coppedé: One of Rome's smallest neighbourhoods, Quartiere Coppedé is both utterly unexpected and completely charming. Part fairy tale, part bizarre dream, it combines Art Noveau and Art Decò with a little Gothic here and a little Baroque there, and some Greek and Medieval influences for good measure, whipping it all together to produce something wonderful and strange, in the best possible way. It's often described as whimsical, and it certainly is that, but the adjective is insufficient to describe the unique appearance, the off-beat atmosphere and the absolutely wondrous look of this fantastic medley of styles.


Doll Hospital (Ospedale delle Bambole): Pressed against the shop windows, broken dolls spend their days and nights staring directly at passers-by or off into the distance. The city moves around them, but they remain frozen in time, with messy hair, broken faces or missing parts. The strange, somewhat macabre sight that greets unsuspecting tourists as they stroll through one of Rome's most fashionable shopping districts belongs to an unpretentious little doll repair shop, the Restauri Artistici Squatriti, better known locally as the Ospedalle delle Bambole, or Doll Hospital. A family affair, the Doll Hospital has been run by the Squatriti family for three generations and people come from all over the world to seek their expertise in repairing antique dolls.


Basilica of Saint Paul Outside the Walls: One of the oldest and most important Catholic basilicas in Italy, Saint Paul's Outside the Walls was commissioned by Constantine I in the fourth century, and built over the tomb of Paul the Apostle. Altered, expanded and enhanced several times over the centuries by the pope of the day, the basilica is a magnificent monument known for its beautiful golden mosaics and impressive marble columns. Of particular interest to visitors is also the collection of papal portraits installed along the walls. Originally, the portraits were frescoes, but when the basilica was restored after a fire that ravaged the building in the 19th century, mosaics started to be used. These mosaics are all identical in size and evenly spaced under the windows, and when a new pope is elected, his portrait is added. Because there's a finite amount of space for adding new portraits, legend has it that when space runs out, the world will end.
---
Useful links