If you are planning a trip to Italy then knowing about ZTLs is an absolute must. In our extensive ZTL guide below we have outlined all the information you need to be able to drive with your mind at ease in any Italian city. Find out what ZTLs are, information and maps on what areas to avoid and details on what will happen if you do get caught driving in a restricted area.
Restricted Driving Zones Italy - Frequently Asked Questions
The single most common reason why clients get fined when driving their rental cars in Italy is due to inadvertently driving into a ZTL. Sometimes clients aren't aware that ZTLs exist, and oftentimes they fail to spot the signs marking the limits. Here is a list of our most frequently asked questions when you rent a car in Italy with Auto Europe.
What is a ZTL?
ZTL stands for 'Zona a Traffico Limitato', or Limited Traffic Area. This is an area in the centre of Italian cities and towns where traffic is restricted. They don't exist everywhere in Italy, but they are fairly common and if you're visiting one of the main cities, such as Florence, Pisa or Rome, for instance, it's fair to assume a ZTL exists.
How do I know that I'm entering a ZTL?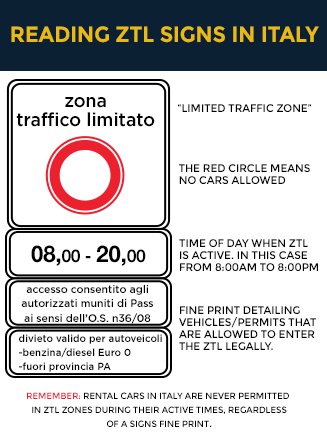 Contrary to popular belief, every single entrance to a ZTL has a clear sign indicating that you're entering a restricted traffic area. The sign to look for has white circle with a red border over a white background. Above the circle you will see the words 'Zona a Traffico Limitato', and below the circle there will be further information regarding the specific restrictions of that ZTL. For instance '7,30 - 19,30' means that there are only traffic limitations between 7.30am and 7.30pm. Another tell-tale sign that you are entering a restricted traffic area is the existence of security cameras on poles by the road. It's important to keep an eye out for this, since after you enter a ZTL you will probably not see any sign that you shouldn't be driving there.
I see other people driving inside a ZTL-area. Why can they and I can't?
While it varies from city to city, traffic is normally allowed to residents and public transportation. Don't assume that just because you see people entering ZTL marked areas that it is safe for you to do so. Always look for the existing signs.
What if my hotel is located inside a ZTL?
You can ask your hotel to have your number plate registered with the local authorities for the duration of your stay. This is usually free of charge, but make sure you double-check this with your chosen hotel before your travels. Don't take your car into a ZTL until this has been done. Furthermore, even if you can drive in the ZTL where your hotel is located, this doesn't mean you can drive in all the ZTLs in the city, so you should still be cautious about avoiding other restricted traffic areas.
What happens if I accidentally drive into a ZTL?
You will get fined. There are cameras along the limits of the ZTL which register the number plates of cars driving by, and you can be fined every time you drive by one, which means you can get fined more than once in a single incursion.
How much will I be fined for driving in to a ZTL-zone unauthorized?
Typically you would be expected to pay 80-300 EUR for driving in to a ZTL-area unauthorized; prices vary depending on what city you are driving in. On top of this the local car rental supplier will also charge you a "Traffic Violation Fee", which varies from supplier to supplier, which will be charged to the credit card that you supplied at the time of pick up.
How can they fine me for driving in a ZTL-zone if I am no longer in Italy?
The police will contact the car hire supplier, which will provide them with your address, to which the fine will be sent. On top of that, car rental companies normally charge an administrative fee of their own per fine, which is charged to the credit card provided when you picked up the car.
Why did no one at the pick-up desk warn me about the ZTL-zones?
It is the client's responsibility to be informed about the laws and regulations of the countries they're travelling to.
This sound like a way to make money off unsuspecting tourists! Why is there even a ZTL?
ZTLs are meant to reduce the impact of traffic in areas of historical and cultural interest. Furthermore, traffic restrictions lower pollution levels and allow for the creation of more pedestrian-friendly areas in places often frequented by a large amount of tourists.
Maps over Popular Italian Cites and their ZTL zones
Rome ZTL Map

Restricted Driving Zones

Florence ZTL Map

Restricted Driving Zones
Milan ZTL Map

Restricted Driving Zones

Pisa ZTL Map

Restricted Driving Zones
ZTL Zones - Driving Tip
You might think that you can avoid the issue of driving in to ZTL-zones on your trip to Italy by using a GPS or Navigation- device but please be aware that these doesn't always inform you if you are about to enter a restricted driving zone.
This is because GPS systems don't normally include information about ZTL areas or their boundaries due to the fact that the regulations are determined by each city and that they often change periodically, and it will usually just calculate you the shortest possible route to your chosen destination. You should therefore be aware that this can lead to you accidentally driving in to ZTL-zones and consequently accumulating fines.
Other Useful Resources when Travelling in Italy
Driving Information in Italy - full guide to road rules and driving requirements
General Travel Tips for Car Hire - Auto Europe's dedicated travel advice page with information about car hire