Car hire in Alicante at top rates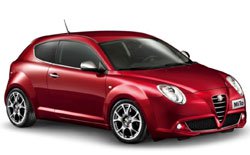 Crystalline waters, fantastic beaches, breath-taking view points, interesting museums and exquisite cuisine. Tourists in Alicante couldn't ask for more! This Spanish port city is dynamic, diverse and blessed with natural beauties and all-year-long warm weather. Alicante is enriched by its history, climate and the fertile Mediterranean lands of its province, attracting visitors from several different countries.
And why not embark on a new adventure with your car hire from Alicante exploring all that Spain has to offer? In a two-hour drive north you will reach Valencia and just one hour south-west you will find the baroque city of Murcia. You could even consider dropping off your car hire in another city, by booking a so called one-way rental. This way you would be able to spend some days in Madrid, which is just four hours by car or Barcelona, which is five hours away. Actually if you take the coastal highway AP-7 to reach Barcelona you will be surprised by incredible views along the way!
You can rest assured that Auto Europe has you covered. We are an international car hire company providing services in more than 180 countries. Thanks to our partnership with both local and international suppliers, we are able to offer a quality service and competitive low prices. Have a look at the wide variety of cars available in several locations in Alicante and take advantage of our special offers such as free additional drivers, in Spain. Find out what our customers have to say about their recent Auto Europe car hire experience on our Alicante car hire reviews page or contact us on +44 123 3225 114 should you need help with your reservation.
For more information about renting a vehicle in Alicante, click on the car hire related topics listed below:
---
Where to Pick up a Car Hire in Alicante
Thanks to our partnership with both local and international suppliers, we are able to offer competitive low prices without sacrificing the quality of our service. Renting a car in Alicante on our portal will surely suit your specific needs, with a wide variety of cars available at several locations, both at the airport, the Alicante Terminal train station and downtown. Our downtown locations include pick-up desks at the Alicante port, inside the Centro Hotel Melia, with walking distances to many sights as well as local restaurants.
Alicante Airport
Alicante Airport, is located 20 minutes southwest of the city centre, in the municipality of Elche. The airport is easily accessible from all directions and well signposted trough the highways. It is currently the sixth largest airport in Spain and has recently undergone renovations which replaced the old terminals with a new, modern one. In 2019, the airport handled approximately 15 million passengers and the majority of traffic was operated by airlines such as Ryanair, EasyJet and Vueling. Picking up your car hire at the Alicante airport will be very easy since most supplier desks are located in the arrivals hall.
Alicante-Elche Airport (ALC)
Website: www.aena.es/en/alicante-airport
Address: 03195 El Altet, Alicante, Spain
Telephone: +34 913 21 10 00
Alicante-Terminal Train Station
The Alicante Train Station is part of the RENFE network and conveniently located north-west of the city centre. A car hire at the Alicante train station is therefore a perfect pick-up point even if you do not arrive by train. Most suppliers have desks directly inside the terminal building or in the adjacent streets. Please read your voucher for the exact location.
Alicante-Terminal Train Station
Address: Avda de Salamanca, 03005 Alicante, Spain
Telephone: +34 913 21 10 00
---
Book with the Best Car Hire Suppliers in Alicante
When you book one of our affordable car rental deals in Alicante you are not only saving money but also getting the right rental car for you with a reliable supplier. Since 1954 Auto Europe has been working in the car rental field and has chosen only the best partners to be sure the clients gets a top treatment.
If you click on the below supplier logos you will find more in-depth information about each of them. Of course these are just a few of the companies we are working with in Alicante, where we cooperate with many more international and local players. Centauro, Drivalia, Interrent and Thrifty count to some of the budget suppliers that are reliable and affordable if you are trying to save on your next rental deal in Alicante.
---
Frequently Asked Questions about Renting a Car in Alicante
On our website you will not only find cheap car hire offers in Alicante but also a wealth of information regarding renting a car. To help you navigate the car hire jungle we have therefore put together a list of FAQs, or frequently asked questions, explaining the most important facts about car rental. In particular we will explain the different types of insurance cover, some additional fees, and discuss the traffic and parking in Alicante. You will also find information about motorhome rentals, should you prefer a vacation on the road.
---
Yes, to pick up your Auto Europe car rental in Alicante, or in any place in the world, you will need a credit card bearing the name of the main driver specified on the voucher. This is required for the safety deposit applied to guarantee for the excess. Cash deposits or credit cards in any other than the main drivers name are not accepted.
The safety deposit varies depending on the supplier company, the car category chosen and what type of coverage you've chosen. The safety deposit is returned in full once the vehicles is returned in the same condition it left. You will find this information under the "Terms and Conditions" in the booking engine, on your reservation voucher, or you can resort to our credit cards and deposit FAQs to understand better this topic.
On our website you will find many attractive deals for Alicante, all including the compulsory insurance coverage required in Spain, that is the Collision Damage Waiver (CDW), third-party liability and theft protection (TP). This is our basic rate. However, in Spain you will need to be aware that CDW never covers damage to elements such as tyres, windows, undercarriage, interior, roof and more.
Fortunately Auto Europe can offer its clients to purchase our full protection package based on a refundable excess. Clients are still liable for the excess but are entitled to a refund in case of an accident or theft. This option is better because it also covers car parts that are normally left out, such as lights, car interior, undercover, roof keys, administration fees, etc. To understand better how car hire coverage works please read our dedicated section.
In Spain the minimum age to rent a car is usually 21 years old and most suppliers will apply a so called young driver fee that serves as additional insurance for drivers between 21-26 years of age. Please check the rate details on our website when doing a search on the booking engine.
Driving in Alicante is much like driving in any medium sized city. However, it's important to keep in mind that in the summer months the traffic increases significantly, as this city is one of the most visited destinations in Spain. Drivers coming from Alicante Airport to the city centre can drive north via A-70. Those departing from Valencia will reach the centre in 2 hours via A-7. If you are planning to book a car rental in Alicante, then you may be interested in some driving tips. For more detailed information check out our guide about driving in Spain.
Just like other touristic cities, parking downtown can be a difficult task if you booked a car hire in Alicante. However, there are two large parking areas near the harbour that typically have plenty of spaces available. One of them is the subterranean parking near Melia Hotel and the other is located at Panoramis shopping mall, on the other end of the harbour. It's important to notice that parking along a yellow curb is not permitted, while parking along a blue curb means it is paid parking and there should be a ticket machine nearby. Parking rates can vary between €1.20-2.00/hour (approx. £1.11-1.85), pending on location, with daily maximums of €11.00-24.00 (£10.15- 22.15). Most of these paid areas operate from Monday to Friday between 9am-2pm and 4pm-8pm and on Saturdays from 9am-2pm.
When hiring a car in Alicante and all around Spain you should know that there are some toll roads and some motorway sections signalled by blue AP signs called "autopistas de peaje" (shortened with "AP") that apply a toll fee. The payment occurs in cash or credit card at booths or through a device that you should ask your supplier about upon pick-up. Depending on the way you are going to pay, you should take the dedicated lanes leading to the correct booth. If you do not want to spend money on street tolls look for alternative itineraries as Spain has a lot of well-preserved toll-free motorways called "autovías" (shortened with "A").
Luckily the autovía A-7 connecting Alicante to Valencia is as explained above, toll free. If you then want to proceed to Barcelona you will need to take the AP-7, which has a toll of approximately € 13.00. From Alicante to Madrid through the A-31 and then the N-332 you won't need to pay a fee.
The Alicante region is ideal for touring in an Auto Europe campervan, especially along the scenic coast roads skirting the Costa Blanca. If total freedom and independence are important to you whilst on holiday, then we suggest that you consider renting a motorhome in Alicante. We have a very good selection of campervans from which to choose, for couples and large families alike.
---
Alicante Travel Guide
Alicante lies in the heart of the beautiful Costa Blanca, on the east coast of Spain, as the second largest city of the Valencia Province. It has over 330,000 inhabitants and is embraced by the Mediterranean Sea. La Costa Blanca is, in fact, the biggest coastal region in Spain, with popular beaches such as San Juan. The combination of the railway, access to the port and population growth turned Alicante into a cosmopolitan city, the second largest in Valencia. With your Alicante car rental you will be able to tour around according to your schedule and tastes.
Best day trips with my car rental in Alicante
Hiring a car in Alicante gives you the advantage of easily visiting nearby areas and places of interest. Auto Europe has also created a special guide for a road trip in Catalonia and Valencia, with lots of information on sights, dining and accommodation in the region. We also couldn't miss the opportunity to recommend some of our favourite destinations for a day trip:
San Juan Beach
If you like sunny skies and soft, sandy beaches, than this place is for you! Just about 6 miles north of Alicante lies the stunning Playa del San Juan, known as one of Spain's best beaches. It has a long shore of 4 miles and just a few minutes away you will find a vast array of options for restaurants, hotels, nightlife venues and even a golf course. All in all, this is a great place to spend the day, with plenty of facilities available and all the natural beauties anyone could want.
Palm Groves of Elche
This green eden in located just 30 minutes south of Alicante. With over two hundred thousand palm trees, La Palmeral de Elche constitutes the largest palm grove in Europe. It was deemed World Heritage Site by UNESCO especially due to roots dating back to the 1st millennium BC! This stunning place combines an agricultural area and an amazing garden called Huerta del Cura. From April to September, visitors can spend the afternoon admiring the spurting fountains, flowers and birds around the park.
Torrevieja
Torrevieja is located just 40 minutes south of Alicante Airport, on the Costa Blanca. There is a busy seafront promenade and excellent shopping areas in this city. In addition, tourists can spend the day at the Aquopolis Water Park or visit the Museo del Mar y de la Sal. Despite being a resort city, with over 1000 restaurants and bars to choose from, it's still possible to be closer to nature and admire the raw beauty of its beaches and flora. Torrevieja is surrounded by the Salinas de Torrevieja - two natural saltwater lagoons with strikingly vibrant colours. One is bright pink and the other is a glowing green.
What to do in Alicante
Alicante is the perfect place to explore and bask in the sun during the day, walking around the old quarters and catching a glimpse into the ancient times through the beautiful Castle of Santa Barbara overlooking Barrio de La Santa Cruz. At night, the relaxed atmosphere transforms into a buzz on local bars and parties going on until very late. With so many exciting things to do, we compiled a few recommendations below:
Postiguet Beach: La Playa del Postiguet is located right next to the Old Quarter, and it is a must-see spot! This beach is very popular, well equipped and lined with cafes and an exhilarating palm tree boardwalk. If the soft sand and clear blue waters aren't enough to entice you, Postiguet Beach also has reserved zones for playing sports and beach bars known as "Chiringuitos", with a refreshing and delicious menu! And you don't need to worry about parking, as there are public and private areas nearby.


Esplanade of Spain: This mesmerizing street is one of the most popular promenades of the city, made with an impressive number of 6,600,000 marble blocks. The result is a beautiful wavy white, red and black mosaic. La Explanada de España is hemmed in by the ocean on one side, and a myriad of hotels, restaurants and nightclubs on the other. As the night falls, mixtures of purple and blue colours reflect on the water and the building facades along the promenade, creating sweeping scenery.


Santa Barbara Castle: Overlooking the Old Town and the Mediterranean Sea is the Castillo de Santa Barbara, easily accessible on foot or by an elevator. The castle stands on Mount Benacantil, offering one of the most fantastic viewpoints in town. This pastel-coloured medieval building has a rich history. It is believed to date back to the 9th century, during the Muslim control of the Iberian Peninsula. Throughout the years and under different ownerships, it was abandoned, bombarded and even used as a prison. Currently, the reconstructed castle is open to the public from May to September and houses a museum as well.


Bonfires of Saint John: If you are travelling to Alicante around June 24th, we recommend attending Las Hogueras de San Juan, an annual event filled with fun activities and great spectacles. There is a huge parade with elaborate effigies, fireworks, parties in the middle of the streets, flower offerings and great food and drinks. Interestingly, most of the effigies are thrown to the flames of a massive bonfire. The best ones, however, are preserved in Alicante's free Museo de Fogueres.


Basilica of Santa Maria: The amber coloured Basilica of Santa Maria is the oldest church in Alicante. It was built between the 14th and 16th centuries, in Valencian Gothic style and over the remains of an ancient mosque. It boasts an intrinsically carved facade and a beautifully decorated golden interior. The chapterhouse inside contains an impressive baptismal font from the 16th century. Nearby the Basilica, make sure to visit Calle Villavieja and its lovely street market with artisan shops.
---
Useful links