Car hire in Madrid - The fascinating capital of Spain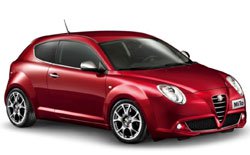 Have an unforgettable experience in Madrid, characterised by its quintessential boulevards. Try mouth-watering cuisine at the acclaimed Michelin starred DiverXO restaurant. The reputation of Madrid being an all-night town is well earned but be warned it tends to get lively around 11pm, so don't head out too early. Madrid´s nightlife is focused around the areas of Lavapies, Malasana, Sol and Huertas. No visit is complete without a trip to Corral de la Morería, the city´s oldest flamenco tabloas located on Calle de la Morería. This elusive city has a lot to offer would-be travellers. Well-known for the world-class art collections of Museo del Prado and Reina Sofia. The manicured gardens of Parque del Retiro, located in the heart of the city and perfect for a stroll on a Sunday afternoon.
A car hire in Madrid provides you with an amazing excuse to tour the capital or take a longer drive to visit other majestic cities, such as Toledo, Cuenca, Salamanca or Valladolid. Thanks to its central position, right in the heart of Spain, Madrid is also the perfect starting point for a road trip, and if you really want to see as much as possible and perhaps end your holiday on a wonderful beach in Southern Spain, heading towards Malaga, or the Eastern Mediterranean coast like Alicante and Valencia is an excellent option. For added flexibility you can even pick up your rental car in Madrid and drop it off at another location of your choosing, a so called one way car hire, before you hop on the plane back home.
Auto Europe as a broker offers the best rates on the market with over 60 years of industry experience. We operate in over in over 24,000 locations worldwide and offer you the complete flexibility of modifying or cancelling you're booking 48 hours prior to pick-up. As the market leaders, we offer an unparalleled customer service experience. Whether you would like to book or discuss possible options, please contact our dedicated reservations team on + 44 123 3225 114. Available 7 days a week. To be sure that you're making the right choice, take a look at our Madrid car hire reviews to see what our many other customers wrote about their Auto Europe car rental in the capital.
For more information about renting a vehicle in Madrid, click on the car hire related topics listed below:
---
Where to Pick up a Car Hire in Madrid
Thanks to the wide partner network that Auto Europe has developed around the world for over six decades, you can book a car hire in Madrid at a variety of convenient locations around the city, including its international airport and the main train station Atocha, as well as at the smaller Chamartin and Las Rozas railway station. Clients who want to opt for a downtown pick up will find suitable alternatives located throughout the capital city, including pick up at Plaza de Espana, Tirol Hotel Marques de Uruijo, Gran Via and many more. By toggling the map alternative while performing a search on our booking engine, you are able to easily locate the best suitable pick up locations for your trip and compare offers from multiple suppliers in 3 easy steps. Should you need help with your booking then our experienced reservations team are on hand to help you over the telephone.
Madrid Airport
Officially known as Adolfo Suárez Madrid–Barajas Airport, Spain's main international airport is located just 9 miles northwest of the city centre. With its 5 terminals it is Europe's second-largest airport by total size, resembling a small city itself, with shops, restaurants, relaxation corners, and many other services. Due to high passenger numbers, exceeding 60 million per year, it is quickly growing to one of the world's busiest hubs. All major airlines operate scheduled flights to Madrid-Barajas with connections from the UK via Bristol, Edinburgh, Liverpool, London-Gatwick, London-Heathrow, London-Luton, London Stansted, Manchester and more.
The car hire pick up desks at Madrid Airport are located in Terminal T1 and T4 so make sure you check your voucher for information on where your supplier will be located when you land. The desks at Terminal T1 can be found on floor 0, on the left hand side once you exit the bagage claim area. In terminal T4 the supplier desks are located on floor -1, which can be reached by taking the escalators located outside the bagage claim on level 0. The rental cars are picked up and returned at either P1: Floor 1, P2: Floor 2, P4: Floor 0 ', depending on your chosen supplier.
Madrid Airport (MAD)
Website: www.aena.es
Address: Av. de la Hispanidad s/n, 28042 Madrid
Telephone: +34 91 321 10 00
Madrid Atocha Train Station
Madrid Atocha is the largest train station in Madrid, located right in the middle of the city centre, and a landmark building itself. It was inaugurated at the end of the 19th century and displays an impressive Art Nouveau architectural exterior. Inside there is also a botanical garden making the wait really pleasant. If you choose to pick-up your car at the Madrid Atocha Train Station you will find the car rental desks either inside the building or across the street if you exit the station building at the exit closest to the bus stops.
Madrid Atocha Train Station
Address: Plaça Emperador Carlos V, 28012 Madrid, Spain
Madrid Chamartin Train Station
Madrid Chamartin Train Station is located approx. 5 miles north of the city centre and is the second most important train station of the Spanish capital. It was built at the beginning of the Seventies and is a crucial hub for most of the train traffic with north-western Spain, including high-speed trains (AVE) and an international connection to Lisbon. This station is also on the Cercanías lines (commuter rail) and has links to Madrid Atocha plus a metro station that enables one to quickly reach downtown. Picking up a car hire at the Chamartin train station represents a very quick way to start your journey. The car rental desks are mostly located inside the railway building, or very close to it. You will find the address, directions and opening hours on the voucher, which you are supposed to print out and show on site.
Madrid Chamartin Train Station
Address: Calle Agustin de Foxa, 28036 Madrid, Spain
Madrid Las Rozas Train Station
Madrid Las Rozas is one of the three RENFE train stations serving the pretty large municipality of Las Rozas, located 12 miles north-west of Madrid and part of its autonomous region. The car rental pick-up desks that are all located in the station vicinity on adjacent streets. Make sure bring all the necessary documents with you, such as ID, driving license and credit card. Once you step into your car hire at the Madrid Las Rozas station, you can either enter the capital city or directly take the A-6 freeway to A Coruña and start exploring the surroundings.
Madrid Las Rozas Train Station
Address: Carr. Vía de Servicio las Rozas, 62, 28231 Las Rozas de Madrid, Madrid, Spain
---
Book with the Best Car Hire Suppliers in Madrid
The best way to secure a cheap car rental in Madrid is to visit the Auto Europe car hire comparison portal. On our website will find an array of competitive offers with major international car rental companies as well as low-cost international or local players. Most of the available rental car suppliers in Madrid have offices at Barajas Airport, but many are also present downtown, primiarly at Atocha train station. When you book a car through us there is always one thing that you can be 100% sure of, and that is that Auto Europe only works with trustworthy partners whose goal it is to strive for client satisfaction, just as we do.
Should you wish to know more about the partners we work with in Madrid, or you need more information about their policies, for example opening times, age restrictions, out of hours pick up and more, please contact our designated reservations agents that are avilable over the phone 7 days a week.
---
Frequently Asked Questions about Renting a Car in Madrid
If you plan to to hire a car in Madrid it is advisable to gather some useful information about the car rental process beforehand, and familiarise yourself with the insurance options, the traffic and parking situation in the capital city of Madrid, if any toll fees applies while driving in Spain etc. In our FAQ section below we have therefore summarized the main points that you should keep in mind when you rent a car.
---
Yes. A credit card in the name of the main driver as stated on the Auto Europe reservation voucher is essential in order for the car hire supplier to release the car to you upon pick up. The reason for this is that the local supplier will need to block a safety deposit. This is to guarantee for the excess in case of theft or damages to the vehicle, or in case of zero excess bookings, for small expenses that could arise. The deposit will be unblocked when the car is dropped-off in the same conditions as at pick-up. Under the "Info Icon" tab on our booking engine you can find out the exact sum of money that will be blocked and the accepted credit cards. For more information on this topic please read our dedicated page on credit cards and deposit FAQs or call our reservation agents for clarifications.
All rates on the Auto Europe website always comes with the necessary car hire coverage for the rental car to be able to be driven in the chosen country. In Spain this includes Collision Damage Waiver (CDW), third-party liability, and theft protection (TP). The CDW and TP often come with an excess, meaning that you as a client is responsible for a maximum money amount, called an excess, in case of damage and theft. As a guarantee, suppliers block a corresponding amount on the main driver's credit card, which will be unblocked upon vehicle drop-off, if the car is returned in the same condition as it left.
The CDW on the the basis rate often exclude certain items of the vehicle e.g. glass, mirrors, lights, roof, car interior, undercarrige, key loss, and administration fees, but thanks to our affordable coverage option the Full Protection Package" clients can opt to protect these elements of the car, while also having the added bonus of getting reimbursed for any excess they pay to the supplier in case of and accident or theft by Auto Europe.
If you have company while you're travelling and need to enroll one or more additional drivers for your rental car in Madrid, please make sure they will be present at pick-up as they need to sign the car rental contract and pay an additional driver fee each. Sometimes suppliers allow one or more drivers for free, or in some destinations and with certain partners Auto Europe have seasonal promotions with free additional driver. Check under the "Info Icon" tab and hopefully you will find some of these packages.
Before booking you should also check the age limitations of each car rental company. As a rule of thumb, drivers under 26 years of age can expect restrictions and/or a young driver fees. Beware that each supplier has its own regulations and that the driving license needs to have been held for at least one year.
As with many major European cities, or large cities in general, the traffic in Spain's capital can at times get quite chaotic and congested. The challenges of driving your car hire in Madrid could be a lack of parking spaces in the centre of the city, and the somewhat unconventional and free driving style of the locals. Madrid has three main ring roads, along with three smaller ring roads, that will take you to other parts of the city without driving through the middle of it. If you need to drive through the old town, get ready for a complex maze of tiny streets, and rather opt for the main roads crossing it, such as Gran Vía. One of the laws you might have not been aware of and valid in Spain obliges drivers who wear prescription glasses always to carry a spare pair while driving on Spanish roads. Our Spain driving guide will provide you with more useful information on this topic.
In spite of Madrid being relatively safe, as in all big cities, it's advisable to park your car in a secured car park overnight. Parking garages are usually the best option, especially as most of them are open 24 hours a day and widely accessible throughout the city. On-street parking is available in designated areas of the city, but limited during the peak time, they are clearly marked as either blue or green zones. Another suggestion would be to park at Atocha Station, only a 5 minute walk from the Reina Sofia museum. Below are a few more in-depth tips to help you with your car hire in Madrid, just to make things a bit easier.
Blue zones: Available within the centre of Madrid, Monday – Friday from 09:00 – 20:00 and on Saturday from 09:00-15:00. Times vary during August. The maximum stay is 2 hours.


Green zones: Residents have a preference but as a visitor, you are able to park for a maximum of 2 hours.


24 Hour parking: Some of the best options available. Callao Smart Parking situated near Callao metro station and reasonably priced. The other would be Parking Cuesta de San Vicente located near the metro station of Plaza de Espana and just off the A-5.


Free parking: Usually available on the outskirts of Madrid. In most cases, you would need to take public transport to/from the parking spot.
When driving your car rental in Madrid across the city centre you will need to pay particular attention to Limited Emissions Zones (LEZ) and Zero Emissions Zones (ZEZ), that is environmental areas with limited access. Only vehicles displaying an emissions sticker (Distintivo Ambiental) can enter, and this leaves out EURO classes 0 to 3. In Madrid there are three zones: ZEZ Madrid/Central, LEZ Madrid/M-30, and LEZ Madrid/City which is an outer, temporary zone. Rental cars, being registered in Spain should be equipped with the emissions sticker, but we advise you to double-check upon car pick-up to avoid unpleasant fines.
In Spain you will encounter quite a lot of toll roads, mostly motorways and tunnels. The payment occurs at booths, either at the entrance or at exit, and can be paid with coins, banknotes, or credit cards. Please choose the queue marked by the payment type you want to use avoiding the ones dedicated to the pre-paid Teletac service clients. In Madrid you will find toll roads on the arterial motorways out of Madrid. If you want to find out how much you will pay for a road trip around Spain go to the Via Michelin website.
Yes absolutely! If you would like to add more freedom to your travels, there is something we can definitely recommend: a campervan hire from Madrid. In our dedicated website section you will find modern models of any size, and if you call our professional reservations staff they will be happy to give you advice and help you find a good offer.
---
Madrid Travel Guide
Madrid, first known by the name of Mayratt, dates its history back to 865. The Muslim ruler Mohammed I of Cordoba constructed a fortified citadel, one of many strategically located throughout the Iberian Peninsula. The Arab conquest lasted until Alfonso VI of Castile gained control of the city in 1083; this period saw the Christians, Jews and Muslims peacefully coexisting. The central position of Madrid was seen as a strategic location for many invading forces especially the Arabs; however their conquest ultimately ended in 1492 with the fall of Granada to the invading Christian forces. During the Christian re-conquest, many Islamic artefacts and monuments were replaced; most saw it as an effort to erase the city of its Arab influence. During the 16th and 17th century Madrid gained its reputation as being the city of a formidable empire, known as the golden age, at this time Madrid finally took on the prominent role as the capital.
The best times to visit Madrid are in spring, early summer or autumn as the temperatures are pleasant and the skies are blue, very little sign of rain with 15 hours of daylight hours on average. Summer months are the hottest, with temperatures frequently reaching above 38°C.
Best day trips with my car rental in Madrid
We have short-listed some of our favourite hot spots to visit and the perfect reason to rent a car in Madrid. What are you waiting for? Explore the gorgeous regions around Madrid; you never know it could be the beginning of your Spanish road trip!
Toledo
Toledo is located just 46 miles southwest of Madrid, and can be easily reached by car via the A-42 motorway. This elegant walled medieval city, UNESCO World Site since 1986, is set on a hill-top above the plains of Castilla-La Mancha and surrounded by the river Tagus. It is known for being the City of Three Cultures, where the Jewish, Christian, and Muslim influence created a distinct and unique architectural style. It is home to the majestic Santa Iglesia Catedral Primada, understood to have been devoted to the Virgin Mary in her Assumption to the heavens. You could easily spend a few hours just admiring the awe-inspiring architecture. Your trip, though, would not be complete without visiting all the other countless monuments, and religious and cultural sites. If you're a foodie, Toledo is famous for its marzipan that you can buy at the Confiteria Santo Tome at Plaza de Zocodover. You will know you're getting close as the sweet smell of almonds will play havoc on your senses.
Cuenca
Cuenca is a picturesque town, located 1 hour and 45 minutes from Madrid via the A-3 and A-40 motorways. It is famous for its "Casas Colgadas", hanging houses, which are perfectly cantilevered over the Río Huécar gorge. Appreciate the stunning views of the town from the narrow Puente de San Pablo (Saint Paul Bridge), but be cautious! It's definitely not for the faint-hearted. It can be reached on foot, but for some, the ascent could be challenging. For those that crave a more in-depth understanding of this UNESCO World Heritage Site, we suggest a guided tour lasting between 2-3 hours that will give a true insight into this hidden gem.
Salamanca
This enchanting city is renowned for its university, which was not only the first in Spain but is also the fourth oldest in the world. Salamanca is just 2 and half hours from Madrid and lies in the region of Castile and León, close to the border with Portugal. The city history is very rich: first discovered by a Celtic clan, it was then conquered by the Romans, whose influence can still be felt throughout the city with the Puente Romano de Salamanca, a charming bridge stretching over the Tormes River. The central Plaza Mayor, built in 1755, is one of Spain's most iconic examples of Churrigueresque Baroque design.
What to do in Madrid
Madrid is a city that really knows how to live! Full of artistic flair, elegant parks, and gastronomy that will keep any foodie hooked. Whether you're looking for a relaxing garden walk or you want to fully submerse yourself in the Spanish sense, look no further as we have some great suggestions to get you moving.
Museo Nacional del Prado: One of the world´s most renowned art museums. Located in central Madrid and featuring some of Europe´s finest art collections dating back to the 12th century. Enjoy the vast collections of drawings, paintings, prints and sculptures. Open to the public from 07.45 to 19.45 and costing €15 for general entry tickets.


Sobrino de Botin: The oldest restaurant in the world as named by Guinness book of world records, situated near Plaza de Puerta Cerrada. It first opened its doors in 1725, serving delicious traditional cuisine from the region of Madrid, such as suckling pig and roasted lamb. To guarantee you get a table, we suggest calling ahead to book as it does get busy during peak times.


Plaza Mayor: The grand central square of Madrid, built in the Habsburg period, originally known as the Plaza del Arrabal. Surrounded by restaurants, bars and cafés. Visited frequently by tourist and locals alike.


Ermita de San Antonio de la Florida: A charming national monument, the burial site of Francisco de Goya, one of Spain´s renowned master painters and houses some of his impressive frescoes that were recently restored. Goya was exceptionally gifted and was notorious for his creative yet innovative way of expressing himself through art, with free entry; you have no excuse but to visit this gorgeous place.


Madrid Fly: Europe´s largest wind tunnel, the concept was thought up by Alberto Fuertes back in 2009, Spain´s parachuting champion. The tunnel has a wind chamber that is 17m high and 4.6m wide. The idea of the experience is to free fall; the tunnel is powered by four engines therefore generating a vertical stream, propelling you up to a level that allows you to remain on the stream. Of course without hurting yourself! Want to know more?
---
Useful links