Car hire in Seville – Discovering Southern Spain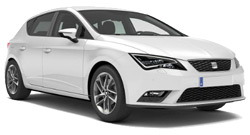 Located in the heart of Spain's sun-drenched southernmost region - Andalucia - the enchanting city of Seville is one of the most alluring tourist destinations in Europe. In the heart of the city lies a compact maze of narrow cobblestone streets bejewelled with a fine array of first-rate attractions, all situated within easy walking distance of each other. With its orange tree-lined avenues, horse-drawn tourist carriages and stunning Moorish architecture, Seville is the quintessential Andalusian city with a magical ambience all of its own. It's a place where visitors can experience traditional culture, dine well on delicious tapas and enjoy an evening of foot-stomping flamenco with all the fiery passion you'd expect in southern Spain.
The largest Gothic church in Christendom, Seville's striking cathedral is famed for its majestic tower that was once the minaret of a great mosque in days gone by. Notable for its lavish Mudejar decor and lush gardens, the amazing Alcázar is another magnificent relic of the city's rich Moorish past. Most first-time visitors gravitate towards the pedestrianised Plaza de España, the city's main square and the best spot in town to sip on a cool glass of freshly-made sangria and soak up Seville's unique atmosphere. After that, it's time for a leisurely walk through the winding alleyways and peaceful courtyards of the Santa Cruz historic quarter, once the city's bustling Jewish district.
Many of Spain's most important attractions are located near the city and with a car hire in Seville you'll have access to the impressive Islamic architecture of the Alhambra in Granada and the Great Mosque in Córdoba. You will also want to see some of the famous pueblos blancos (whitewashed villages) which are perched high on hilltops with stunning vistas all over the region. Other interesting options include a visit to Jerez to sample the local sherry (Andalusia's famous fortified wine) or an exciting day-trip to the upmarket beach resort of Marbella to relax on its golden beach and rub shoulders with the glitterati.
Visiting Andalucia with Auto Europe couldn't be easier and you can rent a car in Seville in a few simple steps by using our state-of-the-art booking engine. If you need help choosing the right vehicle for your visit to southern Spain, please call our rental specialists on +441233225114 and they will be very happy to help you make the right choice and confirm your booking. Please also visit our Seville car hire reviews page to see the ratings and comments posted by previous Auto Europe customers in the city for added peace of mind before booking.
For more information on renting a vehicle in Seville, click on the car hire related topics listed below:
---
Where to pick up a car hire in Seville
You can hire an Auto Europe car rental in Seville in dozens of convenient locations all over the city. We pride ourselves on the strong working relationships we have with all the world's most prestigious suppliers such as Avis, Sixt, Europcar, Hertz and Budget which allows us to offer the widest selection of pick-up and drop-off points across the entire city. Besides picking up your vehicle in the city centre, you can choose to collect it at Seville International Airport just 6 miles to the north-east or from Santa Justa Train Station, one of the busiest railway hubs in Spain.
Seville Airport
Serving Western Andalusia, Seville's San Pablo Airport (or Aeropuerto de Sevilla as it is known locally) is the sixth-busiest airport in mainland Spain. Catering for around 8 million passengers each year, it currently serves more than forty popular destinations in Europe and North Africa and chiefly serves as a base for the low-cost carriers Ryanair and Vueling. The airport operates with a single runway and one all-purpose state-of-the-art terminal building with a design inspired by the brilliant complexity of the Sevillian culture. If this is your first time picking up a car at Seville International Airport, then you'll have no trouble finding the car rental counters which are in the Arrivals Hall of the main terminal. Just follow the car rental signs directing travellers to the Arrivals Hall on the ground floor.
Seville Airport (SVQ)
Website: aena.es
Address: Carretera N-IV Madrid-Cádiz, kilómetro 532 - 41020 Sevilla
Telephone: (+34) 91 321 10 00
Seville Santa Justa Train Station
Santa Justa Train Station is the city's main railway station and one of the busiest in Spain, after Barcelona and Madrid. Located in close proximity to the city centre, it opened in the early 1990s to serve people arriving for the Expo '92 World Exposition and today offers visitors the perfect gateway for exploring Andalucia and the rest of southern Spain. A good selection of major car hire companies operate either at the station or just outside the main building on Avenida Kansas City, with the pick-up and drop-off point located in a nearby car park.
Seville Train Station
Website: www.renfe-sncf.com/rw-en/services/stations/Pages/Sevilla-Santa-Justa.aspx
Address: Avenida Kansas City, s/n, 41007 Sevilla
Telephone: +34-902320320
---
Book with the best car hire suppliers in Seville
Thanks to our many years of experience dealing with the best global and local car rental companies, we can offer you the highest standard of service and the cheapest car hire in Seville. As a leading international car hire company, Auto Europe also offers a vast selection of convenient pick-up and drop-off locations in 180 different destinations around the world.
Should you require additional information about the car hire companies we work with or their policies, for example out of office pick-up/drop-off times or questions regarding any age restrictions that might apply, then our car rental specialists are just a phone call or e-mail away and always very happy to assist you.
---
Frequently asked questions about renting a car in Seville
This section features the most frequent questions asked by people booking a car hire in Seville. Scroll down for important tips relating to a wide range of essential car hire topics, including credit cards, coverage, tolls, parking and local traffic. If you need any more information, please call our reservations team on +44 123 3225 114 and they will be happy to help you with your reservation and assist you with your travel itinerary.
---
Yes, you will need a valid credit card in the main driver's name when you rent a car in Seville. Car hire suppliers require this as a security bond for the safe return of their vehicle and to cover any unpaid tolls such as parking fines, etc. The amount is immediately put back into your account once the vehicle has been returned undamaged. Please note that the best credit cards to use are Visa, Mastercard, Diners and American Express. Some drivers try to use their debit card to pick up their car rental instead of a credit card, which in the vast majority of cases is not accepted. When booking a high performance or luxury-category car, the local supplier may sometimes request a second credit card in the name of the primary driver because of the high cost of the vehicle and the extra security risk.
You will have access to all the relevant information relating to credit cards when making a search in the Auto Europe website. All you need to do is select the dates and your preferred supplier when looking for the best car hire deals in Seville and then click on the blue and white info icon (i) where you'll find all the necessary details. There you will find details about the type of credit cards that will be accepted and their terms and conditions. Please consult our dedicated blog post for more advice on the type of credit cards and car hire deposit required for picking up your vehicle once you have arrived at your destination.
All our basic car hire rates in Seville include theft protection, liability insurance and CDW (Collision Damage Waiver), either with or without excess and depending on the local supplier. Please note though that in Spain, CDW never covers damage to windows, tyres, the undercarriage, outdoor mirrors, the car's interior, engine, roof, damage to the locks and loss of the vehicle's keys. For a modest fee, drivers should therefore consider buying our popular Full Protection car hire coverage policy which covers the windows, roof, wheels, undercarriage, loss of car keys, misfuelling, towing costs and any additional administration fees that might be payable. The price of Auto Europe's popular Full Protection coverage can vary according to the rental duration, location, supplier and car category, but it's an excellent and very affordable option and will give you the kind of peace of mind you will require to enjoy your trip to the full.
It's very easy to find out exactly what coverage is included in the rate when making a search in the Auto Europe website. Just click on the blue and white info icon (i) where all the relevant information relating to theft protection, collision damage waiver, liability insurance, etc. can be found. All these coverage details are also clearly stated in the Terms and Conditions provided when customers make an enquiry or confirm their booking.
You might find that some local car rental companies will offer you similar car hire coverage when you arrive to collect your vehicle. It's important to remember that our Full Protection product includes everything, so any coverage offered by the supplier is completely optional and surplus to your requirements, which means that Auto Europe cannot be held liable to refund any of the cost of locally-purchased coverage, even if this extra coverage is found to be an unnecessary purchase once the car has been dropped off. Please consult our dedicated blog post for more detailed information about the different types of car hire coverage available when hiring a car in Seville and elsewhere in the world. Furthermore, if you intend to share the driving with a friend or family member during your trip, please check out our latest Free Additional Driver offers for further savings.
Seville is a well organised city with an excellent ring-road (the SE-30) which is directly linked to the A-4 motorway that connects with Cádiz, Cordoba and Madrid. Two other motorways serve several other important towns and cities, including Osuna, Antequera, Granada, Guadix and Almeria (the A-92) and Huelva and southern Portugal (the A-49). Seville's old town (the Casco Antiguo) can be tricky to navigate by car as many of the streets are narrow and hefty fines are payable if you stay there too long because it's now a protected area. If you're staying in the centre of town, try to choose a hotel that has a car park and plan your route carefully before arrival to avoid any unecessary stress.
When driving one of our low-cost rental cars in Seville, always remember to drive on the right-hand side of the road and make sure all your passengers have fastened their seat belts at all times whilst on the road. Talking on the phone is not permitted unless you have a hands-free set. Please note that the blood alcohol limit (BAC) is 0.05 in Seville and the rest of Spain, which is less than in the UK where the limit is 0.08. Furthermore, you should always make sure that your headlights are switched on when driving in the rain. Please visit our Spain driving guide for more information about getting around Seville and other parts of the country by car.
Parking in Seville is regulated by the respective council and each Spanish city has its own rules and regulations, so it's important to abide by the local street signs because they often differ from those in other places, such as Madrid, Barcelona, etc. There are several large car parks in the centre of Seville, most notably the ones at Plaza de la Concordia (close to El Corte Inglés) and Plaza Nueva (in Calle Albareda). For sightseeing, look out for the other conveniently-located car parks at Mercado del Arenal (in Calle Pastor y Landero), Marques de Paradas (at the NH Plaza de Armas Hotel), the Plaza de Armas Bus Station, Arjona/Paseo Cristóbal Colon, Puerta de Jerez (next to Hotel Alfonso XIII) and the Jardines de Murillo. Available on-street parking spaces in the main parts of the inner city are often indicated on electronic panels in real-time. The best places to look for spaces are the Macarena area (around Calle Feria in the historic centre) and north of Calle Resolana near Macarena Hospital. The San Vicente area is also worth trying, especially on Calle Torneo (parallel to the river) and in some of the side streets near Alameda de Hercules.
Yes, but only on nearby motorways. For instance, if you are travelling between Seville and Madrid via Mérida, you should always have some money with you in the car to pay the tolls on the A-5 and A-66 motorways. There are no tolled tunnels in the Seville area.
Yes, just like in Spain's other large cities, Seville has an LEZ (Low Emission Zone) which is divided into six sub-areas, namely the Este (east), Sur (south), Norte (north), Centro (centre), Oeste (west) and Centro Este (central east). Most car hire vehicles are recent models and largely exempt from these restrictions, which vary according to the age of the car, fuel type, etc. Make sure your car has an emissions sticker easily visible on the windscreen before leaving the rental station.
---
Seville Travel Guide
A vibrant and very inviting city, Seville excels as a modern tourist destination with an abundance of interesting attractions and some of the most enchanting architecture in the whole of Spain. Take your pick from the cream of the city's top tourist sights, such as Seville's impressive Gothic-style cathedral and the Museum of Fine Arts housed in a former 17th-century monastery.
Best day trips with my car rental in Seville
Besides its immense sightseeing appeal, Seville is also perfectly placed for people looking to explore the amazing Andalusia region of southern Spain. Here you'll find some of the greatest European cities from days gone by, most notably Córdoba (just over an hour's drive from Seville) and Granada idyllically located at the foot of the Sierra Nevada mountains. A popular way of fitting everything into your travel itinerary is by booking a one-way car hire, which means you can collect your vehicle in one place (like Madrid or Barcelona) and drop it off in another such as Seville Airport, thus allowing for much greater freedom and flexibility.
Granada
Lying 155 miles to the east of Seville, the magnificent city of Granada offers one of the most exhilarating day-trip options through the breathtaking landscapes of sunny Andalusia. The city's crowning glory, the famous Alhambra, is one of the world's finest examples of Islamic architecture. This vast complex of palaces, gardens, ancient walls and towers is worth the journey alone, but there's so much else to see in Granada, including the 16th-century Royal Chapel and the Cathedral of Santa María de la Encarnación, arguably the finest Renaissance church in the country.
Córdoba
An hour's drive north-east of Seville brings you to Córdoba, one of Spain's top cultural cities. Visitors flock to Córdoba to see its old mosque (considered one of the finest Islamic buildings in the Western World) and the ancient Jewish Quarter (the Judería), both classified by UNESCO as World Heritage Sites. Other important attractions include the gardens of the Palacio de los Marqueses de Viana and the Moorish castle (the Alcázar) built by Castilian Christians over 1,000 years ago.
Ronda
Located 80 miles to the south-east, the breathtaking hilltop town of Ronda is one of the star attractions for people hiring a car in Seville and exploring the surrounding countryside. Perched high on a plateau overlooking a deep gorge, the town offers spectacular views and several fascinating tourist sights, such as the highly-rated Museum of Bandits which tells the story of the many outlaws who lived in the hills and terrorised the local community in the 19th century.
Jerez de la Frontera
Less than 60 miles due south of Seville lies the aristocratic border town of Jerez, home to the Royal Andalusian School of Equestrian Art Foundation where the prized Andalusian horses perform some of the best dressage routines in the world. Jerez de la Frontera is also devoted to the art of flamenco, and the centuries-old tradition of this fiery form of dance is still preserved and perfected at the Centro Andaluz de Documentación del Flamenco in the heart of town.
What to do in Seville
The historic and very traditional city of Seville is a magnet for lovers of fine tapas-style cuisine, exotic Mudejar architecture and some of the most frenetic flamenco performances you're ever likely to see. There are dozens of top-notch attractions scattered all over the city and visitors always leave with their appetite whetted and hungry to come back for more.
Seville Cathedral: The largest Gothic cathedral in the Christian world lies at the very heart of Seville's historic centre. Built between 1402 and 1506 on the site of an old mosque, this impressive UNESCO World Heritage Site is famous for its 93-metre-high belltower (converted from the mosque's original minaret) and its amazing five-aisled interior. The main chapel (capilla mayor) features a magnificent retable, one of the world's greatest masterpieces of Gothic wood-carving.


Real Alcázar: Once the original medieval fortress of the Moorish rulers and subsequent Christian kings, the 10th-century Real Alcázar is another of Seville's astonishingly-beautiful UNESCO World Heritage Sites. Its highlights include an Islamic courtyard built between 1369 and 1379 with Arabic arches and elegant marble columns and the great Hall of the Ambassadors (Sala de los Embajadores), the oldest part of the entire complex.


Museum of Fine Arts: Housed in a charming 17th-century convent, Seville's Museo de Bellas Artes features the best collection of paintings in Spain after the Prado in Madrid. Covering the Gothic period right through to the 20th century, its highlights include some of the finest paintings ecer produced by the most famous Spanish artists, most notably El Greco, Pacheco, Velázquez and Alonso Cano. You cannot leave without marvelling at the Murillo masterpieces and the rare collection of religious paintings by Zurbarán.


Flamenco Museum: In the centre of Seville there's only one place to be - with a front-row seat at the city's famous Museo del Baile Flamenco where the beauty of this famous dance is celebrated with a vast array of colourful costumes, creative video displays and many other interesting exhibits. The museum also has a school that treats visitors and locals alike to professional performances throughout the year.


Santa Cruz Historic Quarter: Seville's most charming neighbourhood is without doubt the Barrio Santa Cruz, a labyrinth of narrow cobblestone lanes, a huddle of whitewashed houses and several picturesque plazas where people sit peacefully sipping on glasses of freshly-squeezed Seville orange juice. Besides enjoying its lovely gardens filled with palm trees, fountains and tiled benches, visitors can enjoy two excellent museums on the themes of the Spanish Jews (Centro de Interpretación Judería de Sevilla) and a hospital for retired 17th-century priests (Hospital de los Venerables).
---
Useful links