Domestic and International One-Way Car Hire
There are two types of one-way car rental with Auto Europe - domestic and international. The one-way fee is mandatory when dropping off the car hire in a location other than the pick-up location. The one-way fee amount will be determined by the supplier. You should also note that car rental suppliers will require one-way fees for international travel that will be displayed online when booking. Additionally, Auto Europe will inform you about the amount of these charges when we send you the confirmation voucher. Examples of one way fees display are presented below.
Thanks to the optimal cooperation with the local car rental companies, a domestic one-way fee from one city to another is often free of charge as long as the maximum rental period is adhered to. A journey to another country and dropping off a car rental there is subject to international one-way fees unless indicated otherwise.
Why Book a One-Way Car Hire with Auto Europe?
Are you planning an extensive, cross-border trip and need a suitable means of transport? Get inspired and enjoy the journey with Auto Europe! Travel from Spain to France or from Germany to Italy and enjoy beautiful views along the way. You will certainly come across countless ancient monuments, culinary delights and diverse cultures. A drop-off location different to the one where you have picked up your car hire allows for yet more flexibility on the road.
Call us for more information on the prices, reservations and other car rental related questions.You can reach us 7 days a week on +44 123 3225 114 or 24/7 on our website where you can also book a car hire.
How to Find Our Best One-Way Deals
Use our booking engine to start searching for deals. Select the country, city and the rental location. For one-way rentals please check the box "Drop off at a Different Location?".

Select the country, city and the drop-off location. Fill in the box for the main driver and click on the "Get Your Quote" button. A short notification will appear containing useful information about one-way car rentals.

Our booking engine allows you to display search results by the price or supplier, you can also view all results. Select the best option to see the following image:

Below the total price, you will see the included one way fee, should the supplier require one. You can either choose your car hire immediately, or if you still need some time to decide, have the quote simply sent to your email address.
Depending on the supplier you have chosen, there are two ways to pay your one-way fee.
Car hire price + one way fee paid together as total price to Auto Europe
Car hire price paid to Auto Europe + one way fee paid locally to the supplier
Depending on your supplier /offer, you will be able to see if the one way fee is included in total price paid to Auto Europe (image on the left) or if the one way fee is to be paid locally to the rental company (image on the right). Your rental voucher will include one way fee payment information as well.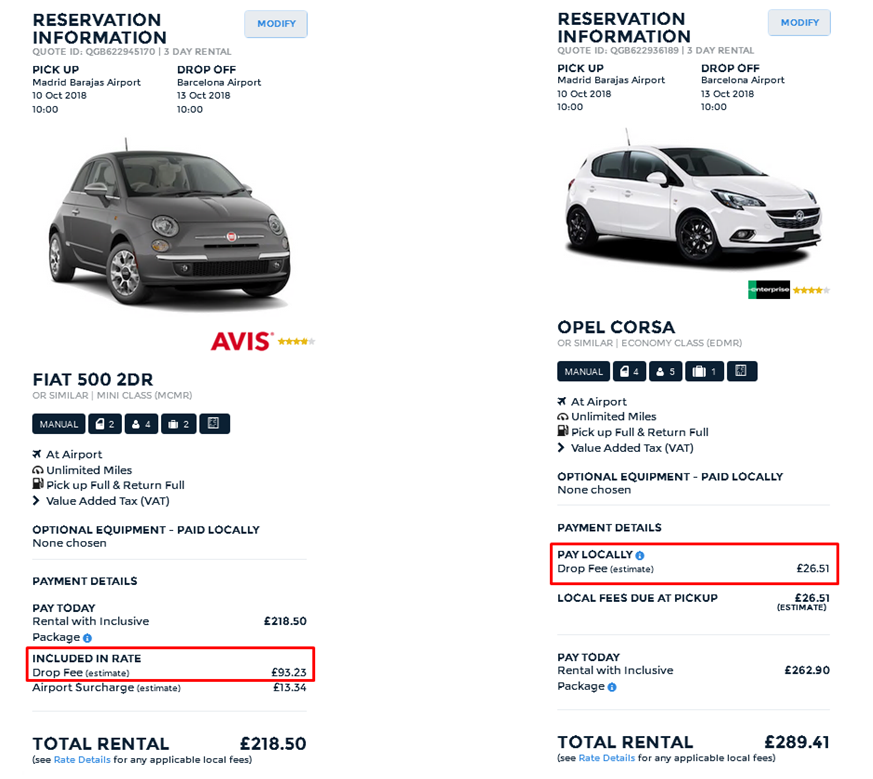 After having selected additional options and accessories, click on "Book now". At this stage you will normally get another chance to choose a coverage option. Choose the desired coverage and click on continue. The next step will be to complete the booking process. Here you will be asked if you would like an upgrade. Click on one of the offered options and continue with the booking process.
Upon filling in the form with your personal details, you will be asked for your flight number. This is extremely important should the flight be delayed or cancelled. Type in your payment details and accept our Terms and Conditions to finalise the booking process. Our Terms and Conditions will provide you with information on the additional charges, fees and taxes, some of which need to be paid directly to the supplier when picking the car up.
Booking completed
As soon as your booking has been completed, you will receive a confirmation email with your voucher number and a PDF-document. This document contains your personal contact details, the car hire details and the supplier's confirmation number. Furthermore, the document will also contain the detailed car hire information and the Terms and Conditions. All the information about the one-way rental will be available in this document. Please print the voucher and present the car rental supplier with it.
For further information please read our Terms and Conditions. Nowadays almost all suppliers are offering one-way rentals. Auto Europe goes one step further - we will have all the booking details confirmed by the local supplier in order for you to avoid any unpleasant surprises on your holiday. With over 60 years of experience in the car hire business, we will be more than happy to help you plan your route.
Enjoy your holiday! Auto Europe wishes you a safe trip!