Car hire in Milan – The Fashion Capital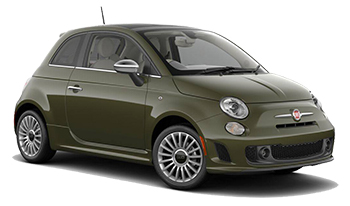 Booking a car rental in Milan, the gateway to Northern Italy, allows you to move around freely to do business or to soak in the Italian flair and culture. Milan is the capital of Lombardy, one of the richest and most productive regions of the Italian peninsula. It is also, besides Paris, a world fashion hub, and its lifestyle is admired all around the planet. The city is visited by numerous tourist every year who come here for the shopping but also its countless sights and cultural exhibits. Here you will find the world-famous La Scala theatre, The Last Supper by Leonardo da Vinci, as well as countless museums and art exhibitions. Gastronomy is also taken care of, with plenty of local and especially international restaurants, bars and clubs catering for any taste.
Once you have discovered downtown, get in to your car hire in Milan and explore its surroundings. One hour by car you will find the thriving city of Bergamo. The famous Lake Como with its lavish villas, embraced by the Alps and located close to the Swizz border, is also just a two-hour drive away. The same distance separates you from Lake Garda, surrounded by stunning little villages and wineries. But because the city of Milan is so centrally located, any major city in Northern Italy like Genoa, Cinque Terre, Turin, Pisa and Florence in Tuscany, Bologna, Verona and Venice, are within easy reach by car. Rome and Naples are also very well connected via the motorway and for a trip to any of these cities you could consider a so called one way car rental, which is when you drop off the rented vehicle in a different city than where you picked it up.
Auto Europe has been active in the car rental industry for almost 70 years now and our goal has not changed over the decades. We offer our clients the widest possible choice of vehicles and locations, with the best service and at the cheapest rates. To rent a car in Milan please use the online booking form above, or directly call our car rental specialists. They are at your disposal 7 days a week under the number +44 123 3225 114 and will be glad to take phone reservations, offer support and answer any questions.
For more information about renting a vehicle in Milan, click on the car hire related topics listed below:
---
Where to pick up a Car Hire in Milan
If you are in need of a car rental in Milan when planning your stay in this beautiful city you will have a lot of options. As a car rental broker, Auto Europe can offer our clients pick-up points not only at Malpensa or Linate airport, but also at Milan Central Station and in other convenient areas, such as around Piazza Duomo or close to the fairgrounds. Rest assured that on our website you will quickly find the perfect solution for you, in terms of value for money and location.
The Auto Europe booking engine is very easy to operate and the map function enables you to locate all the rental deals in Milan, quickly and labelled by supplier. If you need a specific supplier you can click on the supplier logo in the search mask and see exactly where they are based. If you are arriving to Milan by airplane or by train please refer to the two following sections dedicated to information on where to pick-up your hired vehicle.
Milan Airports
Milan has two major airports serving the city, named Malpensa and Linate. Malpensa lies approx. 1 hour north-west of Milan in the province of Varese, and is the most important and busiest airport in Northern Italy with almost 30 million passengers a year. Linate is a smaller airport mostly serving domestic and European flights. It enjoys quite a central location, just east of downtown Milan and has a unique terminal with three floors.
At Malpensa airport you will find car hire desks located at both terminal 1 and 2. In terminal 1 the desks are located in the arrivals halls, whereas the desks in terminal 2 can be found at the railway station, adjacent to the airport. Please refer to your Auto Europe voucher for information on where your chosen car rental supplier can be found. For clients arriving at Milan Linate airport and wishing to pick up a car, the rental desks can be found in the arrivals hall. To smoothly pick up your car follow the instructions on your pre-paid voucher and bring along the required papers such as a valid ID or passport, driving license and a credit card in the name of the main driver.
Milan-Malpensa Airport (MXP)
Website: milanomalpensa-airport.com
Address: Strada Statale 336, 21010 Ferno, Varese, Italy
Telephone: +39 02 232323
Milan Linate Airport (LIN)
Website: milanolinate-airport.com
Address: Viale Enrico Forlanini, 20090 Segrate MI, Italy
Telephone: +39 02 232323
Milan Central Train station
Milan Central Station is located north-west of the city centre and is one of the largest train stations in Europe with over 320.000 passengers a day. The station is served by national as well as international routes to Italian and European destinations, including Switzerland. Picking up a rented vehicle at the station is easy with the desks located on the ground floor of the station building or a short walking distance from the station.
Milan Central Station
Website: lombardiafacile.regione.lombardia.it
Address: Piazza Duca d'Aosta, Milan, Italy 20124
---
Book with the Best Car Hire Suppliers in Milan
Founded back in 1954, Auto Europe's goal over the years has been to achieve full customer satisfaction. We have long-standing partnerships with renowned international car hire brands but also with national and local players such as Sicily by Car and Locauto. We also cooperate with reliable low cost companies such as Interrent, Centauro and Thrifty. This means that on our car hire portal you will find amazing car hire deals in Milan and a wide choice of vehicles to choose from. Last but not least, customer satisfaction requires full support, before, during and after the rental. This is why our car rental experts are at your disposal throughout the week per telephone or email, to answer all your questions and help out should any problem arise.
To get more information about each supplier click on the below logos. Should you still have doubts, please take advantage of our professional reservation agents that will explain you everything you need and help you find the best offer for you.
---
Frequently Asked Questions about Renting a Car in Milan
Regardless if it's the first or the tenth time you are renting a car, questions regarding a hire may always arise. Therefore we have gathered some FAQs concerning the car rental procedure, including information on insurance, parking and traffic and even ZTL zones to prepare you for your trip so that you can get the most out of your stay.
---
Yes, to rent a car in Milan you will need a credit card. More specifically, when picking-up up your car hire at the supplier desk, you will need to show a valid credit card in the name of the main driver registered on the voucher with enough credit for the safety deposit.
The reason for providing a credit card when picking up the car is so that the supplier can use it to block the security deposit. If no credit card is provided, the supplier may refuse to release the vehicle or require the payment of additional insurance. The credit cards of any additional drivers or cash deposits are not accepted. The safety deposit will be unblocked from your card once you return the car in the same condition as when you picked it up.
Information on credit card blocks and deposits during a booking can always be found on our booking engine under "Rate Details" or on your voucher once a reservation is completed. If you still have doubts or want more information then please read our section dedicated to credit cards and deposits FAQs or contact Auto Europe's car rental specialists that will be glad to assist you.
When it comes to renting a car, understanding how insurance works and which coverage you need is crucial. Taking a few minutes to carefully read our dedicated page on car hire coverage , will be very helpful. The good news is that if you are hiring a car in Milan on the Auto Europe portal all our basic packages include the mandatory insurance required by Italian law. This encompasses Collision Damage Waiver (CDW), third-party liability and theft protection (TP). The CDW and TP though, do have an excess, meaning a threshold up to which the driver is responsible in case of damage and theft. These amounts can vary between countries and suppliers, and the sums can sometimes be quite high.
In the case of our basic packages, drivers are fully responsible for the excess in case of an accident or theft. In exchange for a daily surcharge, Auto Europe offers a Full Protection package, where the excess amount paid locally in case of accident or theft will be refunded afterwards by Auto Europe. You just need to provide the necessary documentation to the customer service team. Our Full Protection package covers elements that are not usually included in the basic rate such as glass, tyres, engine, underside, interior, keys, etc. In the booking engine under "Rate Details", we provide you detailed information on what each offer includes. Bear in mind that if you have purchased the refundable excess option with Auto Europe, you will not need any extra insurance offered by the suppliers locally.
In order to have no worries some clients prefer our Zero excess option which is available with select suppliers at certain destinations. They are more expensive but as the name says means that the excess is reduced to zero or to a very small amount.
Regardless of the insurance you will have, we recommend you to always and thoroughly check the state of the vehicle upon pick-up to verify if the damages reported on the contract are accurate. This can avoid bad surprises like extra charges later on.
Young drivers and additional drivers also need to be insured and this is why they normally come with daily surcharges. The minimum age to rent a car varies from country to country but depends also on the suppliers policies. If you are younger than 26 check the terms and conditions to see if you are allowed to drive and if there are any extra fees. Normally you will also need to have held a driving licence for over a year to be able to drive a rental car. As for any additional drivers, they have to be listed on the car rental contract and therefore be present at the time of pick-up. The age limitations and surcharges do apply to the extra drivers as well. Some car rental packages do include one or more free additional drivers, which will be specified under the "Rate Details".
Milan is a thriving business city, therefore the traffic is intense. It is also a popular tourist destination throughout year, with visitor spikes during the summer. Planning your itinerary and checking for parking possibilities beforehand, plus trying to avoid rush hours will help a lot. If you drive your car rental into Milan city centre during business hours, then expect a congestion fee, which will depend on the vehicle type. To avoid a fine, this fee must be paid within 48 hours of entering the city centre. Cameras photograph vehicle plates, so penalties are inevitable.
The roads are often narrow and ancient, so when selecting a vehicle, it is wise to look for an economy or a compact size car to make navigation through the streets as easy as possible. Milan is known for its frantic drivers who may dazzle you with incredible feats of bravery and speed. Read our Italy Driving Guide for more information regarding traffic regulations.
Parking in Milan can be challenging and pretty expensive, but of course possible. Right in the city centre and in the limited traffic areas (ZTL) parking is allowed only to people with driving permits or residents. Outside of the restricted areas you will find on-street parking lots, private open air lots or covered parking areas or garages. The latter are the easiest solution. To save some money you can park on the outskirts, where the fares are lower, and use public transport to reach the heart of the city.
If you are lucky and find a parking lot on the street always check the color of the lines on the street pavement. White means free of charge, blue means pay and display and yellow means restricted to residents or other categories. In shopping areas parking is sometimes time limited. As a common rule do always check the road signs for detailed information. On some streets on certain days of the week parking is not permitted, especially overnight, to allow road cleaning. Some good news to conclude is that Sundays on-street parking lots with blue lines are normally free of charge.
Without a permission, no. Per definition ZTLs or "limited traffic zones", are areas with limited access to certain types of vehicles like buses or trams, to residents, pedestrians or specific categories of people. They serve the purpose of reducing traffic and air pollution. Some ZTLs are active only at certain time periods or days of the week.
The below map will give you an idea of the location of Milan's ZTLs and of the times when they are active. If you need specific information or to ask for a pass to park in these areas go to the dedicated ZTL section on the official web page of the municipality of Milan www.comune.milano.it/servizi/pass-per-ztl.
ZTL are sometimes signalled by a display, but the most common sign is a white frame with a white circle with a red lining accompanied by the words "Zona a traffic limitato" or "Z.T.L." Please do watch out, because there will be cameras and the fines can be heavy.
Of course, Auto Europe not only offers car rentals but campervans to its clients starting off their journey in Milan. A campervan is indeed one of the best ways to enjoy the nature, lakes and mountains around this metropolis, which is very close to the Alps and Switzerland. To find the best campervan rental deals in Milan go to our dedicated section, you won't be disappointed. We work only with renowned and reliable partners and guarantee very competitive prices combined with very high service standards.
---
Milan Travel Guide
Most of the people know Milan as a global capital of fashion, but did you know that Milan is the second largest city in Italy and home to the national stock exchange? As a financial and economical hub, Milan attracts business people from all over the world. The city is a melting pot and offers a unique and trendy blend of tourism, fashion and economy. You can spend a lot of day experiencing its numerous facets but its surrounding are as much interesting. You could even realise you did not plan enough days and will need to come back a second time…
Best day trips with my car rental in Milan
Milan enjoys a central location in Northern Italy and is therefore the perfect starting point for a lot of very interesting daily trips. With your car hire from Milan you can easily reach some other beautiful Italian cities but also some of the most picturesque Italian lakes.
Bergamo
Bergamo can be reached with your rent a car from Milan in only one hour. The city is located at the foothills of the Southern Alps. Bergamo has a charming old city with a beautiful Santa Maria Maggiore church from the twelfth century and numerous historical sites. Most prominent of them, San Vigilio Castle, the residence of Bergamo rulers, overlooks the rest of the city from a hill, providing a perfect set for a panorama picture.
Lake Como
Lake Como is only a two-hour drive from Milan. You will not regret planning some extra time to see the lake; you'll realize why it's gained a nickname of the "Italian heaven". The lake is set at the foothills of the Alps. The lake shores are made of the green hills with historic villas, taken right from the fairy tales.
Lake Garda
Lake Garda is the largest Italian lake and a popular tourist destination. The lake attracts tourists with its picturesque setting and the crystal-clear waters entering the Alps. It is also known for over a dozen of wineries spread along the lake shores. If you are interested in more attractions of Lake Garda, please visit our road-trip page dedicated to the region.
Lake Maggiore
Lake Maggiore is the second largest Italian lake and stretches for 40 miles from Locarno in Switzerland to Arona in Piedmont. Its shores touch then two different countries, Italy and Switzerland and two different Italian regions, Piedmont and Lombardy. Embedded in the Alps, its sceneries are breath-taking. It is not that famous and touristic as Lake Garda or Como, but it is definitely worth a visit and closer to Milan. In fact a trip to Lake Maggiore represents the perfect weekend escape from the metropolis. Just one hour from Milan there is the charming town of Angera. Here you can sunbathe, swim in the clear lake's water, visit the fortress museum and eat in nice restaurant with view. From there you can take a ferry to the other shore to reach Arona, located in Piedmont. If you are interested in visiting the Borromean islands, a small group of islands on the western arm of the lake with some interesting palaces to see, you should drive two hours to Stresa and from there take a ferry.
Genoa and Cinque Terre
Especially in summer, if you feel like sunbathing on the beach in just two hours you can reach the harbour city of Genoa and the wonderful townships on the "Riviera di Levante" on the side towards Tuscany. The coastal landscape here is wonderful and there are some jewels like Camogli, the elegant Portofino and of course the fairy tale Cinque Terre, five small fisher villages directly on the sea connected by a walking path with wonderful vistas.
Turin
Two hours by car from Milan, the city of Turin is a bustling productive and cultural center. It is the capital of the region Piedmont and was the first capital of Italy, when the country was a monarchy. The former Residences of the Royal House of Savoy are now a World Heritage Site. Turin hosts also the archaeological Egyptian museum, that boast one of largest collections in the world.
What to do in Milan
Milan is not only a shopping mecca but offers also a lot in terms of art and culture. Every walking tour should start at the very heart of the city with a visit to the famous cathedral "Duomo". You should then do some of the ritual window shopping, but save some time for other interesting neighbourhoods like Brera or to visit some art exhibitions. There are also plenty of activities for the evening, from fancy restaurants, to opera shows, concerts and exclusive rooftop bars or dancing clubs.
Duomo di Milano: Milan's cathedral is the largest church in Italy and Milan's landmark. It is located at its very heart and impresses with its dimensions and exquisite Gothic style. The construction began at the end of the 14th century and took six centuries to be completed. It is recommended to book your ticket online in advance. Once you are finished with the church's visit we suggest a refreshing Aperol Spritz, the typical Italian aperitif drink, at the historical bar Terrazza Aperol, just next to the cathedral. From its terrace you will have direct view over the Duomo and the central square.


Brera and La Scala: If you exit the Galleria Vittorio Emanuele, the elegant shopping mall located next to the Duomo, you will find yourself in the charming neighbourhood of Brera. Here it gets suddenly less crowded and the atmosphere is very relaxed. The first landmark you will encounter on your way is the La Scala theatre, one of the oldest and most famous opera houses in the world, inaugurated back in 1778. Visit the museum or buy a ticket to experience an amazing opera or ballet performance. You should then walk on towards the Pinacoteca di Brera, an art gallery located in a wonderful former convent that now also hosts a prestigious art academy. The numerous bars and little restaurants nearby will offer tasty aperitfs and local or international specialties.


Sforza Castle: West of the city centre you will find the Sforza Castle, the residence of the Sforza family, former dukes of Milan. You can visit the castle and also the art exhibitions hosted inside. To the back the castle faces the Sempione park, so that you can have a nice stroll surrounded by green until the triumphal arch "Arco della Pace".


Leonardo's Last Supper: 1 ¼ miles west from the Duomo in the refectory of the Dominican convent of the church of Santa Maria delle Grazie you will be able to admire on of Leonardo's masterpieces, the "Last Supper". The convent has been listed as an UNESCO World Heritage site and booking in advance is crucial.


Navigli: South-west of the city center you will find a very lively area called "Navigli". It derives its name from the "navigli", channels once used to transfer goods and is now an area full of restaurants and bars. Stroll around to take some pictures and cross the historical bridges. Check also for cultural events or art exhibitions in the Mudec Museum of Cultures hosted in the former Ansaldo industrial plant. The best time to come to this part of the city is anyways around 6 p.m., that is "aperitivo time". Most of the bars offer the happy hour formula with open buffet so that one can have dinner.


Shopping heaven: Shop till you drop. You'll have to dig deep in to your pocket to shop in the international fashion capital. Via Monte Napoleone is one of the most expensive shopping streets in the world. The biggest labels in fashion, such as Versace, Valentino, Prada, Dolce & Gabana, or Armani, all originate from Milan. You cannot miss a visit to the oldest shopping mall in the city, the Galleria Vittorio Emanuele II built in 1877. It is located in the heart of Milan next to the Duomo, in a stunning four-storey building with glass arcades. There are also other shopping miles, like the Via Dante, Corso Torino or north of the city center the elegant Corso Como. North-west of the city center close to the Milan Central Station you will find a lot shops also on the Corso Buenos Aires. Alternative or vintage fashion shops are also present in the Corso San Lorenzo.
---
Useful links