Car hire in Lamezia Terme – Touring Southern Italy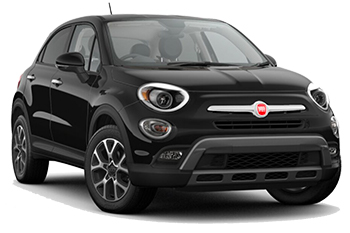 Surrounded by pristine beaches and beautiful bays, Lamezia Terme is the perfect place from which to explore the enchanting Calabria region. Often overlooked by tourists in favour of Rome, Venice, Florence and nearby Sicily, this small, attractive city of less than 80,000 inhabitants is bursting with historic interest on account of its many important artistic sites, Greek, Norman and Roman temples and sumptuous palaces dating from the Bourbon period.
One of the most treasured jewels in southern Italy's glittering crown, Lamezia (as it is more simply known by the locals) is closely associated with the sea, offering summer visitors quick access to some of the region's most splendid beaches. Just south of the city, the long coast road from Pizzo Calabro to Capo Vaticano dubbed the Costa degli Dei (Divine Coast) is one of the most exhilarating drives in the whole of Italy, featuring many quaint little fishing villages nestling peacefully in sandy coves on the Tyrrenhian Sea.
Blessed with warm, dry summers and short, mild winters, Lamezia Terme is a year-round destination with much to see in and around the city centre. Its key attractions include some of Europe's most famous thermal baths, plus a very well-preserved ancient castle built high on a hill offering spectacular views right along the enchanting Calabrian shoreline. And no visitor can leave Lamezia without spending a few hours at the House of the Ancient Book (Casa del Libro Antico) where many old volumes and extremely rare fragments of Greek manuscripts can be seen.
With a car hire in Lamezia Terme you can make the best of the Mediterranean climate and drive for hours around the Calabria region, visiting some delightful places en route. Chief among these are the amazing Sila National Park located more than 1,000 metres above sea level (imagine the views!) and the Greco wine region, an area famed for its high-quality whites. Lamezia is also conveniently placed for people looking to enjoy some rest and relaxation at the many superb seaside resorts located in this part of southern Italy, particularly Pizzo Calabro and Tropea which are both popular for their fine beaches and excellent beach-front restaurants.
Auto Europe is a well-established international car hire company that currently operates in over 24,000 locations in more than 180 destinations around the world. Thanks to our many years' experience dealing with the most prestigious global and local car rental suppliers, we offer the cheapest prices and widest choice of vehicles for anyone planning to rent a car in Lamezia Terme and explore the spectacular Calabria region.
You can book a low-cost car hire in Lamezia Terme very quickly through our state-of-the-art booking engine or simply call our award-winning rental specialists on +441233225114 and they will find you the best deal for your next trip to southern Italy. For extra peace of mind before choosing your supplier, why not take a look at the ratings and comments posted by previous Auto Europe customers on our Lamezia Terme car hire reviews page.
For more information on renting a vehicle in Lamezia Terme, click on the car hire related topics listed below;
---
Where to pick up a car hire in Lamezia Terme
The fact that Auto Europe works with all the world's leading car hire companies means that we can offer you a broad selection of locations in Lamezia Terme and the rest of the Calabria region. It's a small city and the airport is very close, so you can normally pick up your vehicle and start your trip in a few minutes after arriving.
To help you make the right choice, our state-of-the-art booking engine allows you to do an extensive search to find the best vehicle and the most suitable pick-up point for your trip. Once you've keyed in your dates, an interactive map will come up with all the available car hire locations in Lamezia Terme. For more information, please consult our Car Hire Pick-up Procedures blog post.
Lamezia Terme Airport
Catering for a growing amount of both domestic and international traffic, Lamezia Terme Airport serves as the main gateway to southern Italy's charming Calabria region in a prime location just three kilometres from the city centre. First opened in 1965, just before the beginnings of European mass tourism, it currently serves an incresing number of large airlines, including Ryanair, Alitalia, easyJet, Austrian Airlines, Lufthansa, Eurowings and TUI Airways. Picking up your vehicle is a quick and seamless process; just head for the airport's Arrivals Hall where many of the industry's leading car hire companies are located, with their vehicle pick-up points just a short distance away. Please make sure you have all the necessary documents with you prior to arriving at the collection point, such as your driving licence, passport, car rental confirmation voucher and full coverage details.
Lamezia Terme Airport (SUF)
Website: Lamezia Terme Airport
Address: Via Aeroporto, 88046 Lamezia Terme CZ, Italy
Telephone: +39 0968 414385
Lamezia Terme Train Station
Lamezia Terme Centrale railway station (known locally as Stazione di Lamezia Terme Centrale) is the main railway station serving the city and its surroundings. Opened in 1894, it forms part of the Battipaglia–Reggio di Calabria railway and is also the terminus of a secondary line, the Lamezia Terme–Catanzaro Lido railway. Lamezia Terme Centrale railway station is situated at via del Mare, at the northeastern edge of the city centre where several car hire companies have their offices, including Hertz and Avis. Please make sure you have all the necessary car hire documents with you (such as your driving licence, credit card, etc.) before arriving to pick up your lo-cost car rental in Lamezia Terme.
Lamezia Terme Train Station
Address: Via del Mare, Lamezia Terme, Catanzaro, Calabria, Italy
Telephone: +39 06 68475475
---
Book with the best car hire suppliers in Lamezia Terme
Auto Europe is a leading international car hire company currently offering a vast selection of convenient pick-up and drop-off locations in 180 different destinations around the world. Thanks to our many years of experience dealing with all the global and local car rental companies, we can offer you the best standard of service and cheapest prices in the marketplace.
Should you require additional information about the car hire companies we work with or their policies, for example out of office pick up or questions regarding age restrictions, our car rental specialists are just a phone call or e-mail away and happy to assist you.
---
Frequently asked questions about renting a car in Lamezia Terme
This section features the most frequent questions asked by people booking a car hire in Lamezia Terme. Scroll down for important tips relating to a wide range of essential car hire topics, such as credit cards, coverage, tolls, traffic and much more. If you need any more information, please call our reservations team on +44 123 3225 114 and they will be happy to help you with your reservation and assist you with your travel itinerary.
---
Yes, you will definitely need a credit card both to pay for your booking online and to pick up your car rental in Lamezia Terme. Plese be aware that regardless of which credit card you used to originally pay for your booking on the Auto Europe website, the credit card you use to pick up your car must be in the same name of the driver mentioned on the car rental voucher.
The local car hire company will require your credit card to block an amount as a security deposit for the full duration of your rental period, so it's important to make sure that the credit limit of your card covers the amount they require. To find out how much security deposit will be blocked on your card, just click on the blue Rate Details button where this and other car hire-related details can be found.
Please note that in the case of luxury cars (due to the very high value of such high-performance vehicles), two major credit cards in the name of the main driver are often requested at the time of rental.
As in all Auto Europe's 180-plus destinations around the world, our car hire rates in Lamezia Terme and elsewhere in Italy always include the basic level of mandatory coverage necessary for your vehicle to circulate within the constraints of the law. That means that your rental is covered by Collision Damage Waiver (CDW), third-party liability and theft protection. Please be aware that both CDW and theft protection are subject to an an excess which is the maximum amount for which a driver is responsible in case of accident or theft (surplus to the amount of coverage), and this amount varies according to the supplier and the vehicle booked. Just check under the Rate Details button for more information.
However, Auto Europe's very popular Full Protection policy will cover you against all such eventualities for a small additional fee, including glass, the vehicle's wheels, roof, under-carriage, towing-fees, loss of key, mis-fuelling and any administration costs incurred during the rental period. Please note that the cost of this package depends on the car category, supplier, location and how many days you have booked.
Please also bear in mind that the local supplier might offer you extra insurance when you arrive to pick up your car, but you are under no obligation to buy it. Should you agree, it's important to remember that Auto Europe will not be able to offer you a refund if you discover that this coverage was surplus to your requirements and an unnecessary cost at the end of the rental period.
For more information about Auto Europe's coverage policies, please call our rental specialists on +44 123 3225 114 and they will be happy to provide you with all the information you need. Please also read our blog post on the subject, which provides a general overview of the types of car hire coverage available on the market at the moment.
The city is located next to the A3 highway which makes it easy to reach by car and also very easy to explore the surrounding area. You can use your cheap car rental in Lamezia Terme to visit towns in city's environs and even some of the places further away, such as Naples, Rome or Bari. Lamezia Terme is a very old place and crammed with narrow, cobbled streets, especially in and around the historic centre. The roads can cause some traffic congestion in the centre during the peak hours of the morning and evening weekday rush-hours. When driving in Lamezia Terme and elsewhere around the Calabria region, please always remember to keep to the right-hand side of the road, never use mobile phones (unless it's a hands-free set) and always have your driving licence and rental documents with you in case you are stopped or something unexpected happens. Be sure to take great care when driving in Lamezia Terme as the car accident rate in southern Italy is high and drivers sometimes drive a bit aggressively. What's more, driving under the influence of alcohol is considered a criminal offence and if you are involved in an accident, expect both yourself and your passengers to be tested for alcohol. For info on getting around the Calabria region and other parts of the country by car, please also consult our guide to driving in Italy for tips on paying tolls, finding petrol stations, age restrictions and driving distances, etc.
The main parking areas of downtown Lamezia Terme can get quite busy in the heart of the city centre, especially on weekdays. Most of the accessible parking spaces are available in car parks situated on the edge of the inner city, plus some centrally-located hotels offer spaces for a fee (be sure to check if your hotel provides this option before you arrive). There are usually private or public car parks near the beaches in the main resorts close to Lamezia Terme along the Calabrian coast. Despite being a bustling Italian city, there are plenty of on-street parking spaces available and a good selection of secure car parks where you can leave your car rental in Lamezia Terme for a few hours while you visit the main tourist attractions. Try Parcheggio (located at Via XX Settembre 88) or Parcheggio Colombo (Via Cristoforo Colombo 86) for long-term city centre parking. At Lamezia Terme Airport, the main car park has around 700 spaces and is located in front of the main terminal building.
If you have driven around Lamezia Terme and other cities in Italy before, then you might possibly have come across road signs marked ZTL or Zona a Traffico Limitato on your travels. This simply translates as Limited Traffic Zone and the Italian authorities have been gradually implementing these zones in order to help alleviate traffic congestion and reduce pollution in the busiest parts of the city, which in turn helps to protect the most important historical buildings. These signs are all marked with an open red circle on a white background. There will be variations of these signs such as some indicating times that the restriction is in place or types of vehicles permitted. Although these zones are not located everywhere in Italy, they are very common and found primarily in the larger urban areas like Rome and Florence. Before picking up your car rental in Lamezia Terme, we would strongly advise you to contact your hotel before travelling to check whether or not your accommodation is situated in the city's ZTL zone.
---
Lamezia Terme Travel Guide
Despite being one of Italy's lesser-known cities, Lamezia Terme is a popular tourist destination and the ideal entry point for people looking to discover the glorious Calabria region. Besides its many interesting attractions, it offers good access to the Pollino and Stila National Parks and a wide choice of excellent beach resorts doted along the coastline.
Best day trips with my car rental in Lamezia Terme
With its prime location in the heart of the Calabria region, close to Italy's 'toe' on the map, this is a place with plenty of sightseeing appeal and road-trip potential in close proximity to the city centre. You can rent a car in Lamezia Terme and choose from an exhilarating drive along two stretches of spectacular coastline or visit one of the national parks combined with the chance to stop for lunch in a small village where life hasn't changed that much in the past one hundred years! For added convenience, you can easily share the driving with a friend or family member by taking advantage of our regular Free Additional Driver Offers.
For clients wishing to explore further than the city of Lamezia Terme, it is also possible to undertake a road-trip and return the car somewhere else with a one-way car hire, which will give you and your passengers lots more freedom and flexibility.
Pizzo Calabro
Just a half-hour's drive south-west of Lamezia Terme lies the pretty seaside town of Pizzo Calabro, one of the most charming places on the north Calabrian coast. Top tourist attractions here include the lovely church of S. Giorgio and the nearby castle which has been standing watch over the surrounding shoreline for centuries. Tale a wander through Pizzo Calabro's narrow streets and soak up the Old Town's rich historical heritage before sampling some of the home-made Tartufo ice cream, a delicious local delicacy.
Pollino National Park
Established in 1993, Pollino National Park is a very pleasant 150-kilometre drive due north of Lamezia Terme. Covering almost 90,000 hectares, the park is full of architectural points of interest and many natural wonders, including a Heldreich's pine tree estimated to be more than 1,230 years old. With its inclusion in the global list of geoparks by UNESCO, Pollino National Park has been considered a World Heritage Site since November 2015 and is a very popular day-trip from downtown Lamezia Terme.
Tropea
One of Calabria's most popular beach resorts is Tropea, located about an hour's drive south-west of Lamezia Terme. Famous for its white beaches stretching along the coast as far as Capo Vaticano, this lovely seaside town is the ideal spot for a lunch of freshly-caught fish or seafood followed by a few hours' relaxation beside the calm, translucent waters of the Tyrrenhian Sea. Take a look inside the town's old Norman church to see the black crucifix and dark-skinned Madonna of Romania, the country's patron saint.
Statti Vineyard
Much closer to Lamezia Terme lies the Statti Vineyard, a family-owned wine estate just south of the city where visitors are welcome to book a private tour and walk around the grounds to soak up the authentic atmosphere of the Calabrian countryside before sampling some of the wines and olive oil produced on the premises.
What to do in Lamezia Terme
As one of southern Italy's most interesting tourist destinations, visitors can expect to find a good range of attractions both inside and outside the confines of the inner city. Dining is another key feature in Lamezia Terme where you'll find dozens of family-run eateries tucked away in the back-streets where traditional Calabrian fare is very much the order of the day.
Castle: One of the top tourist attractions, Lamezia Terme Castle is a rich ensemble of ruins occupying the summit of a hill overlooking the entire city. It was built in the 9th century when Calabria was part of the Byzantine Empire and has hosted many historical figures over the centuries, including Pope Callixtus II who resided there for fifteen days in 1122. The castle was later expanded by Constance of Hauteville and his son Frederick II but was damaged by the earthquakes of 1609, 1638 and 1783.


House of the Ancient Book: One of Lamezia Terme's most fascinating museums, the House of the Ancient Book (Casa del Libro Antico) features over 2,500 books printed at the beginning of the 16th century in cities around Italy and the rest of Europe. The collection also includes some hand-written works from the same period, as well as some extremely rare fragments of Greek manuscripts.


Archaeological Museum: The Lamezia Terme Acrhaeological Museum displays many rare finds form the excavations carried out on the great Lamezia Plain (Piana di Sant'Eufemia) that encircles the city. Housed in a magnificent 16th-century convent, the collection portrays the long history of strategic importance played over two millenia by the narrow strip between the Ionian and Tyrrhenian Seas.


Thermal Baths: Lamezia Terme's famous thermal baths have been a traditional place of comfort and rest for wayfarers, soldiers and messengers since the height of the Roman Empire. In ancient times, the waters were known as Aque Ange and the Romans knew the baths by the name of Turres (or Towers, after the two observation towers situated there). Today it's mostly a mixture of tourists and local residents who take the plunge and rejuvenate themselves in the city's warm, invigorating spa waters.


Malta Bastion: Built by the Spanish viceroy of Naples, Pedro de Toledo, in 1550 to serve the Knights of Malta, this well-preserved watchtower is considered to be one of Lamezia Terme's most iconic landmarks. There are several similar ruins in the local area, but this striking edifice is one of the most impressive and accessible towers open to visitors exploring the area.
---
Useful links