Car hire in Palermo – Discovering the taste and soul of Sicily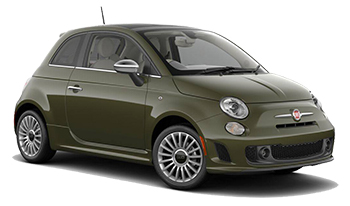 Sicily is the perfect destination to combine idling on a beach with excellent food and rich culture. Placed right in the middle of the Mediterranean Sea, it has always been a melting pot of cultures. The Phoenicians held it as a base on their commercial routes and today, Palermo is the most important city on the island and the perfect starting point for any tour.
A lot of precious time on your holiday will be spared if you book a car hire from Auto Europe before your journey. A reservation is strongly recommended during the peak periods since the availability gets very tight. Auto Europe has been known as a car rental industry leader with unbeatable prices for over 60 years. Thanks to its great cooperation with numerous renowned global and local suppliers, you will surely find a suitable car hire in Palermo for your holiday. Picking up a car at the airport right upon arrival is the easiest solution, but Auto Europe also offers pick-up points in the most important cities. We also offer phone support every day of the week under +44 1233225114; our car rental experts will be glad to answer any question, clear any doubt or even take the phone booking directly.
A very good way of covering the whole island would be to sleep in different places. A Palermo rent a car is the most convenient means of transport allowing a lot of freedom and flexibility. From there, you may drive to Catania and the Mount Etna, then head south to Siracusa and Noto and then drive up to the west to the Greek temples in Agrigento, to then return to Palermo.
To facilitate round trips Auto Europe also offers camper hire or the possibility to return the car in a different city than pick-up to spare the return journey. These so-called "one-way car hires" are on request and there is usually a fee to be paid locally for the extra service. During the booking procedure you will get the fee visualized, but this will need reconfirmation by our reservation agents.
Why not take a look at the comments posted by some of our other customers on our Palermo car hire reviews page to find out what they thought of their recent Auto Europe car rental experience in the city.
For more information about renting a vehicle in Palermo, click on the car hire related topics listed below:
---
Where to Pick up a Car Hire in Palermo
Sicily is one of the major Italian summer destinations and this is why Auto Europe has a wide network of pick-up stations and a very large choice of vehicles. On our portal you will therefore find the best car rental offers in Palermo and not only at the airport, but also directly in the city and at the central station.
Palermo Airport
The Palermo international Airport is named after the judges Falcone and Borsellino and lies 35 km (22 miles) from the city, in the town of Punta Raisi. It has been operational since 1960 and has been recently renovated. It is the third biggest airport in Southern Italy after Naples and Catania. Auto Europe works with the best international and local suppliers and to hire a car at Palermo airport right after landing is the quickest and most comfortable way to start your stay. The car hire desks are conveniently located in the arrival hall and the cars are parked right outside.
Palermo Airport (PMO) "Falcone-Borsellino Airport"
Website: https://www.aeroportodipalermo.it
Address: Località Punta Raisi, 90145 Cinisi PA, Italy
Telephone: +39 091 702 0698
---
Book with the Best Car Hire Suppliers in Palermo
Booking a car hire in Palermo on the Auto Europe website is surely the best option for you. We boast a long experience in the car rental sector worldwide and our first goal is customer satisfaction. For this reason we strictly select our partners: in Sicily we cooperate with many renowned international car hire chains like Avis, Sixt, Europcar, and Alamo, with big low cost players like Budget, Interrent, Keddy, and also with reliable national companies like Maggiore or SicilybyCar.
You can click the above logos for further information on four of our partner brands and if you have questions regarding other suppliers or specific requests regarding opening hours or on-site services please call our reservations agents available all days of the week.
---
Frequently Asked Questions about Renting a Car in Palermo
When hiring a car in Palermo the Auto Europe portal is making your research very simple and your booking process quick and smooth. You will find numerous deals for a lot of different car categories and insurance options, each of them with very detailed description. By reading the below most important FAQs posed by our customers in Palermo, we are convinced you will make up your mind and understand which insurance type you prefer as a driver and which car type is going to best suit your travel needs. Once you have this clear in mind you just need to secure your car hire offer.
---
---
Palermo Travel Guide
Sicily is the largest island in the Mediterranean and has really a lot to offer besides from beaches and good food. The historical heritage of this important merchant base goes back to the years before Christ. While preparing for your holiday, get inspired with our brand new road trip in Sicily guide.
Best day trips with my car rental in Palermo
Once you have explored the bustling city, you should take advantage of your Palermo car rental to soak in some more Sicilian beauty. Following you will find some half-day or daily trip suggestions.
Monreale
The small town of Monreale is just 5 km away from Palermo, and could almost be considered one of its suburbs. It was founded by the Normans that left an architectural masterpiece, which is the cathedral known as "Duomo". This big church is now a UNESCO site and displays almost 7.500 sqm of Byzantine mosaics in its interior.
Mondello
The Palermo city beaches are very conveniently placed, but if you are looking for a truly spectacular one, then you should head east with your rental car to Mondello. Here you will be surprised by the enchanting landscape, noticed also by the filmmaker Visconti, who chose Mondello to shoot his famous "Gattopardo". Nestled between the Mount Pellegrino and Mount Gallo, Mondello displays a 1,5 km long beach with white sand. But this is not all. If you fancy a stroll, you will discover a lot of Liberty villas dating back to the beginning of the 20th century when the noble families used to spend their holidays here. The most ancient beach resort is in Liberty style and has been renovated in 1995. This is a very elegant place where you can soak in the sun.
Cefalù
This little township with its 14000 inhabitants lies 70 km (43 mi) east of Palermo. It counts to the most beautiful Italian townships and hosts the third Sicilian cathedral enlisted in 2015 under the UNESCO sites. This is another example of Norman-Arabic style building dating back to the XII century. Visitors do not only come here because of this church but mostly for the fairy tale atmosphere and the enchanting landscape. Cefalù has wonderful beaches, beautiful panoramas and is part of the natural park of the Madonie mountains.
Etna Volcano
A bit further away, that is around 3 hours by car from Palermo, a natural wonder is awaiting for you, the active volcano Mount Etna. With its 10,922 feet height, it rages over the east side of the island. Once there you can hike by yourself towards the top or join a guided tour. Do not forget to stop in some of the small villages at the feet of the volcano, where you will feel like the clock has stopped fifty years ago. A visit to the nearby big city of Catania with its bustling night life is the perfect completion to this trip.
What to do in Palermo
Palermo is an enchanting harbour city with a very diverse cultural heritage. It is certainly a city of contrasts dominated by an eclectic mix of architectural styles, embodying the Arabic, Greek and Roman heritage visible on every step of the way, and revealing the traces of many famous emperors whose home it used to be.
Quattro Canti: This is a famous octagonal-shaped square located at the most famous crossroads of Palermo downtown. In the middle, there is a huge fountain and the four corners are marked by lavishly decorated buildings with a fountain at the ground level. City tours of the city centre depart from here.


The Cathedral: Palermo's Cathedral is a UNESCO heritage site. Its construction dates back to 1185 and it is devoted to the Holy Mary, even if the dearest chapel to the inhabitants is the one dedicated to Saint Rosalia, the city's patron. The building is huge and displays many different styles since it underwent continuous changes throughout the centuries: you will recognize Arabic, Norman, Gothic, Neoclassical and Baroque touches. Do not forget to walk around the whole building because also the side and back walls are richly decorated.


Street markets: When lunch time approaches, a visit to a traditional grocery market is a must. Palermo even boasts three: "La Vucciria", "Ballarò" and "Il Capo". The first two are the most famous. "La Vucciria", located close to the harbour, started off as a meat market but nowadays you can find all kind of food there, especially fresh fish. Ballarò is the most ancient market with focus on vegetables and fruit sold by the local farmers. It stretches from the Casa Professa square to the bastions on Tukory Street. The prices are very agreeable and you can buy some fresh fruit or a tasty snack like the famous rice balls "arancini". Rest assured you won't understand a word of the dialect spoken there. But if you really want to see the authentic nature of this magic city you should really come to these colourful, chaotic and very lively places. These markets resemble the North African "suks" and are a legacy of the Arabic domination.


The Norman Palace: This palace is one of the most important sights in the city and is a UNESCO site as of 2015. It was built by the Arabic emirs in the 9th century and then taken over by the Normans, who used it as a fortress and royal seat. Under Frederick II, it became an imperial palace and after that, the seat of the Sicilian Parliament under the Kingdom of the Two Sicilies. Nowadays it still hosts the Sicilian regional parliament. The interior is richly furnished and its jewel is the "Cappella Palatina", that is the Earl's Chapel. This chapel, devoted to the Saints Peter and Paul, is world-famous because of its well preserved golden Byzantine mosaics and its precious decorations that resorted to the very refined Arabic techniques.


La Zisa and La Cuba: Strolling around Palermo discloses loads of architectural treasures. But the most fascinating are those of the Arabic-Norman age. The Zisa palace was built around 1165 as a summer residence for the Norman kings. It lies in the Western part of the city within the Genoardo royal park. Today it is the seat of the Museum of Islamic Arts and is since 2015 UNESCO World Heritage site. Facing the garden you will also find the Moorish palace known as "La Cuba" (Cuba sottana).
---
Useful links