Car hire in Bergamo – Exploring Lombardy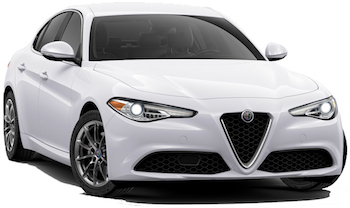 Idyllicaly located at the point where the Alps meet the plains of northern Italy, the propserous city of Bergamo is quickly emerging from the shadow of its more famous neighbour, Milan. One of the prettiest places in the country, it boasts a truly majestic setting high on a hill with a magnificent medieval quarter full of monuments and other tourist attractions. Città Alta, Bergamo's original walled city, overlooks a deep valley in the foothills of the Alps, in the heart of a region that offers some of the most exhilarating road-trips in the whole of Italy. The city's very close proximity to Bergamo Airport (just 4 miles from the centre) makes it perfect for either a romantic city break for couples or a fun-filled summer holiday involving the entire family. It's a city of peaceful piazzas, quiet cobbled streets, unique culture and historic sights, not to mention some of the finest and most original cuisine in southern Europe. The fact that Bergamo was mainly ruled by Venice for almost four hundred years has had an enormous effect on its architecture, with many striking influences evident in its many old squares and buildings.
Three of Bergamo's top attractions are grouped together in the peaceful Piazza del Duomo, namely the city's magnificent cathedral with its sumptuous Baroque interior, the fine Romanesque Basilica of Santa Maria Maggiore and the exquisite Renaissance Colleoni Chapel, a mausoleum for Bartolomeo Colleoni, a rich Venetian mercenary. Next to the basilica lies the enchanting Colleoni Chapel, very much the pride of Bergamo and one of the finest Renaissance buildings in Europe. Other Bergamo highlights include a wonderful botanical garden which clings tightly to the side of a nearby mountain, as well as an excellent museum dedicated to the heroes of the Risorgimento, from the time when the city broke free from Austrian rule and became part of an independent Italy. With a car hire in Bergamo you'll also have the best of northern Italy's beautiful Lombardy region at your disposal, including Lake Maggiore (the second-largest in the country) and the amazing city of Milan, one of Europe's top tourist destinations. Just a two-hour drive south of Bergamo lies Venice, a water-based city famed for its canals and a magnet for tourists from all over the world.
When renting a low-cost car hire in Bergamo with Auto Europe you are guaranteed the widest choice of vehicles and cheapest prices on the market. By working with all the world's leading car rental suppliers, such as Sixt, Hertz, National, Europcar, Budget, Dollar, Avis and Alamo, we can always get you the right car for your trip, whether it's a few days' city sightseeing in beautiful Bergamo or an extended road-trip around the lovely Lombardy region. If you require any help planning your trip or making a booking, please don't hesitate to call our rental specialists on +44 123 3225 114 who will be more than happy to find you the cheapest deal and answer any car hire questions you might have about driving a car rental in Bergamo and elsewhere in Italy.
You can save more money by taking advantage of our special promotions offering Free Additional Drivers, GPS included, free winter tyres, etc. Furthermore, please visit our Bergamo car hire reviews and Italy car hire reviews pages to see the ratings and comments posted by previous Auto Europe customers in Bergamo and other parts of the country.
For more information on renting a vehicle in Bergamo, click on the car hire related topics listed below:
---
Where to pick up a car hire in Bergamo
By working with all the world's top car hire providers, Auto Europe can offer you a wide choice of locations in and around Bergamo, meaning that you can pick up your vehicle in the centre of town and be on your way in a few minutes, especially as Bergamo's busy international airport is so close to the city centre. Besides the many car hire companies operating in the city of Bergamo, there are several conveniently-located suppliers' offices in other parts of town, most of which are located in close proximity to the main tourist attractions, such as the old quarter, Città Alta.
To help you make the right choice, our state-of-the-art booking engine allows you to do an extensive search to find both the best vehicle and the most suitable pick-up point for your trip. Once you've keyed in your dates, an interactive map will come up with all the available car hire locations in Bergamo.
Bergamo Airport
Bergamo Airport (officially called Orio al Serio International Airport but more often referred to as Milan Bergamo Airport) is the third-busiest air transportation hub in Italy after Rome Fiumicino and Milan Malpensa. With annual passenger movements around the 14 million mark, it mostly operates as a base for Ryanair and other popular low-cost carriers. The airport is conveniently located in the heart of northern Italy's charming Lombardy region, a short drive from the centre of Bergamo and just 30 miles from Milan. Besides Ryanair, the airport is currently catering for a growing number of airlines, including Air Arabia, Air Baltic, Alitalia, Arkia, Blue Air, Ernest Airlines, Laudamotion, Pegasus Airlines, Pobeda Airlines, Ukraine International Airlines, Volotea, Vueling and Wizz Air. Most of Auto Europe's car hire partners have a presence at the airport with their desks conveniently located within the Arrivals Hall, while others operate outside the terminal and provide a free shuttle bus service to the pick-up point every 15-20 minutes.
Bergamo Airport (BGY)
Website: https://www.milanbergamoairport.it/en/
Address: Via Orio al Serio 49/51, 24025 Grassobbio (BG) Italia
Telephone: +39 35 326323
---
Book with the best car hire suppliers in Bergamo
Auto Europe is a market-leading car hire company offering an impressive choice of pick-up and drop-off locations in more than 180 countries around the world. We collaborate with all the top global and local car rental suppliers, which means we can provide our customers with the highest level of service paired with lowest prices on the market. It's important to note that many of our most prestigious partners in Italy are local companies, such as Maggiore, Sicily by Car etc, so you'll have a wide choice of both international and domestic brands available the next time you rent a car in Bergamo with Auto Europe.
Should you require any additional information about the car hire companies we work with or their operating policies, such as special out-of-office pick-up times or aspects relating to any age restrictions, our award-winning rental specialists will be more than happy to assist you.
---
Frequently asked questions about renting a car in Bergamo
This section features the most frequent questions asked by people booking a car hire in Bergamo. Scroll down for important tips relating to a wide range of essential car hire topics, such as credit cards, coverage, tolls, traffic and much more. If you need any more information, please call our reservations team on +44 123 3225 114 and they will be happy to help you with your reservation and assist you with your travel itinerary.
---
Yes. Credit cards are a standard requirement when you rent a car in Bergamo or anywhere else in the world. Your selected car hire supplier will hold an amount on your credit card (known as an excess) for the value of the cover, and this deductible amount is immediately refunded once the vehicle is returned in exactly the same condition it was in when you left the pick-up station.
Some customers express surprise when their debit card is refused and they are asked for a credit card. Therefore, it is very important that you hold a major credit card when you arrive to collect your vehicle (namely Visa, Mastercard, Diners and American Express), which must be in the main driver's name and always with enough credit to cover the excess.
Luxury category cars are sometimes a special exception because some car hire companies ask for a second credit card in the driver's name instead of just one. All the info you need on the subject of credit cards and those which are acceptable is accessible on the Auto Europe website. After choosing your travel dates, destination and preferred vehicle and supplier, just click on the blue and white info icon (i) where you'll find all the credit card details elevant to your search.
Furthermore, our excellent blog post about the six most important things to know about credit cards and deposits is well worth reading before you book your next low-cost car rental in Bergamo.
Our regular car hire rates already include a good level of coverage, such as Collision Damage Waiver (CDW), Theft Protection (TP) and Third Party Liability. Nevertheless, you'll need to take into account a few key points about car hire coverage when renting a car in Bergamo with Auto Europe. For instance, our very popular full protection product is of great benefit when driving in Italy as it ensures that you will always be completely covered if the vehicle is damaged or something unexpected happens during your trip.
Please note that if you ever need to make a claim, you must always pay the car rental supplier locally before asking Auto Europe for a refund. It is essential that you present all the necessary documents to receive your refund as quickly as possible when making a claim.
All the information relating to car hire coverage and protection can be accessed quickly and easily on the Auto Europe website. By clicking the blue and white info icon (i), you'll find all the relevant coverage details relating to your cheap car in Bergamo. This information can also be found in our T&Cs section both at the time of making an enquiry and when your booking is confirmed.
It's important to remember that when you arrive to pick up your vehicle, some car rental staff members often try to subsidise their salaries with commissions for 'up-selling' their company's products and services on top of the ones you might have already purchased. These additional coverage policies are completely optional and very often surplus to requirement, so try to resist any hard-sell tactics by local car hire employees if you can.
For more information about Auto Europe's coverage policies, please call our rental specialists on +44 123 3225 114 and they will be happy to provide you with all the information you need. Please also read our blog post on the subject, which provides a general overview of the types of car hire coverage available.
An ancient city with many narrow cobblestone streets, Bergamo can be a challenge for car drivers, especially in the elevated Upper Town (Città Alta) where it's probably more advisable to get around on foot or by bicycle. The routes to Milan (an hour or so drive to the south-west of Bergamo) are often busy with a high volume of traffic, including many lorries (most notably during the morning and evening rush-hours and even on weekends), so it's best to leave plenty of time for your journey or take a more leisurely and enjoyable route to Milan through the countryside.
In addition, you might also like to visit our Italy driving guide where you'll find lots of useful information about getting around this wonderful country by car.
Please be aware of these important rules when driving in Bergamo:
When in Bergamo, you must drive on the right-hand side of the road.
All passengers must wear seat-belts in Bergamo.
Mobile phones must not be used when driving. The only exception is a hands-free set.
Always have your driving licence and car rental documents with you.
Take extra care when driving in Bergamo and elsewhere in Italy because the car accident rate is high and people sometimes drive a bit more aggressively than in other destinations.
Driving under the influence of alcohol is considered a criminal offence
Bergamo is not large and most of the tourist sights can be reached comfortably on foot. However, there's plenty of on-street parking in and around both city centres (Città Alta and Città Bassa), although there's great demand for these amongst the locals, like any other town or city anywhere in the world. Our best advice is to leave your car in one of the paid municipal car parks recommended by the Bergamo Tourist Board, the list of which includes Piazza Libertà, Central Parking - via Paleocapa, Triangolo - via Palma il Vecchio, Predaparking - via Pitentino, Ecolparking - via Ghislandi, Via Borfuro, San Marco - Piazza Repubblica, Via Camozzi (presso Pam), Via Tiraboschi, (presso Oviesse/Billa), Via Casalino Via Baschenis, Via Pinamonte da Brembate, Via B. Palazzo (presso GS), Via Previtali and Parking express (via Spino, 12).
Yes, there are toll roads in the Bergamo area, most notably the 40-kilometre stretch of A4 autostrada (motorway) between Bergamo and Milan. You must take a ticket when you enter the autostrada and pay when you leave (do not go into the Telepass lane). In Italy, green signs indicate that the road is an autostrada and if you're not on an autostrada but are following green signs, then they will lead you to one. Speed is monitored by cameras on the highways and tickets are issued automatically and sent by mail to the local car hire company who will add their own processing fee to any speeding fine you incur. The company Tolltickets rents toll devices for both short- and long-term usage which can be sent directly to UK customers prior to their trip.
Some parts of the city, namely the historic quarters - Centro Storico di Città Alta and Citta Bassa, are permanently closed to traffic and other areas have periods of temporary exclusion to help reduce emissions. Make sure you check with your car hire provider which parts of the city you can access with your car hire in Bergamo when you arrive to pick up your vehicle. Furthermore, please consult the Bergamo ZTL Zone Information webpage for more information. Our dedicated blog post also provides some useful tips on Italy's ZTL areas and how to avoid them.
---
Bergamo Travel Guide
Bergamo (and its surroundings) is a lovely part of the Lombardy region of northern Italy, conveniently located about 30 miles north-east of Milan and 20 miles from Lakes Como and Iseo. With the foothills of the Bergamo Alps situated a few miles north of the city, the perfect holiday plan is to book a cheap car hire in Bergamo and explore the local area before enjoying a long and leisurely drive up into the mountains. Bergamo is unusual in that it has two centres separated both physically and symbolically by the city's robust Venetian walls. Città Alta (the upper city) is a hilltop medieval town of charming squares and quaint cobblestone streets, while the Città Bassa (lower city) is the financial centre and more modern part of town. Ancient and beguiling, Bergamo is a city of rare beauty and one of the most scenic places in the whole of Italy. Gifted with an acropolis and old ramparts turned into promenades, it was once described as 'an Italian masterpiece in the shadow of the Alps'.
Stretched over the Lombard plain at the confluence of the Brembo and Serio rivers, Bergamo (derived from berg-heim, meaning hill town) was probably founded by Celtic settlers in the 4th to the 3rd centuries BC. Another milestone in the city's history was its incorporation into the Venetian State in 1428, which lasted for almost four hundred years. The well-preserved ring of walls built by the Venetians in the 16th century marks the boundary of the enchanting Upper Bergamo district, accessible by an old funicular railway. The area abounds in history, with many vestiges of the city's past evident in its medieval streets and cobblestone alleyways. The surrounding Lombardo region has multiple possibilities for visitors exploring the area by car, with the Italian Lake District and all the old art towns and villages of this enchanting area having lured tourists from all over the world for centuries.
Best day trips with my car rental in Bergamo
Rich in art and architectural gems, the surrounding Lombardy region of northern Italy holds many pleasant surprises for visitors exploring the area with their low-priced car hire in Bergamo. Countless monuments and medieval villages await road-trippers driving around the idyllic settings of Lakes Como, Iseo, Maggiore and Garda, all of which are within striking distance of Bergamo. For clients looking to go beyond the city's perimeter, it is also possible to book a cheap car rental in Bergamo and drop the car off somewhere else, such as Milan or Venice for instance. This is called a one-way car hire and it allows customers much more freedom and flexibility when touring the country.
San Pellegrino
Set in the foothills of the Bergamo Alps, the spa town of San Pellegrino attracts visitors from all over the world because of its sparkling natural spring water, which rises from three springs on the right bank of the River Brembo. Located just 15 miles north of Bergamo, this lovely wooded spa destination is the perfect place to relax after a few days' city sightseeing.
Le Cornelle Animal Park
A short drive to the north-west of Bergamo brings you to the Parco Faunistico Le Cornelle, a modern zoo specialising in the protection of rare animals, including the white Bengal tiger. Themed areas include the Cheetah Oasis, Tropical Forest, Savannah, Pinnawala Elephant Compound and the ever-popular Aldabra Island, home to the almost-extinct Seychelles tortoise.
Milan
No visit to Bergamo is complete without at least a day spent exploring the magnificent city of Milan, just 30 miles to the south-west. With its influential past and vast cultural heritage, Milan has many must-see attractions, including its massive 14th-century cathedral, the amazing Leonardo da Vinci National Museum of Science and Technology and one of the world's most famous shopping centres, the Galleria Vittorio Emanuele II.
Lake Maggiore
For the pleasure of spending a few hours in paradise, head for Lake Maggiore located approximately 75 miles (an hour and a half) north-west of Bergamo. Don't miss the chance to visit the Borromeans, a group of three gorgeous islands off the lake's south-western shoreline, one of which is a working and extremely picturesque fishing village.
What to do in Bergamo
Boasting an imperious position overlooking the rest of the city, Bergamo Alta is the main area of tourist interest and a true pearl of preserved medieval architecture huddled together within the city's ancient walls. At its heart are two closely-linked squares, the Piazza Vecchia and Piazza del Duomo, the first of which fronts one of Europe's oldest civic palaces, the delightful Palazzo della Ragione.
Piazza Vecchia: Very much a symbol of the city, Piazza Vecchia dates all the way back to 1300 and is still lined by many of the important buildings of that period, including a palace (now a library with 500,000 volumes), the beautifully-preserved Civic Tower (Torre del Comune) and Domus Suardorum, now home to the city's famous university.


Santa Maria Maggiore: Constructed in 1137 as a Romanesque basilica, the magnificent Church of Santa Maria Maggiore is most striking for its frescoes, stuccos, tapestries and wooden figures by the renowned Venetian artist Lorenzo Lotto (1480-1557). Besides its fine Renaissance choir stalls, the church is also notable for its unusual façade and the fact that there's no main door, just side entrances.


Natural Science Museum: Bergamo's Museo Civico di Scienze Naturali houses a wide array of fossils and a shimmering collection of minerals. The museum's star exhibits include the skeleton of an allosaurus (bipedal dinosaur) and a life-size mammoth which greets you as you walk through the front door!


Bergamo Cathedral: Dedicated to St Alexander of Bergamo (the city's patron saint), Bergamo Cathedral stands on the exact spot where the great saint was cruelly martyred in 303 AD. With its striking Neoclassical façade, the building dates back to 1459 and the interior has many interesting features, including beautiful Baroque choir stalls and some rare paintings by the Italian artists Tiepolo, Previtali and Moroni.


Donizetti Museum: An important composer in the early 19th century, Bergamo-born Gaetano Donizetti (1797-1848) played a significant role in continuing and expanding the lyrical bel canto tradition of Rossini's operas. Ornately decorated, this splendid museum depicts his life and work aided by the occasional live performance.
---
Useful links