Car hire in Cagliari - Explore the Mediterranean gem Sardinia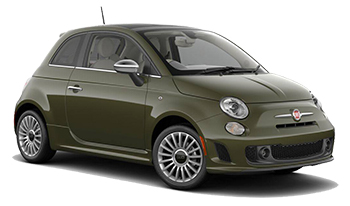 Cagliari, also known as Casteddu (castle) in Sardinian, lies in the southern part of Sardinia, overlooking the Mediterranean. As the capital and most populous city on the island, Cagliari is spread around the hill of Castello, embedded in stunning scenery, including white-sand beaches, hilltops, and a picturesque and a colourful harbour that makes for the perfect postcard photo. At night the old city centre bursts into a lively atmosphere, where you can find shops, restaurants, bars, and cafes illuminated by the amber street lights.
Start your city tour by reaching the citadel with its majestic fortifications overlooking the city. You will fall in love with its narrow streets, enjoy a wonderful view and pass by many landmarks such as the university and the cathedral. You will also be able to linger in museums and get a refreshing drink in one of the many bars.
History enthusiasts will be entertained while visiting Cagliari's institutions and medieval landmarks. We recommend visiting the Santuario & Basilica di Nostra Signora di Bonaria, the Cattedrale di Santa Maria, the Museo Archeologico Nazionale and the remarkable Torre dell'Elefante. Due to a consistent investment in culture, arts, and preservation of local history, the city is also enriched by a plethora of galleries, libraries and theatres. Those looking to connect with nature can drive to the magnificent Poetto beach, and admire the Grecian blue water, sunbathe, or even rent a canoe. Another excellent option is going for a hike up the Monti Urpinu Park - with a rewarding panoramic view of Cagliari.
The fantastic surroundings of this region are worth exploring too. With your car rental, it's easy to venture into the Italian island of Sardinia and enjoy the soothing scenery of small villages and charming coastal cities. A car hire from Cagliari will prove to be the best mean of transport to uncover the whole of the island, and discover some of of its hidden gems.
If you are a fan of road trips we advise you to book a one-way car hire, with drop-off in a different city than pick up, for instance in the northern part of the island, from where you can directly fly back to the UK. Most of the larger cities on the island are located just two or three hours by car from Cagliari, thanks to good motorway connections. To the north-west, you can find the elegant city of Alghero, to the north-east Olbia, with the world-famous resorts of Costa Smeralda and the wonderful Maddalena archipelago. Not to be forgotten, is the Orosei Gulf located at the centre of the island on the east coast. The highlight here is a boat tour to reach the hidden bays and caves that will make you feel like you´ve arrived in paradise.
Auto Europe is a strong car rental broker with over 60 years of experience of in the industry, and today we are present in over 180 countries with over 24,000 pick up locations. Our motto great prices and best service and this is why we only cooperate with reliable car hire brands, including renowned global names but also affirmed local players. We are proud to offer a wide choice of vehicle models in Cagliari, including luxury cars and campervans at very competitive prices. Our dedicated reservations staff is at your disposal for any enquiries every day of the week under +44 123 3225 114.
If you want to read about what others have thought about our service when renting a vehicle in Cagliari, you may do so on the car hire reviews in Cagliari section.
For more information about renting a vehicle in Cagliari, click on the car hire related topics listed below:
---
Where to Pick up a Car Hire in Cagliari
Cagliari is counted as one of the major Italian summer destinations and as such Auto Europe can offer a wide selection of car hire packages in and around the city. We offer convenient pick up directly at the airport with a vast array of suppliers, in addition to some pick-up points in the city of Cagliari, like at the central station which is close to the harbour and within walking distance to downtown. To get an overview of the pick up locations we offer in the city of Cagliari you can toggle a useful map display on our booking engine when making a search. This will pinpoint all of the available supplier locations in Cagliari for the chosen rental period.
To pick-up your car rental in Cagliari, you will need the documents listed on your reservations voucher, including an ID, Driving license, and credit card in the main drivers name. Should you need more information on how the pick up process works then we have created a handy guide where the pick up procedure is explained in full.
Cagliari Airport
Cagliari is serviced by Elmas - Mario Mameli International Airport, located a little more than four miles away from the city centre. Although the airport only consist of one terminal, it is capable of handling over 4 million passengers a year. Flights from the UK are served by British Airway, easyJet and Ryanair from London-Gatwick and London-Stansted. The car rental desks are conveniently located inside the terminal building in the arrivals area on the ground floor.
Elmas - Mario Mameli International Airport (CAG)
Address: Via dei Trasvolatori, 09030 Elmas CA, Italy
Website: www.sogaer.it/en
Telephone: +39 070 211211
Cagliari Train Station
Cagliari Centrale is the main train station in Cagliari, providing connections to the most important cities on the island. It was built at the end of the 19th century and currently consists of a three storey building. Due to its vicinity to the port, it is also served by freight traffic. Auto Europe works with car hire suppliers that a are located directly inside the station building or a short walking distance away from the station. For the exact location and opening hours please check your prepaid reservations voucher.
Cagliari Train Station
Address: Via Sassari - 09123 Cagliari, Italy
---
Book with the Best Car Hire Suppliers in Cagliari
If you want to find a cheap car rental in Cagliari, Auto Europe is the right choice. For reservations during the peak months in summer, we advise you to book in advance, since there is very high demand for vehicles during this time period and because the prices can soar quickly. In Cagliari we cooperate with world-wide brands such as Avis and Alamo, but also with reliable low-cost companies such as Budget and the national player Sicily by Car. AT Auto Europe we really care about your car rental experience and are happy that we can offer you professional support from before you make a booking and even after your rental period has ended.
Above you can click on the supplier logos for some of our partners in Cagliari and get more information on each company. For any other questions or doubts please contact our reservation agents available throughout the week over the phone or by email.
---
Frequently Asked Questions about Renting a Car in Cagliari
We believe that reading the below FAQs about booking a car hire in Cagliari, will help our clients better understand what to except from the hiring process as a whole, and therefore be able to better prepare for their own car hire pick in this beautiful Sardinian city. Should you have any other questions or concerns regarding making a booking with us or need more information on things like age requirements, out of office pick up or what coverage options is the best for yo then please don´t hesitate to contact our reservations team per phone or email.
---
Yes. To hire a car in Cagliari a credit card is essential. This is because the rental suppliers will apply a safety deposit on it in case of accident or theft of the vehicle. This safety deposit will be released again upon car drop-off, provided the vehicle is in the same condition as when it left. Please note that the credit card has to be in the name of the main driver reported on the Auto Europe pre-paid voucher. The amount blocked can vary depending on the car hire category and supplier. On our booking engine, under Info Icon you will find the list of credit cards accepted by each supplier and also the excess amount you can except to be blocked at the time of pick up. For more in-depth information check our credit card and deposit FAQs page.
All Cagliari car rental offers on Auto Europe's portal include the minimum car hire coverage required by Italian law for the vehicle to circulate, and include Collision Damage Waiver (CDW), third-party liability and theft protection (TP). This covers you should the vehicle be stolen, if its involved in an accident, or if you are involved in an accident with a third party. However, it is important to remember that the CDW does not cover certain elements of the car, for example glass, tyres, the engine, underside and interior etc., and that the CDW and TP both comes with an excess. This means that the driver is responsible for payment up to the full excess amount in case of an accident or theft and the rest is covered by the insurance.
In order to fully protect all elements of the car, Auto Europe can offer its clients an affordable coverage option called Full Protection, which works on a refundable excess basis. To put it simply you are still liable for the excess in case you have an accident or the car is stolen, but clients with this package can ask for reimbursement from Auto Europe. This is often a more affordable options than paying for extra insurance directly with the supplier at pick up. However, please note that clients who opt for this coverage option may still be asked to purchase additional insurance coverage from the supplier. These are optional and you are under no obligation to take it.
It is also good to note that any additional drivers will also need to be insured, meaning that they will need to sign the car rental contract upon car pick-up, show proof of ID and driving licence. An extra fee for any additional drivers might also apply. Some suppliers allow one additional driver or more for free, while others apply a daily fee. You can check under Info Icon to see what applies for your rental before making a booking with us. Those wanting to save a bit of cash can check out Auto Europe´s special promotions with free additional driver in select destinations.
Most roads in Sardinia have been improved over the last two decades. Therefore, taking your car hire from Cagliari to other cities nearby will be easy, not only due to the reformed motorways but also due to the stunning scenery drivers will come across. Like any other major city, Cagliari traffic gets heavier during rush hours. To reach Olbia in approximately three hours, simply take E25/SS131. The SS195 Sulcitana will take you to Pula, a little over 213 miles away, as well as the ruins of the ancient city of Nora. Keep in mind that the steering wheel is located on the left side of the car and the traffic laws are similar to those in the rest of the European Union. For tips on driving in Italy, please visit our information guide.
The centre of Cagliari is pedestrian-friendly, and therefore not easily accessible by car. It's advised to park outside these areas if you have opted to rent a car in Cagliari. From there, tourists reach the main attractions on foot, as they are concentrated in the city centre. Drivers will find car parks near the Military Base, the Marina, and the Cathedral. Additionally, two other spacious car parks are located close to Monte Urpinu Park. Tariffs vary from €0.50 (£0.44) to €1.00 (£0.88) per hour, with subsequent hours costing at least €1.00. The paid parking zones operate between 09.00-13.00 and 16.00- 20.00.
It will depend. First of all let us explain what a ZTL-zone in Italy is: an area with restricted traffic, where only vehicles of residents or with a previously obtained pass can enter. Usually, limitations are in place during certain time periods or weekdays. This information is reported under the road signs labelling these areas. The purpose of these measures is to curb traffic and air pollution in the city centres of the largest Italian cities. Cagliari´s ZTL area include six zones, of which five cover almost all the city centre. We, therefore, recommend you to look for parking space outside of the city centre perimeter and follow on foot. The sixth ZTL is on the outskirts at the Poetto beach including the side streets next to the seaside. The fines for entering these areas are quite high, so please beware of road signs to avoid unpleasant surprises.
Should your hotel be inside the ZTL zone then please contact the chosen hotel directly to have them register your number plate with the local authorities for the duration of your visit to the city. This is usually free of charge, but please double check with your hotel provider before your trip. Please also note that once your number plate is registered it does not mean that you have access and can drive in all ZTL zones in the city, just the one where the hotel is located.
There is no fix answer to this question. Most of our suppliers will not allow you to take the car rental on any ferry, however rentals through Maggiore and Avis will permit travel by ferry within Italy, to Sicily for example. Please be aware that an additional fee may apply and that you will always need pre-authorisation from Auto Europe and the supplier to do so.
With Interrent it it also possible to travel to the island of Carloforte, Calasetta, Maddalena, Caprera, Asinara, Sant' Antioco and to Sicily at no additional fee. Again, pre-approval from Auto Europe and the supplier is always needed.
Please note that if you take the car rental on a ferry without prior approval the insurance will be made void and the driver is therefore solely responsible in case of an accident or theft.
Campervans are perfect for exploring, especially on an idyllic island like Sardinia full of lovely camp sites. Visit our dedicated motorhomes section and you will surely find a modern campervan in Cagliari suited for your trip, as we have different sizes and options to accommodate all specific needs.
---
Cagliari Travel Guide
Cagliari is a verdant place, located in the south of Sardinia, embraced by the Tyrrhenian Sea. Blessed with a Mediterranean climate, it has brief winters and long springs. The temperatures vary from 12°C in January to 24°C around July. However, at the height of summer, temperatures can rise to 35°C, with more sunlight exposure. At this time of the year, tourists and locals take advantage of the clear blue skies and inviting ocean waters, as well as the scarce rainy days. The city is also home to beautiful flower gardens full of Jacarandas, clear water beaches and several hill tops formed by the ocean over centuries ago.
Best day trips with my car rental in Cagliari
Cagliari serves as a perfect base to visit Southern Sardinia. It offers plenty of accommodation, restaurant, entertainment, and by driving one-hour either east or wet you will encounter some of the most amazing beaches the whole island has to offer. Below we have summarised our top 4 tips for a great day trip in and around the city of Cagliari.
Villasimius
By driving one hour east down the coast you will reach the prestigious resort city of Villasimius. Made up off many smalls bay, this area is truly stunning, but we recommend you to ehad to Porto Giunco where there is also a pond right behind the shore where you can spot flamingos. Or take a walk up to a nuragh tower on a hill to enjoy the amazing view ranging from Porto Giunco to the other side of the Capo Carbonara tip.
Tuerredda, Su Giudeu and Nora
By driving west along the coast past Pula you will encounter the enchanting beaches of Su Giudeu and Tuerredda , where its white sand and transparent waters resemble the Caribbean. Try to arrive early since these heavenly places fill up very quickly. To combine leisure and culture you can save some time to visit the archaeological site of Nora on the way back to Cagliari. This Phoenician commercial post fell under Cartago and later became the Roman capital of Sardinia. All that remains of this once very rich city are some ruins, which include a Roman theatre, Roman baths, and amazing mosaics. You can visit the site by joining a guided tour, available also in English.
Su Nuraxi
The history and tradition of Sardinia were profoundly moulded by the Nuragic civilization that flourished between 1900 and 730 B.C. They built a complex defensive system across the whole island, whose ruins are still visible today and called "nuraghi". These megalithic constructions resemble circular towers and are usually surrounded by little citadels. One hour north of Cagliari, in Barumini, you will be able to admire the largest and most famous nuraghe, called Su Nuraxi, which is a UNESCO World Heritage Site. You can join a guided tour to learn more about this civilization.
Oristano
A bit further away on the western coast, around two hours by car, Oristano is welcoming visitors with a very special sandy beach called Is Arutas. The sand here consists of small grains, mostly white, that look like rice corns. Try to arrive early since it is a very popular spot and gets crowded very soon. Oristano is quite small and does not have particular sights, but it offers a lot of great restaurants where you can have dinner before driving back to Cagliari.
What to do in Cagliari
As the capital of the island and university seat, Cagliari is a lively city the whole year round. Here you can find a historical city centre with medieval city walls and ramparts, several churches, museums and cultural initiatives. History enthusiasts will be entertained while visiting Cagliari's institutions and medieval landmarks. Due to consistent investment in culture, arts, and preservation of local history, the city is also enriched by a plethora of galleries, libraries and theatres. It goes without saying that you will also have plenty to do in the evenings with loads of restaurants and bars catering to all tastes. Cagliari has its own beach called Poetto, comfortably located 15 minutes from the city centre, with a view of the Devil's Saddle. To accompany you in the exploration of this wonderful place we prepared some sightseeing suggestions:
Castello: Il Castello, a citadel standing on the top of Cagliari's most iconic mount, is a culture-rich conglomerate of domes, towers (do not miss the elephant tower), and a former royal palace. Inside the fortifications, a series of narrow alleys and stone pavements lead to the cathedral, university, and museums, as well as several boutiques and cafes. This was once the neighbourhood inhabited by noble and wealthy families. There is also a garden called "Garden sotto le mura", where you can take a break in the hot summer days. From there take the elevator of the St. Remy rampart, the city's symbol, and reach the Umberto I terrace where you will get the best vista and find the fanciest bars.


Cattedrale di Santa Maria: Cagliari's cathedral was built in the 13th century and its façade in Pisan style was renovated in the 1930ies. The baroque interior is a triumph of frescoes, sculptures, and relics.


Poetto and the "Saline di Molentargius": The beloved 4 mile long Poetto beach is just outside of town and has a lot of parking places. Despite that, it gets full quite quickly. While sun-bathing you can admire the Devil's Saddle, or reach it on foot in approximately an hour if you feel like a hike. While driving to the Poetto, on the inner street side, you will notice the former salt evaporation ponds. Today this wet area has become the Moletargius natural park, and if you are lucky you will be able to see and photograph some pink flamingos, who come here nesting.


Park Monte Urpino: Another excellent activity once in Cagliari, is going for a hike up the Monti Urpinu Park where you will get a rewarding panoramic city view. These public gardens, planted in the 19th century, present visitors with an unforgettable promenade of flowers and lilac Jacarandas.
---
Useful links