Car hire in Olbia - Tour sunny Sardinia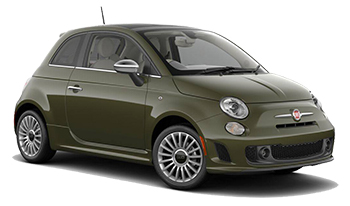 The city of Olbia lies on the north-eastern coast of the sunny island of Sardinia, with its Mediterranean climate making it a fantastic destination for a holiday all year round. The city is a gateway to the world-famous Costa Smeralda attracting celebrities and tourist alike from all over the world with its emerald green waters, luxury resorts and exclusive clubs. Because of this Olbia is often overlooked, but it is actually a pleasant, quieter and more authentic spot with a charming historical centre. You will also find an abundance of cute shops, boutiques, restaurants and cosy bars.
With a car hire from Olbia you have access to some of the islands spectacular northern beaches and will also be able to discover the islands of the Maddalena Archipleago, as well as head north-west to wonderful Stintino or even Sassari or Alghero. Or why not head an hour and a half south to the Orosei Gulf and indulge in a boat tour in order to experience breath-taking views of the coast marked by high cliffs. If the weather happens to not be on your side or lying on beach is not your thing, then do not despair as the island of Sardinia has plenty of other adventures waiting for you. Discover its scenic routes with hairpin bends, the nuragh ruins, small forgotten towns or restaurants and farms offering local specialities and produce like pecorino cheese or roasted pork.
Sardinia is quite a big island, but makes for a great road trip destination to discover all of its hidden corners. Plan your trip by staying in different cities along the coastline or book a one-way car hire with pick-up in Olbia and drop-off in the island's capital Cagliari, located in the south and three hours by car from Olbia for example.
Auto Europe offers the best prices for your rental in Olbia so let us help you get on your seaside adventure today. For peace of mind, consult our Olbia car hire reviews page to see what others thought of Auto Europe's car hire services in the city and its environs, or contact our highly skilled reservations team on +44 123 3225 114 for help with your booking. They can help you with questions regarding coverage options, as well as extra equipment or promotional offers like additional drivers for free and much more.
For more information about renting a vehicle in Olbia, click on the car hire related topics listed below:
---
Where to Pick up a Car Hire in Olbia
Due to the airport's very close proximity to the city centre, most clients tend to prefer to pick up their car rental in Olbia right upon arrival. In fact most of the suppliers we work with are present at Olbia airport and include major international brands, as well as reliable low cost suppliers. However, pick up is also possible in downtown Olbia, along the Via Genova, with suppliers like Europcar and Keddy.
As the island of Sardinia is a very popular summer destination we suggest that you book in advance, especially if you are visiting during the summer holidays or during Easter, as these periods tend to mean a shortage of rental cars available as well as a steep price increase.
Olbia Airport
Olbia Airport is located three miles south of Olbia, and less than a 15 minute drive away from the city centre. Its full name is Aeroporto Olbia Costa Smeralda because it serves the famous Costa Smeralda coast and is the airport on the island that welcomes most of the international passengers. Most of the car rental desks are conveniently located in the arrivals hall or in the car rental area just 50 meters outside of the main terminal building. Some low cost companies are present off-site with shuttle bus services running for free when you pick up or drop off your vehicle. Please check your voucher for information on where the pick up desks are located and bring with you the necessary paper work like ID, valid credit card and a driving licence.
Olbia Costa Smeralda Airport (OLB)
Website: geasar.it
Telephone: +39 0789 563444
Address: Airport Olbia Costa Smeralda, 07026 Olbia Olbia-Tempio, Italy
---
Book with the Best Car Hire Suppliers in Olbia
As a car hire broker Auto Europe's mission is to guarantee its customers a wide range of quality car rental services at the most competitive rates. To ensure you can find the cheapest car rentals in Olbia on our portal we work with big worldwide known brands such as Europcar, Alamo, Avis and Budget, but also with a selection of reliable low-cost suppliers like Sicily by Car and Maggiore. Below you have some clickable logos which will lead you to a dedicated page with information about four of our partners. If you are curious about any other company or need more information before booking a car hire in Olbia, then our reservations agents will be pleased to help you over the phone or email.
---
Frequently Asked Questions about Renting a Car in Olbia
Let us help you compare, find and book the right car hire offer in Olbia for you. Thanks to the below dedicated FAQ-section focused on car hire pick-up, information on credit card, car hire coverage and handy information about driving and touring around Sardinia and Olbia you will better undertands which car model, coverage and extras are suitable for your trip.
---
Yes. In order to rent a car in Olbia you will need a credit card in the main drivers name (the person named on the reservations voucher). This is because the local supplier will block an amount known as the security deposit for the duration of the rental period. Please note that the blocked amount will be refunded shortly after the vehicle is returned, barring that the vehicle is not damaged or stolen. Please also be aware that any debit cards, cash deposits or credit cards in anyone but the main drivers name will not be accepted by the local supplier and that they are within their right to refuse you the vehicle should you not have a valid credit card upon pick up. Meaning that you will loose your reservation and will not be able to get a refund. For more information on renting a car and credit cards, please see our dedicated section with credit cards and deposit FAQs.
Anybody driving a car needs to be insured and this of course also applies when renting a car. Each country has its own rules but when booking through the Auto Europe website you are automatically covered because all our rates always include Collision Damage Waiver (CDW), Theft Protection and Third-party Liability. It's important to be aware, however, that both CDW and theft protection have an excess. The excess is the maximum amount for which the driver is responsible in case of accident or theft before the insurance steps in. This amount varies depending on supplier and vehicle, and can be found for individual offers in our booking engine, under "Info Icon". Please also note that CDW never covers any damages to tyres, glass, exterior mirrors, underside, roof, engine, damage to the locks and loss of the vehicle's keys.
However should you wish to increase your coverage when renting a vehicle, Auto Europe offers a Full protection option that reimburses the excess amount paid in case of accident or theft, including the amount paid for the elements of the car not normally covered by the vehicle's insurance.
Note that the local supplier at pick up in Olbia also may offer further insurance options. Therefore it's important to know what is already included in your car rental so that you don't end up paying for coverage unnecessarily. It's also important to be aware that you are under no obligation to take up further insurance locally if you'd prefer not to.
With that said however, please be aware that drivers under the age of 26 may be subject to an extra fee that is to be paid locally to the supplier upon pick up. This is not an insurance per se but a so called Young Driver Surcharge. You will find information on age restrictions and possible fees on the booking engine under "Info Icon" where we supply you with the age requirements for each given supplier.
Driving is conducted on the right, like in other European countries. The traffic is also quite orderly, especially when compared to other Italian cities, which are notorious for their traffic. In peak seasons you should expect heavier traffic due to the growing number of visitors. Always wear a seat belt and never use your mobile phone whilst driving. For more information Auto Europe has also put together a guide to driving in Italy.
Most hotels have their own parking areas, so it is wise to check it with where you are staying beforehand. Many parking lots are located around the city centre, if you feel like parking your hire car there, or you can also try your luck with street-parking. White stripes signal free parking lots. Always check the road signs because sometimes parking is allowed for free but with a time limit and the need to show on the dashboard a parking disc.
No, without permission you can't. So be really careful and check if there are any ZTL (Zone a Traffico Limitato) road signs marking areas with restricted access. Only residents with a pass or people with cars registered for that purpose are allowed to drive inside these areas while the ZTL is active, and there are cameras strategically positioned to catch offenders. In the big and mid-sized Italian cities these limited traffic zones are quite frequent downtown. Olbia is no exception with ZTL zones in some side streets of Via Garibaldi, in a part of Corso Umberto I, and some of its side streets in the square Piazza Brigata Sassari and in a part of Via Regina Elena.
Yes, with some suppliers it is possible to travel to other islands with a car hire, but only with the express pre-approval from Auto Europe and the chosen supplier. If you plan to bring the rental car on the ferry please call our reservation agents who will then check for you if the supplier allows it and if the insurance covers the car on the ferry or not. Without this consent please note that the vehicle's insurance protection becomes void if the terms of the rental agreement are broken, so the driver would be liable for any damage incurred on a ferry or on a different island.
---
Olbia Travel Guide
Visit the beautiful and ancient sights of Olbia and explore the glamorous Costa Smeralda. Sardinia is famous for the car-enthusiasts who love to drive around the island's scenic routes and hairpin bends and a stay here is therefore the perfect solution to explore all of Sardinia, including the Maddalena Archipelago.
Best day trips with my car rental in Olbia
The island of Sardinia has a sunny Mediterranean climate which makes it a fantastic destination for year-round holidays. Take your car rental and venture to Sassari and spend the day relaxing on the 20 mile stretch of coastline, enriched with long sandy beaches and crystal clear waters. You could also drive your car hire to Cagliari and relax on what is is the longest beach in an Italian town, the Poetto beach. Below we have gathered our top 4 day trips suggestions:
Tavolara Island
The approx. 4 sq mi island of Tavolara stands out in the sea in front of Olbia like a little mountain. It is made of limestone, is inhabited by only a handful of families and is home to one of NATO's radiogoniometric stations. To reach it you just have to drive half an hour south to Porto San Paolo and from there take a ferry. Cars are not admitted on to the ferry. Here you can do the 20-minutes naturalistic path to discover the island or look for a small beach to soak quietly in the sun. You can also do snorkelling in the crystal clear waters.
Maddalena Archipelago
The Maddalena archipelago is a group of seven islands on the north-eastern tip of Sardinia. Only three islands are inhabited, La Maddalena, Caprera and Santo Stefano, while the others are small pieces of untouched paradises on earth. Missing the dreamy beaches found here would be a real pity. Hop on the ferry from Palau to La Maddalena, and explore some of the islands exceptional beaches or drive to Caprera connected by a bridge suspended over the sea.
Costa Smeralda
Costa Smeralda is a coastal stretch of approximately 35 miles in the municipality of Arzachena just half an hour north of Olbia. A hot spot for celebrities due to its emerald waters and iconic beaches surrounded by granite rocks, a day spent here will have you bathe in glamour and extravaganza. Porto Cervo is the most renowned city in the area with boutiques of the most important designers, gourmet restaurants and many trendy bars and clubs. If you are looking a quieter spot to relax then head to Cala Volpe and the small town of Capriccioli instead.
Orosei Gulf
One and a half hour south of Olbia is the wonderful Orosei Gulf boasting amazing beaches and stone caves. Once you arrive to Orosei you can park your car and embark on a ferry that will take to the cave "Grotta del Bue Marino" and to the nicest bays of Cala Luna, Cala Mariuolu e Cala Sisine.
What to do in Olbia
Olbia, once a fisherman village, will surprise you with an ancient city centre, many shops along the Corso Umberto I and its side street plus a lot of tasty restaurants, wineries and bars. The atmosphere here is much more relaxed than in the posh Costa Smeralda. Although the sights might not be as many as perhaps other larger Italian cities, the highlight here is to get lost strolling around its historic city centre and get a real taste of what living in Sardinia is like. In July and August the city organises cultural events and open air concerts.
Archeological Museum: Hosted in a modern building facing the Olbia harbour and with free admittance, here you will get to know about the city's history, from the Roman rulers to the nuragh era. The most important piece is the relic of a Roman boat that came to light in the harbour area.


San Simplicio Church: This church located on the city's outskirts is considered one of the most notable Medieval buildings of the region Gallura. It was realised with granite rocks in Romanesque Pisan style in the 11th century and inside there are some frescoes representing important medieval priests.


San Paolo's Church: This church dates back to the 18th century and was built with granite rocks. The most striking feature is the dome covered with polychrome majolica in Valencian style.
---
Useful links
Official Website of Visit Olbia