Car hire in Sicily – Touring the Island in Style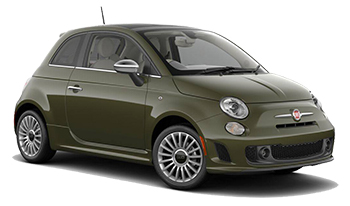 Situated right in the heart of the Mediterranean, Sicily has played host to Phoenician, Greek, Roman, Arab, Norman and Spanish settlers over the centuries, all of whom have left their indelible mark on the landscape. For visitors, it is this rich mix of cultures that makes Sicily so memorable, particularly for those with time enough to enjoy a grand tour of the island.
A car hire in Sicily is by far the best way to travel around this amazing triangular-shaped island. Driving along its scenic coastlines and across its rugged, mountainous interior is one of the most exhilarating travel experiences in the whole of Europe. There's a plethora of monuments and attractions to enjoy in every town and city, the majority of which are interconnected by Sicily's excellent motorway system, the autostrade. The island also has several sites of outstanding universal value according to UNESCO, including Mount Etna, the largest active volcano in Europe.
With your own transport, you can take a leisurely tour of the temples to get a taste of the ancient world whilst discovering Sicily's appetising heritage of Italian cuisine in small towns and villages all over the island. You'll also be able to explore the enchanting city of Palermo, famous for its bustling food markets and fascinating history before driving out to taste the wines at the many vineyards nestling peacefully in the Sicilian hills.
Auto Europe offers several convenient locations where you can pick up your vehicle and be on your way quickly and effortlessly, whether it's a small, manoeuvrable car you require for city sightseeing or a more robust SUV for an extensive tour of the island. Make your search in our state-of-the-art booking engine and choose from the many local, national and international car hire suppliers operating on Sicily. For more information, or help with your booking, please call our rental specialists on +44 123 3225 114.
For more information on renting a vehicle in Sicily, click on the car hire related topics listed below:
---
Where to Pick up a Car Hire in Sicily
Sicily has two main airports for short-, medium- and long-haul arrivals: Catania and Palermo. Named after the locally-born composer Vincenzo Bellini, Catania Airport is situated just 2.6 miles (4.3 km) south-west of the city and caters for over 10 million passengers a year, making it one of the busiest airports in the whole of Italy. Located 22 miles (35 km) from the city centre, Palermo's Falcone Borsellino Airport has also grown into one of the country's largest airports since its inauguration in 1960, with around 7 million passenger movements currently registered each year. Comiso Airport and Trapani-Birgi Airport also caters for domestic and some international traffic.
In addition to pick-up at the airports on the island, Auto Europe can also offer pick-up points at Palermo and Catania rail station, along with many other conveniently located downtown offices in cities such as Syracuse, Messina, Taormina, Cefalu and Agrigento.
Compare Car Hire Rates at the Most Popular Airport and Rail Stations in Sicily
---
Book with the Best Car Hire Suppliers in Sicily
We are very proud to work with all the top vehicle rental providers, not just in Sicily but elsewhere around the world. We've been busy building relationships with the most prestigious companies such as Sixt, Europcar, Enterprise, Hertz, Maggiore, Noleggiare, Sicily by Car and many more for over 65 years. These unique relationships allow us to pass on the kind of big savings to our customers that aren't available anywhere else on the internet.
If you need help finding a suitable rental option, or you want to know more about our suppliers or our offers, please feel free to contact our dedicated reservations team that are on hand 7 days a week to help you with your booking or any questions or concerns. Do a search for a car hire in Sicily today and find your best offer!
---
Frequently Asked Questions about Renting a Car in Sicily
When hiring a car in Scily the Auto Europe website is the ultimate place to finding out all the facts about different rental options and making a booking easily and securely. You will find numerous deals for a lot of different car categories and insurance options, each of them with very detailed descriptions.
---
The main roads on Sicily are very well maintained with four long stretches of motorway between Catania and Palermo, Palermo and Mazara and Catania and Noto (all toll-free), and between Messina and Palermo (where tolls re payable). The vast network of minor roads criss-crossing the island are slower but offer great views, particularly in the more mountainous areas. Drivers in Italy, particularly Sicily, have gained a reputation for driving in a somewhat impatient fashion, with a tendency to sound their horns quite freely and tail-gate at speed whilst flashing their lights. Despite this generalisation, it's always a good idea to drive carefully wherever you are in the world and plan your trip in advance as much as possible. Sicily is no exception in as much as the big towns and cities get busy in the weekday rush-hours but much quieter at weekends, although visitors should expect a lot more 'beach traffic' during the summer months. Always remember to drive on the right-hand side of the road and both the driver and their passengers must always have their seat-belts firmly fastened. Driving and talking on the phone is not allowed, unless you have hands-free equipment, while driving under the influence of alcohol is strictly forbidden (the BAC limit is 0.05). Check out our driving in Italy section for more advice and information.
Parking spaces in Sicilian towns and cities can be quite difficult to find. Pay and display parking is denoted by blue lines by the side of the road. Typically, the paid parking period runs from Monday to Saturday between 8am and 1.30pm and again from 3.30pm to 8pm and as a rule the easiest time to find on-street parking spaces is early- to mid-afternoon between 2pm and 4pm. The good news is that car parks are plentiful and you'll find covered parking spaces in all the main cities. In Palermo, try Gagini Parking (located at 59 Via Antonio Gagini), while in Catania head for Pollina Park (Via Pietro Platania, 31).
Unless you have a permit granting you access to drive in the restricted zones the answer is no. Zona Traffico Limitato - ZTL, or restricted access zones are in place in most major Italian cities to reduce traffic and air pollution and on Sicily they exist in Palermo, Catania, Trapani, Comiso, Agrigento and many more. Please be aware that although you can enter the ZTL-zone freely (signs will indicate when you are entering and when the restriced access is in force) without permission, you will be fined unless you have a permit. If your hotel is inside a ZTL-zone we suggest that you ask your hotel to have your number plate registered with the local authorities for the duration of your stay. This is usually free of charge, but make sure you double-check this with your chosen hotel beforehand. Don't take your car into a ZTL until this has been done. Furthermore, even if you can drive in the ZTL where your hotel is located, this doesn't mean you can drive in all the ZTLs in the city, so you should still be cautious about avoiding other restricted traffic areas.
Yes, Auto Europe has a wide choice of vehicles for people searching for the right campervan hire in Sicily. Visit our Catania campervan hire page to make a search and start planning your motorhome holiday in Sicily today.
---
Sicily Travel Guide
Located just off the mainland's south-eastern tip, Sicily is the largest island not just in Italy but the Mediterranean region as a whole. Most of its land-mass is mountainous and its highest peak is Mount Etna, one of the world's most active volcanoes. Due to its past eruptions, the soil on the island is very fertile and any piece of land where plants can grow is cultivated. Therefore, the Sicilian landscape combines hillsides with vast green stretches of grapevines, tomatoes, olives, citrus fruits and fields of artichokes, among many others. The climate in Sicily is typically Mediterranean with wet winters and long, hot and mostly dry summers.
What to do in Sicily
The largest island in the Mediterranean, Sicily abounds in ancient monuments and historic sites. Furthermore, each large town and city exudes a wealth of its own unique tourist attractions, including temples, centuries-old churches and fascinating museums. Here follows a selection of things to see and do with your car rental in Sicily;
Palermo: The Sicilian capital is a wonderland of ancient architecture, narrow medieval streets, vibrant markets and enticing street food. Don't miss the Arab-Norman mosaics in the Cappella Palatina or the sky blue walls of the 16th-century church of Chiesa del Gesù. Just driving around the city gives you real taste of the city's deep culture and historic past.


Monreale: Located on a hilltop overlooking the city, Palermo's magnificent cathedral is one of Sicily's most iconic buildings. Begun in 1174 by William II of Sicily, it is one of the greatest examples of Norman architecture in Europe. Don't miss the glorious glass mosaics created in Byzantine style between the late 12th and mid-13th centuries.


Siracusa: Another of the island's historic centres is Siracusa, which features a fine collection of Greek theatres, Roman amphitheatres and the ruins of the temple of Athena. To visit Siracusa is to immerse yourself in Sicilian history, particularly in the old quarter with its characteristic back lanes, creative artisan boutiques and centuries-old town square facing the cathedral.


Catania: This ancient port city (the second-largest on the island) is within easy reach of Mount Etna and the many wine estates to be found in that region. The inner city of Catania features a rejuvenated Baroque city centre and on the southern slope of the old acropolis lies the Teatro Romano (Roman Theatre), which was built in the second century BC.
Best day trips with my car rental in Sicily
The island is tailor-made for touring, with breathtaking mountain vistas and seascapes to be enjoyed at every turn. When you rent a car in Sicily, you're embarking on an exhilarating road-trip through thousands of years of history, with some of Europe's most delicious cuisine waiting for you along the way. Check out our Sicily road trip page for more ideas.
Mount Etna
Few visitors can resist the chance to get up close to an active volcanic, especially one as strikingly imposing as Mount Etna. Etna is both the biggest volcano in Europe and the top tourist sight in Sicily, so don't miss out on the chance to see its lunar landscape, with the head-spinning views from its steaming summit definitely the main prize for anyone energetic enough to reach the top.
Cefalù
From Palermo, the drive along the coastal highway east to Cefalu is one of the most spectacular road-trips in the whole of Europe. This quaint little beach town midway along Sicily's north coast is worth visiting if only for the sight of the many homes and storefronts chiselled into the hillside. Some of the best fish and seafood in Sicily is served in the town's many seafront eateries.
Temple Tour
Our Temple Tour incorporates Sicily's three most important Greek temples – Agrigento, Selinunte and Segesta. The island's top site from antiquity is the Valley of the Temples in Agrigento situated close to the sea in the south-west of the island. This enchanting half-mile-long ridge is lined with ancient temples dating from the time the Greeks inhabited the island. Up the coast lies Selinunte consisting of five impressive temples centred on an acropolis, and driving further north brings you to Segesta with its well-preserved temple dating back to 420 BC.
West Coast
Sicily's lesser-known west coast is perfect for a day-trip from any of the big cities. Here you can dine lavishly in Trapani before visiting the lovely hill town of Erice to walk off lunch with a leisurely stroll through the medieval salt pans nearby. After that, why not enjoy a relaxing boat ride to the isle of Mozia to marvel at the remains of the ancient Carthaginian civilisation located there.
Wine-tasting
Besides volcano tourism, visitors flock to Sicily's central eastern coast to taste the region's deliciously-complex wines. Mount Etna's lower slopes are carpeted by stone-terraced vineyards that follow many of the volcano's old lava flows to produce some of the best wines in Italy, and visitors are more than welcome to visit the estates to taste and purchase the wines.
---
Useful links
Travel tip - touring the isle of Sicily