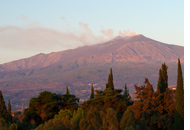 Sicily is a wonderful island on the Southernmost point of Italy. Some people call it the football of Italy, as Italy is shaped like a boot and Sicily being the ball. It is a great island to explore, especially if you choose to
hire a car
. It has one of the most well known active volcanoes in the world, Mount Etna; and we take a look at this devilish piece of nature.
Personally, I have been to Sicily and I loved it! I went to Mount Etna National Park and a long awaited 6 hours later (we took a ferry from Malta!) we were well on our way to the top! On our drive toward the monster volcano, we could see it in the distance, getting bigger and bigger, smoking. Excitement rushed through my veins as we drew closer and closer and then finally, we started the ascent to the top.The long and winding road took another hour and a half, but it was well worth it. During the journey we were told the history of the volcano, whilst admiring houses along the way. Remember to keep an eye out for the Good Luck House and Bad Luck House. When you get there, you will know what I mean. I had such an adrenaline rush to be honest, what if the volcano erupted while we were on the way up? How would we escape? The sheer excitement of not knowing what could happen was amazing.
Finally, nearing the to, we stopped and were allowed to park up. Wow! Be sure you are prepared for the smell of sulphur! There is a café where you can stop for some food, or if you are daring enough, you can go with a guide to the top of the volcano and gaze deep into the core. When I went I could feel the ground lightly vibrating under me, it was like a massager but on my feet. It was such a thrill to see the smoke coming out of the volcano, almost like a chimney in winter.
I would have liked to go to the top, but my sister and pal chickened out! I would really recommend going up though, when would you ever get to do that again? When I asked about the past eruptions, I was told that they weren't so bad, you could walk away from flowing lava if need be.
After a couple of hours relaxing in the warm sunshine, we decided it was time to go. Driving down the hill is just as fun as driving up!
With stunning views of Sicily and a few stopping points for you to be able to take photos, it was such a fantastic experience!