Customer Reviews of Auto Europe Car Hire
You are welcomed to browse through the latest surveys written by our customers following their car hire in some of the numerous destinations around the globe. Simply click here to find the latest reviews of our service and find out what previous customers thought about their experience when renting a car with us. Auto Europe has been part of the car hire industry for over 60 years. Thanks to our partnership with the most renowned car hire suppliers, we are able to bring you the best vehicles, some of the best rates on the market, and award-winning customer service. Auto Europe strives to really listen to the client and try to accommodate all changes and requests in order to ensure a smooth car rental experience. We take pride in our wide network of suppliers and the choice of vehicles on offer, as well as our business expansion on a global level, meaning that we are now able to offer you our services in 180 countries and at over 24,000 locations worldwide.
Advantages of Booking with Auto Europe
Our goal is to provide the best service to our clients. Some of the highlights when booking with us are:

NO CANCELLATION OR AMENDMENT FEES - Up to 48h before pick up.


NO CREDIT CARD FEES - Transparency & Best Price Guarantee.


THE BEST SERVICE FOR 60 YEARS - Leading car hire suppliers worldwide.

Entrust us with your car hire and be sure you will be in good hands. Auto Europe's reservation agents are at your disposal 7 days a week helping you find the best deal for your travels. It is our expertise in the car rental business that makes a true difference. We are constantly working on improving our services and expanding our offer.

Take some time to browse through the verified reviews written by our customers to gain a better insight into our work and the service provided. To book a car with us, please use either our booking engine or give a call to Auto Europe's reservation agents at +44 123 3225 114.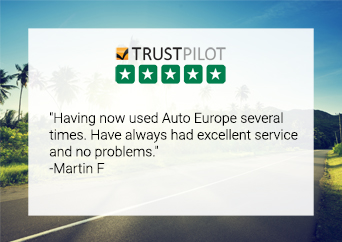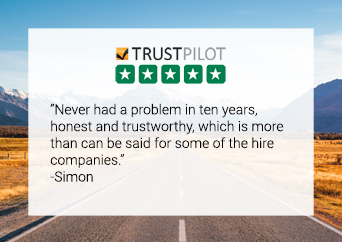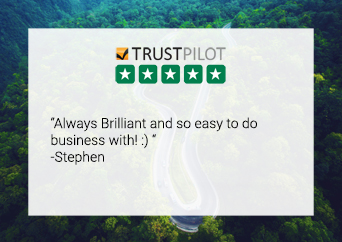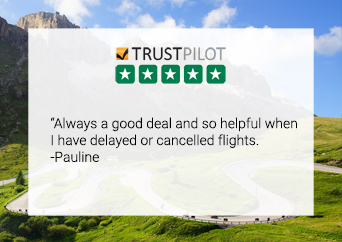 Worldwide Car Hire Reviews - Discover what our customers think about our service
With over 60 years of international car hire experience, Auto Europe offers the best car rental deals and the widest choice of vehicles at key pick-up/drop-off points across the globe, including airports, and train stations, as well as many conveniently located downtown locations. Due to long-term relationships with all the world's top car hire suppliers, our customers are guaranteed the best car for their trip at the cheapest possible price. Find out what our many customers have to say about booking a car hire with us by reading about their recent car hire experiences in our dedicated car hire review section below.
Browse through worldwide car rental reviews
| | |
| --- | --- |
| Albania | Tirana |
| Argentina | Buenos Aires |
| Australia | Brisbane | Cairns | Melbourne | Perth | Sydney |
| Austria | Innsbruck | Salzburg | Vienna |
| Barbados | Bridgetown |
| Belgium | Brussels | Charleroi |
| Brazil | Rio de Janeiro |
| Bulgaria | Sofia |
| Canada | Calgary | Toronto | Vancouver |
| Chile | Santiago |
| Costa Rica | San Jose |
| Croatia | Dubrovnik | Pula | Rijeka | Split | Zadar | Zagreb |
| Cyprus | Larnaca | Paphos |
| Czech Republic | Brno | Prague |
| Denmark | Aalborg | Aarhus | Billund | Copenhagen |
| Estonia | Tallinn |
| Finland | Helsinki | Rovaniemi |
| France | Ajaccio | Avignon | Bastia | Bergerac | Beziers | Biarritz | Bordeaux | Carcassonne | Chambery | Dinard | Grenoble | La Rochelle | Limoges | Lyon | Marseille | Montpellier | Mulhouse | Nantes | Nice | Nimes | Paris | Perpignan | Rennes | Toulouse |
| Germany | Berlin | Bremen | Cologne | Dortmund | Dusseldorf | Frankfurt | Hamburg | Hannover | Memmingen | Munich | Nuremberg | Stuttgart |
| Greece | Athens | Chania | Corfu | Heraklion | Kalamata | Kefalonia | Mykonos | Preveza | Rhodes | Santorini | Thessaloniki | Zakynthos |
| Hungary | Budapest |
| Iceland | Keflavik | Reykjavik |
| Ireland | Cork | Dublin | Kerry | Knock | Shannon |
| Israel | Tel Aviv |
| Italy | Alghero | Ancona | Bari | Bergamo | Bologna | Brindisi | Cagliari | Catania | Florence | Genoa | Lamezia Terme | Milan | Naples | Olbia | Palermo | Perugia | Pescara | Pisa | Pula | Treviso | Trieste | Turin | Venice | Verona |
| Latvia | Riga |
| Luxembourg | Luxembourg City |
| Malta | Luqa |
| Martinique | Fort de France |
| Mexico | Cancun |
| Morocco | Marrakech |
| Netherlands | Amsterdam | Eindhoven |
| New Zealand | Auckland | Christchurch |
| Northern Ireland | Belfast | Londonderry |
| Norway | Bergen | Oslo | Stavanger |
| Poland | Gdansk | Katowice | Krakow | Warsaw |
| Portugal | Albufeira | Faro | Funchal | Lisbon | Madeira | Ponta Delgada | Porto |
| Romania | Bucharest |
| Serbia | Belgrade |
| Slovakia | Bratislava | Kosice |
| Slovenia | Ljubljana |
| South Africa | Cape Town | Durban | George | Johannesburg | Port Elizabeth |
| Spain | Alicante | Almeria | Barcelona | Bilbao | Fuerteventura | Gerona | Granada | Gran Canaria | Ibiza | Jerez | Lanzarote | Madrid | Malaga | Mallorca | Menorca | Murcia | Reus | Santander | Santiago | Seville | Tenerife | Valencia |
| Sweden | Gothenburg | Stockholm |
| Switzerland | Basel | Geneva | Zurich |
| Thailand | Bangkok |
| Turkey | Bodrum | Dalaman | Istanbul |
| UAE | Abu Dhabi | Dubai |
| UK | Aberdeen | Birmingham | Bournemouth | Brighton | Bristol | Cambridge | Cardiff | East Midlands | Edinburgh | Exeter | Glasgow | Isle of Man | Inverness | Jersey | Leeds | Leicester | Liverpool | London | Luton | Manchester | Newcastle | Norwich | Nottingham | Oxford | Sheffield |Southampton | York |
| Ukraine | Kiev |
| USA | Atlanta | Boston | Chicago | Dallas | Denver | Detroit | Fort Lauderdale | Fort Myers | Honolulu | Houston | Las Vegas | Los Angeles | Miami | Newark NJ | New Orleans | New York | Orlando | Philadelphia | Phoenix | Salt Lake City | San Diego | San Francisco | Seattle | Tampa | Washington DC |