Car hire in Venice – Gateway to Northern Italy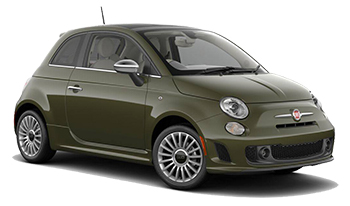 A sightseeing destination par excellence, Venice is unparallelled for its scenic beauty, inspiring atmosphere and vibrant Italian charm. Uniquely romantic, it's traditionally been a top choice for honeymooners over the centuries and offers all the right ingredients for a relaxing break at any time of the year, for couples and families alike. Venice is a picture-book paradise of narrow alleyways and pretty canals passing between lavish palaces (some dating back to the 13th century) and dozens of impressive churches to form a cityscape that has remained completely unchanged since time immemorial.
First stop for most first-time visitors is St Mark's Square (Piazza San Marco), the city's bustling centrepiece adorned with many impressive monuments and well-preserved buildings. The main focus of attention is the city's magnificent Byzantine cathedral which has a fine interior embellished with some amazing mosaics and other rare works of religious art. And after that, few people can resist the chance to be punted along the glorious Grand Canal in one of the city's famous gondolas, followed by an alluring al fresco cappuccino and ice-cream experience in one of the many canal-side cafés.
This part of northern Italy is tailor-made for exhilarating road-trips through verdant vineyards and some of the lushest countryside in the whole of Europe. There are many towns and cities worth visiting here, most notably Verona (home to one of the largest Roman coliseums in Europe), the medieval walled town of Treviso (just 26 miles north of Venice) and Padua (don't miss the famous 13th-century frescoes in the Cappella degli Scrovegni). It is also within striking distance of the beautiful Po Delta Regional Park, a protected wildlife haven where many outdoor activities such as cycling, hiking, boating and canoeing can be enjoyed.
When you book a car hire in Venice with Auto Europe you'll have the best of northern Italy at your disposal, with dozens of interesting sightseeing possibilities available and lots of exciting road-trip ideas around some of the most spectacular landscapes in the country. You can pick up your vehicle at Venice Marco Polo Airport a few miles north of the city and be on your way in just a few minutes after landing. To find out what others thought about the quality of Auto Europe's wide-ranging car rental services in the city, take a look at our Venice car hire reviews and Italy car hire reviews pages to see the user ratings and comments posted by some of our previous customers.
If you seek more useful advice and/or need help with your travel itinerary, please feel free to get in touch with our rental specialists on +44 123 3225 114 who will be only too happy to assist you. For general advice on getting around Venice and the rest of the country by car, please consult our Italy Driving Information section for information on road rules, speed limits, driving distances, etc.
For more information on renting a vehicle in Venice, click on the car hire related topics listed below:
---
Where to pick up a car hire in Venice
There's plenty of choice for people looking to pick up a car rental in Venice as Auto Europe collaborates with all the most prestigious car hire companies in the city and the rest of northern Italy. The city centre famously has no roads so it's best to collect your vehicle at Venice's Santa Lucia Train Station where many of the top car rental offices can be found on the nearby Piazzale Roma (Roma Square). A cheaper alternative in terms of local parking is Venice Mestre Train Station which is located on the Italian mainland and is accessible via the Ponte della Libertà (Liberty Bridge). There you can find many reasonably-priced car parks in the vicinity of the station and plenty of low-cost travel options into the city centre.
Venice Airport
Located just 5 miles from the city centre, Venice Marco Polo Airport is one of the busiest airports in Italy with around 14 million passengers a year. It links the city with many other key European destinations such as Paris, Frankfurt, Amsterdam, London and Brussels, offering regular long-haul flights to the USA North America, Asia, Middle East and elsewhere around the world. The airport was improved with a new terminal in 2017, which greatly upgraded the passenger facilities and services as a whole. It is named after the famous explorer Marco Polo who was born in Venice in the 13th century and went on to travel all over the world. The airport's well-signposted Rent-a-car area can be found on the 3rd-floor of the P1 car park. To pick up your car rental at Venice Airport, just head for the modern Rent-a-car area on the 3rd-floor of the P1 car park, which is very well signposted from the Arrivals Hall.
Venice Airport (VCE)
Website: veneziaairport.it
Address: Via Galileo Galilei, 30/1, 30173 Tessera, Venezia VE, Italy.
Telephone: +39 041 2609260
Venice Santa Lucia Station
Situated close to the centre and in very close proximity to all the city's top attractions, Venice's Santa Lucia Train Station (officially known as Venezia Santa Lucia Train Station but often referred to as Piazzale Roma Station) is the rail terminal and only station actually in the city. Situated on the western edge of Venice's famous historic quarter, in close proximity to Ponte della Libertà (Liberty Bridge), it serves many local, regional and long-distance train services from all over the country, such as Padua (30 minutes), Verona (60 minutes) and Milan (2 hours). Serving more than thirty million passengers a year, it derives its name from the former Palladian Santa Lucia Church which was demolished in 1863 to make room for the station. Visitors arriving at the station have quick access to many of the city's top tourist sights, including the Grand Canal, Rialto Bridge and St Mark's Square. Auto Europe collaborates with many of the most prestigious car hire companies who operate at Venice Santa Lucia Train Station, many of which have their offices close by at Piazzale Roma (Roma Square), the only part of the city accessible to cars.
Venice Santa Lucia Train Station
Website: grandistazioni.it
Address: Fondamenta Santa Lucia, Venice, Italy 30121
Telephone: +39 041 5298711
Venice Mestre Train Station
Located just a couple of kilometres from the city's historic centre, Venice Mestre Train Station (known locally as Stazione di Venezia Mestre) is one of the busiest railway hubs in northern Italy with around 85,000 commuters and tourists travelling through it daily. Located on the mainland connected by Liberty Bridge (Ponte della Libertà), the station is connected to many large Italian cities, including Rome and Milan, along with several direct links to important junctions in France, Germany, Austria and Switzerland. The journey to its sister station - Venice Santa Lucia - takes just ten minutes and leaves passengers alongside the Grand Canal, from which most of the city's most important attractions can be reached, such as St Mark's Square and the Bridge of Sighs. Many of Auto Europe's most prestigious vehicle rental partners (such as Europcar, Hertz and Sixt, etc.) offer car hire at Venice Mestre Train Station, with their offices located in close proximity to the station. In order to pick up your vehicle, please make sure that you have all the necessary documents with you, including your passport, car hire voucher, driving licence and coverage details before arriving at the reception desk.
Venice Mestre Train Station
Website: grandistazioni.it
Address: Viale Stazione, Venice, Italy 30171
Telephone: +39 041 9239 73
---
Book with the best car hire suppliers in Venice
Auto Europe is a leading international car hire company currently offering a vast selection of convenient pick-up and drop-off locations in over 180 destinations around the world, including Venice city centre, Marco Polo Airport and the city's two railways stations, Santa Lucia and Mestre. By collaborating with all the top car hire suppliers, both international and the leading local companies such as Maggiore and Sicily by Car, no other car hire company can offer you such a wide selection of vehicles in so many different countries, and always at the cheapest rates.
Should you require additional information about the car hire companies we work with or their policies such as their out-of-office pick-up hours or questions regarding age restrictions, our car rental specialists are just a phone call or e-mail away and are always very happy to assist you.
---
Frequently asked questions about renting a car in Venice
This section features the most frequent questions asked by people booking a car hire in Venice. Scroll down for important tips relating to a wide range of essential car hire topics, such as credit cards, coverage, tolls, traffic and much more. If you need any more information, please call our reservations team on +44 123 3225 114 and they will be happy to help you with your reservation and assist you with your travel itinerary.
---
Yes, the main driver will always need a credit card in his or her name to rent a car in Venice. This is because the local car hire company will freeze a certain amount as a security bond for the duration of the rental period, which is refunded shortly afterwards as and when the vehicle is returned without any damage.
Please note that in the case of luxurious, high-performance cars due to the very high value of such vehicles, two major credit cards in the name of the main driver are sometimes requested at the time of rental.
It's easy to check which types of credit card can be used to pick up an Auto Europe car rental in Venice, just click on the blue and white info icon (i) after making a search and you'll find all the payment information you need.
For more tips on paying for your car rental in Venice and elsewhere, please consult our blog post about the six most important things to know about credit cards and deposits prior to picking up your vehicle in northern Italy.
When you book a low-cost car hire in Venice with Auto Europe, you'll find that all our vehicle rental rates have Collision Damage Waiver (CDW), theft protection, fire insurance and third-party liability, meaning that basic coverage is already included in the price. It's worth noting that CDW does not cover any damage to tyres, glass, outside mirrors, the vehicle's undercarriage, interior, roof, engine, damage to the locks and loss of the car keys. For additional coverage, you might want to consider purchasing Auto Europe's very popular Full Protection product which, as its name suggests, provides full coverage and added peace of mind when driving around the Veneto region of northern Italy and elsewhere in the country. You'll sometimes find that the local supplier's staff members might try to offer you additional insurance at the time of picking up the vehicle. This is optional and you are in no way obliged to purchase it. To find out what coverage is included in the rate, please click on the blue and white info icon (i) when making a search to find all the information you need regarding the amount of CDW deductible, theft insurance deductible and liability insurance, etc. Please note that the price is subject to the location, rental duration, car category and supplier you opted fr during your search. For more tips on car hire coverage, please consult our dedicated page which provides a general overview of the types of car hire coverage you'll find available when renting a car in Venice with Auto Europe.
Venice is a water city surrounded by a lagoon, therefore there aren't any roads for cars, motorbikes or bicycles but only lanes, squares, waterways and canals. This means that the city's traffic takes place exclusively on pedestrian routes or on water and for this reason arriving and getting around can be difficult for first-time visitors who don't know the city that well, especially those who have decided to rent a car in Venice.
After all the city sightseeing and gondola rides are done, the emphasis is then on exploring the surrounding Italian landscape, for which you'll need to be aware of the following rules of the road;
Always drive on the right-hand side of the road in Italy.
Seat-belts are compulsory for everyone in the car.
In Italy the use of a mobile phone whilst driving is prohibited, with the exception of a hands-free system.
You may not use radar detectors.
When driving your car hire in Venice, you must always have your driving licence and rental agreement with you at all times.
Headlights must be turned on in tunnels.
Arriving in Venice by car means crossing the Ponte della Libertà bridge, which is the only connection between the mainland and the city. Although it's not possible to actually enter the city by car, there are plenty of parking possibilities in close proximity to the centre of Venice. It's best to park your car rental in Venice just outside the city at Piazzale Roma or Tronchetto loacted just before Piazzale Roma. Because the car parks in Venice (and particularly in Piazzale Roma) can become a bit crowded (and expensive) in the peak holiday season, it makes more sense to park in the nearby towns of Mestre (home to the city's main railway hub - Venice Mestre Train Station) or Marghera (especially during July and August) and travel into the city centre by train or bus. Another suitable option is the Hotel Santa Chiara (located in Piazzale Roma), which is one of the few hotels in Venice to offer visitors the luxury of a private and fully-protected car park.
Yes, definitely! With a campervan in Venice you can get well off the beaten track and visit some of the lesser-known gems of the Veneto tourist region, which is so much more than just Venice. Auto Europe has a wide range of campervans and motorhomes available with capacity for large groups and families to enjoy the experience of visiting Venice and travelling through northern Italy together. By saving cash on hotels and restaurants, you'll have more money and time on your hands to enjoy the rich cultural attractions to be found in ancient cities like Verona, the setting for one of William Shakespeare's most famous plays - Romeu and Juliet - or meander freely through the Dolomites, one of Europe's most picturesque mountain areas.
---
Venice Travel Guide
Venice is one of the world's great tourist destinations with an old quarter bursting with famous attractions, such as St Mark's Square, the Grand Canal, Bridge of Sighs and the iconic Rialto Bridge. Besides all the wonderful sights to behold in the inner city, there's an abundance of spectacular scenery to explore with an Auto Europe low-cost car rental in Venice due to its location in the heart of northern Italy, a land of vineyards, charming old villages and numerous UNESCO World Heritage Sites.
Best day trips with my car rental in Venice
Venice is the perfect base from which to explore the charming Veneto region of northern Italy. There's much to see and do in this part of the country, and once you've visited the city's top tourist attractions you'll want to head off into the hills and explore some of the nearby towns and cities, including Treviso, Padua (with its famous shrine of St Anthony) and Verona, followed by a visit to a vineyard or two to taste and buy some of the local wines!
Please note that for customers wishing to travel beyond the city of Venice, it is also possible to undertake an extended road-trip and drop the vehicle off in another city such as Rome or Milan by means of a one-way car hire which allows for much more freedom and flexibility on the road. Furthermore, if you'd like to consider sharing the driving with a friend or family member, why not take advantage of one of Auto Europe's popular Free Additional Driver offers which will save you even more money and further enhance the experience of discovering the Veneto region of northern Italy.
Verona
Just an hour's drive west of Venice lies Verona, one of the most enchanting cities in the north of Italy. Its most impressive feature is the imposing Roman amphitheatre (the Arena) located in the city's largest piazza, the Piazza Bra. Completed around 30 AD, it is the third largest in Italy after Rome's Colosseum and the arena at Capua. Verona also provided the setting for Shakespeare's most popular play, Romeo and Juliet.
Padua
Of equal interest to many visitors is a trip to nearby Padua, considered to be the oldest place in the north of Italy and certainly one of the country's most historic cities. Besides an abundance of Roman ruins, Padua's main attraction is the Cappella degli Scrovegni, a lovely church that harbours one of the country's most magnificent interiors with many fine frescoes by the 13th-century painter Giotto di Bondone, including the Life of the Virgin and the Life of Christ, collectively regarded as the most important masterpieces of the Early Renaissance period.
Villa Pisani
This enchanting late-Baroque rural palace is within easy reach of Venice and offers visitors the chance to admire the ballroom with its stunning frescoes as well as many of the other stately rooms and well-landscaped gardens. Many important chapters in world history have taken place there since its construction in the early 18th century, including the visit of Napoleon Bonaparte who made it his home in 1805 and the first official meeting of Hitler and Mussolini in 1934. Today it operates as a fascinating museum with many rare exhibits illustrating the estate's fascinating history.
Trieste
The lovely seaside town of Trieste on the Adriatic has a marvellous historic quarter where most of the important buildings are located, such as the City Hall (Palazzo del Municipio) and the impressive Governor's Palace (Palazzo del Governo). After that, take a stroll up to San Giusto Castle (Castello di San Giusto) which was constructed by the Habsburgs in medieval times, followed by a visit to San Giusto Cathedral which is particularly notable for its 7th-century mosaics and a bell cast in 1829 from one of Napoleon's cannons.
Vicenza
Idyllically located at the base of Monte Berico, Vicenza is a thriving, cosmopolitan city with a rich history and culture. There are many museums, art galleries, town squares, stately buildings and churches to explore, plus an elegant Renaissance palazzi lined with al fresco eateries serving freshly-made pasta and other authentic Italian dishes. The city's star feature is the Teatro Olimpico (Olympic Theatre) which has been a UNESCO World Heritage Site since 1994.
What to do in Venice
A city of 450 bridges, 120 islands and a labyrinth of narrow streets and alleyways, Venice is a place like no other. It is divided into six neighbourhoods, each with its own distinctive characteristics. San Marco in the centre is surrounded on three sides by the Grand Canal and across the famous Rialto Bridge is the artistic area of San Polo. South of the Grand Canal lies the upmarket Dorsoduro district which is where you'll find many of the city's most important art museums and interesting town squares. It'll take several visits to get a real taste of the city but here's a selection of some of the top attractions to get you started;
St Mark's Basilica: Site of coronations, religious processions and state funerals for many centuries, the stunning Basilica di San Marco dominates Piazza San Marco (St Mark's Square) with its breathtaking façade. Constructed almost a thousand years ago, the building boasts a spectacular central dome and a fascinating museum exhibiting several artifacts from the Fourth Crusade.


Grand Canal: Reflecting the glory of centuries of Venetian architecture, a cruise or gondola ride on the iconic Grand Canal is a must for visitors looking to get their first bearings of the city. At more than 2 miles long and almost 150 feet wide, it is lined with dozens of sumptuous marble palaces and other impressive buildings on both sides, and the views from the water will provide some of the best photograph opportunites on your trip.


Rialto Bridge: Lined with shops, Venice's world-famous Rialto Bridge was built in 1588 and up until the 1850s was the only bridge crossing the Grand Canal. With a span of over 75 metres, it is one of the top tourism attractions in Venice and a very popular place to take a photograph and appreciate the architectural magnificence of the many wonderful buildings lining Grand Canal.


Gallerie dell'Accademia: If you've only got time to visit one museum during your visit, then make sure it's the excellent Gallerie dell'Accademia. Housed in the Scuola della Carità on the south bank of the Grand Canal, it was originally founded in 1750 and houses one of the best collections of Italian art in the world. Don't miss Titan's Presentation of the Virgin in the Temple and Leonardo da Vinci's Vitruvian Man, the gallery's star exhibit.


Doge's Palace: Located in the heart of the city, this extraordinary palace is one of the finest examples of Venetian Gothic architecture. Besides marvelling at its rich grandeur and lavish decoration, visitors can enjoy the thrill of looking at the great Venetian masterpieces, most notably Tintoretto's Paradise, the largest oil painting in the world. Don't miss the famed Bridge of Sighs which leads through to the musty cells of the Prigioni - the prison from which Casanova made his notorious escape.


Peggy Guggenheim Collection: One of the most visited attractions in Venice, this vast personal art collection now operates as a modern art museum located on the Grand Canal. The gallery represents a wide range of styles from Cubist and Futurist to Abstract Expressionist and Surrealist featuring works by Dali, Picasso, Pollock, Magritte, Braque, Léger, Mondrian, Kandinsky, Klee and Ernst.
---
Useful links