Car hire in Bari – Travel around wonderful Apulia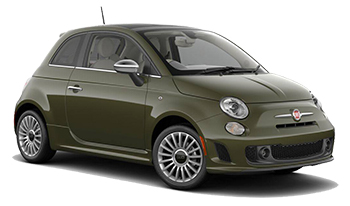 Bari, one of Italy's most famous cities on the Adriatic, attracts travellers with its medieval old town and houses perched on the cliffs. As a large port city and the capital of Puglia, it is home to the region's largest and busiest airport, a gateway into an unspoiled land of white-washed towns, beautiful beaches, and endless groves of olive trees lining the countryside. The old town of Bari provides a fantastic display of historical architecture, important buildings such as the Castel Svevo, whilst the modern part of town hosts some fine museums and shopping streets. The combination of old and new is ever apparent in this wonderful coastal city and a car hire in Bari will help you discover the historic Apulia region and the city that is the second economic centre of southern mainland Italy after Naples.
Heading to the Brindisi province and the white city of Ostuni and Alberobello, the city of the Trulli with its traditional cone-shaped houses made exclusively of stone, makes for a perfect outing should you wish to explore the south of Italy further. Or why not plan a road trip down the Eastern coast and continue your journey to the coastal town of Otranto, before you reach enchanting Lecce with its famous baroque buildings. With Auto Europe it is even possible for clients planning a road trip to pick up their car rental in one location and drop it off at another, a so called One Way Car Hire, meaning that you get added flexibility when planning your route.
Make the most of your travel to Bari with a car rental from Auto Europe today! We offer quality car hire deals from international and local suppliers at Bari Airport and downtown. Thanks to a large choice of vehicle categories, our customers can pick up the exact car they need for their travels, be it a holiday or a business trip. Our friendly and skilled reservations team is available to help you with your booking and any request on +44 123 3225 114, 7 days a week. You cna alos check out what other clients have to say about the experience of renting a car with Auto Europe in our Bari car hire reviews section.
For more information about renting a vehicle in Bari, click on the car hire related topics listed below:
---
Where to Pick up a Car Hire in Bari
On the Auto Europe comparison website, we can offer you the best car rental offers in Bari with convenient pick-up options at Bari Airport, along with Bari Port and a variety of locations throughout Bari. Although the airport is located in close proximity to the city centre, our other pick-up locations include Via Amendola and Via L. Zuppeta, a stones throw away from Bari Central Station and Bari Sud Est railway station, as well as pick-up desk on Via Guiseppe Palmieri and Strada Palumbo, west of downtown Bari.
To find the best pick-up option for your trip, simply toggle the map view when making a search on our booking engine and we will show you all available suppliers and vehicles, along with their location for the chosen time span, on a handy map. You can also contact our highly skilled reservations team per telephone and they will be more than happy to help you find the perfect car for your trip.
Bari Airport
Bari Karol Wojtyła Airport is located five miles north-west of Bari, in Palese, and serves roughly 5.5 million passengers a year. The airport was named after Pope John Paul II and it is known among locals as Aeroporti di Puglia. The airport currently operates regular, seasonal and charter flights to over 50 different destinations.
You will find the car rental desk at Bari airport located inside the terminal building on the ground floor in the arrivals area. Supplier desk can be found on the left hand side of the building when you exit the baggage claim area.
Bari Karol Wojtyla International Airport (BRI)
Website: https://www.aeroportidipuglia.it/
Address: Viale Enzo Ferrari, 70128 Bari, Italy
Telephone: +39 080 580 0200
---
Book with the Best Car Hire Suppliers in Bari
The Puglia region is one of the most important Italian holiday destinations, which explains the many car hire deals in Bari offered by Auto Europe. As a car rental broker, we work with many different international and local companies including Sixt, Alamo, Avis, and Europcar, as well as budget brands Budget and Keddy, and national companies such as SicilybyCar and Maggiore. Auto Europe's goal is offer the best quality car hire and service to our customers, at the most convenient rates, and the reason we can do this is thanks to our long stand relationships with our car hire suppliers. Not only does this enable us to offer clients a wide variety of rental vehicles, but also convenient pick-up locations, great promotions such as free additional drivers and flexible rental conditions such as modifying and cancelling your booking up to 48 hours before pick-up should your plans change.
As a summer destination hot spot, we advice you to secure your rental deal in Bari in advance as availability often get scarce during the summer months and prices can soar. For more information on the suppliers we work with, please click on the logos above or contact our reservations team for questions or extra requests. Our professional and multilingual reservation agents are at your disposal over the phone or email 7 days a week.
---
Frequently Asked Questions about Renting a Car in Bari
Opting to rent a car in Bari is one of the most effective ways to get around to explore the wonderul Puglia region. However before finding your perfect car rental we advise you to have a read through of the below FAQ section to get a clearer picture of what you can expect when renting and driving a car hire in Bari. The topics covered below include information on credit cards and deposits when hiring a car, as well as useful traffic and parking deta and information on restricted driving zones (ZTLs).
---
Yes, a credit card is a must to pick up your car hire in Bari, since the supplier will block a security deposit on it to guarantee for the insurance excess or for potential extra expenses. Only credit cards in the name of the main driver (i.e. the person named on the reservation voucher) will be accepted. For more information on credit cards and deposits please refer to our dedicated page.
All car rental deals on the Auto Europe website always come with the necessary car hire coverage for rented vehicles to be able to ciruclate in the given country, in this case Italy. This include Collision Damage Waiver (CDW), third-party liability and theft protection (TP). CDW and TP often come with an excess and it is important to note that certain items of the vehicle are excluded on the CDW, for example the car interior, undercarriage, glass, mirrors, wheels, roof, mis-fuelling, key loss, towing expenses and administration fees.
In order to protect your rental, you are able to book Auto Europe´s own affordable coverage product called the Full Protection Package,when you book with us. Not only is this option often significantly cheaper than many locally offered insurances products and include the elements of the car often left out by the CDW, but it also works on a refundable excess basis, meaning that any excess you have to pay to the local supplier in case of an accident or theft, will be refunded to you by Auto Europe.
It is also important to be aware that if you are under 26 and plan to rent a car, a so called young driver fee may most likely apply. To find out if a Young driver Fee applies to your rental please check under "Info Icon" for the age requirements, such as minimum or maximum age and possible fees. Each supplier has its own regulations and requirements, meaning that some may charge a fee and some may not and that prices for this fee might vary.
Driving in Italy will be somewhat different from what you are used to in the UK and roundabouts and junctions should be approached with caution as the usual give way system is not always in place.
Bari, like most of Puglia cities, was not built to withstand a lot of cars and gets congested easily. The most congested roads are the city centre streets leading to the old town part and the main roads from the airport to downtown. Pay attention to ZTL zones (Zona Traffico Limitato), or restricted zones, as they are for residential access only. If you enter a ZTL with your car rental in Bari without permission, you will be fined and the rental company will receive your ticket, which you will have to pay plus administrative costs. If your hotel lies in the ZTL zone, ask hotel staff to register your car registration plate to the local authorities.
Finding parking in Bari can be challenging, however, there are several options available that are affordable for you. On-street parking is usually hard to come by and you might end up parked in with a tiny gap between two vehicles and no other options than to go for it.
Parking places are indicated by a blue sign with the white letter P or the phrase "Parcheggio". Normally, a blue line indicates that you can park but you have to pay, a white line means you can park for free, and a yellow line is for disabled badge holders parking. Tickets can be purchased from parking meters and you must place it in your front windscreen. There are also paid public car parks available in Bari including the Parcheggio di Porto, located close to the port and Garage Tiemme Bari Centro, located directly in the centre of town.
It depends. In Bari the whole of Bari Vecchia is a restricted driving zone and only vehicles with permission may drive in and out of these areas or else you will be be fined. The ZTL zone is Bari include the following streets; Corso Vittorio Emanuele - Piazza Massari - Piazza Isabella of Aragon - Corso Senator Antonio De Tullio - Emperor Augustus Promenade - Piazza IV Novembre. If your hotel is inside the ZTL zone we advice you to speak to them directly once you have picked up your vehicle and they might be able to help you register the vehicle's license number plate with the local authorities.
---
Bari Travel Guide
Although the university city of Bari has around 320,000 inhabitants, time seems to have stood still here in the historic old town. Homemade pasta is laid out to dry in the narrow, winding streets, fishermen mend their nets and freshly washed laundry flutters in the wind on lines stretched across the alleys. Life pulsates in the old piazzas; There is always something going on in the many bars, cafes, osterias, trattorias and restaurants.
Best day trips with my car rental in Bari
This Adriatic coastal city offers a warm Mediterranean climate that makes it a perfect destination all year round and with a car hire in Bari you are able to discover more of the fantastic Apulia region and all that is has on offer. Below we have gathered a few tips for day trip destinations that are a must for your visit.
Matera
An hour drive inland you will find the fascinating town once known as the shame of Italy, or Sassi di Matera. It dates back about 9000 year and the "Sassi" represents the original town´s cave dwellings that are carved in a canyon. In the 1950´s it was as declared the shame of Italy by the prime minister from the communist party as the towns' inhabitants lived with their cattle, without neither power nor running water until. The population was thereafter forced in to new housing that had been built in a modern part of town but some housing has been restored and renovated and the site is now a UNESCO World Heritage Site and several Hollywood movies were filmed here.
Alberobello
Albeit quite small and touristy on the surface, this unique city is well worth a visit thanks to its Trulli houses, transporting you to a magical world of hobbits and dwarfs. A Trullo is a unique Apulian dry stone hut with a conical roof and the houses are considered a UNESCO World Heritage site since 1996. Most of the shops and restaurant are located in the main alleys and some will even let you let you climb up to their balconies to enjoy a truly spectacular view of the Trulli roof tops.
Castellana Caves
32 miles down the coast you can explore the Castellana Caves. This massive cave system was first discovered in 1938 and it is estimated that it has been around for more than 91 hundred million years. The caves which rise 985 feet above sea level and have a length 1.87 miles can only be visited with a local guide and the tour will take roughly 2 hours. The Caves are open all year round and it is good to remember that the floor is slippery so were proper shoes and the temperature of the caves lies between 14°C to 18°C.
Parco Nationale Alta Murgia
Located to the south of Bari, this is one of the finest parks in the Apulia region and will offer something different to the usual sight-seeing that the town of Bari has on offer. The park itself covers a vast area of 262 square miles and can offer a variety of outdoors experiences, including hiking, cycling and guided tours about the region and its wildlife and flora and fauna. The landscapes throughout the park vary greatly with forests to open wheat fields, and rocky ridges to little abandoned villages as well as being ever changing with every season.
Polignano a Mare
This small coastal town just 22 miles away from Bari is home to a wonderful mazelike old town and a busy town square, great beaches and a dining experience out of the ordinary in an ancient cave at Grotta Palazzese. If you have the chance, join one of the boat trips to the caves and beaches or one of the several small workshops for pottery and handmade jewelry across town for a different holiday gift. If you are looking for something more adventurous, in September, Polignano hosts a cliff diving event organised by Red Bull.
What to do in Bari
Bari is best explored on foot where one can get lost in the maze of streets and piazzas. As you stroll through the Old Town, you'll find a tight-knit community with doors and windows wide open, loud conversations in Italian, buzzing Vespas driving through the streets, all accompanied by the smell of garlicky tomatoes and freshly baked bread. The town's lively Murat quarter, located south of the Old Town, was built in the 19th century and is the heart of modern Bari and the city's main shopping district. It extends from the promenade to Bari Centrale, the city's main railway station. Below we have gathered our top tips on things to see and do when visiting Bari.
Bari Vecchio: travel back in time and soak in an atmospheric Italian old town in this wonderful walled part of the city. You will find children playing football on the streets, men smoking and gossiping on street corners and grandmothers stringing up their washing from balcony to balcony. This is an old town that is still very much lived in. Sitting on a peninsula overlooking the old harbour, Bari Vecchio is a maze of narrow cobbled streets and small piazzas ready to be explored on foot. Within the walls you will find plenty of touristic attractions to uncover as this part of the city is home to over 40 churches, a cathedral, the Basilica St. Nicholas and Bari Castle with breathtaking views of the city.


Old harbour and Lungomare Promenade: as a coastal city, this promenade offers stunning views with a bit of history. From the Old Harbour the traditional fishing boats depart, land their catches and even sell their seafood straight of the boats. You might even be lucky enough to find some fishermen offering up some of the local produce, cooked over rudimentary stoves. The promenade or walkway was built by Mussolini and stretches 3280 ft from the harbour to the Parco per Cani and will reward you with a stunning path lined with gorgeous architecture, white washed houses and magnificent view of the ocean. After your walk, settled down for drink in the sun or a meal in one of the nearby restaurants.


Local Cuisine: Puglia is known for its Cucina Povera, or food of the poor, as it is known in English, but don't let the name fool you as it is full of flavour. Most restaurants only use seasonal and local ingredients and you cannot leave without trying Focaccia Barese, garnished with cherry tomatoes and olives, or the traditional Orecchiette, a unique type of pasta made without egg and shaped like a small ear. For cheese lovers the local Canestrato Pugliese is to be recommended, a hard cheese made from sheep´s milk and one of the most prized products of the region.


Beaches: located on the Adriatic Sea, Bari has some of the best sandy beaches on offer. Inside the city, Pana and Pomodoro Beaches are two of the most popular along the promenade. North of the city you will find more sandy beaches, whereas in the south the beaches are mostly covered with small pebbles and gravel. Mola di Bari Beach is one of the larger ones in the area and the chances of finding a spot is higher. All of Bari's beaches are perfect for a relaxed day or a simple walk at sunset to create memories you won't forget.
---
Useful links