Car hire in Florence – Gateway to Tuscany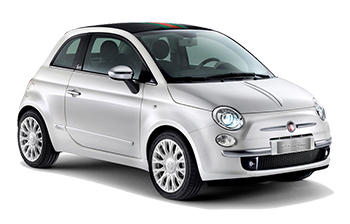 Often dubbed the cultural capital of Europe, Florence is a magnificent city brimming with first-class attractions and wide-ranging tourist appeal. There are several historic churches to explore, not to mention a number of masterpiece chapels attributed to Michelangelo, and an absolutely staggering range of musuems and art galleries.
Begun in 1296, Florence Cathedral is a stunning building and very much the centrepiece of the city. Located in the Piazza del Duomo district, the entire complex is several tourist sights in one, comprising the Baptistery and Giotto's Campanile, both of which are part of the large UNESCO World Heritage Site that covers the historic centre of Florence, including the cathedral itself.
With numerous vineyards, old villages and dozens of ancient monuments dotted around the city's surrounding countryside, the enchanting Tuscany region is a place that's best explored by car. Quintessentially Italian, it features some of the country's best-loved sights, chief among them the Leaning Tower of Pisa. And wine lovers touring the area normally make a bee line for the beautiful Chianti wine-making region, home to some of the world's most notable table wines.
When you book a cheap car hire in Florence and elsewhere in Italy with Auto Europe you are guaranteed the widest choice of vehicles as well as the cheapest prices on the market. By working with all the world's leading car rental suppliers, we can always find you the right car for your trip to Tuscany, whether it's a few days' city sightseeing or an extended road-trip with the purpose of visiting some of the Chianti vineyards.
For help planning your trip or making a booking, please feel free to call our rental specialists on +44 123 3225 114, who are always more than happy to find you the best deal and/or answer any car hire questions you might have. You might also want to visit our Forence car hire reviews page to see the supplier ratings and user comments posted by some of Auto Europe's previous customers in the city.
For more information on renting a vehicle in Florence, click on the car hire related topics listed below:
---
Where to pick up a car hire in Florence
By working with all the world's top car hire providers, Auto Europe can offer you a wide choice of locations in and around Florence, meaning that you can pick up your vehicle in the city centre and be on your way in a few minutes. Besides the many car hire companies operating at Florence Airport, there are several conveniently-located suppliers' offices in other parts of the city, most of which are in close proximity to Florence's top tourist attractions, including the city's famous cathedral complex. Our state-of-the-art booking engine is designed to help you make the right choice by carrying out an extensive search to find the best vehicle at the best price and the most suitable pick-up point for your trip. Just key in your dates and an interactive map will come up with all the available car hire locations in and around the city centre.
Florence Airport
Florence Airport is situated 8 miles north-west of the city. You can reach it with your car rental in less than 30 minutes. A number of airlines connects cities worldwide to this Tuscan jewel. Direct flights from the UK to Florence are operated by dozens of major airlines, including British Airways. Some of the main car hire suppliers have their welcome desks in the Arrivals Hall and the pick-up/drop-off area for most of the companies is located in the Palagio degli Spini area of the airport, which is accessible by a free shuttle bus running every 20 minutes.
Florence Airport (FLR)
Website: aeroporto.firenze.it
Address: Via del Termine, 11, 50127 Firenze FI, Italy
Telephone: +39 55 30615400
Florence Train Station
Dating back to 1848, Florence Train Station is conveniently located in the heart of the city centre, not far from the cathedral. Catering for 60 million passenger movements each year, it is the city's main railway station and is the perfect car hire pick-up point wth many international vehicle suppliers operating in and around the station complex.
Florence Train Station
Website: italiarail.com
Address: Piazza della Stazione, 50123 Firenze, Italy
Telephone: +39 55 541600
---
Book with the best car hire suppliers in Florence
Auto Europe is a leading international car hire company currently offering a vast selection of convenient pick-up and drop-off locations (including Florence) in over 180 popular destinations around the world. Thanks to our many years' experience dealing with all the global and local car rental companies, we can offer you the best standard of service, widest choice of vehicles and cheapest prices on the market.
Should you require additional information about the car hire companies we work with or their policies, for example out of office pick up or questions regarding age restrictions, our car rental specialists are just a phone call or e-mail away and happy to assist you.
---
Frequently asked questions about renting a car in Florence
This section features the most frequent questions asked by people booking a car hire in Florence. Scroll down for important tips relating to a wide range of essential car hire topics, such as credit cards, coverage, tolls, traffic and much more. If you need any more information, please call our reservations team on +44 123 3225 114 and they will be happy to help you with your reservation and assist you with your travel itinerary.
---
Yes. Yes, the main driver will need a credit card in their name to pick up the car because the local supplier will freeze an amount as a security bond for the duration of the rental period, which is refunded shortly afterwards if the vehicle is returned intact. Please note that in the case of luxury cars, because of the high value of such vehicles, two major credit cards in the name of the main driver must be provided at the time of rental. For more information, please check our related blog post to find out the six most important things to know about credit cards and deposits prior to your forthcoming trip.
It's easy to check which cards and card types can be used to pick up a cheap car hire in Florence. Just click on the Rate Details button after making a quick search in our booking engine and there you will find all the relevant information in the Supplier Payment Policy Information section. Take a look at our blog post in the subject if you require more information on credit card before heading for the charming region of Tuscany.
When booking a low-cost car rental in Italy with Auto Europe, you'll find that all the rates published on our website include Collision Damage Waiver (CDW), Theft Protection, Fire Insurance and Third-party Liability. However, it's important to note that CDW does not cover evey part of the vehicle, which means that you might want to take advantage of our popular Full Protection product for total peace of mind during your trip. Please note that sometimes the local car hire supplier might try to offer you additional protection which you are not obliged to purchase.
To access all the car insurance-related details for your booking, just click on the Rate Details --> Additional Information buttons in the search results where you'll find all the necessary info relating to the amount of CDW deductible, theft insurance deductible and liability insurance, with prices subject to location, rental duration, car category and supplier. There are several other key points to remember about car hire coverage when renting a car in Florence with Auto Europe.
If you need to make a claim, please note that you must pay the car rental supplier first then claim the amount back from Auto Europe. When making a claim, it's essential that you provide all the required documents in order to receive your refund as quickly as possible. Please consult our blog post for a general overview of the types of car hire coverage available.
It is very important and worth noting that, due to its historic nature and Unesco protection, the centre of the city is a restricted traffic area. It must not be entered without a special ZTL permit. Video cameras operate 24 hours and you will be fined should you enter the zone by car without the permit. The permit itself is highly unlikely to obtain. If your hotel happens to be in this zone, you can enter to leave your luggage there. Make sure you provide the hotel staff with your car details, as the licence plate will be photographed, and let them contact the police on your behalf. Of course, get in touch with them and seek advice before your trip. The good news - to explore the centre of Florence you do not need a car, it is perfectly accessible on foot. Leave your car rental in one of the big car parks located on the ring around the centre. All of them have taxi and bus service to take you directly to the city centre. When parking on-street, look for parking signs as some parking slots can be free of charge, while others may have certain restrictions as to the time and days for parking. Visit our driving in Italy guide for more information about traffic regulations in Italy before picking up your car rental in Florence.
Before deciding where to park your car hire in Florence, you might want to consider whether or not you want to pay for your parking space or look for a free parking area. There's no free parking in the city centre but you can save some euros by using some of the garage car parks, such as the ones at Florence Train Station, Fortezza Fiera, the underground car park at Porta al Prato, Piazza Ghiberti near Sant'Ambrogio and Piazza Beccaria to the west of the city centre or Porta Romana to the south. These are all about a 10 minute walk from the city's low emissions zone (ZTL) where you are not allowed to drive or park your car rental in Florence. Street parking is another viable option but might cost a bit more than garage parking depending upon where you are located and how long you plan to park your vehicle. Take note of the colours when looking for on-street parking spaces, particularly around the Viale (avenues) surrounding the historic centre of Florence, where the blue spaces are for anyone, white spaces are for local residents and the yellow spaces are for handicapped drivers. If you're looking for somewhere to leave you car overnight, there are certain days where street cleaning is done in Florence, which takes place from 12am-6am and there is a risk that your car might be towed away if you park on that particular street. A few areas where you may be able to find street parking in Florence are Lungarno della Zecca Vecchia, Torre della Zecca and Porta San Frediano.
Not at certain times of the week when the historic centre of Florence is closed to traffic except for residents, taxis and buses. This area is known as the "zona a traffico limitato" or ZTL, meaning it is a restricted traffic zone. Your car rental won't have a permit for ths area, which is marked with signs indicating the start of the ZTL area and when you can and cannot enter. In Florence, this is indicated by a red or green light (green meaning you CAN enter and red obviously meaning you can't unless you have a permit). There are video surveillance cameras shortly thereafter that take photos of ALL cars and their license plates which are then checked off on a "white" list to see if the license comes out on their database as having a valid permit. Please be careful and do not enter during the prohibited times because you will be fined! If you enter the ZTL area by accident, you will still be fined, even if you leave a minute after. You cannot enter the ZTL on weekdays from 7.30am to 8pm and Saturdays from 7.30am to 4pm, which means you can freely access all parts of the city after 8pm on weekdays, after 4pm on Saturdays and all day Sunday, with or without a permit.
.
---
Florence Travel Guide
Florence is a burgeoning tourist destination and one of Europe's must-visit cities. A centre for fashion, art, music and fine cuisine, it offers a true taste of the real Italy with all the flair and finesse of a modern 21st-century city. Along with the many monuments, art galleries and world-class museums to visit, Florence abounds as a centre for authentic Italian cuisine, with fresh pizzas and pasta dishes just like grandma used to make!
Best day trips with my car rental in Florence
Florence's surrounding Tuscany region offers a rix mix of day-trip potential with plenty of picturesque for a relaxing al fresco lunch in the shady square of a picturesque village en route. When you rent a car in Florence with Auto Europe you have the added option of picking up your car hire in Florence and dropping it off elsewhere with a one-way car hire, as well as share the driving with a friend or family member with one of our popular Free Additional Driver offers.
Pisa
One of the world's most iconic sights, the Leaning Tower of Pisa is a magnet for many people who rent a car in Florence and plan to visit another city during their stay. Its 12th-century belltower is what most people have come to see, but Pisa is a bustling city not far from sea and offers plenty of added appeal, including the Museo dell'Opera del Duomo, home to many rare masterpieces.
Siena
An hour's drive due north of Florence brings you to Siena, one of the jewels in Tuscany's crown. A highlight here is its cathedral, one of the finest churches in Italy featuring a stunning façade created by Giovanni Pisano. Siena is also distinguished by its well-preserved medieval buildings and wonderful fan-shaped central square where several outdoor restaurants serve traditional Tuscan meals.
Lucca
Luca is city that astounds the visitor with its architectural beauty, like no other place in Tuscany. Besides some of Italy's most striking examples of Romanesque architecture, Luca has many unique attractions to enjoy, such as tree-topped Guinigi Tower located in the heart of the walled historic centre and the Anfiteatro Romano (Roman Amphitheatre) which now functions perfectly as the city's main square.
Bologna
If you are planning to drive beyond the Tuscan boundary, then look no further Bologna, the proud capital of Italy's rustic Emilia-Romagna region. Bologna is famous for its churches, most notably the massive Basilica of St Petronius which rivals St Perter's in Rome for size. But arguably the city's main attraction is its cuisine, which is famed around the world, particularly its many tortellini and tagliatelle dishes.
What to do in Florence
As one of the world's most popular tourist destinations, it's no surprise to find that Florence has more attractions than most of the other cities in the Tuscany region, including Pisa. There are several things that you simply cannot miss, such as the Ponte Vecchio, city's magnificent cathedral and the Uffizi Gallery, one of the best in Europe.
Ponte Vecchio: If you've only got time to take one selfie, make sure it's in front of (or on) the Ponte Vecchio, one of the world's most famous bridges. Spanning the River Arno at its narrowest point, this medieval and very photogenic structure consists of three segmental arches and several shops, mostly high-end goldsmiths and jewellers nowadays.


Baptistery of St John: With its intricate mosaics and marble façade, this amazing 12th-century octagonal baptistery is one of Florence's must-see attractions. Highlights include the bronze work of the Gates of Paradise created by the Early Renaissance artist Lorenzo Ghiberti and the on-site Museo dell'Opera del Duomo, home to many treasures originally made for the baptistery.


Uffizi Gallery: One of the world's top art museums, the Uffizi is a prominent art gallery conveniently located in the heart of Florence's historic centre. Besides the best in Florentine and Italian art, the collection includes many famous works, most notably Cimabue's 13th-century Madonna Enthroned(a rare piece of Byzantine work) and Gentile da Fabriano's magnificent Adoration of the Magi.


Pitti Palace: Situated on the south side of the River Arno, Pitta Palace offers a wonderful day out for all the family in close proximity to the city. Here you'll find an excellent art gallery, many fine examles of Florentine craftsmanship, a Medici palace, museums and a vast expanse of sprawling landscaped gardens. Don't miss the royal apartments where many where many rare paintings by Raphael, Titian, Rubens, Tintoretto and other masters can be seen.


Bargello Palace National Museum: One of the finest art museums in Florence, Bargello Palace is home to no less than four Michelangelo masterpieces, namely a marble Brutus (c 1540), a relief of Madonna and Child with the young John the Baptist (c 1504), David (c 1531), and the Drunken Bacchus scuplture (1497-1499). The collection also includes works by Donatello, the della Robbias, Cellini, Brunelleschi, Ghiberti and several 14th- to 16th-century Tuscan artists.
Useful links