Car hire in Sardinia – Saving you time and money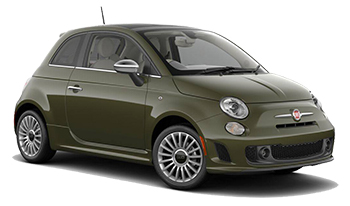 Located in the Mediterranean Sea, just below the French island of Corsica, you'll come across the breath-taking Italian island of Sardinia. With an extensive and varied history dating back thousands of years, mouth-watering Italian cuisine and a rich cultural heritage that can be found in every museum, art gallery and monument on the island – it is no surprise that Sardinia welcomes millions of tourist yearly. From the inland city of Sassari to the islands capital Cagliari, a car hire in Sardinia is often the best method of getting to see everything easily.
With more than 60 years global car hire experience, Auto Europe, through its trusted partners is well positioned to provide you great deals, quotations and offers on all your car rental needs. With a large fleet of vehicles to choose from, and convenient pick-up locations across the island – you're sure to find the right solution for hiring a car in Sardinia. Along with our car hire, we also hire out motorhomes, luxury cars and provide a transfer service. Contact our reservation team today on +44 123 3225 114 to discuss your car hire options for Sardinia.
For more information on renting a vehicle in Sicily, click on the car hire related topics listed below:
---
Where to Pick up a Car Hire in Sardinia
As one of the Mediterranean's most popular islands, Sardinia is well serviced by three international airports. With links across Europe, airports cater to many low-cost airlines, such as Easyjet and Ryanair - along with Italy's national airline. Flights increase significantly during the peak summer periods, so expect longer waiting times at the airports. All airports are well located, providing easy access to the local region, which makes them the perfect location to pick-up a car rental in Sardinia. Alghero Airport serves mainly Sassari and the northeast region. Olbia Airport serves the extremely popular Costa Smeralda and the northwest region, whilst Cagliari Airportserves the capital Cagliari and the Southern regions of Sardinia.
Pick up is also possible in downtown Olbia, Alghero, Cagliari and Sassari, along with Cagliari Train Station through various suppliers at affordable, rates and it is even possible to arrange a one-way car hire with pick-up and drop-off a different locations depending on your itinerary.
Compare Car Hire Rates at the Most Popular Airport and Rail Stations in Sardinia
---
Book with the Best Car Hire Suppliers in Sardinia
Auto Europe works together with global brands such as Sixt, Avis, Hertz, Alamo and Enterprise on the island of Sardina, along with national and local budget alternatives such as Noleggiare, Maggiore, Sicily by Car, B-Rent and Locauto to ensure that you get the widest choice of vehicles and the best possible price. For reservations during high season in summer we recommend you to book well in advance since demand is high during this season and prices can soar quickly.
Click on the above supplier logos to find out more about each individual partner and for any questions or doubts please contact our reservation agents available throughout the week over the phone or by email.
---
Frequently Asked Questions about Renting a Car in Sardinia
Let us help you compare, find and book the right car hire offer in Sardinia for you. With the below dedicated FAQ section we hope to answer some of the most commonly asked things when renting a car in Sardina. Should you wish to know more about individual policies or requirements when hiring through one of our supplier we ask you to contact our friendly reservations team that are on hand 7 days a week.
---
---
Sardinia Travel Guide
Sardinia as a relatively large island has many options for getting around. From local buses to a train network and an island wide taxi service – you have plenty of options. Though more remote parts of the island can be harder to get too, generally the inner less touristy areas, the popular hotspots have a much better public transport network. If you'd like the added freedom of going where you want, when you want and spending less, we'd recommend you rent a car in Sardinia during your holiday.
What to do in Sardinia
We recommend you rent a car in Sardinia to explore the island during your visit, from its rugged cliffs to pristine shorelines with crystal celar waters and golden sandy beaches, the island is a paradise right in the heart of the Mediterranean. With all-year round sunshine, Sardinia offers up plenty of water activities and nightlife entertainment. Diving and snorkelling is high on many people's lists, whilst hiking and bicycling is another popular option amongst visitors. The calm seas also provide excellent opportunities for boating and sailing – with splendid views of the shoreline. We recommend the following things to do during your visit:
Grotte di Su Mannau: Regarded as one of the best caves in Europe, it is nevertheless seldom known amongst visitors. This beautiful natural cave will keep you mesmerised and intrigued for ages. Its natural rock formations and geology are simply breath-taking, and well worth a visit. The caves are cool inside, with temperatures rarely reaching higher than 16C even in the summer months. Reaching the grotto can be difficult as access is only through mountain paths, but once there it will more than compensate your effort. Tickets to enter the cave are required, and often a guide will enhance your overall experience. The whole adventure should take around an hour to complete.


Boat charter with snorkelling: With its calm coastal waters, consider chartering a sailing boat and heading out into the Mediterranean for some diving or snorkelling. During the summer months, you will find various charters setting off from numerous ports across Sardinia. For example, Stintino is a popular port for chartering a boat. From here you can take the boat to Asinara National Park to explore some local history, and splendid coves with turquoise water.


Spiaggia Rena Bianca: Sardinia is full of beautiful beaches with crystal clear water and white sand. The Rena Bianca Beach is such a beach, but we recommend arriving very early due to its popularity amongst locals and tourists. During the months of July and August, beaches across Sardinia get extremely packed. This particular beach provides showers along the beach and a bar at the top of the stairs from the beach front.


San Benedetto Market: If you're interested in experiencing true Sardinia, its vibrant atmosphere, smells and colours, consider a visit to San Benedetto Market. This market is spread over two levels, with fresh fish located at lower level, and fruit, veg, bread, meats and splendid cheeses found on the upper level. Enjoy a truly Italian marketplace with an energised bustling atmosphere, friendly people and well laid out stalls. This particular market is also popular amongst photographers – with plenty of photographic opportunities that capture the true essence of Sardinian life.


Nora Archeological Site: Nora is a splendid Roman ruin located on the shores of the Mediterranean Sea. A beautiful place, especially during sunset, Nora gives a glimpse into the lives of local inhabitants of that time. Many of the foundations include those of commercial houses, Roman baths and wealthy Roman manor houses – many of which still have their marble columns and impressive mosaic tiles. A serene place, the site also includes a Spanish lighthouse, a coffee shop and gift store.
Best day trips with my car rental in Sardinia
Sardinia has an excellent road network that will take you effortlessly to other parts of the Island. The island itself is not very large, which makes for a car hire in Sardinia a good option if wishing to easily explore what this place has to offer. The whole coastal area provides plenty of beautiful beaches, sandy coves and mountain cliff roads with views over the Mediterranean Sea. Inland, you'll come across plenty of traditional small villages and towns, unspoilt mountain landscapes and authentic Sardinian hospitality. The following road trips are not to be missed:
Cagliari to Pula or Costa Rei: If Cagliari is your starting point, then you are full of choices as to where you could visit. After having explored everything that this wonderful city has on offer, jump in your hired car and either head west to Pula or east to Costa Rei. Pula is a vibrant coastal resort just over 18 miles away from Cagliari. You'll be pleasantly surprised at the abundance of pristine beaches, together with quaint shops, traditional restaurants and enticing ice cream parlours. The best part of Pula is its proximity to the Roman settlement of Nora – a serene beautiful place with plenty of history. Alternatively, from Cagliari head eastwards towards Costa Rei – in just over an hour you'll find another tourist hotspot, providing exquisite beaches, restaurants and plenty of entertainment.
Costa Verde: Heading west from Cagliari you'll reach Costa Verde in around 50 minutes. This area provides some spectacular scenery and coastal views. Tuerredda Beach is noted as one of the best beaches on the island, so well worth a visit. This unspoilt area is breath-taking and extremely pretty, full of nature and seldom busy beaches. Porto Pino is famous for its wildlife and stunning sand dunes. This road trip is all about connecting with nature, wildlife and disconnecting from city life.
Sassari, Alghero and Stintino: Head north from Cagliari and in around two hours and a half, you'll reach Sardinia's second largest city – Sassari. This beautiful traditional Sardinian city is a great place to explore, with museums, traditional restaurants, bars and quaint coffee houses. From Sassari you can drive up to Stintino in only 35 minutes – a stunning area with turquoise calm Mediterranean waters. Alternatively, head to Alghero on the western coastline and enjoy a unique town with a mixed Catalan and Sardinian culture. Alghero can be reached in around 30 minutes from Sassari and has plenty to see and do, from museums to its splendid city walls and fortress.
Costa Smeralda: From Alghero drive east along the northern Sardinian coastline – this route will take you along some beautiful coastal roads. Stop off at Castelsardo and enjoy its beautiful 12th Century Castello dei Doria, with amazing views over the town and coast. Continue on your journey until your reach Santa Teresa di Gallura, right on the northern tip of Sardinia. Across the bay you can view French island of Corsica on a clear day. Consider also paying a visit to Aggius or Tempio Pausania during your visit. From here Costa Smeralda is just over an hour away by car. Known for its glamour, this area attracts its fair share of rich and famous visitors. With glitzy clubs and a vibrant nightlife, Costa Smeralda has magnificent beaches, boutique markets and artisan shops.
---
Useful links