Car hire in Corsica – Save on your next island adventure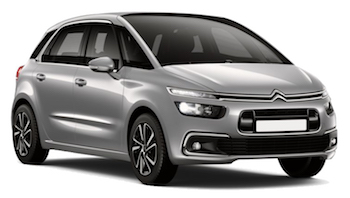 Corsica is a beautiful sun-kissed island in the Mediterranean Sea. It is located south of France, north of Sardinia and west of mainland Italy. As the fourth largest island in the Mediterranean, Corsica was once ruled by Genoa, before being ceded to France which eventually annexed it in 1769. Due to this, Corsica offers a unique mix of French, Italian and Genoese influences seen throughout the island. Two-thirds of the island is mountainous, which makes for driving your car hire in Corsica an exciting one. The island's largest city and capital is Ajaccio, which is followed by the city of Bastia. Other cities of note are Calvi, Bonifacio, Figari and Porto-Vecchio.
Auto Europe has over 60 year's car hire experience worldwide. Through its longstanding partnerships it provides car hire, luxury car hire, motorhome hire and a transfer service. Our competitive quotations, deals and offers will save you time and money. With many global locations, and a large fleet of vehicles to choose from, you're sure to find the right deal. If you are looking to hire a car in Corsica during your next trip, contact our reservation team today on +44 123 3225 114 to discuss how we may assist.
For more information on renting a vehicle in Corsica, click on the car hire related topics listed below:
---
Where to Pick up a Car Hire in Corsica
Corsica has a total of four international airports. These airports are well located across the island, with Ajaccio Airport being the largest and only 15 minutes from the city centre. Bastia Airport is the second largest on the island and is only 20 minutes from Bastia city centre. Calvi Airport and Figari Airport are smaller airports by comparison. All the airports are viable locations for picking up your car rental in Corsica due to their proximity to local cities, towns and tourist attractions. Along with low-cost seasonal flights, Corsica is also served by Air France and its local air carrier Air Corsica.
Compare Car Hire Rates at the Most Popular Airports in Corsica
---
Frequently Asked Questions about Renting a Car in Corsica
As one of the industry's leading car hire brokers, Auto Europe is well versed in answering questions relating to all aspects of renting vehicles all over the world, including Corsica. Some of the most frequent questions asked are listed below, but if you cannot find the answer you are looking for, please do not hesitate to call our rental specialists on +44 123 3225 114. They are on duty seven days a week and will be happy to answer your questions and help you with your booking.
---
Traffic congestion in Corsica can be problematic, especially during the summer months with an increase in tourism. Bastia, Bonifacio and Ajaccio often see the highest amounts of traffic jams, although most of the islands cities and towns experience congestion. As many roads are narrow, especially in the old towns – traffic congestion is a daily occurrence. Road congestion is also prevalent at major tourist hotspots, such as beaches and other attractions. Around ferry terminals and at the airports, you'll also encounter traffic issues. When driving in Corsica, try to avoid rush hour and stick to off-peak visiting periods. Take the following road rules and regulations into account when driving on this beautiful mountainous island:
Drive on the right-hand side of the road and overtake on the left
Seatbelts are compulsory for everyone
Alcohol driving limit is 0.5 g / litre
Vehicles on roundabouts have priority
Unless road signage tells you otherwise, priority is given to vehicles from the right
All vehicles must have along with Hi-viz jackets and a warning triangle, an approved breathalyser
Maximum speed limit in built up areas is 18 mph
Vehicle documents must always be in the vehicle – normally located in the glove compartment
You must have your driving licence and if application International Driving Permit, when driving
Minimum legal age to drive is 18 years, however, some rental suppliers may impose different age limits
An age appropriate child car seat is required at all times
French road rules and regulations apply throughout Corsica
Parking in Corsica is extremely problematic, especially in central city locations. This situation is exaggerated during the summer peak season. Car parks are available and are a secure and safe place to leave you vehicle. These car parks fill up quickly, so we recommend that you arrive early. In smaller mountain towns, car parks seldom exist, so on-road parking is the only option. Some beaches also provide car parks, but again these fill up quickly, especially when they are free to park in. Some establishments, such as restaurants, provide either a pay car park, or require you to visit their establishment to eat. On-street parking is available but is hard to come by. Before parking make sure you take note of the information on available street signs, for restrictions, etc.
No, none of our suppliers currently allows for you to travel with the rental off the island of Corisica. Please note that if you take the car rental on a ferry without prior approval the insurance will be made void and the driver is therefore solely responsible in case of an accident or theft.
However, should you wish to park your car hire for the day for a day trip outing you may catch a ferry from Corsica to mainland Italy, the island of Sardinia and France. The island has six main ferry ports, with Bastia, Ajaccio and L'lle-Rousse being the largest and busiest. Calvi and Porto Vecchio are smaller but still popular amongst travellers. If you want to head to the neighbouring island of Sardinia, then a ferry is available from Bonifacio habour. Corsica Ferries, SNCM, CMN and Moby Lines all provide a ferry service to and from Corsica.
---
Corsica Travel Guide
Getting around Corsica isn't too difficult; however care should be taken on mountainous and unpaved roads. In the mountains, bridges are normally single lane roads and many of the turns are either blind spots or hair-pin turnings. You seldom get the opportunity to drive fast on the island due to congestion and dangerous roads where extra care should be taken. Public transport on the island includes buses, trains and taxis. Together they cover much of the island and are sometimes a good alternative for exploring Corsica.
What to do in Corsica
There is plenty to see and do when you rent a car in Corsica. From wonderful beaches to cultural sites and lively entertainment, your visit will surely be a magical one. With beautiful scenery as its backdrop, visit quaint villages, gaze over the Mediterranean Sea and relax whilst sailing around the island. An ideal place for water sports, snorkelling and diving, Corsica is every person's dream destination if interested in underwater activities. Hiking, climbing and cycling are also high on the agenda of many visitors and it's a great way to explore parts of the island others rarely get to see. We would recommend the following during your visit:
Parc de la Solenzara: An adventure park that offers plenty of outdoor activities, from climbing to paintballing, this park is abundant with beautiful scenery, trails and local fauna and flora. A great place to take in some local wildlife, rent a kayak and do some stand up paddle. With three large canyons to explore, the park also offers numerous workshops for all ages. This is a great way to escape the city crowds and to learn about the island, whilst having lots of fun in the process.


Plage de Tamaricciu: A magical beach ideal for snorkelling and sunbathers, with golden sand and crystal clear waters, this beach is one of the prettiest on the island. At one end of the beach you'll find a rocky area which is perfect for photography enthusiasts. Parking is available but you'll need to arrive early to find a space. A local restaurant serves up wonderful Corsican meals, cold beverages and ice cream. The beach is a perfect place to unwind and spend a morning swimming in its warm waters.


Maison Bonaparte: One of history's most famous emperors was born on Corsica – Napoleon Bonaparte – born 1769 in Ajaccio. The mansion in which he was born is now a museum and visitors can enjoy a day of seeing how Napoleon lived during his childhood. Here you can see where he played until nine and the exact room he was born in. Napoleon's family were of Tuscan heritage, but when Corsica was annexed by France, Napoleon changed his name to sound more French. This wonderful little museum is full of Napoleon's family artefacts, including Napoleon's death mask and lots of other information relating to his childhood.


Catellu d'Araggio Prehistoric Site: A long walk through some steep mountain trails will lead you to a magical place that dates back at least 4000 years. This megalithic settlement was constructed from local rock thousands of years ago. It's an awe-inspiring place, calm and very serene. As you contemplate how life most of been all those years ago, you can sit and gaze over the beautiful surrounding landscape and mountains. A highly recommended experience, especially if you love historical sites.


Pays Marketplace: Enjoy a vibrant and traditional Corsican marketplace, full of colourful, aromatic and mouth-watering local produce. The marketplace is set in a very fascinating part of town, and is ideal for those interested in tasting local culinary delights - from fresh cheeses to honey, fruit, vegetables, sausages, meats, snacks and local wines. You'll enjoy this vivid atmosphere and all the friendly market traders you'll encounter. The traditional Corsican charcuterie is also something to look out for whilst visiting.
Best day trips with my car rental in Corsica
Corsica is an island worth exploring, with so much to see, wonderful scenery and lots of history, the island successfully merges Genoese and French cultures into one. With a car hire in Corsica you won't be constraint by local transport, which often has irregular timetables. You can visit the length of the island, stopping at picturesque beaches and traditional villages. With a car you'll be able to drive into the mountains and experience mountain driving like no other. We would recommend the following road trips during your holiday in Corsica:
Bonifacio: From northern Corsica head south towards Bonifacio and watch the landscape change from cliffs to flatter plains. This wonderful city is known for its medieval citadel and is a magical place to explore. The Bastion de l'Etendard contains a museum that focuses on the towns past. The town's marina is also a beautiful place, full of restaurants, bars and quaint coffee houses. Take a walk through the old town, explore its medieval streets or stroll along the old city walls to gain an amazing view over the Mediterranean Sea.
Cap Corse: Stretching around 24 miles, Cap Corse covers the islands northern tip. A drive through this region will expose you to an untouched world of mountainous landscapes, beautiful deserted beaches, plenty of local wildlife and some quaint fishing villages. Take a leisurely drive from the western rugged cliff side of the cap, eastwards towards the lesser dramatic, although equally as beautiful part of the cap. During the drive take some time out to stop off at numerous viewing spots along the way.
Gorges de Spelunca: Located between Evisa and Ota, the Gorge de Spelunca is an ideal place for hiking, cycling and just enjoying what the great outdoors has to offer. The Gorge itself has plenty of places to relax in, with wonderful streams and old stone bridges. The area has lots of trees, which is ideal during the summer months, when the sun is hottest. Follow the old Mule path and you'll be gifted with some amazing views and enchanting locations.
Bastia to Botticella: Drive from Bastia to Botticella and enjoy a windy narrow mountainous road with an abundance of stop of areas providing mesmerising views over the Mediterranean Sea. As you pass through coastal villages, you'll eventually arrive at Barcaggio on the north coast. A popular touristic town with plenty of restaurants, coffee houses, bars and shopping opportunities. The beach is very beautiful and in parts quite shallow – making it ideal for families with young children.
---
Useful links