Car hire in Catania – Touring a volcanic city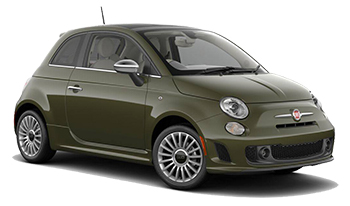 Scenic and very seductive, the enchanting city of Catania offers everything from Greek and Roman architecture to ancient spas and delicious street food, all set in the shadow of the world's most active stratovolcano! The cosmopolitan city is the second-largest on the island after the capital Palermo. Largely constructed with volcanic lava, it is unsurpassed in terms of traditional Mediterranean cuisine, colour and culture and offers visitors an authentic urban adventure in true Sicilian style.
With its colourful wares and lively atmosphere, Catania's morning fish market known as La Pescheria is a bustling and very colourful affair with plenty of fresh fish caught in the local waters. Local delicacies in the city's many back-street restaurants include the mouth-watering "pasta alla Norma" made with ricotta and locally-grown aubergines and "arancini", a delicious savoury dish of stuffed rice balls. Visitors to Catania in early February are in for a real treat in the form of La festa di sant'Agata, when many of the local townsfolk parade through the city's streets before a huge fireworks display lights up the sky.
Served by the Fontanarossa Airport, the city provides good access to any corner of the island. Secure your Catania car rental in advance and explore the area by car. The A18 motorway offers easy and quick connection to many of Sicily's best beaches and other important cities. If you head north along the coast you find Taormina with its famous Greek theatre, if you head north-west you can stop at Mondello beach, visit the island's capital Palermo and a bit further the charming city of Trapani. Eastwards you will be able to reach Agrigento and walk down the Temple Valley, which will bring you back to the time of Ancient Greece. Heading south wonderful Syracuse, the baroque city of Noto and the southern tip of the island with the magic town of Marzamemi are waiting for you. Should you wish to explore further parts of the island and fly back for example from the Palermo airport or drop off the car in another city and then travel to the Italian mainland you could book a so called one-way car hire, adding vene more flexibility to your trip!
Sicily being an island, although quite large, the distances are not very big. With your car hire from Catania you will be able to reach any spot you fancy with the utmost flexibility. There is only one thing to bear in mind: book your car rental in advance because Sicily is a very popular summer destination and in August especially availability gets tight. Auto Europe can guarantees its clients very competitive rates and the best customer care on the market, before during and after your trip. Easily book your car hire package on our portal and if you need some direct advice contact our experienced reservations agents, available every day under +44 1233225114. Our previous customers have provided car hire reviews in Catania to allow you to see exactly what you can expect from our service.
For more information about renting a vehicle in Catania, click on the car hire related topics listed below:
---
Where to Pick up a Car Hire in Catania
On the Auto Europe website you can search and compare offers so that you can find the best car rental offers in Catania and be sure to get the best service and support. You can choose between an airport, central train station or downtown pick-up with a variety of available car rental suppliers. Our pick-up locations in central Catania include locations a short walking distance away from Catania Centrale and Porto Rossi, with available suppliers on Presso Vecchia Dogana, Via Cardinale Dusmet and on Corso delle Province. Once you have find a suitable vehicle for your trip and confirmed your reservation you will find all the necessary information regarding your rental on your voucher. Do remember to bring along the required papers such as ID, driving license and a valid credit card at the time of pick up.
Catania Airport
Catania-Fontanarossa Airport is located approximately 2.6 miles south-west of the city. It serves as a hub for numerous seasonal charter flights from European cities and is the busiest Sicilian airport welcoming tourists throughout the year. The airport was recently expanded and now include two terminals, with another one in progress. The car rental desks are located directly in the arrivals hall, with the exception of some low-cost suppliers which you can find in the car rental building just outside the terminal. Check on your voucher for more information on the location of your chosen supplier.
Catania-Fontanarossa Airport (CTA)
Website: http://www.aeroporto.catania.it/
Address: Via Fontanarossa, 95121 Catania, Italy
Telephone: +39 095 723 9111
Catania Train Station
A very good alternative to an airport pick-up is a car hire at Catania Centrale Train Station, which enjoys a central location with all the main sights reachable on foot. It is also conveniently located near Catania port. The station counts as one of the major train stations on the island and is served by a metro line, regional trains, as well as long distance trains to destinations around Italy, including Rome, Milan, Turin and Venice. Several car hire suppliers serves the station, including Avis, Europcar and Budget, with the pick up desks located a short walking distance away along the city's port.
Catania Train Station
Address: Piazza Papa Giovanni XXIII, 2, 95129 Catania, Italy
---
Book with the Best Car Hire Suppliers in Catania
Auto Europe was founded 1954 and has since grown to a world-known car rental broker. This growth has been possible because we put our clients' satisfaction first and cooperate only with reliable partners. Hiring a car in Catania through our portal is one of the first steps to ensure you will have a pleasant stay on Sicily.
Below you have some examples of our most known international partners in Catania and if you click on the logos you will get specific information about the companies. Of course we also cooperate with realiable local suppliers such as Sicily by Car and Locauto that both can offer very competitive rates. Should you need more advice to help you decide which offer suits you the best please call our friendly and professional reservation agents.
---
Frequently Asked Questions about Renting a Car in Catania
There are many aspects to renting a car and questions regarding insurance coverage, credit cards and deposits, along with concerns about driving in a new city might seem daunting. We have therefore created a dedicated FAQ section in order to answer clients most frequent questions. Should you still have queries after browsing through the below then please feel free to contact our reservations agents per telephone or email and they will be happy to answer your requests.
---
Yes, if you want to book a car hire in Catania a credit card is necessary. To pick up the car at the local supplier a safety deposit will be blocked and this needs to be done on a credit card. The credit card holder has to be the one the one named on the voucher and the credit cards of any additional drivers won't be accepted. To find out more please have a quick read to our dedicated section on the subject of credit card and deposits or call our experienced reservations agents.
If you reserve a car rental in Catania through Auto Europe all offers always includes collision damage waiver (CDW), Theft Protection (TP), fire insurance and third-party liability.
For total peace of mind, Auto Europe can also offers its clients Full Coverage Packages that work with a so called refundable excess. Even if you as a client is still liable for the excess, you can get a refund in case of a accident or theft. This package also includes coverage to elements of the vehicle such as glass, car interior, wheels, roof, undercarriage, key loss, towing costs, and administration fees or mis-fuelling.
If not explained well, car rental insurance options can sound quite complicated.To fully understand the different coverage options available when renting a car through Auto Europe please read our dedicated section on insurance coverage for rented vehicles.
If you plan to add additional drivers to your rental they will need to sign the car rental contract in person and show proof of identity along with a valid driving license. A daily fee might also apply. Fortunately Auto Europe offers some packages with one or more free additional drivers with some suppliers and in select locations.
Last but not least, even if you can rent a car in Italy if you are 18 years or older, car rental companies apply their own restrictions and fees. Normally they require a driving licence held for at least one year and a daily Young Driver Fee for drivers under 26 years might apply. We provide all the relevant info under "Rate details" and in case of doubts you can read our site page on Car Hire Age Requirements.
Traffic and driving a rent a car in Catania doesn't differ too much than that of other Sicilian cities. You may be surprised by a large number of assertive drivers so be sure you not only respect the rules but also watch out and drive more carefully than on mainland Italy. Catania is a very old city with narrow streets, particularly in the historic part of town near the cathedral and the Roman Amphitheatre. Expect some congestion during the rush-hour periods of 7-10 am and 5-8 pm. Alternatively, park in one of the municipal car parks close to the centre and explore the city's top tourist attractions on foot.
Pay special attention to one-way streets, which are quite common, and the streets and lanes sometimes merging without a previous warning sign. Never leave your possessions in the car rental to avoid theft. For general information on driving in Italy, please click here.
Parking in Catania often turns out to be easier than one might have previously thought! There are municipal car parks located in many of the city's most popular tourist areas, including Via La Spezia, Via Luigi Sturzo, Piazza Paolo Borsellino, Via Plebiscito 747 and Via Forcile, the latter of which is close to the airport. For safety concerns, parking is recommended at the airport and secured car parks in Catania. With a regular bus connection between the airport and the city, you will be in Catania centre in no time. Always aim to choose guarded parking lots and avoid on-street parking since crime rate related to car thefts in Catania is, unfortunately, high. On-street parking is not free of charge and you can find the spaces marked with blue paint on the road as designated parking spaces. Obtain a ticket from a machine rather than from people who try to sell them at higher prices.
No, usually driving in a ZTL zone is now allowed unless you have a permit. To curb air pollution in major Italian cities "Zone a Traffico Limitato" (ZTL), areas with limited access only to vehicles with permission such as the residents, have gradually been introduced. In Catania the restricted area is located around the centre of of the city around Piazza Bellini. Some streets are also pedestrians only.
Catania is not only a great place to explore by car but also an amazing place to drive around with a motorhome. Explore further out and stay at some amazing campsites along the way. Many of our motorhomes come well-equiped with kitchen, bathroom and ample room.
Islands are perfect settings for a motorhome holiday. That is why Auto Europe has the best rates for campervans from Catania ready for you.
---
Catania Travel Guide
Sicily is the largest island in the Mediterranean and has really a lot to offer besides from beaches and good food. The historical heritage of this important merchant base goes back to the years before Christ. While preparing for your holiday, get inspired with our road trip in Sicily guide.
Best day trips with my car rental in Catania
Conveniently located midway along Sicily's picturesque east coast – on the dramatic Riviera Dei Ciclopi coastline, Catania is a stone's throw away from Mount Etna, but also well connected to all other cities and touristic sights on the island. Booking a car hire in Catania will enable you to see as much wonders this magic place has to offer.
Mount Etna
One of the world's most active and emblematic volcanoes, Mount Etna rises to a height of 10,922 feet and wholly dominates the Sicilian landscape, particularly on the east side of the island. Its spectacular eruptions and fiery lava flows have aroused the interest of scientists for centuries, while today a drive around the volcano is a very popular activity for visitors. If you are lucky you will the volcano in action with your own eyes.
Syracuse
A short drive south of Catania, the delightful city of Syracuse is worth visiting for its historic centre, a labyrinth of medieval alleyways surrounded by Greek ruins and many buildings of magnificent baroque architecture.
Cefalù
Located midway along the island's idyllic north coast, Cefalù is a lovely beach town that typifies many people's idea of what a typically Sicilian seaside resort looks like. Besides its striking twin towers, the town's cathedral features some dazzling Byzantine mosaics and an old cloister with lovely carved columns.
Palermo
Continuing west from Cefalù brings you to Palermo, the Sicilian capital. Don't miss the Cappella Palatina, an old 12th-century church with an exquisite carved ceiling and the fascinating Museo Archeologico Regionale, one of Italy's top museums.
What to do in Catania
Located on the east coast of Sicily, Catania is famous for the nearby Mount Etna and a plethora of historic sites, including magnificent palazzi built of volcanic rock, charming baroque-style piazzas and a lively fish market. Nightlife is really vibrant thanks to a large number of university students who live and study in Catania.
Fish Market: The ritual of selling meat, fruit, vegetables and most importantly fish has been a regular activity in downtown Catania since ancient times. Get down there early to listen to the sellers plying their wares and immerse yourself in the local Catanese culture.


San Benedetto Abbey: Originally built in 1355, this delightful UNESCO World Heritage building is one of Catania's most striking landmarks and a real pearl of baroque architecture. The abbey also houses MACS - the Museum of Contemporary Art in Sicily - one of Italy's foremost cultural attractions.


Benedictine Monastery of San Nicolò l'Arena: Founded in the 1500s, this impressive monastery is a shining example of the late Sicilian baroque style and one of the largest buildings of its kind in Europe. Another of Catania's highly-prized UNESCO World Heritage sites, it comprises a well-preserved Roman domus, cloisters and a beautiful roof garden.


Subterranean Catania: Over the centuries, boiling hot lava from nearby Mount Etna has engulfed the city countless times, burying several layers of its past. Dig deeper and you'll find the Achillee Thermal Baths, Spas of Indirizzo and Rotonda and the Roman Amphitheatre among other fascinating attractions.
---
Useful links
Useful tips - Driving in Sicily
Official Tourism Website - Visit Sicily