Car Hire Coverage – your options with Auto Europe
Often people get apprehensive about driving in a country that isn't their own. They worry about the differences in road rules and regulations, traffic signs and become extra nervous in places with excess traffic. In general, driving abroad isn't that much different from driving at home. Most countries employ the same road signage and rules. For those unexpected events, Auto Europe offers great vehicle coverage, should you get into any trouble whilst renting a vehicle. By paying a little more, you'll get a level of coverage that will allow you to totally relax during your holiday. The following summary gathers the most vital information and answers to questions relating to car hire coverage. These are important details that should be kept in mind during your trip.
Do I need car hire coverage when hiring a car through Auto Europe?
All our car hire suppliers include within their fee all the necessary coverage to drive in a given country. When you hire a vehicle through Auto Europe you'll get this as standard through the basic rate.
What does the basic rate include?
The basic rate includes a Collision Damage Waiver (CDW) and Theft Protection (TP) as standard. This covers you should the vehicle be stolen or be involved in an accident, minus deductibles. The fee is prepaid and forms part of your initial basic quotation.
The basic rate also comes with Third Party Liability and Fire Insurance. Third Party Liability makes sure you are covered should you be involved in an accident with a third party, and will cover damages to persons or property outside of your car. Fire Insurance protects you if the vehicle catches fire due a mechanical fault.
Are additional insurance options available for purchase?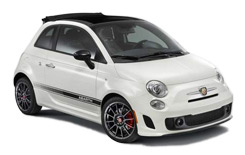 Additional insurance options are available locally depending on the supplier and location. These are normally charged on a daily basis and paid for during collection. These insurance types include Personal Effects Coverage (PEC) and Personal Accident Insurance (PAI). The PEC protects you from damage or loss to personal belongings, whilst the PAI covers you against any medical bills caused by accidents within your vehicle.
If you are planning to drive outside of your vehicles rental country, then all countries you plan to visit must be noted during the reservation process – this can also be done during the last few steps of your online booking.
Most of the time, driving across the border into other countries does not involve an additional charge. However, some car hire suppliers do add a small charge or totally forbid you from taking the car to another country. In either case, always let us and the supplier know if you plan to drive in a different country to where you picked up the car. If you do not, this could invalidate your coverage. For more information please read your bookings terms and conditions.
What does the term Excess mean?
When hiring a car you often come across the term excess. This term has exactly the same meaning as the Excess mentioned on your private car insurance. In essence, it means that if you are involved in an accident or your car is damaged or stolen, then you will have to pay a percentage of the total amount of repair or recovery costs during your claim. Example, incurring damage to the amount of £1500, you may only have to pay up to £700. The amount varies and is stated within your terms and conditions. Every supplier's excess is different but is displayed during the online booking process. The amount is only payable during a claim.
If you're not interested in paying this excess amount, Auto Europe can offer you a Zero Excess cover. This is only available at certain locations and through specific suppliers. Opting for Zero Excess will reduce the excess amount you would otherwise pay.
In addition to this, Auto Europe also provides Full Protection coverage including wheels, undercarriage and roof. This option provides a full refund if the car hire supplier charges you for theft or damages to the car hire. With this option you are covered for items not included in the Collision Damage Waiver, such as glass, windscreen, roof, wheels, tyres, bodywork and undercarriage, to mention but a few. Administrative costs and damage or loss of car keys are also included. Please note that our guarantee shall not exceed a total of £3,000 in regards to each reimbursement during the period of guarantee.
Both the Zero Excess and Full Protection can be added during the online booking process or requested when booking with one of our reservation agents over the phone.
List of available coverage options
This is a summary of the main coverage options you may book during the reservation process. All the following options will require the main driver to leave a security deposit. Which will be held on the drivers credit card during collection and returned upon drop-off, providing the vehicle is in the same condition as when it left. The deposit amount varies between suppliers, we therefore advise reading the terms and conditions for more information.
Reserve a car with basic rate and basic cover
Reserve a car with added Full Protection
Reserve a car with Zero Excess included
Reserve a car with the basic rate and basic cover, but add additional coverage directly from the supplier during pick-up. This option is normally always more expensive compared to purchasing beforehand through our online booking engine.
What do I do if I have had an accident with my car hire?
Should you be involved in a road traffic accident, or you have the hired car stolen, then always obtain a police report. Once done, consult your car hire terms and conditions and rental voucher, paying attention to the insurance and coverage sections. This will allow you to be fully informed of your liabilities. For ease, follow these next steps:
Obtain a police report
Call the car hire supplier within 24 hours
Take photos and video of the damage if possible
Fill in an Accident Report form with the car hire supplier once your return the vehicle
If you took our Full Protection, then complete this form and return it to Auto Europe with all the necessary documents. Full document list is available on this page.
Don't hesitate to contact one of our reservation agents on +44 123 3225 114. We are here to answer any questions you may have.