This is a guest post by Viaggi in Sicilia.
A lifetime wouldn't be enough to discover all the wonders of Sicily. But the bright side is that as you plan your holiday on this marvellous Mediterranean island, you have plenty of choice; every corner hides treasures and wonders. Whether you choose to stay in Western Sicily villas or other accommodation, there are three landmarks you absolutely shouldn't miss.
1. Scopello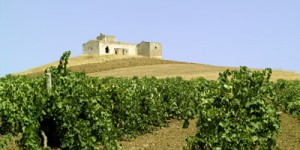 This tiny picturesque hamlet is one of the most wonderful destinations in Sicily: surrounded by nature, the little village is actually a piece of evidence of the past Arab occupation of the area. All the houses look on to a typical Arab "baglio", an ancient courtyard where you can get some rest under the shade of a tree or try local delicacies such as "pani cunzatu" (bread stuffed with tomatoes, olive oil, anchovies, cheese, salt, and pepper) or fish couscous (another Arab legacy). Perched on a hill, the hamlet overlooks a beautiful rocky stretch of the coast. The beach of Scopello is a wonderful little bay with huge dramatic "faraglioni" rocks towering right in front of an ancient "tonnara", where tuna was once stocked and processed. Today, it houses a small seafaring museum. The verdant landscape all around the village is part of the wild and unspoilt Zingaro Nature Reserve. Spending a day discovering this protected area means getting to know rare plants and birds, as well as visiting secluded little bays with the clearest waters, and enjoying breathtaking panoramas over the whole western shore of Sicily.
2. Erice
This beautiful medieval hamlet is set on top of Mount Erice, right in front of the city of Trapani. Erice is located nearly 2,500 feet above sea level, and therefore, overlooks an astonishing panorama of a large stretch of coast from the north-west to the south-west, down to the golden beaches of Marsala and Mazara del Vallo. The village itself is lovely and its atmosphere one of a kind – its medieval narrow winding streets, castles, and flowery courtyards and squares will make you feel like you're being taken back to the ancient times. During summer, Erice is the perfect destination if you're looking for fresher temperatures, and in autumn and winter, the atmosphere is even more evocative. Don't forget to sample some local bakery specialties, such as "genovesi alla crema", a delicious shortcrust pastry stuffed with custard – best served warm!
3. Segesta
Among the verdant hills of the countryside near Trapani, not far from Erice and Scopello, lies what was once a Greek city founded by the Elymians running away from Troy. Nowadays, the area has been turned into an interesting archaeological park. An extraordinarily well-preserved Doric temple can still be observed, as well as a rich acropolis set on a hilltop that can be reached either by foot or shuttle bus. The main feature of the acropolis is the beautiful amphitheatre, where plays and concerts still take place during summer. The scenery is enchanting, and the atmosphere is truly unique.
What are your top destinations in Sicily? Share your experiences with us in the comments!