Car hire in Murcia – Heart of the Costa Blanca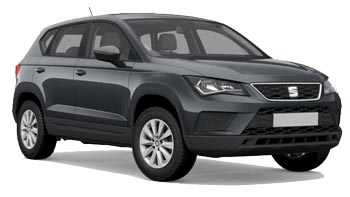 An inviting gateway to Spain's breathtaking Costa Blanca region, Murcia offers visitors an appetising mix of ancient history and modern culture in a relaxing Mediterranean environment. Notable for its lively al fresco-style eateries and bustling tapas restaurants, the city is blessed with several excellent tourist attractions, including a magnificent 14th-century cathedral with an imposing belltower and the wonderful Museum of Fine Arts, one of the best in southern Spain.
But it's the city's mild Mediterranean climate that most visitors have come to enjoy, which guarantees fine weather and lots of sunshine right through the year. With a car hire in Murcia you can tour the city before heading off into the surrounding Costa Blanca region to explore its long sandy coastline where some of Europe's top sesside resorts are located. Murcia is also the ideal base from which to discover Andalusia, a large area of mesmerising landscapes with many ancient cities to visit, such as Córdoba, Granada and Seville.
Murcia itself is a picturesque Baroque city famous for its beautiful architecture laced with strong traces of Moorish culture, as well as a famous university dating right back to the 13th century. It was founded by the emir of Cordoba Abd ar-Rahman II in 825 with the name Mursiyah and today stands as one of the largest cities in Spain by population. It is a place deeply embedded in a rich local heritage, which becomes particularly apparent during the annual Fiestas de Primavera (Spring Festival).
Our dedicated team of experts at Auto Europe can help you organise your trip around Murcia so that you can completely relax and enjoy your visit to the Costa Blanca. With over 65 years of experience in the heart of the international car hire industry, we offer the most affordable car hire rates paired with an outstanding customer support service. Why not give us a call on +44 123 3225 114 and let our rental specialists find you the best deal. But first, please take a look at our Murcia car hire reviews page to see what some of our previous customers thought of their experience in the city.
For more information on renting a vehicle in Murcia, click on the car hire related topics listed below:
---
Where to pick up a car hire in Murcia
For those who choose to rent a car in Murcia, Auto Europe has a wide variety of convenient locations in and around the inner city, enabling you to pick up your vehicle quickly and be on your way in just a few minutes. Besides the many car hire companies operating at Murcia Airport, there are several well-located vehicle collection points in other parts of the city, such as Murcia Train Station.
To help you make the right choice, our state-of-the-art booking engine allows you to do an extensive search to find the best vehicle and the most suitable pick-up and drop-off points for your trip. Once you've keyed in your dates, an interactive map will come up with all the available car hire locations in and around Murcia.
Murcia Airport
Located in Corvera, a few kilometres (and a short drive) south of the city, Murcia Airport opened at the beginning of 2019, replacing the existing one at San Javier. With capacity for three million passengers and 23,000 movements each year, the city's new state-of-the-art air transport hub has 9 boarding gates, 25 check-in desks and 4 baggage-reclaim belts, plus a wide range of modern conveniences. A growing number of airlines fly to and from Murcia International Airport, including easyJet, Ryanair and TUI, along with some seasonal services operated by Flybe, Jet2, Norwegian, SmartWings and Volotea. Travellers can pick up their cheap car hire at Murcia Airport from a number of both global and local car rental companies, including Europcar, Firefly and Goldcar, located on the ground-floor near the main exit of the Arrivals Hall.
Murcia Airport (RMU)
Website: aena.es
Address: Avda. de España 101, 30154 Valladolises y Lo Jurado, Murcia, Spain
Telephone: +34 91 321 10 00
Murcia Train Station
Officially known as Estación de Murcia del Carmen, Murcia Train Station handles a large amount of rail traffic from all over southern Spain and beyond. It also serves several other important long-distance routes, such as the Madrid line, the journey of which takes around four hours. The station was officially inaugurated in 1862 by Queen Isabel II and opened for regular business in 1863. You'll find many of the top companies offering low-cost car hire at Murcia Train Station in very close proximity to the main building in Calle Industria, a long street adjacent to the station building. When you arrive to collect your vehicle, please make sure you have all the necessary documents with you, such as your driving licence, credit card and car hire voucher.
Murcia Train Station
Website: renfe.com
Address: Plaza de la Industria, Murcia, Spain 30002
Telephone: +34 902 320 320
---
Book with the best car hire suppliers in Murcia
Auto Europe is a major international car hire company currently offering a good selection of convenient pick-up and drop-off locations in over 180 popular destinations around the world. Thanks to our many years of experience collaborating with all the global and local car rental companies, we are able to offer you the highest standard of service and the cheapest prices on the market, with a large number of top suppliers operating in and around the city when you rent a car in Murcia.
Should you require additional information about the many prestigious car hire companies we work with or their operational policies such as their out-of-office pick-up/drop-off procedures or any questions regarding age restrictions etc, then our car rental specialists are just a phone call or e-mail away and are always very happy to assist you.
---
Frequently asked questions about renting a car in Murcia
This section features the most frequent questions asked by people booking a car hire in Murcia. Scroll down for important tips relating to a wide range of essential car hire topics, such as credit cards, coverage, tolls, traffic and much more. If you need any more information, please call our reservations team on +44 123 3225 114 and they will be happy to help you with your booking and assist you with your travel itinerary.
---
Yes. You will definitely require a credit card when collecting your car hire in Murcia. This is because the local supplier will require a security bond in order to ensure that the vehicle is returned in the same condition it left and also to cover any fines for speeding and parking, etc. Credit cards are also a good way for your chosen car rental company to confirm that the driver isn't a credit risk. Please note that sometimes a second credit card (Visa, Mastercard, Diners, American Express, etc.) will be required for high-performance vehicles in the Luxury car hire category.
All the relevant information concerning which credit cards (and types of card) will be accepted can be accessed quickly and easily on the Auto Europe website. After making a quick search in our booking engine, just click on the blue and white info icon (i) where you'll find all the necessary details. Please take a look at our dedicated blog post for more advice on the credit cards and car hire deposits before arriving at your destination to collect your vehicle.
All the rates quoted on the Auto Europe website for a cheap car rental in Murcia include liability insurance, theft protection and CDW (Collision Damage Waiver) with or without excess, depending on the supplier. This is our basic rate but it should be noted that CDW never covers damage to tyres, windows, outdoor mirrors, undercarriage, interior, roof, engine, damage to the locks and loss of the vehicle's keys, etc. Therefore, it's worth considering our popular Full Protection coverage for an additional fee which covers damage to the roof, windows, wheels, undercarriage, towing costs, loss of car key, putting the wrong type of fuel in the tank and any admin fees, the price of which varies according to the location, rental duration, car category and supplier.
You can find all the information relating to CDW, theft protection, liability insurance and other aspects concerning car hire coverage by clicking on the blue and white info icon (i) in the Auto Europe search results. This information is also clearly stated in the Terms and Conditions when making an enquiry or finalising a booking. Some local car hire companies will try to offer our customers a similar type of coverage when they arrive at the car hire desk to pick up their cheap car rental in Murcia. Please keep in mind that with our full coverage policy, anything else offered by the supplier is completely optional and Auto Europe is not liable to refund the cost of any locally-purchased coverage, even if it is deemed unnecessary once the vehicle has been returned.
Murcia is quite simple to reach no matter what direction you are driving from - Madrid, Alicante or Malaga. You can expect fast-moving traffic on modern roads, which only get congested during the morning and evening rush-hours. Murcia's local authorities proposed an initiative to reduce carbon dioxide emissions several years ago, with the main idea being that citizens could exchange their cars for a lifelong tram pass in return. One of the most popular roads in Murcia, especially on weekends, is the Mediterranean Motorway A-7. Drive carefully and avoid it on Saturdays. Another important road is the A-30, which connects Murcia with the airport. Read more about driving in Spain in our online guide.
Murcia has over 6,000 parking spaces spread throughout different parts of the city. Paid parking on the street is regulated by ORA and different rates apply to each area, costing up to 2-3 euros per hour. Paid parking is marked by blue zones from Monday to Friday (9 am to 2 pm and 4.30 pm to 8 pm) and on Saturdays (9am-2pm). During the summer months of July and August, on-street parking is free of charge on Saturdays. Please keep in mind that orange-coloured parking spaces are reserved for residents with official badges. You also have at your disposal more than a dozen car parks and underground garages, which are a safe option especially if you wish to leave your low-cost car rental in Murcia parked overnight. In addition to these options, just outside the old town, you will find numerous park-and-ride spaces. They are usually free of charge or very inexpensive and located within a short walk of the city centre.
Yes, but only on specific toll roads and some Spanish motorways called autopistas de peaje which are marked with a blue AP sign. The main toll road in the Murcia area is the AP-7 that runs between Alicante and Campoamor on the coast-road to the east of the town. Drivers here as well as on all the toll roads can pay with cash, credit card (most international cards are accepted) or through a dedicated app belonging to the Spanish motorways operator Autopistas. You can also pay with an electronic toll device which the supplier can provide you with at the time of picking up your vehicle.
Based on advanced technology, Spain's automatic toll-payment procedures such as Via-T save you the trouble of looking for cash or even your credit card when approaching the toll booths, meaning that you can simply drive through with no need to lower the window or pick up a ticket. Ask your car hire supplier for details when picking up your vehicle. The good news is that there are numerous toll-free motorways in Soain known as autovías which are busier than the tolled motorways (autopistas) but the network is very extensive and well maintained. You can plan your journey and select your route with estimates for time and costs using the Via Michelin website. Consult our blog post for more information about paying tolls when visiting Spain and Portugal.
Yes, soon you will. There are already restrictions on which types of car can enter the downtown areas of big cities like Madrid and Barcelona, for instance, where there are Low Emission Zones known locally as Zona Baixes Emissions (Barcelona) and a Zero Emissions Zone (ZEZ) in the centre of Madrid. However, you'll find that the vast majority of rental cars will be allowed to enter these centrally located areas because hired cars are mostly new vehicles with clean engines and such restrictions are more likely to apply to older vehicles running with higher gas emissions. In any case, it's always best to check with your car hire supplier before taking to the road. Other restrictions relate to the car's licence plate and alternate between even and odd numbers, so drivers will also need to make themselves aware of this by checking with their supplier when picking up the car. In 2023, all urban areas with more than 50,000 inhabitants (including Murcia) will be obliged to set up a restricted traffic zone to reduce emissions, with special emphasis on town centres. In these pollution-free areas, only vehicles certified as low-emission will be permitted to circulate.
---
Murcia Travel Guide
Murcia, the city of the eternal spring, is friendly and vibrant with several interesting places to visit and an annual calendar of festivities to help you get acquainted with the local culture. The heart of the city is a pulsating dynamism that invites you to enjoy every monument, with excitement and curiosity around every street corner. Murcia offers a number of different tours to suit your tastes, from archaeological routes that cover the city's origins and appetising culinary circuits to a tour through te Valle Perdido and Carrascoy districts where you can see nature in all its splendour. Please continue reading for some of the most indispensable experiences to have when you rent a car in Murcia:
Best day trips with my car rental in Murcia
The region of Murcia is lively, diverse and full of surprises. Here, visitors can experience two separate seas, beaches with crystal-clear water, deep lakes, mountains and valleys. Some of the major points of interest include the warm Mediterranean coast, the fine sandy beach of Costa Calida and the lovely saltwater lagoon. Inland, large grasslands and deserted areas are interspersed among numerous towns and villages, all of which still preserve their history. From Roman, Carthaginian and medieval, to art nouveau and contemporary structures, this region is ideal for an exhilarating road-trip with your car hire in Murcia!
For customers wishing to go beyond the city of Murcia, it is also possible to plan a fun-filled road-trip with an Auto Europe car hire and drop the vehicle off in another city such as Malaga and Almeria by means of a one-way car hire, allowing for greater flexibility and freedom on your trip. Why not share the driving with a friend of family member and save money at the same time through our regular Free Additional Driver promotions.
Torrevieja
Just an hour east of Murcia lies Torrevieja, a charming city distinguished by two large natural saltwater lakes that form the 'Salinas de Torrevieja'. These beautiful lakes attract a wide variety of bird life and make for a perfect holiday excursion. Torrevieja is known for its salt production, but tourism and fishing also are strong industries and economic contributors to the city. In fact, its harbour houses 300 fishing boats and over 900 private leisure vessels, creating a very scenic setting, especially when the sun sets.
Cartagena
With more than 3,000 years of history, this idyllic coastal city is a sunny paradise with a plethora of historical and cultural activities to offer. Just by strolling around Cartagena you will come across a Roman theatre, several important museums, lavish palaces, sculptures and monuments meaningful to the region's heritage. We recommend an evening walk around the harbour area, where visitor are able to enjoy the best local gastronomy with stunning views of the shore. Sample a typical caldero, a fish stew served with rice and garlic, or the popular asiatico cafe, an irrestible coffee mixture of condensed milk, cinnamon, lemon and whole coffee beans.
Alicante
North of Torrevieja, you can easily reach the sun-baked resort of Alicante. Gifted with amazing beaches, historical landmarks and exceptionally exquisite cuisine, Alicante is a great day-trip destination for the entire family. For a spectacular vista, we recommend paying a visit to the Castle of Santa Barbara, sitting atop Mount Benacantil. You'll also want to explore the Old Town and make your way towards the famous beach promenade for a leisurely walk before dinner. You are guaranteed to enjoy a pleasant afternoon discovering every single charming street in Alicante.
Parque Natural Sierra de María-Los Vélez
In case you need a break from the sea, head west to the Sierra de María-Los Vélez Natural Park. Here, the landscape is full of impressive contrasts, from arid, moon-like plains to rocky summits, which are white with snow in winter. This vast park also has an incredibly diverse fauna, with over 100 bird species. You can find information about hiking and driving routes at the visitor's centre, open from 10 am to 2 pm from Thursday to Sunday and on public holidays. In August, it also opens from 6 pm and 8 pm every day.
What to do in Murcia
In Murcia you get the best of both worlds - a taste of the real Spain plus all the beauty of the Mediterranean coast, along which some of southern Europe's loveliest fishing villages and finest sandy beaches exist. Murcia is also perfectly located for travellers looking to explore the idyllic Costa Blanca region, a long stretch of glorious coastline famous for its many vibrant resorts, including Alicante and Benidorm.
Plaza Cardenal Belluga: This is a gorgeous place to visit and grab a bite while enjoying the atmosphere in the square, especially during early evening. That's when the plaza comes to life with street performers and the comings and goings of the many locals and tourists. There are plenty of restaurant options from which to choose, be it al fresco or indoors, filling the air with a mouth-watering aroma. Our suggestion? Have some tapas or churros at one of the charming cafes whilst taking in this wonderful view!


Cathedral de Santa Maria: While strolling around Plaza Cardenal Belluga, you might notice a beautiful architectural structure with a very commanding presence right in the heart of the city. That is the Catedral de Santa Maria and its splendid façade and stonework. Inside the cathedral, the arches and exquisitely-detailed glasswork never fail to surprise its visitors. The scale of the building is stunning and we recommend staying there until dusk when you will be able to catch a mesmerising glimpse through the windows of the fading light outside. Murcia's cathedral dates back to 1394 with Gothic and Baroque influences. The belltower, built between 1521 and 1791, also combines a mixture of interesting architectural styles. It is open from 7 am to 1 pm and 5 pm to 8 pm from September to June, with extended hours in July and August.


Real Casino de Murcia: This magnificent establishment, home for those wishing to try their luck gambling, was built over between 1847 and 1892. However, those days are long gone, as in 2007 the building was restored and transformed into a museum and private club. Here you can wander around listening to the audio guide and admiring this place in all its glory. Explore the dazzling Moorish-style patio, a big library, the golden ballroom with sparkling chandeliers and parts of the ceiling that are beautifully decorated with frescos of delicate cherubs and angels. There's also a sophisticated restaurant with exquisite dishes to enjoy. The entrance ticket only costs a few euros and visiting hours are from 10.30 am to 7 pm.


Santa Clara la Real Monastery Museum: It's not every day that one has the opportunity to walk inside a cloistered monastery to unveil its secrets. This is why visiting the Santa Clara Monastery is an amazing and unique experience. With the free guided tour, it is possible to take a stroll through the houses and catch a glimpse into the history of this place and the changes from Islamic to Christian doctrines in Murcia. All the information relating to the exhibits is in Spanish, but English-speaking staff are on hand to help you. There is an incredible amount of relics and antiquities preserved here, including the remains of the original arches and the preserved ancient Arabic inscriptions detailing the crucifixion. Opening hours vary depending on the season, so we recommend checking their website prior to your visit.


Jardin de Floridablanca: Take a break from the hot temperatures and bustling city life and head to Floridablanca Gardens, an enchanting green area in Murcia. It's the oldest public park in the city, inaugurated in the mid-19th century. You will be able to sit on a park bench, munch on a well-deserved paparajote (made with Murcia lemons, eggs, flour, sugar and cinnamon) and enjoy the spectacular buttress roots of the ancient trees surrounding the garden. Besides the old ficuses, with prominent roots, flowerbeds also adorn the place. Nearby you can find the Museum of Science and Water and the Puente de los Peligros or Puente Viejo bridge.
---
Useful links