Car Hire with Thrifty: the perfect rental experience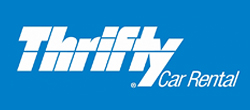 Founded in 1958, Thrifty has grown steadily over the past few decades through its increasing number of corporately-owned and franchised stores. Along with Dollar Rent a Car, the company was purchased in 1989 by the Chrysler Corporation and in November 2012 Hertz Global Holdings acquired the Dollar Thrifty Automotive Group through its subsidiary, The Hertz Corporation, which currently operates its car rental business through the Hertz, Dollar and Thrifty brands.
Well-known for streamlining and simplifying the process of providing rental cars, Thrifty has its headquarters in Estero deep in the heart of the sunshine state of Florida. Since its conception, the company has remained one of the largest car rental companies in the world and today is a vital part of a global car hire corporation responsible for around 11,000 locations in Europe, USA, South America, Australia, Africa, Middle East, New Zealand and the Far East.
Even in times of COVID-19 you can safely book a car hire from Thrifty due to its strict health and safety measures.
Thrifty Car Rental: Top value from a leading brand
Along with its sister brands - Hertz, Dollar and Firefly - Thrifty is one of the international car hire industry's most widely-recognised brands and one that directly caters for cost-conscious business and leisure travellers. With its focus on value-for-money car rentals, a car hire with Thrifty is always available at a great price at thousands of conveniently located pick-up and drop-off sites throughout Europe, the United States of America and elsewhere around the world.
For the growing number of people looking for that very special car hire deal from a renowned international supplier, they can take plenty of comfort from the fact that there'll be a Thrifty rent a car station in the place they're planning to go. And when it comes to vehicle selection, Thrifty's got it all, from modern, economical compact cars for busy city sightseeing itineraries to robust SUVs, trucks and vans capable of traversing the most rugged terrain.
Auto Europe has been helping travellers hire their cars in all four corners of the world since 1954. By working with all the top suppliers, including Thrifty, we provide our clients with high-quality rentals and the best possible customer service at the lowest prices guaranteed. Over the years, Auto Europe has established very strong working relationships in the global car rental industry, particularly with the Hertz Corporation, so we are sure you will be more than happy with your Thrifty car hire experience. If you need any help with your reservation or tips on what to do when you arrive at your destination, please don't hesitate to get in touch with our award-winning rental specialists who you can reach seven days a week by calling +44 123 3225 114 or by sending us an e-mail.
The uniqueness of a Thrifty car hire
No matter where the destination, the right kind of car hire with Thrifty will be waiting for you for any kind of road trip or leisure itinerary you've got planned. With Thrifty, you're guaranteed to get there quickly, conveniently and in grand style wherever you're travelling to, from major metropolises like New York and London to the world's busiest airports and train stations. Thrifty is always there to offer you the best deals and the widest choice of vehicles, including Chevrolet, Chrysler, Dodge, Ford, Hyundai, Jeep and Lincoln.
As an integral part of the Hertz Corporation, Thrifty belongs to a successful and very solid company with its roots firmly established in the heart of the international car hire industry. Hertz, along with its predecessors, has been in the car rental business since 1918 and remains one of the world's most active airport and inner city rent-a-car companies. And with such an extensive network of rental locations all over the world, including the most important European markets (where the company is present at around 150 major airports), it is uniquely positioned to provide millions of renters with first-hand experiences driving the most fuel-efficient vehicle models available. Thrifty is a vital component of this multinational company and committed to providing global access to the sustainable mobility solutions of the future.
Thrifty is well-known for streamlining and simplifying the process of providing rental cars, but that's not the only efficient element of its vehicles. The brand is dedicated to providing global access to a growing number of fuel-efficient vehicles that in turn allow Auto Europe's customers to reduce their emissions through sustainable mobility. Thrifty's long-term plan therefore is to offer all its customers more practical and convenient options for their future car rentals by reducing the environmental effects of road travel in popular destinations all over the world, whilst helping them enjoy big savings on petrol.