Hire an Intermediate car from Auto Europe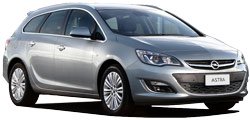 A vehicle in the Intermediate car hire category is perfect for a family holiday or for a smaller group. The car class offers plenty of space to passengers and luggage alike, making your trip all the more comfortable. Some of the most popular models in this category include the Ford Mondeo and VW Passat, which fit up to five passengers and have 15-17 cubic metres of space in the trunk, accommodating three to five pieces of medium-sized luggage.
Hire an Intermediate category car
If you are planning a city trip and are looking to hire an Intermediate car, you have come to the right place. Auto Europe has partnered up with some of the largest car rental suppliers to provide you with the best value for money on your next vacation or your business trip in London. Below you will find more information about the Intermediate car category, including why this class is well-suited for your next trip.
Did you know?
The average size of Full Size vehicles and Intermediate sedans grew during the 1960's. In fact, the intermediate-sized vehicles of the 60's had similar proportions to Full Size cars in the 50's! In the following decades, however, the rising petrol costs lead to the return to smaller designs.
The advantages and disadvantages of an Intermediate class car
This car category is ideal for families and small groups in need of lots of storage space and legroom. The sturdy body design of Intermediate category cars ensures that you feel safe and confident when driving abroad, even in European metropolises such as Paris and Rome.
If you are not accustomed to driving a car of this size, you should be extra careful, particularly when driving through narrow streets and when parking. But not to worry, you are sure to get used to the car´s size quickly.
The Intermediate car category: Plentiful space for little money
Whether you are looking for an Intermediate sedan, SUV, or station wagon, Auto Europe offers a large range of some of the very best vehicles. BMW, for example, has some stylish and spacious cars in this category, equipped with automatic transmission and seats for five passengers. Or opt for something a little different with an Audi A3 convertible, a model both adventurous and comfortable.
The VW Passat also belongs in this category. A classic among family cars, the Passat impresses drivers with its high fuel economy. If you require a larger car but wish to stay within the Intermediate class, have a look at our selection of SUVs, including the VW Touareg and Audi Q7, both of which combine utility and luxury.
Book your Intermediate class car hire with Auto Europe today
When booking with Auto Europe, you benefit from numerous advantages: low prices, a wide range of vehicles from trusted suppliers, and an easy-to-reach reservations department. If you have any questions or need some help with your booking, you can reach us on 0800 358 1229 (toll-free from the UK)
Learn about our other car hire categories