Hire a Mini car from Auto Europe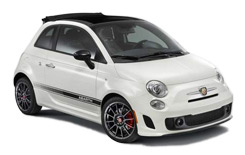 A mini car hire category vehicle is perfect for a short holiday with your partner or a weekend escape from the everyday life on your own. A mini is ideal both for students and business travellers. Moreover, it is quite cheap to rent and rather economical in fuel consumption. Another important feature is how readily you will be able to find parking spaces - a mini is much easier to find a parking space for than larger cars. Subject to availability, these vehicles can be booked with either two or four doors, and can accommodate up to four people. Hire a car for your next short city trip or, for nstance, a holiday in Mallorca.
About hiring a Mini car
Hire a Mini car for a short break when you are not carrying too much luggage. Auto Europe offers you a wide selection of discounted cars from the Mini category.
What is a Mini car?
The Mini belongs to one of the most frequently booked car categories with Auto Europe. At the same time, it is also the smallest and the most affordable car class you can book. Minis are compact and very economical in fuel consumption.
A brief history of the mini car
The mini car category has been around since the 90's. These vehicles are perfect for customers who need a low-priced car for relatively short distances. Please note that there are significant differences within this category; for example, Smart or Fiat 500 in comparison with Citroen DS3. These small cars are mostly equipped with a fairly strong engine and are in no way inferior to their larger counterparts.
Mini Car Hire benefits
As already mentioned, hiring a Mini means getting great value for money. Not only are the car hire prices low, but the fuel consumption also remains on the lower side. The vehicles come with strong engines and are quite user-friendly. For example, they will manage the tiniest streets normally hard to navigate, like the ones in Alicante and you are sure to find a parking space easier than with a larger car. However, the vehicles of this size are only suitable for short trips and a maximum of four people with very little luggage. If you are planning longer drives on your holiday, we recommend hiring a larger car.
Mini car features
If you happen to be travelling without much luggage and alone, a Fiat 500 or a Smart would make a perfect choice. With these small and agile models you will easily find your way anywhere. Choose a Hyundai i10 with four doors, a Citroen DS3 or the modern Opel Adam will be suitable for travelling with more people. Would you like a special car for a special occasion? Don't put off that romantic trip to Rome - we have suitable cars for such occasions, too! When in Rome, give a Mini Cooper Roadster Cabriolet a try!
Hire the best Mini cars with Auto Europe
Auto Europe is proud of its partnerships with the world's leading car rental suppliers. This fruitful cooperation enables us to bring you a range of vehicles, be it a Mini or a larger size car. Benefit from Auto Europe's best price guarantee, free cancellation for up to 48 hours before the pick-up and amazing car hire upgrades! You can easily reach us via our line +441233225114 and get advice from our reservation agents. They can assist you with your booking 7 days a week. Alternatively, check out our website booking engine, browse through our range of cars on offer and book directly online.
Popular Mini Car Hire Models
Below you'll find a selection of some of the most popular mini car hire models in our fleet.
| | | |
| --- | --- | --- |
| | | |
| Chevrolet Spark | Citroen C1 | Citroen DS3 |
| | | |
| Fiat 500 | Fiat Panda | Hyundai i10 |
| | | |
| Lancia Ypsilon | Opel Adam | Peugeot 108 |
| | | |
| Smart For Four | Toyota Aygo | Volkswagen Up |
Learn about our other car hire categories