Hire a Large Car from Auto Europe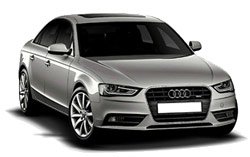 The Large car hire category, also known as Full-size or Standard, is the perfect choice for discerning customers who place particular emphasis on passengers' comfort. One of the most frequently booked models in this vehicle category is the Mercedes C-Class. It can accommodate up to five passengers and some luggage.
About hiring a Large car?
Auto Europe offers you a variety of cars in the this category. Hire a Large car with us as we can guarantee a wide choice of available vehicles through our partnerships with internationally renowned rental companies. Compare the prices from different suppliers and look for the best deal. Based on the price and genuine reviews of our customers, choose your vehicle today! Large car hire category vehicles are especially popular in Switzerland, Austria and Germany. Book a car for your next holiday in Munich and tour the whole of Bavaria in comfort.
A brief history of the Large Car
The American term "Full-sized car" was first used by the American car manufacturers such as Ford, General Motors and Chrysler as a marketing tool. The term was primarily used to point to the difference between smaller models from the Mini or Economy class and the bigger, better equipped ones.
Large Car hire benefits
Most of the time your car hire choice will resemble the type of vehicle you drive at home. If you are normally used to driving a small-sized car, plan some adjusting to the Large cars during the first miles of your drive. Of course, the budget also plays an important role in the selection of a car rental. However, if you are accustomed to sophisticated cars with plenty of space and comfort, we recommend saving elsewhere and choosing a Large model.
Leather seats, sunroof, a premium audio system, and the best security and entertainment products are often standard in these cars. Due to their size and weight, these vehicles are equipped with a very good chassis and powerful engines, which makes overtaking and driving on bumpy roads a breeze.
Large Car features
We offer a wide selection of Large class car hire - from sedans and coupés to vans and SUVs.
The Audi A4 impresses with its great design and offers up to five comfortable seats to its passengers. The Mercedes SLK makes the holiday for two an exceptional experience and is extremely economical when compared to other high-class models.
If you need more than five seats, the spacious Renault Espace will precisely meet your needs. The French Van takes up to seven people which makes it perfect for a road trip with a larger group. Buckle up and start touring some of the best places in the heart of Europe. We recommend French wine valleys, Provence and Marseille.
Hire the best Large cars with Auto Europe
Use our website to compare the offers of internationally renowned car hire suppliers. Read real customer reviews which may help you make up your mind before booking a car hire. Our reservation agents will be more than happy to assist you with your request. Dial our number +441233225114; the reservations department is there for you 7 days a week.
Popular Large Car Hire Models
Below you'll find a selection of some of the most popular large car hire models in our fleet.
| | | |
| --- | --- | --- |
| | | |
| Alfa Romeo Giulia | Audi A4 Estate | BMW 2 Series |
| | | |
| BMW 3 Series | Citroen C4 Space Tourer | Mercedes C Class |
| | | |
| Mercedes C Class Estate | Renault Espace | Skoda Superb |
| | | |
| Volvo S60 | Toyota Avensis Estate | Volkswagen Passat Estate |
Learn about our other car hire categories