Car Hire with National: a leading car rental service
National Car Rental is a well-established and internationally-recognised car hire company that serves the needs of holidaymakers, business people and frequent airport travellers throughout North America, Central America, South America, the Caribbean and Europe, as well as large parts of Asia-Pacific and the Middle East. National is an American firm based in Clayton (in the state of Missouri) and owned by Enterprise Holdings, a company ranked by Forbes as one of America's largest private companies which also comprises the popular Enterprise and Alamo global rent-a-car brands, so when book your car hire with National you'll know you're in very good hands.
National was founded by twenty-four independent car rental operators on the 27th of August 1947. By 2005, the company had expanded from sixty pick-up and drop-off locations in the United States to more than 2,000 worldwide. It offers time-pressed customers the chance to quickly choose their own vehicles (in compliance with their reservation and requested car class) and simply drive away from airports and downtown locations. By offering such a convenient service, combined with the industry's first frequent traveller scheme known as the Emerald Club, National consistently ranks as one of the most reliable and efficient car hire companies in the world. Added to that, National Car Rental was recently voted the 'World's Best Car Rental Company' by Travel + Leisure Magazine and was the outright winner of the Business Travel News 'Highest Car Rental Rating Award'. With accolades of this calibre, there's no doubt that National is one of the best transportation service providers in the world and one that constantly exceeds customers' expectations for service, quality and value.
As one of the market-leading car hire brokers, Auto Europe works very closely with all the world's top car rental companies, with National right at the top of its list. Auto Europe's price guarantee means that you won't find cheaper car hire deals anywhere else, and what's more you can cancel or change your booking completely free of charge up to 48 hours before the scheduled time of pick-up. Transparency is one of Auto Europe's main goals during every single car hire transaction, meaning that all the terms and conditions when making a reservation are clearly available to the customer at each stage of the booking process. Auto Europe operates at over 24,000 pick-up and drop-off locations in more than 180 different countries, including France, Italy and South Africa, so wherever you are travelling in the world, make sure you book your car hire with National through Auto Europe.
Health and safety measures during COVID-19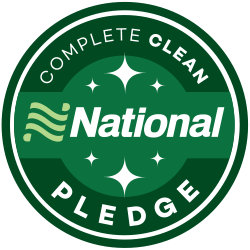 Due to the current coronavirus pandemic, additional steps have been implemented at National for the safety of all its customers and employees. These measures have been put in place in accordance with the recommendations of the local health authorities. These are as follows; limiting staff per location to assure social distancing, regular hand washing and disinfecting of all surfaces on a regular basis. In order to minimise contact with customers, some procedures for collecting and returning vehicles have been streamlined. Certain branches offer the ability to have the hired car delivered or offer roadside collection. If it is brought to our attention that a previous driver or passenger has been infected, then the rental vehicle in question will be removed from the National fleet and placed in quarantine for a recommended period.
Complete Clean Pledge – Cleanliness guarantee for maximum safety
Even before the current pandemic, cleanliness of all the National car fleet was paramount. Due to these unprecedented times, the already thorough cleaning regime has been further improved. The "Complete Clean Pledge" guarantee all its customers that the vehicle they hire has been cleaned and disinfected to the highest of standards. After the routine vehicle wash and vacuuming, an additional twenty elements of the vehicle is focused on for extra cleaning and disinfection. These sections include; the steering wheel, gear stick, door handles, mirrors and much more. Please refer to the following infographic to view all the areas covered. All employees have been given extra training on the cleaning of vehicles inside and out. In addition, for everyone's safety, employees are also provided with disposable gloves during the undertaking of cleaning procedures. With the "Complete Clean Pledge" you may book a car hire at National during Covid-19 with total peace-of-mind and without hesitation.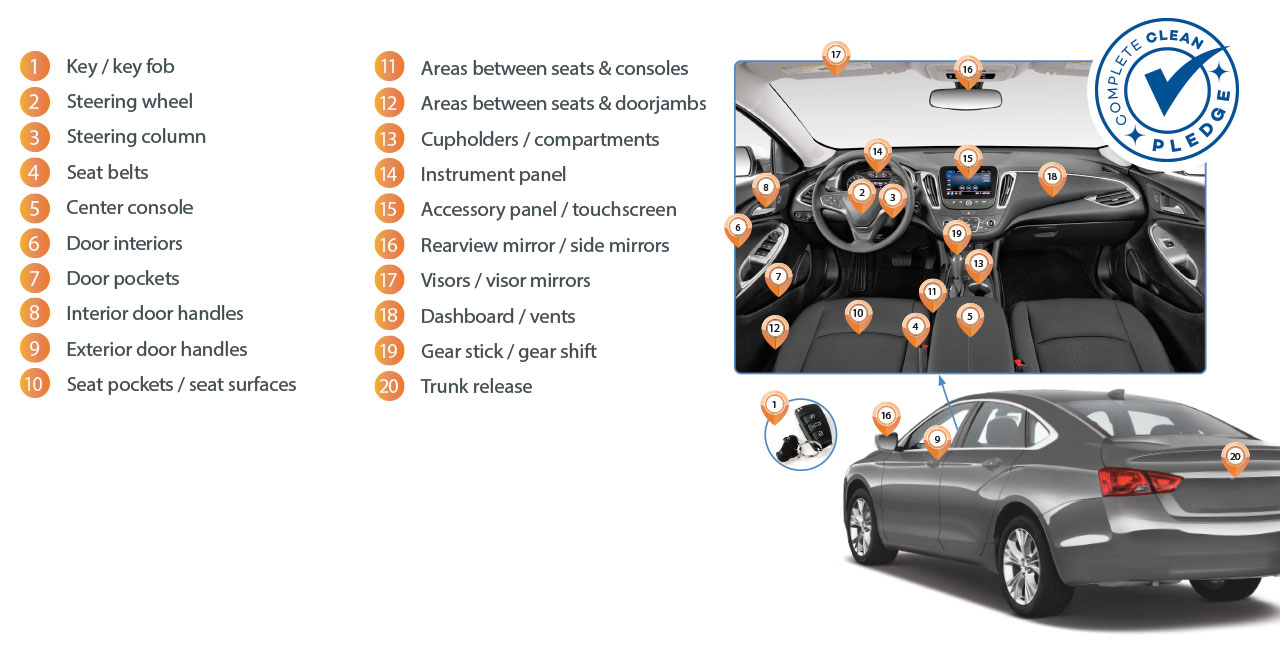 National Car Rental: Best value from a top supplier
National Car Rental is a highly reputed and internationally-known brand that offers the best combination of choice, convenience and time-saving possibilities for travellers embarking on a personal holiday with the family or an extensive business trip anywhere in the world. As the official rent-a-car company of the Professional Golfers' Association (PGA) of America and ten major league baseball teams, including the world-famous Boston Red Sox, New York Mets and San Francisco Giants, you can rest assured that through Auto Europe, National will certainly offer you the highest level of service and quality available in the market today. Over the years, National has been moulded by Enterprise Holdings' founding values based on a broad set of greatly-valued guiding principles, a cultural compass that helps maintain the company's position at the very top of the industry. These key areas not only define a strategic planning-and-goal-setting tool, but also provide a strategic platform for the company's targets in the area of corporate responsibility.
National is dedicated to promoting long-term growth and prosperity through economic initiaives involving employment, local foundation grants, global philanthropic directives and sustainable transportation options based on a sustainable approach to business at the same time as partnering with various companies, agencies and organisations to help them meet their respective goals. Through Enterprise Holdings, National is also committed to setting long-term goals and year-to-year priorities reflective of issues relating to its global business. This cross-functional governing body includes department heads and subject-matter experts who collectively assess the impact of National's operations to identify ways of reducing costs whilst leaving a positive imprint on the communities it serves.
Choose National for a unique car hire experience
Backed by Enterprise Holdings, National Car Rental offers a comprehensive transportation solution for travellers all over the world. The company is part of an extensive business portfolio featuring a rich combination of car rental and car-sharing services, truck rental, corporate fleet management and retail car sales that generates over US$30 billion in revenue each year. In fact, National and its sister brands Enterprise and Alamo operate with more than 2 million vehicles from 500 different makes and models currently in circulation worldwide.
Through its integrated global network of independent regional subsidiaries and franchises, National (and its umbrella company Enterprise Holdings) operates more than 10,000 fully-staffed city, town, beach resort and airport locations in 100-plus countries, making it one of the largest car rental providers in the world as measured by fleet and annual revenue, thus placing it near the top of the global travel industry above many other rental car companies, airlines, and most cruise lines, hotels, tour operators and online travel agencies. With National at the forefront of its product portfolio, Enterprise Holdings is unparalleled for its superb customer service, global corporate responsibility policies, employment practices and overall leadership throughout the international car rental industry.