Travel Guide France - inspiration for your travels
Once upon a time France was divided into two main areas of tourist interest - Paris and the rest of the country. Today it is a world-class, multi-faceted destination with more reasons to visit than days in the year. France is about hearty meals enjoyed in rustic backstreet restaurants, memorable stopovers to visit renowned wineries and royal palaces, relaxing road-trips along the Côte d'Azur and long drives through wild alpine mountainscapes and down the country's scenic Atlantic coast. Travellers looking for year-round attractions in the north should visit the famous Bayeux Tapestry in Normandy (well over 900 years old) plus the nearby island abbey of Mont St-Michel if there's enough time, while visitors heading south cannot miss out on the chance to marvel at the Pont du Gard Aqueduct in Provence, one of the world's most magnificent Roman monuments, as well as the charming walled town of Carcassonne between Montpellier and Toulouse.
Modern Paris is so much more than the Eiffel Tower, Notre-Dame and Louvre triangle of yesteryear. The city's lifeblood - the River Seine - flows through the heart of the capital's oldest quarters, which is where many of the key attractions can be found, most notably the Pompidou cultural centre and the ever-popular Picasso Museum. Other districts worth visiting include Montmartre (home to the hilltop Sacré-Coeur Basilica) and the lively Latin Quarter popular for its bookshops and fun-filled family attractions.
Surpassing even Italy, France's thriving café and bistro culture often revolves around the croissant, a vital addition to coffee tables across the land. Nowhere is this more evident and entertaining than in the big cities where lunch, brunch or petit déjeuner is as much a social spectacle as it is a moment to savour. Travellers are spoilt for choice when it comes to exciting driving itineraries in France and Auto Europe caters for all budgets and requirements. A visit to Nice encompasses all the finesse of the French Riviera while Bordeaux is a top choice for wine tours on the west coast. Another favourite pick-up location is Marseille which is popular for its close proximity to Provence and the Pyrenees.
You'll find all the info you need for an enjoyable trip in our comprehensive travel guide to France, whether you're planning a few days' sightseeing in Paris, a leisurely drive along the Atlantic and Mediterranean coasts or a grand tour of the country's vast and very rustic interior.
Look over the France travel guide topics listed below and take a look at each page for information on a specific aspect of traveling in France.
Road trips with my car hire in France
France has all the ingredients for a thrilling car journey, with a diversity of regions and landscapes quite unparalleled in most other European destinations. With two distinctly different coastlines to explore and an interior dotted with castles, palaces and other riches of France's long and prosperous past, it's a country with lots of something-for-everyone cultural appeal, no matter how discerning the visitor might be. Auto Europe offers the best of both worlds with pick-up and drop-off locations all over France, as well as plenty of one-way options for extra flexibility. Follow our guide to the best road trips in France and start planning your trip with Auto Europe today.
The Brittany itinerary is very popular with UK travellers due to its close proximity to southern England. Highlights here include the lovely walled town of Saint-Malo (famous for its seafood) and the picturesque village of Dinan, a magnet for fans of medieval architecture. Another must along this route is the ancient market town of Rennes, a place of immense beauty with many points of historical interest.
Paris and its surroundings offers plenty of scope for an action-packed road-trip with car hire pick-up points available at the three airports of Charles de Gaulle, Orly and Beauvais with Auto Europe. Besides all the city's famous attractions, the capital and its environs is packed with fascinating things to experience, such as Amiens' impressive 13th-century cathedral and the sparkling Champagne countryside.
Visitors to south-west France cannot miss the chance to enjoy a leisurely drive through the Dordogne, a charming and very fertile region conveniently set between the Loire Valley and the Pyrenees Mountains. Start off in Clermont-Ferrand, an old city with a spectacular cathedral, before spending the night in Tulle, a lovely town idyllically set on the banks of the River Corrèze. Surrounded by vineyards and rolling countryside, a visit to the pretty town of Bergerac is always a treat for visitors to the Dordogne, especially with beautiful Bordeaux beckoning just an hour's drive away.
One of France's most favoured road-trips is the journey along the golden sandy shoreline of the Côte d'Azur, more affectionately known as the French Riviera. Your first port of call should be Nice, home to several first-class museums and some of the best restaurants in the whole of France. And no visitor can resist the chance to break the bank at Monte Carlo's famous Casino a few miles away, nor spend a day spotting A-listers in the upmarket beach resort of Saint-Tropez further down the coast.
Last but not least, the route between Nantes and Tours in north-west France runs through the Loire Valley, one of the prettiest parts of the country. In Nantes, don't miss the museum dedicated to Jules Verne, the locally-born writer famous for his inspiring adventure-based novels, most notably Journey to the Centre of the Earth, Twenty Thousand Leagues Under the Sea and Around the World in Eighty Days. There are many impressive castles (châteaux) to see in this part of France, including Chenonceau built in the 15th century and Chambord, the most lavish of them all. The attractive city of Tours boasts a well-preserved medieval cathedral and a very pleasant botanic garden.
---
What to do in France
We've selected some of the most appealing things to see in order to help you plan the ideal driving holiday in France. Take a look at the following list for a few ideas on where to go and what to do with your car hire in France.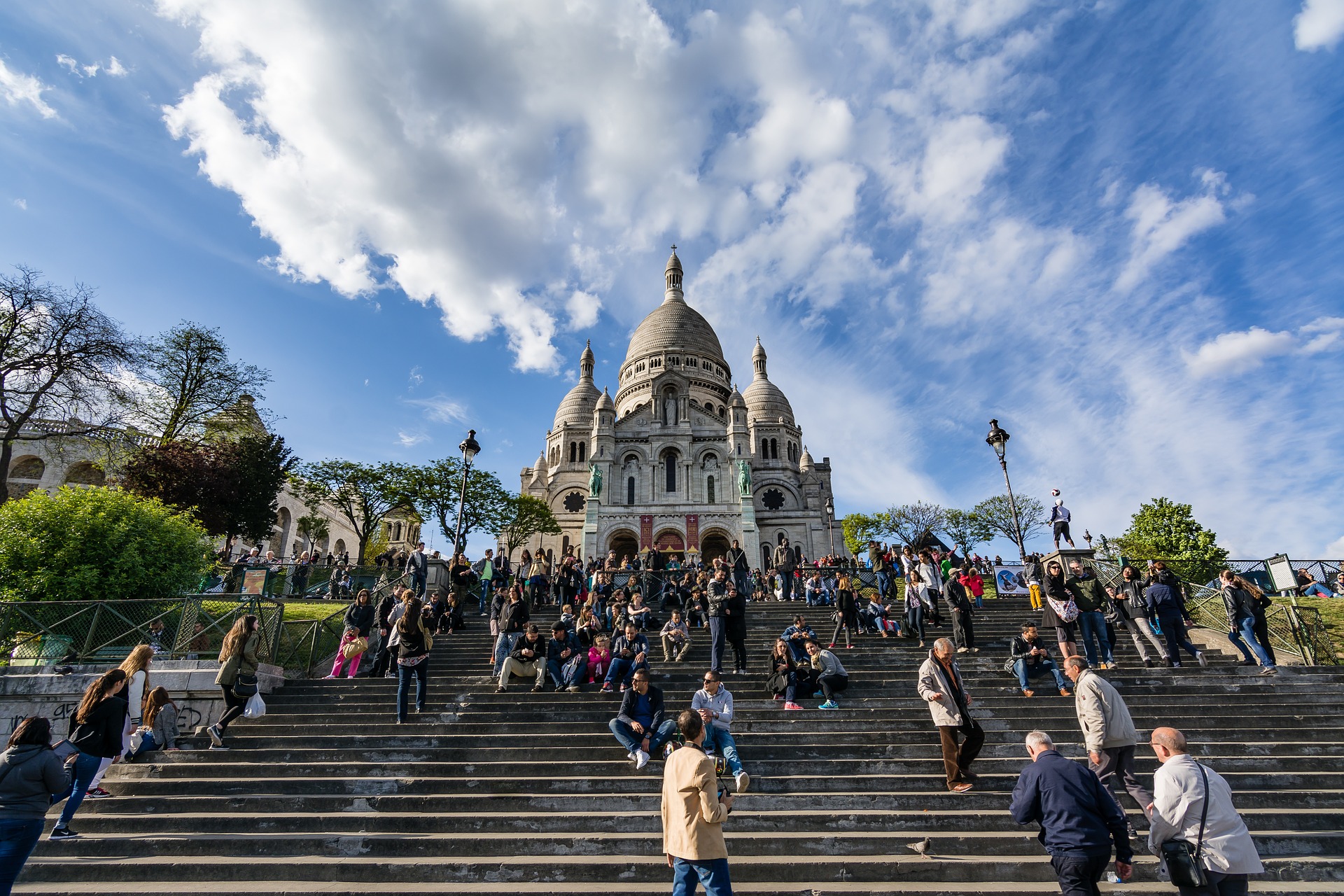 The Eiffel Tower: Getting the chance to see Paris from the top of the Eiffel Tower is priceless. In 1889, when the tower's construction was finished, it was the highest man-made structure in the world. It's hard to believe that the Eiffel Tower was supposed to be dismantled just twenty years after its completion. Today, it is the world's most visited tourist attraction and by far the most striking landmark in Paris. Don't miss the opportunity to see the whole of the French capital in all its glory from the very top of the Eiffel Tower.


Montmartre: Pay a visit to this historic district located on a high elevation in the north of Paris. At the turn of the 20th century during the Belle Époque period, Montmartre was home to many world-renowned artists and their studios. Today, the district is an expensive place for artists to live and work in, especially in light of its popularity among tourists. However, don't let that put you off – visit the district and lose yourself in its picturesque maze of historic streets and squares to admire Paris at its best.


Nîmes Arena: One of the best-preserved Roman amphitheatres, this ancient arena is located in the centre of Nîmes, a magnificent city just an hour's drive north-east of Montpellier in the south of France. Built around 100 AD, it is still being used today for concerts and other types of cultural event. Nîmes Arena's façade comprises two floors of 60 superimposed arches and an attic, separated by a cornice.


The Camargue: The Camargue region is arguably one of the most exotic places you can visit with your car rental in France. Covering some 360 square-miles, Camargue is a purely natural setting beside the Mediterranean Sea and the Rhône River delta. Famous for its flamingos and semi-wild Camargue horses, the area is protected by a natural park and boasts fantastic landscapes of brine lagoons, marshes and romantic shorelines.
---
A bit of history
With such a rich history, France has had a profound impact on European culture through the work of its great artists. Today, we cannot imagine the world without the paintings of Claude Monet and Pierre-Auguste Renoir, or the influential writings of authors like Marcel Proust and Victor Hugo, or the musical masterpieces of geniuses like Claude Debussy, Maurice Ravel and Georges Bizet. As a colonial empire, France changed the geopolitical world order; it had territories in Africa, Asia, Oceania, Antarctica and both North and South America. As a result, there are now 29 countries where French is the official language. France witnessed revolutions and was at war with the British Empire. It was also part of the allied powers during World War II and is now the largest country in the European Union.
---
Frequently Asked Questions about travelling in France
Now that we've given you some inspirational ideas for exciting road trip routes in France and useful tips on some of the places you simply cannot miss while you are there, you might have a few questions relating to travelling in France. Take a look at our frequently-asked-questions section below for advice on such aspects as getting around the country by car, including some of the most common phrases in the French language. These questions cover everything from what car is best suited for your trip, which currency is used locally and what visa restrictions apply, if any. If you still have any questions or concerns once you have read this information, then please do not hesitate to contact us by telephone or e-mail. Our rental specialists are available to further assist you with your travel plans 7 days a week. Alternatively, you can find general information and tips regarding car hire and itinerary on our dedicated travel tips page – which covers everything from coverage options to information about the age requirements and driving restrictions in France.
---
The kind of vehicle best suited for your trip depends on how many people you will be travelling with and how you will be spending your time after having arrived in France. For shorter business trips to any of the big cities, we would recommend smaller cars from our mini, economy or compact categories, whereas a longer stay with the whole family, such as a road-trip or tour of numerous cities, for instance, may warrant a larger vehicle with plenty of leg and boot space from our mid or full-size categories.
To rent a car in France suitable for the kind of trip you are planning, we strongly recommend that you consult our car hire category page with advice on all the different features and benefits available.
France is a part of the euro-zone, having adopted the euro on the 1st of January 1999. This new currency gradually began to replace the French franc and is, nowadays, the only official currency used in France. Throughout the country there are cash machines where UK citizens can withdraw banknotes using their debit cards. It is advisable to contact your bank and enquire which ATM machines are best to use abroad because additional withdrawal fees may apply.
Continental France and Corsica lie within the Central European Time Zone, meaning that they are one hour ahead of Great Britain. Daylight Saving Time begins on the last Sunday of March and lasts until the last Sunday of October, when the clocks go back one hour.
Sockets in France are designed to transmit electricity between 220 and 240 volts, but they differ in shape from the sockets in the UK. Therefore, if you want to use some of your home electrical appliances (mobile phone or laptop charger) in France, you'll need an adapter. Make sure you take the correct one that fits into the three electric-socket types that are common in France: the 'Type C' Europlug, 'Type E' and 'Type F' Schuko.
No, as of Oct. 2019 British Citizens do not need a visa to enter France, although a valid passport is always required. Driving licences are not accepted as a form of ID, so you must have a valid passport with you when travelling to France.
For travellers holding a British Citizen passport, who are planning on visiting France after Brexit, a visa should not be needed for shorter trips (less than 90 days) to the Schengen area or elsewhere in the EU. However we recommend that you confirm what restrictions apply on the Gov.uk site to make sure you have the required documents for your trip. Remember that although no Visa might be required, you might still be required to confirm that you have sufficient funds for the duration of your trip, be asked to show a return/onward ticket and that different border control checks will apply.
British consular help may be obtained from the embassy and consulate in Paris as well as at consulates in Marseilla and Bordeaux.
British Embassy
35, rue du Faubourg St Honoré
75383 Paris Cedex 08
Website: www.gov.uk
Telephone: +33 (0) 1 44 51 31 00
Fax: +33 (0) 1 44 51 31 09

British Consulate-General
16 rue d'Anjou
75008 Paris
France
Telephone: +33 (0) 1 44 51 31 00
Fax: +33 (0) 1 44 51 31 27
Postal address: British Embassy
BP111-08, 75383 Paris Cedex 08, France
The French are known for their attitude towards their language. If you are planning to stay in France for a couple of days, perhaps the best tip we could give you is to learn some basic French vocabulary.

Hello - Salut
Good morning - Bonjour
Good afternoon - Bon après-midi
Good evening - Bonsoir
Where is the closest police station? - Où se trouve le poste de police le plus proche?
Where is the closest hospital? - Où se trouve l'hôpital le plus proche?
Where is the closest ATM machine? - Où se trouve le guichet automatique le plus proche?
Can I pay by credit card? - Puis-je payer par carte de crédit?
Can I pay by debit card? - Puis-je payer par carte de débit immédiat?
How much does this cost? - Combien ça coûte?
Thank you - Merci
Keep the change - Gardez la monnaie
---
Useful Links
Driving across France - Travel Inspo from Paris to Cannes
Official Tourism Website of France