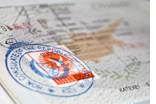 So you have decided on your holiday destination and you have booked your car hire in France. You've hopped onto the ferry from Dover to Calais and you and your family are really excited to get your holiday started. The ferry comes into port and you are eagerly waiting to get off when it dawns you that you have no idea how to drive in France! It happens to the best of us, so we here at Auto Europe thought we would put together some Driving Information before you jet off on that wonderful holiday in France.
Good to Know: You drive on the right, you can't 'U' turn and a flashing red light means do not enter. Most of the highways in France are toll roads.
Car Hire Requirements: If you choose to go by Eurostar and pick up a car when you arrive you can do so. You must be at least 21 and have held your license for more than 1 year. If you are under 25 you may have to pay a young drivers surcharge so check the T&Cs! You must wear a seatbelt and children must be sitting in a booster seat from age 3 - 10.
Speed Limits: City 31 mph/50 kph, Open Roads 6 8mph/110 kph, Highways 81 mpg/130 kph
Fuel: In the larger cities there will be petrol stations open 24 hours and just like the UK, petrol tends to be more on the highway.If you want to find out more information then why not check out our Driving Information page on our website? Are there any road rules or nice drives you can recommend in France?