Campervan hire in the Czech Republic
Although the Czech Republic is not a very big country, it is abundant with cultural heritage and wonderful sightseeing options. The compact size allows for easy planning of shorter motorhome trips perfect for the whole family. The Czech Republic is home to a plethora of architectural gems as well as sights of rare natural beauty such as deep mystical forests and magnificent mountain peaks. History buffs will be happy to visit numerous ancient castles, monasteries, palaces as well as medieval picturesque villages.
Whatever your itinerary, you are sure to see magnificent places with a campervan hire in the Czech Republic. Book either online or give us a call on our +49 89 412 072 98 and we'll be happy to help further!
Travelling in the Czech Republic
Many a traveller will start their adventure in Prague, one of the oldest and most historic places in Europe. In the heart of the city you will find an almost intact Old Town with its origins dating back to the Middle Ages. Take a stroll over the beautiful Charles Bridge, one of the most visited sights in the Czech capital, and admire the panoramic view that opens up over ancient buildings. One of the impressive ones for sure is that over the famous cathedral dedicated to Saint Vitus, a gothic church that rises above the colourful facades and roofs of historic villas. The centre also has plentiful gastronomic options for every taste and budget.
Travel to other countries and one-ways
Without doubt, the Czech Republic has a wealth of places perfect for a family trip. If you have more time on your hands, however, the neighbouring countries such as Germany and Austria are also well worth a visit. Vienna can be reached in a motorhome in only four hours and Dresden, for example, is a two-hour drive from Prague.
A very special itinerary could entail international one-way motorhome hire in the Czech Republic. Auto Europe can help you arrange your trip even if you would like to pick up a motorhome in one country and leave it in another one for your convenience. Give us a call or write us an email detailing your holiday needs and we will inform you of all the options and costs for one-way hire.
---
Popular destinations for your campervan hire in the Czech Republic
---
Suppliers
Our leading supplier for campervan hire in the Czech Republic is Anywhere Campers. With Anywhere Campers you are able to rent modern, comfortable and well-maintained campervans. Book one online and start planning your holiday!
Available campervans in the Czech Republic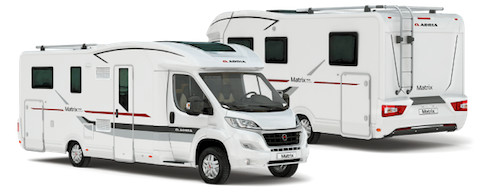 Find out more about our clients' favourite motorhomes available throughout Europe. You are welcome to request information about each available model. All vehicles are equipped with air-conditioning, heating, electricity, a kitchen, shower, toilette, water tank and waste water tank.
---
Motorhome Hire Reviews

Edward with Anywhere Campers
Prague - 10 July 2019
Auto Europe's rating

Supplier' rating

"A brilliant company to deal with. I made a number of requests that were not standard and they answered every one, without fuss or bother. The Campervan we where given was a really smart, very modern, good looking campervan and answered all of our needs. There professionalism, courtesy and willingness to go that extra yard was exemplary. Very impressed with the whole system and staff. Will recommend them to all our friends. Thanks to them, we had a road trip of our lifetime. "