In light of that, we pride ourselves on the fact that we have one of the best cancellation policies in the whole of the international car hire industry.
If you have booked a car hire with us and need to cancel or modify it for whatever reason – (the recent coronvirus pandemic being a case in point) - you'll find that there's no need to worry because changing your travel plans with Auto Europe is a very simple process and much easier than some people might have previously imagined.
To start with, if you are an Auto Europe customer then you'll always be completely at liberty to modify your booking any time up to 48 hours prior to the start of your rental period (Online or over the phone). This means that if you're due to pick up your vehicle at Amsterdam's Schiphol Airport at 9am this coming Friday, for instance, then you'll have until 8.59am on Wednesday to change or even cancel the booking without paying a single penny.
And it's not just the travel dates you can amend. By accessing the back-office of our website you can select a different supplier, alter the car category, move the location and even change the name of the main driver with just a few clicks of the mouse. It's as easy as that!
Alternatively you can contact our reservations department per phone or email and one of our reservation agents will be happy to help you with any modifications.
Although there's no fee for cancelling or modifying your booking, it's worth keeping in mind that prices (as in any industry) sometimes fluctuate, which means that any changes you make to your reservation could cost you more (or less) than the price that was published when you originally made the reservation.
No, Auto Europe will charge you no fee for cancelling or modifying the reservation as long as you do so 48 hours before the intended pick-up time. However, if you do decide to modify your reservation, please be aware that the price will automatically change to the current rate displayed online on our website. This is due to us working with live rates, and prices constantly change. Depending on the price for the new, modified booking, the difference will be automatically charged (if higher than the previous reservation), or refunded if the new price is lower.
Yes, modifying or cancelling your reservation is possible directly on the Auto Europe website as long as the pick-up time is in more than 72 hours. Should your intended pick-up time be in 48-72 hours you will need to contact one of our agents over the phone to cancel/modify the reservation.
The procedure is very simple for anyone needing to modify or even cancel their car rental reservation. They just need to key in their name and car hire voucher number to gain access to their booking where they'll find all the options they need for changing or cancelling their car hire, plus they'll have the chance to review all the terms and conditions relating to their rental.
Below follows a step-by-step guide on how an online booking can be modified and/or cancelled.
Step 1 - Access your reservation directly online on the Auto Europe website by choosing "View/Modify Your Booking" or "Cancel My Reservation" under the "Manage Booking"-option on the navigation bar on the website.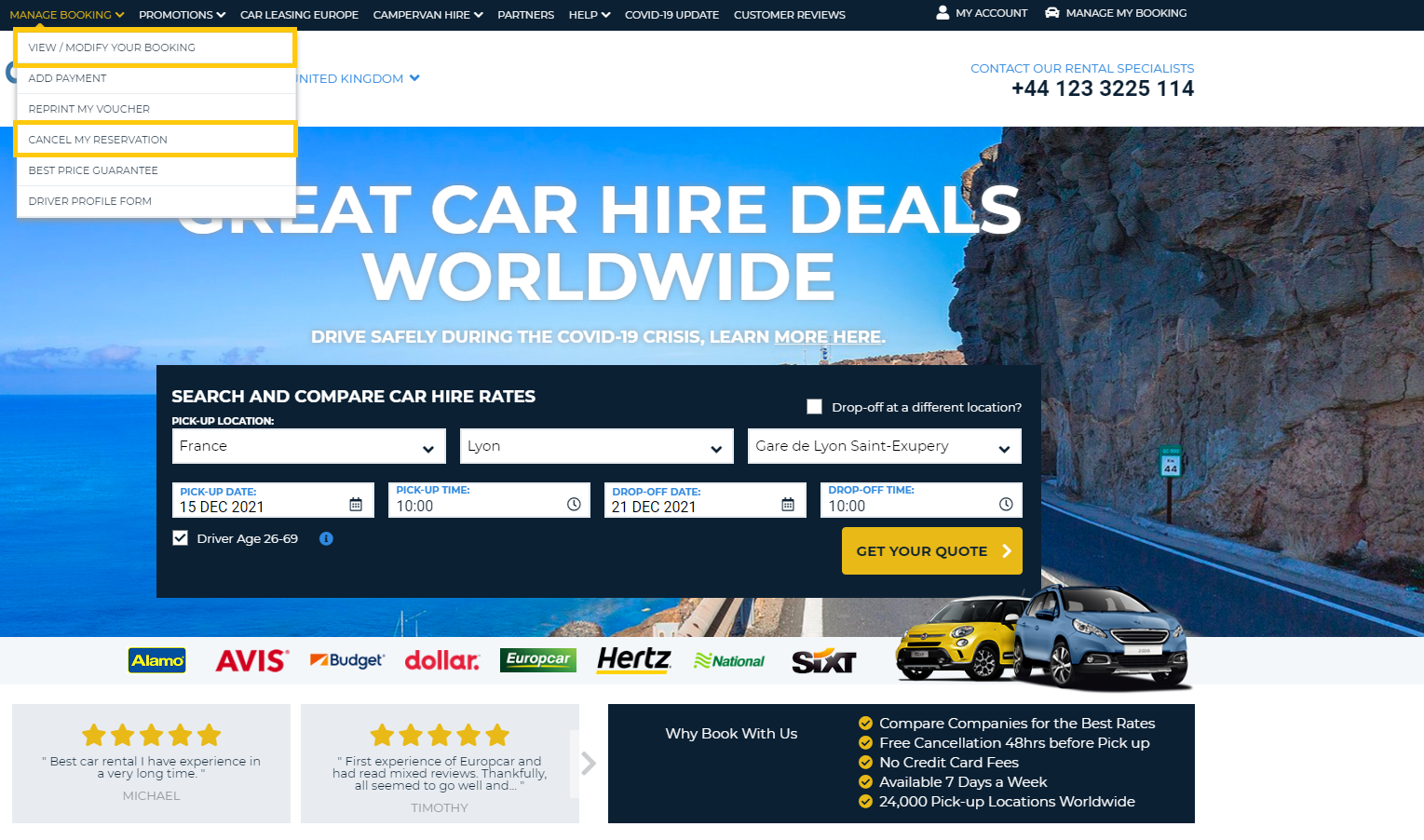 Step 2 - Use the form to key in your first and last name, along with your voucher number, which can be found on the reservation confirmation you received via email. The voucher number starts with 2 letters followed by 7 numbers (e.g. GB0000000).If you do not know your voucher number, you may instead enter your pickup date and the email address used to make the reservation.
Step 3 - You can now view your booking and either choose to modify or cancel the reservation.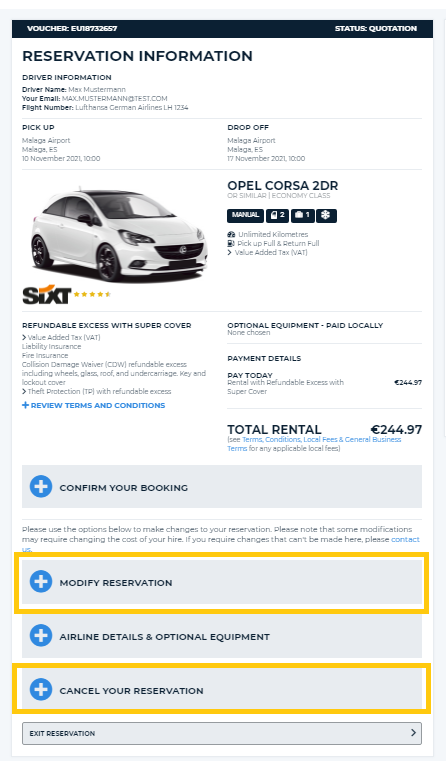 The "Modify Reservation" - Option will allow you to make chanages to the car category, pick-up time and date, and even the pick-up location.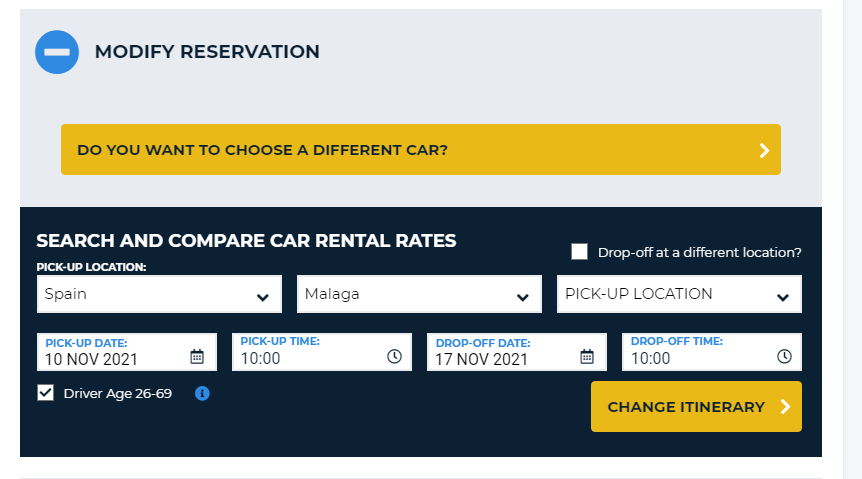 The "Cancel Your Reservation" - Option will allow you to cancel your booking after selecting a reason for the cancellation. Once selected you will get a confirmation, confirming the booking is cancelled and your money promptly refunded.

Our award-winning rental specialists are on hand to help you through the process over the phone on +44 123 3225 114 whenever you need a helping hand. Alternatively, please feel free to drop us a line by e-mail to reservations@autoeurope.co.uk with your request and one of our staff will get back to you as soon as possible. In fact, the closer you are to the 48-hour deadline, the better it will be to speak directly to one of our team members in order to make sure that your situation is dealt with effectively and efficiently.
Yes, we strongly recommend that you further protect yourself with our very popular Late Cancellation Refund coverage should Covid-19 or any other unexpected occurrences affect your travel plans. For a very reasonable additional fee, this excellent product will fully protect you against any unpleasant eventualities should the worst happen on your travels. Before proceeding to check-out, just tick the respective box at the end of the booking process to purchase the coverage and enjoy total peace of mind during your trip!
Adding the Late Cancellation Refund Cover to a booking is easy and can be done at the end of the booking process online. Once you have keyed in your preferred dates and pick-up time and chosen your vehicle you will be taken to an online form with information about the driver. Before proceeding to the payment options you will see a box displayed with details on the Late Cancellation Refund Program. All you need to do is tick this and the cover will be automatically added to your reservation and the cost of it added to the total car rental rate. Alternatively, you can ask that our reservations agents add the coverage to your booking when making a reservation over the phone.