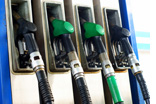 On September 1st, the cost of fuel duty will go up by 2p, making our fuel even more expensive than it already is. We have the highest fuel duty in the world, but fear not! There are a few ways in which you can cut the cost of your fuel, thanks to the Times Online.
Find your cheapest Petrol Station: If you sign up and log on to www.petrolprices.com like I have then you can jot in more than one postcode (I have my work and home) to see where your nearest cheapest petrol station is. (I've seen 10p differences in my area!)
Check your Tyres: If your tyres are under-inflated then it can increase the resistance to the ground and use more fuel. Your local petrol station should have an air pump.
Lose Extra Weight: For every 50kg of extra weight you have, your fuel consumption can go up by 2%. So keep all those golf clubs, shoes, and anything else littering your boot at home.
Streamline: If you are not using those roof racks and bicycle carries take them off, they create extra wind resistance which will increase your fuel consumption.
Air Conditioning: Do you really need it? It can increase your fuel consumption by up to 10%! If it is only mildly warm then wind down your windows. Having said that, if you are driving over 60mph then winding down your windows can use more fuel than air conditioning. So be smart.
Stick to Speed Limits: The faster you go, the more fuel you will use. If you drive at up to 70mph it will use 9% more fuel than if you drove at 60mph, and 15% more than if you drove at 50mph.
Check and Change your Oil: Cleaner oil reduces wear caused by friction of the moving engine parts, which can increase fuel consumption. Change the oil in a petrol car every year or 7,500 miles and for diesel every 6 months or 3,000miles.
Driving Smoothly Does it: Try not to put your foot down to accelerate or brake at the last second as this can increase your fuel consumption. Slow down gradually at traffic lights and approaching junctions.
Avoid the Rough: Driving on gravel and heavy dirt surfaces can increase that fuel consumption by up to 30%! Plus it can damage your paintwork, try and find routes that have smooth tarmac.
Use the Car Less: Pretty obvious why! Try and use the car for short trips at once rather than on separate occasions. If you can walk down to the local shop to pick up some milk, then do so! The fresh air will do you some good.
So be smart when using your car and hopefully you can save some of those pennies for a rainy day!