Did you know that drivers eat 4,053 sandwiches in the car on average during their lifetimes? The latest poll sponsored by Auto Europe shows this fact and it makes us wonder what kind of impact this has on our wallet and our health. Once your stomach starts to grumble, we are all happy to see the flashy ads for a drive-thru by the motorway. We can hardly wait to pull off the motorway and get our hands on whatever we can get – burgers, pizzas, chips and over-sugared drinks. Needless to say, food at drive-thrus and petrol stations is overpriced and sometimes not even fresh enough. That's why it's way better to think ahead and prepare a few sandwiches before you hit the road. We've put down a list of several fillings, some with a twist, for delicious long car journey snacks!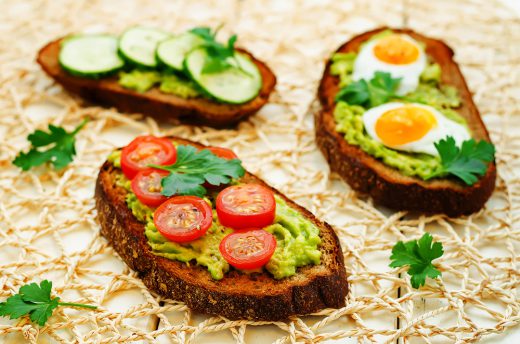 Avocado on Rye
Mash up a ripe avocado, add some garlic flakes, salt, pepper and chilli to taste. That's it! Spread it on rye bread and you'll have a simple, delicious and healthy meal packed with good carbs! Add slices of a hard-boiled egg or smoked salmon for more protein!
Peanut Butter + Jam
One of the oldest love stories out there is that of peanut butter and jam. They go so well together that it's really hard to leave them out of our list. Choose chunky peanut butter for a more crunchy effect and go for strawberry jam. It's a wonderful combo!
Roasted Veggies
This elaborate yet easy to throw together sandwich is made of grilled or roasted veggies (bell peppers, mushrooms and aubergines), a ciabatta bun and hummus. Cut the ciabatta bun in two halves, spread hummus on both sides evenly, chuck in some veggies, season with salt and pepper and you're ready to go!
Bella Italia
Mozzarella + Ruccola + Pesto all in one bite – that is our next sandwich combination. Again, you'll need a ciabatta bun, some pesto, sliced mozzarella and a few leaves of arugula. Smear a little bit of pesto evenly on both sides of the bun. Divvy up the mozzarella and add some arugula. To make things even more cheesy, add some grated parmesan and enjoy your meal! This would be awesome to enjoy on a road trip in Italy where you can get all the fresh and original ingredients!
Goat Cheese + Honey
A scrumptious combination of crumbled goat cheese on a toast, baked in the oven or warmed up in a toaster, and a drizzle of honey is not only delicious but also a good source of carbs and proteins, and will keep you full for a long time.
Tuna Salad
A classic among sandwiches, our tuna salad sandwich comes back in style with a tangy twist. Mix canned tuna with chopped spring onions, olive oil, olives, a drop or two of lemon juice and finely chopped pickled cucumbers. Put some Marmite on one side of the bread, bun, or toast, regardless of what you're using. Spread the tuna mixture over the other slice. Combine and enjoy during the ride!
Egg & Mayo
No matter how hungry you get, the egg and mayonnaise filling in a sandwich will fill you up and keep full for a long time. The colour is amazing and so is the taste! Finely chop hard-boiled eggs and mix with mayonnaise. Add half a teaspoon of vinegar if you wish and that's it! Smoked ground paprika works wonders in this combination for a twist to the well-known flavour.
Cottage Cheese & Ham
Mix some cottage cheese with chives, add salt and pepper and spread evenly on bread slices. Add some ham and your cottage cheese and ham sandwich is ready to be savoured! When travelling in Spain, be sure to sample local food including amazing ham!
Salmon + Roasted Pepper
For this burst of flavours you're going to need a jar of pickled roasted peppers, some smoked salmon, garlic flakes, butter and wholegrain bread rolls. Spread butter generously on each slice of the bread roll. Lay down a roasted pepper (drained!), sprinkle with garlic flakes and add some smoked salmon on top. Cover with another slice of the bread roll. That's it – simple and tasty!
Nutella Goes Bananas
Now for something totally different! You are bound to get a sweet tooth after such rich savoury sandwiches and that's why having one as a back-up always comes in handy!
This one is sweet, simple and really tasty. You will need some bread, Nutella, one banana and, optionally, honey and peanut butter. Slice up the banana and put it on bread where you've already spread a generous amount of Nutella. If this does not sound as sweet enough, go wild and add some peanut butter and a drizzle of honey for a real calorie bomb!