Have you ever caught yourself during your ride to work thinking that you could be somewhere else at that very moment? Have you imagined that you're driving in the beautiful countryside instead along the clogged streets of your city? According to a survey commissioned by an affordable car hire company, AutoEurope, drivers clock up 166 miles in a week on average. This distance could take you to many different landmarks, historic and holiday destinations if you drove abroad compared to just using your car to commute in the UK.
Our trips begin in our minds, so let's start from there. Imagine where you would like to be driving in your car, who would be sitting next to you and what countryside you would be looking at with a smile on your face. Now, take that and add166 miles to it. This distance accounts for a few-day trip in France, Spain or Italy, for example. With just a few thoughts we transcend to sun-bathed coast where we're enjoying an afternoon ride by the sea… Let's go on a virtual road trip that one day can turn into a real one.
Naples to Salerno, a road trip in Campania, Italy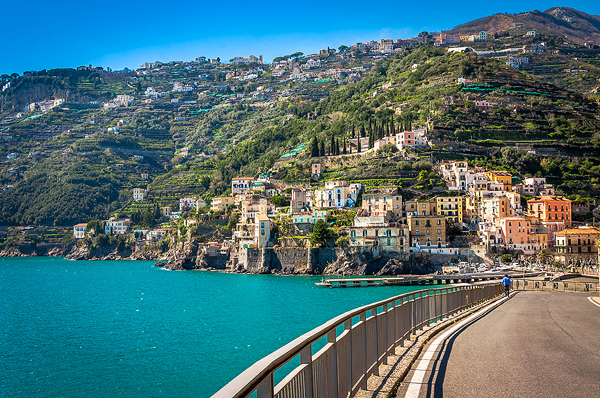 Picture the turquoise waters of the Tyrrhenian Sea splashing against the dramatic coast of southern Italy. Say Buongiorno to delicious cuisine, friendly people and immerse yourself into Italian culture. Enjoy a ride from Naples to Salerno through the magnificent countryside and metropolises packed with historical sites.
Sevilla – Malaga, a road trip in Andalusia
Hit the road in Andalusia! Traverse this fascinating region on the southern tip of the Iberian Peninsula where millions of tourists flock every year to discover the historic cities of Sevilla, Malaga, Granada, and Cordoba. Andalusia bears a rich Moorish historic footprint. The remnants of the Moorish architecture blend with Roman monuments. Explore the mosaic of the ancient cultural mix and enjoy the beautiful weather and delicious regional dishes.
Make the playground of the rich and famous your next holiday destination. Côte d'Azur spans over the southern Mediterranean coast of France from the border with Italy to Saint-Tropez. Tour the coast brimming with lively cities of Cannes, Nice and Monte Carlo. French Riviera has numerous tourist highlights on offer but its most alluring advantages is the sun, the sand and the sea. All the best things in life are free!