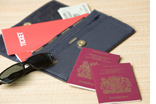 By Peter McAree:
Hello again and welcome to my monthly 'View from the Bridge' blog submission. Having worked in the car hire industry for many years I'm always interested in how booking trends vary. Currently we are seeing a surge of late bookings. Whilst this is as you may well expect in times of economic uncertainty, I can't help wondering if leaving holiday plans till the last minute will be a good strategy this year. After all its definitely a good idea to book with well known, ATOL protected operators and many organisations have less capacity than previous years as they predict that, whilst people are unwilling to give up their holidays completely, many travellers could cut back.
Obviously the choice is yours and probably depends on whether you're looking for a branded package break or to arrange your own trip. Either way please remember that all Auto Europe bookings can be amended or cancelled free of charge right up until 48 hours prior to the time you are due to collect your hire car. Remember not all car hire companies offer this service so it's always worth checking the terms and conditions of you agreement.
On a more serious note, I was shocked to see a recent BBC Breakfast report on how many consumers are failing to take out travel insurance. New research reportedly shows that up to 1 in 5 holiday makers decide to 'save money' by skipping insurance. Great – if nothing happens! On the other hand, medical costs and repatriation to the UK can run into thousands or even hundreds of thousands of pounds very easily. Have a look on the Foreign and Commonwealth Office's website for a comprehensive guide on what your policy should cover. By all means go for a basic policy which just covers emergency medical expenses but do get insurance, please.
Also be careful not to rely on credit card insurance or home insurance without checking the small print. Last but not least, if you are travelling to Europe then do register for a European Health Insurance Card but don't mistake this for insurance. It will cover emergency treatment but often not 100% of costs and certainly no repatriation costs.
We don't sell travel insurance so I'm not touting for business. It's just that a basic policy for a week will only be £10 or £20. Money well spent I'd say!
Until next time.