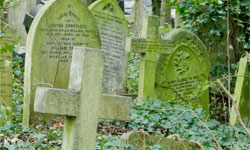 The day of all things creepy, crawly and horrifying is almost upon us, and what better way to celebrate Halloween than a very scary road trip around some of the most hair-raising sites in the UK! We have put together a small selection of destinations near and far that are sure to get you in the Halloween spirit.
Highgate Cemetery, London
Opened in 1839 and today designated as Grade I on the English Heritage Register, this graveyard with its plethora of elaborate Gothic tombstones and memorials dating back to Victorian times is said to be one of the most haunted sites in the UK. The cemetery was originally built to help London cope with the large number of deaths at the time, and to ease the congestion of central cemeteries, which were posing a health risk. The cemetery has around 53,000 graves in which approximately 170,000 people are buried. During the 1960s and 70s the cemetery became famous for a claimed sighting of a dark figure, which became known as the Highgate Vampire, said to terrorise visitors. A media storm ensued with the help of two local men, who made competing claims about the origins of the Vampire, as well as plans to slay it.
The Red Lion, Avebury, Wiltshire
The Red Lion is considered by many to be the most haunted pub in the world. The 400-year-old inn has a colourful history of varying apparitions and spirits, aided by its location within Avebury's stone circle. The most famous spectre to haunt the inn is Florrie, who is claimed to have a particular affinity for any bearded patrons of the establishment. Other ghosts include a previous owner, and a horse-drawn carriage parked outside the pub, to name a few.
The A75 in Dumfriesshire, Scotland
Connecting the port of Stanraer to roads near the English border, this motorway, and the Kinmount straight in particular, is said to be the most haunted road in Scotland. Reports include a phantom furniture van, a group of people looking like medieval camp followers, a number of animals flying towards cars, including hens and cats. Perhaps most frighteningly, there have been reports of people appearing and running towards the moving vehicles, and then vanishing into thin air.
Maunsell Forts in the Thames Estuary
These forts have not been said to be visited by supernatural phenomena, but they do make a very haunting site. Named after their designer Guy Maunsell, the fortified towers were built during the Second World War to protect Great Britain from German air raids. The towers were decommissioned in the 1950s, but still stand tall in the restless waters like a scene straight out of an eerie science fiction movie. To make matters even stranger, one of the towers has been occupied to this day by a man named Paddy Roy Bates and his family, who self-declared the tower to be a sovereign independent state, the Principality of Sealand.
Take a Halloween-themed drive to one of these locations and get in the spirit of the season, if you dare…