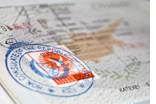 When planning your holiday to Germany, it's great to know some useful things that will make your holiday run smoothly. Do you know the time difference? We're here to help make all this easier so have a look at some of our advice before you go.
Time Difference: Being within the Central European Standard Time Zone (CET), Germany is 1 hour ahead of Greenwich Mean Time (GMT +1)
Entry Requirements: You need a valid passport to enter Germany. You will not need a visa if your stay is less than 90 days. If you are staying more than 90 days, then you can obtain a visa when you arrive.
Language: The official Language is German. Virtually all Germans speak 'Hochdeutsch' and will respond happily if you try your hand at speaking a little! English is widely spoken but where's the fun if you can't put your language skills to the test?
These are just a few handy tips for you, have a look at our other Tips for Travellers in Germany as well as Tourism Information is you are unsure of anything. You can also look at our Driving Information which will give you help on driving in Germany.
Most of all, enjoy your holidays!