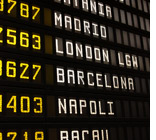 According to the
Telegraph
, the Equality and Human Rights commission has expressed it's concerns to Lord Adonis, The Transport Secretary.
These scanners are already in place at Manchester and Heathrow airport but may be breaking discrimination laws as well as breaching passengers right to privacy. As shown by Mr Shahrukh Khan who spoke about his experience on Jonathan Ross, saying that girls had print outs of his naked body which he autographed.
In the letter the commission said they recognised the threat of terrorists, but their concerns are "about the apparent absence of safeguards to ensure the body scanners are operated in a lawful, fair and non-discriminatory manner".
Also added that they had "serious doubts that the decision to roll this (body scanning) out in all UK airports complies with the law".
The commission's chairman, Trevor Phillips has said "The right to life is the ultimate human right and we support the Government's review of security polices. State action like border checks, stop-and-search and full body scanning are undertaken for good reasons. But, without proper care, such policies can end up being applied in ways which do discriminate against vulnerable groups or harm good community relations. National security policies are intended to protect our lives and our freedoms, but it would be the ultimate defeat if that protection destroyed our other liberties."
See, I'm not sure about this security scan issue. On the one hand I think it is a fantastic piece of equipment that could really help crack down on the terror threat, but on the other hand there is no way I would ever want to go through one of them where someone can see my whole naked body. How do you feel about this? Would you want a whole body scan? Are you not bothered? Do you think it will help crack down on the terrorists? Let us know your thoughts.